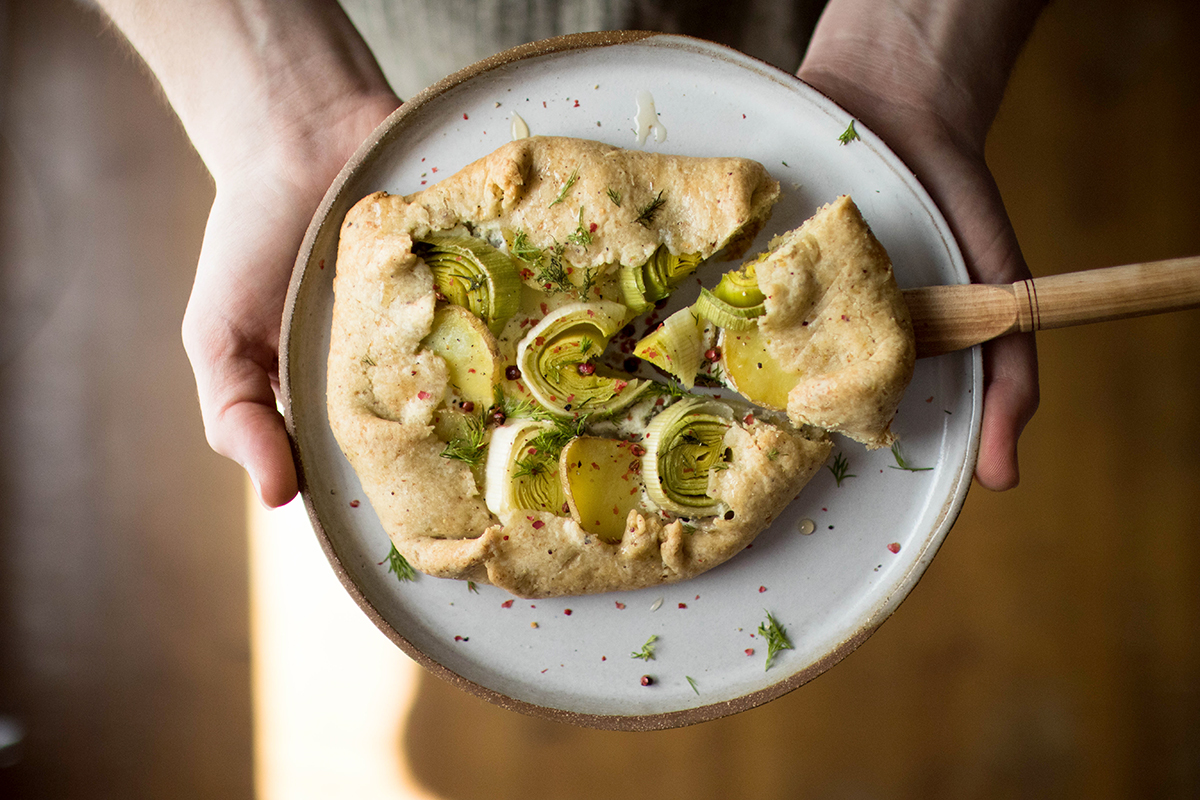 Mini Goat Cheese Leek & Potato Spring Galettes With Pistachio Crusts
In a hurry? Click here to JUMP TO RECIPE!
While walking through the co-op grocery aisle earlier this week, I noticed an unusual amount of color lining the produce wall. The root vegetable section, which had been dominating the store for months now, was substantially smaller and was slowly being replaced with new greens, spring onions, piles of leeks, and damp irregular-shaped mushrooms. Despite the chill from the produce fridges, it felt like spring. My head began buzzing with ideas by the thought of all the new produce a budding season would bring. I decided to impulsively grab any vegetable that felt even remotely springy and threw it all in my basket for some weekend cooking. However, the excitement snapped out of me the moment I stepped outside and noticed it was snowing. To my dismay, the temperature has yet to rise above 30 degrees this weekend but at least it's springy enough somewhere to grow these wonderful reminders of the season that will eventually blossom in these parts.
These galettes are simple and springy; the buttery crust is studded with pistachios and then topped with a tangy goat cheese sauce. This is the perfect recipe to work on during a rainy and cold (but hopefully springy) day. It is important to slice the potatoes as thinly as possible to make sure they get cooked all the way through when baking. You can use freshly cracked black pepper if you don't have pink peppercorn but the extra pop of color really adds to the final presentation.
Mini Goat Cheese Leek & Potato Spring Galettes With Pistachio Crusts recipe below: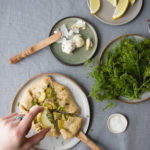 Mini Goat Cheese Leek & Potato Spring Galettes With Pistachio Crusts
These Mini Goat Cheese Leek & Potato Spring Galettes With Pistachio Crusts are the perfect vegetarian entree for winter or spring entertaining.
Ingredients
For the dough:
1/2

cup

pistachios

2 1/2

cups

all-purpose flour

1

teaspoon

salt

1

teaspoon

sugar

2

sticks of butter

, chilled

1/2

cup

ice water
For the filling:
1

large leek

, sliced and washed

2

wax potatoes

, washed and sliced very thin

1

cup

plain yogurt

4

ounces

of goat cheese

2

garlic cloves

, minced

1

bunch dill

1

egg

, whisked with 1 teaspoon of water

Peppercorn

, crushed

Honey

, to drizzle

salt / pepper
Instructions
Pulse the pistachios 4-5 times in a food processor or until coarsely ground. Add in the flour, salt, and sugar and pulse another 2-3 times or until combined. Add in the butter and pulse until a coarse meal is formed. While the food processor is running, slowly add in the ice water until a dough ball as formed. Wrap the dough in parchment paper and stick in the fridge for at least a half an hour.

While the dough is chilling, whisk together the yogurt, garlic, and goat cheese until a smooth sauce has formed. Season with salt and paper and refrigerate until ready to use.

Once the dough has chilled, remove from fridge and divide into four equal parts. Preheat oven to 400 degrees and line a baking sheet with parchment paper. Roll out one of the 4 pieces of dough into a rough circle shape and top with a 4th of the goat cheese sauce, 1 Tablespoon of dill, a thin layer of potatoes and leeks, and then top with another Tablespoon of dill; Fold the sides in towards the filling to create a crust that only slightly overlaps the filling and transfer to a parchment paper lined baking sheet. Repeat with the rest of the dough and filling until you have 4 galettes on the parchment paper ready for baking. Brush the egg wash over the crust of all the galettes. Bake for 30-40 minutes or until the crusts have browned and the potatoes are soft.

Garnish with more dill and crush pink peppercorn; drizzle honey over the top and serve warm.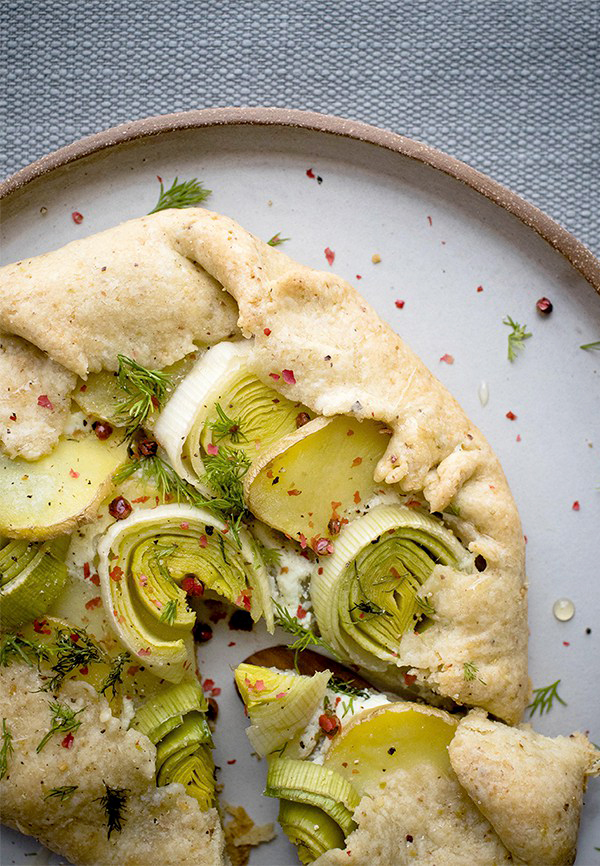 Styling: Small ceramic speckled bowls: Marite Acosta / Red clay & green ceramic plates: Clay Kat Ceramics / Tablecloth: thrifted / Enamel dishes: West Elm / Wooden knives: mostly thrifted (+ one gifted from Carey)