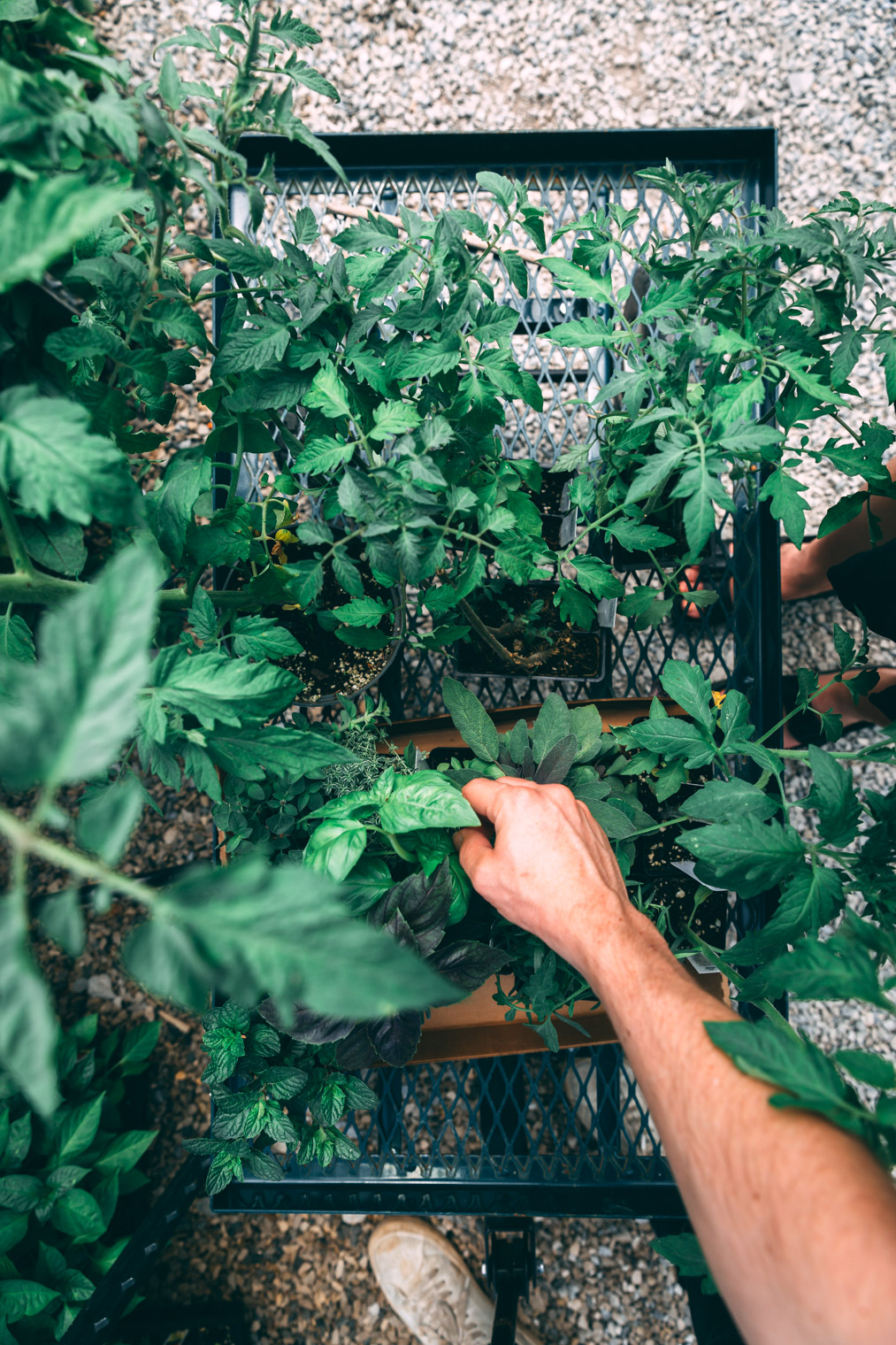 My Tips & Tricks For Planting an Edible Garden
Today we are talking all about growing your own food! I'll be covering all I know about starting a vegetable and herb garden. Please note that this post was sponsored by Harvest Organics but All opinions are my own. Thank you for supporting the brands that make VV possible.
If you've been following me for awhile, you know that I plant and maintain a decent-sized garden every summer. Since I don't live in a huge metropolitan area, I can't always find certain heirloom varieties of vegetables, herbs, and edible flowers so my solution is just to grow my own! Plus, there is nothing more rewarding than being able to walk outside your door and pick your own herbs to throw into dinner. Today I'm going to share what I grow, why I use raised beds, and lots of other useful tidbits and answers for folks out there thinking about starting a garden but not knowing where to start.
I'm pumped to be partnering with Harvest Organics for this post as I get lots of questions about my garden (the edible flower one in particular) and this collaboration has inspired me to finally sit down and write more about my gardening experience!
Why plant a garden?
Besides the fact that it's incredibly rewarding to grow something from seed, it's also usually way more cost effective. When you are able to skip buying those $3 a bunch herbs and just pick them on demand, the savings really do start to add up! Plus, tomato and pepper plants will produce over several months so you'll have fresh produce on repeat all summer long. Additionally, if not completely obvious, most vegetables bought at the supermarket do not taste as flavorful or as fresh as when you pick them right off the plant. Lastly, as I mentioned previously, it's a great way to try out new varieties that are not available for sale at your local grocery store.
What should I plant in my garden?
The most important thing to keep in mind when planning out a garden is to make sure you are planting what you like to eat. It's a bit pointless to plant a ton of mint if you can't stand the stuff and won't be using it throughout the summer. One of the main goals of a garden is to grow your own food and growing things you won't want to pick and enjoy will make the garden feel more like a chore than a hobby.
Another important thing to do is make sure what you've picked out can thrive in the space you have. For the most part, fruit bearing plants need lots of sunlight so make sure you have a spot that receives 8 hours of light if you are hoping to plant tomatoes and peppers. It may also be worth looking up what grows well in your climate. I've only ever gardened in the Midwest so I'm not an expert on what can grow in your local area – make sure to ask someone who is (aka someone at the nursery you are buying from) or do your research online.
What I put in my herb and vegetable garden:
Tomatoes
Bell Peppers
Dill
Basil
Thyme
Mint
Tarragon
Chives
Parsley
What I put in my edible flower garden (note this is evolving every year as I try out new things but this list is what I'll be playing with this year):
Nasturtium
Lavender
Bachelor's Button
Pansy
Viola
Sunflower
Bee Balm
Hollyhock
Chamomile
If this is your first year planting, I recommend starting with 3-4 different vegetable or herbs you eat the most and then branch out to more in the coming years, as you get more comfortable.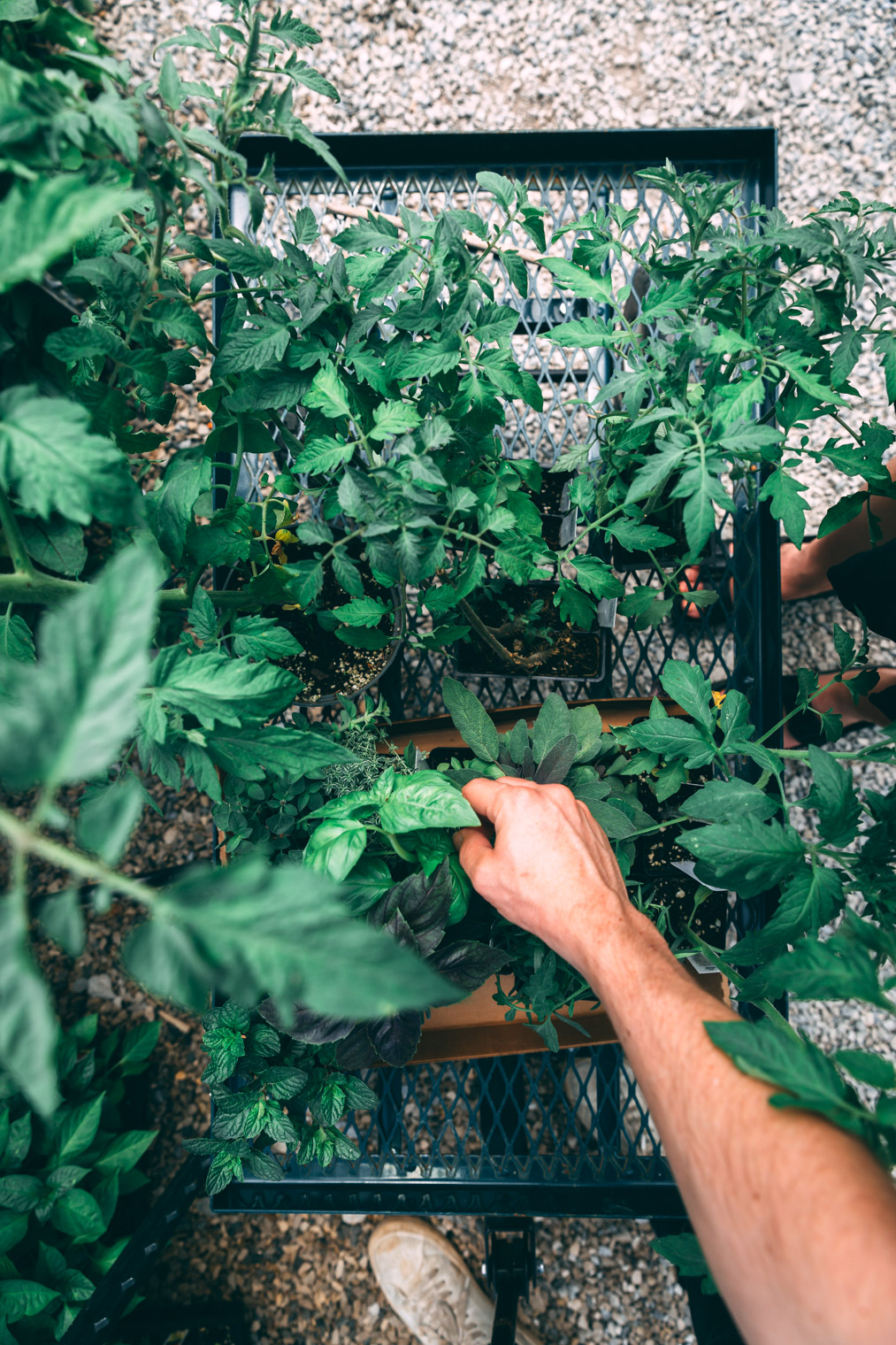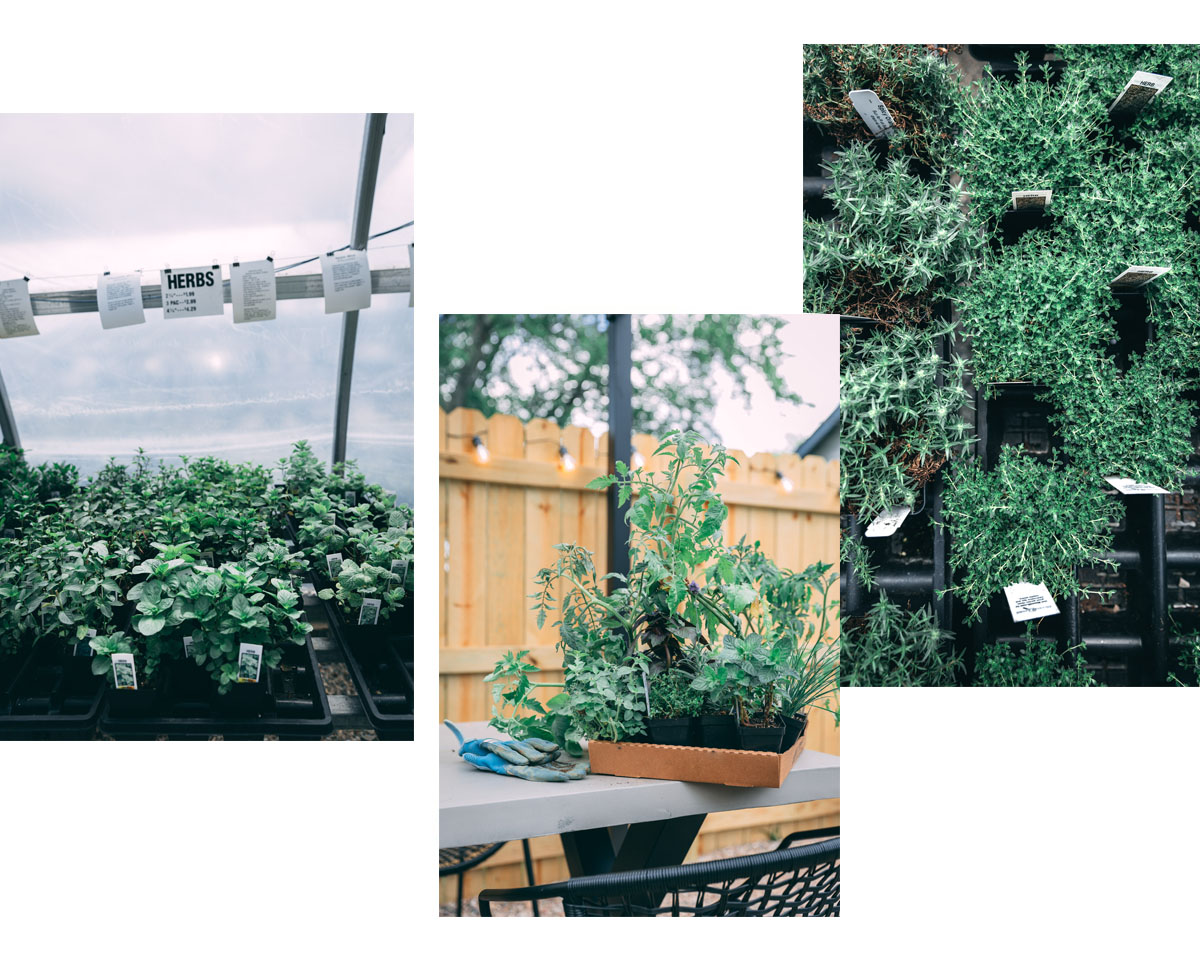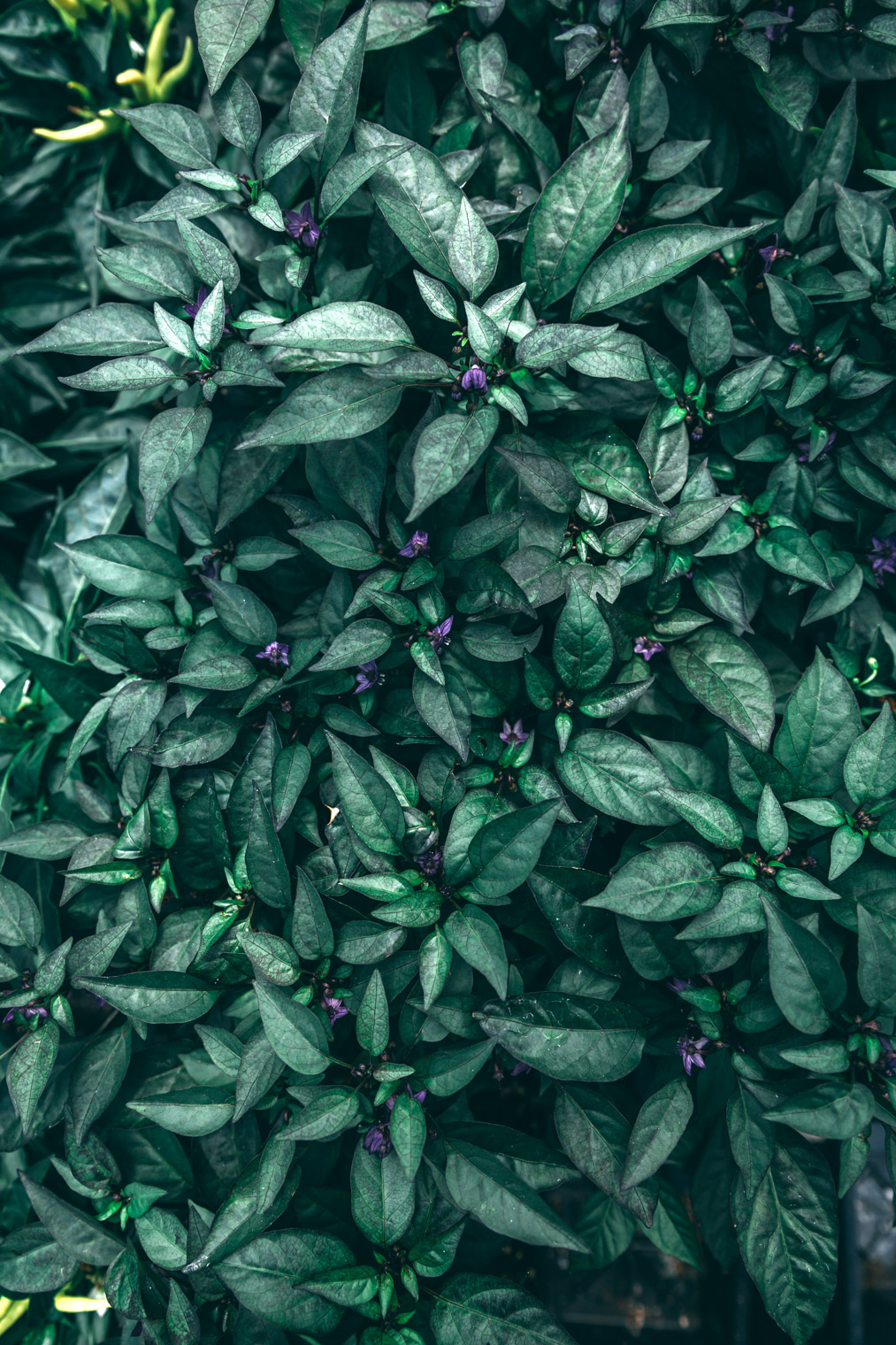 Why I use raised beds
The first two years I had my vegetable gardens, I just put them straight into the ground. I spent hours each week weeding and also always ended up with mixed results. The third year, I talked Wyatt into building me some garden beds and not only were my weeding chores slashed from weekly to monthly but also my plants yielded so much more fruit that year. I account the biggest factor being that the soil I was using (which was just the dirt in the ground already) lacked nutrients and using raised bed soil helped foster healthier plants, which yields better results. This year, I'm trying out Harvest Organics Raised Bed Mix for my soil, which I am so excited about as I try to keep my food as organic as possible. I haven't seen the results just yet but I can already tell the dark rich soil is quality just by seeing how happy my plants are after a week. Harvest is the largest processor of yard and food waste in North America (they've kept 2,000,000 tons of waste out of landfills!!) and are using diverted those scraps to create organic gardening products (like this soil!). Re-using these scraps not only benefits the earth by avoiding more in the landfill but also because it's being re-used to plant food for us to enjoy. You can pick up Harvest Organics Raised Bed Mix at Lowe's when you head there to get your seed starters.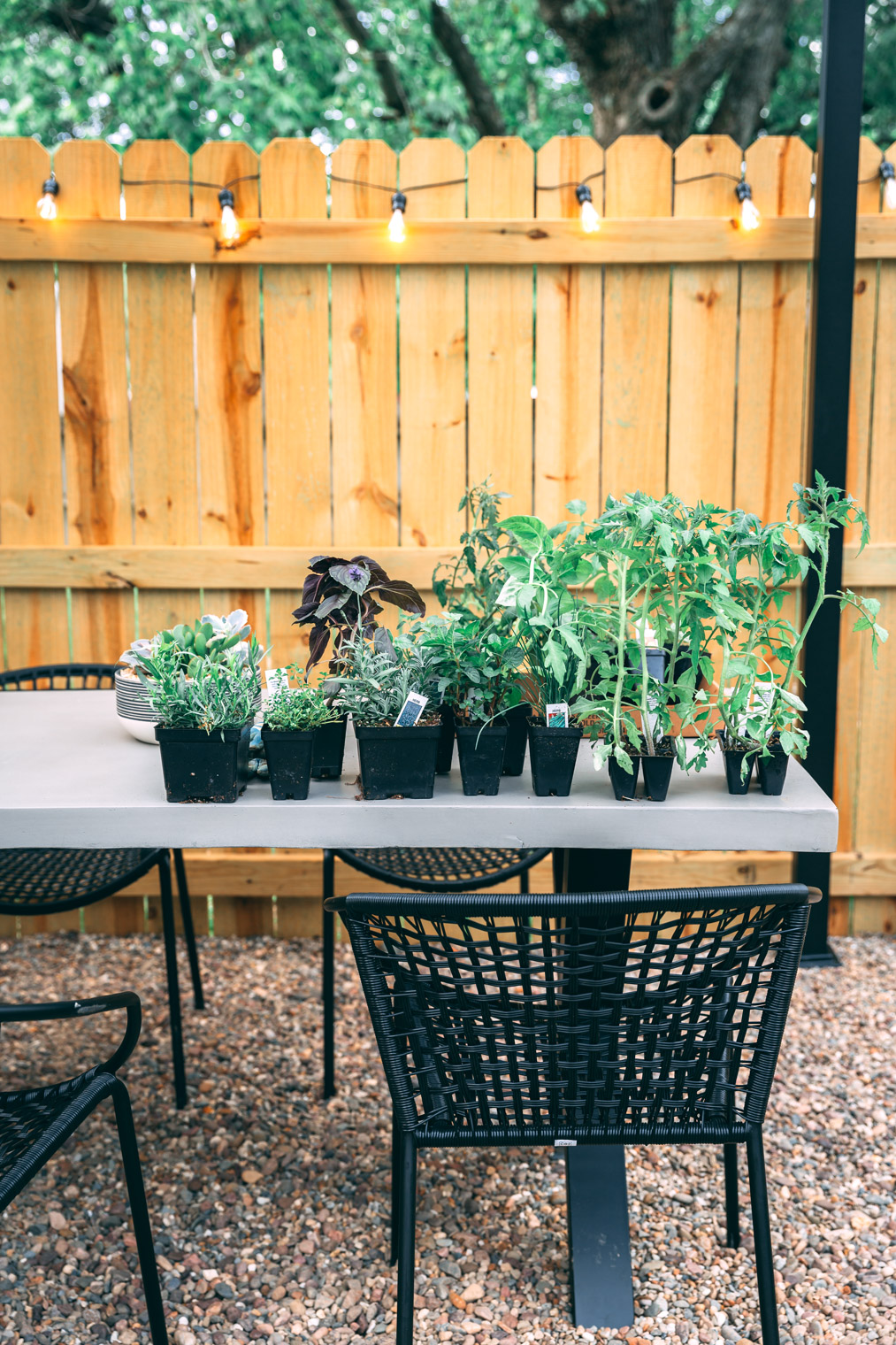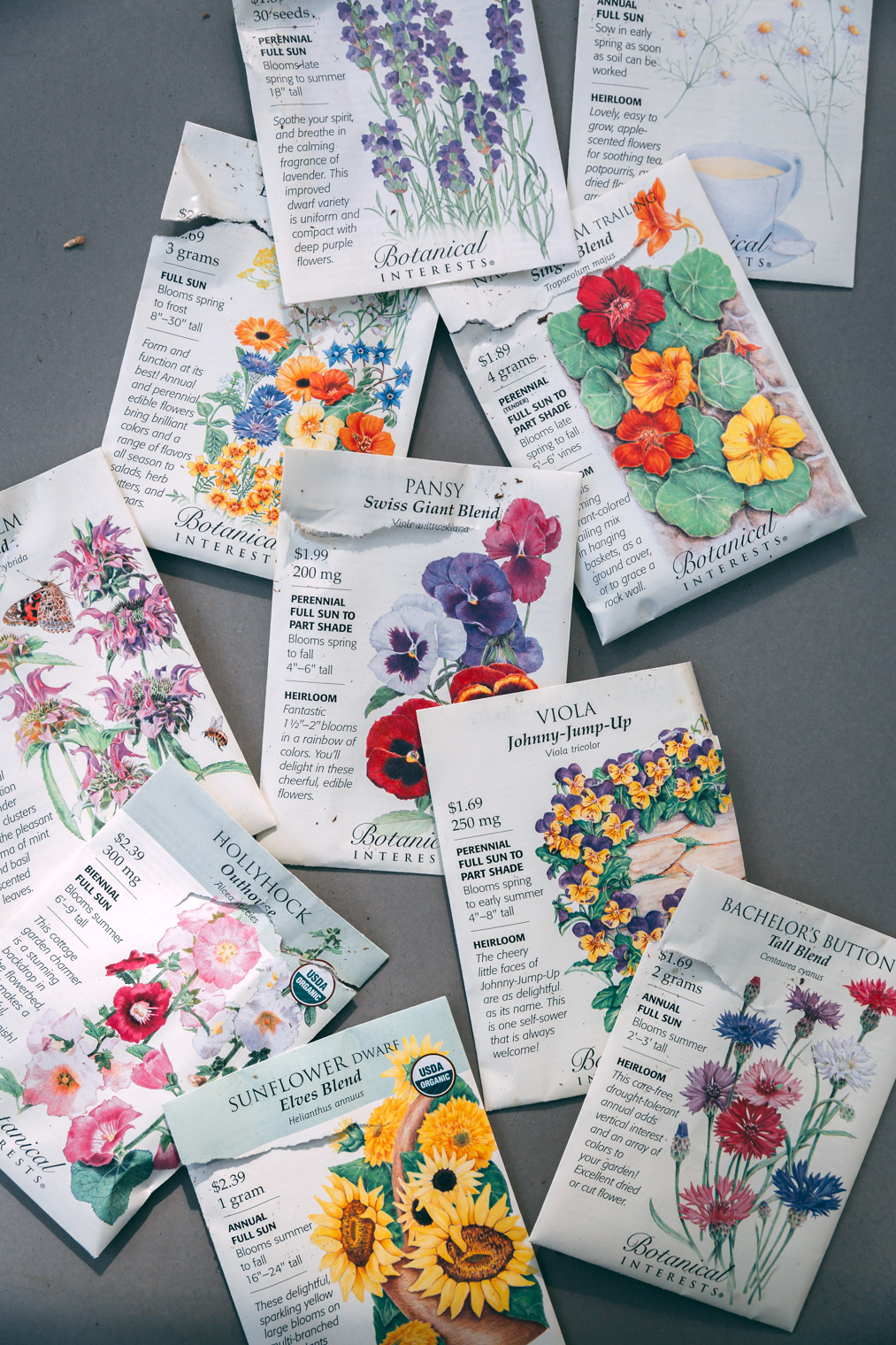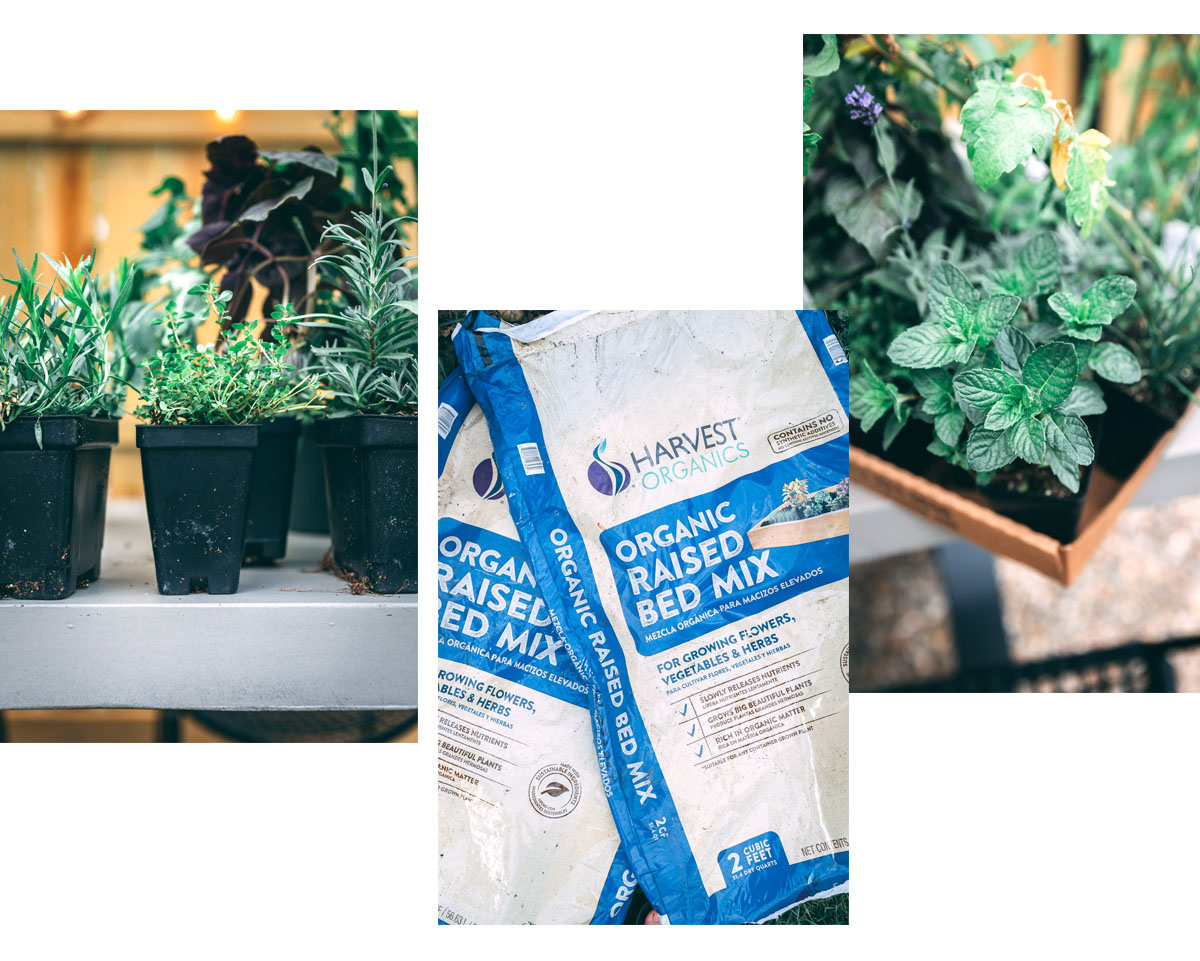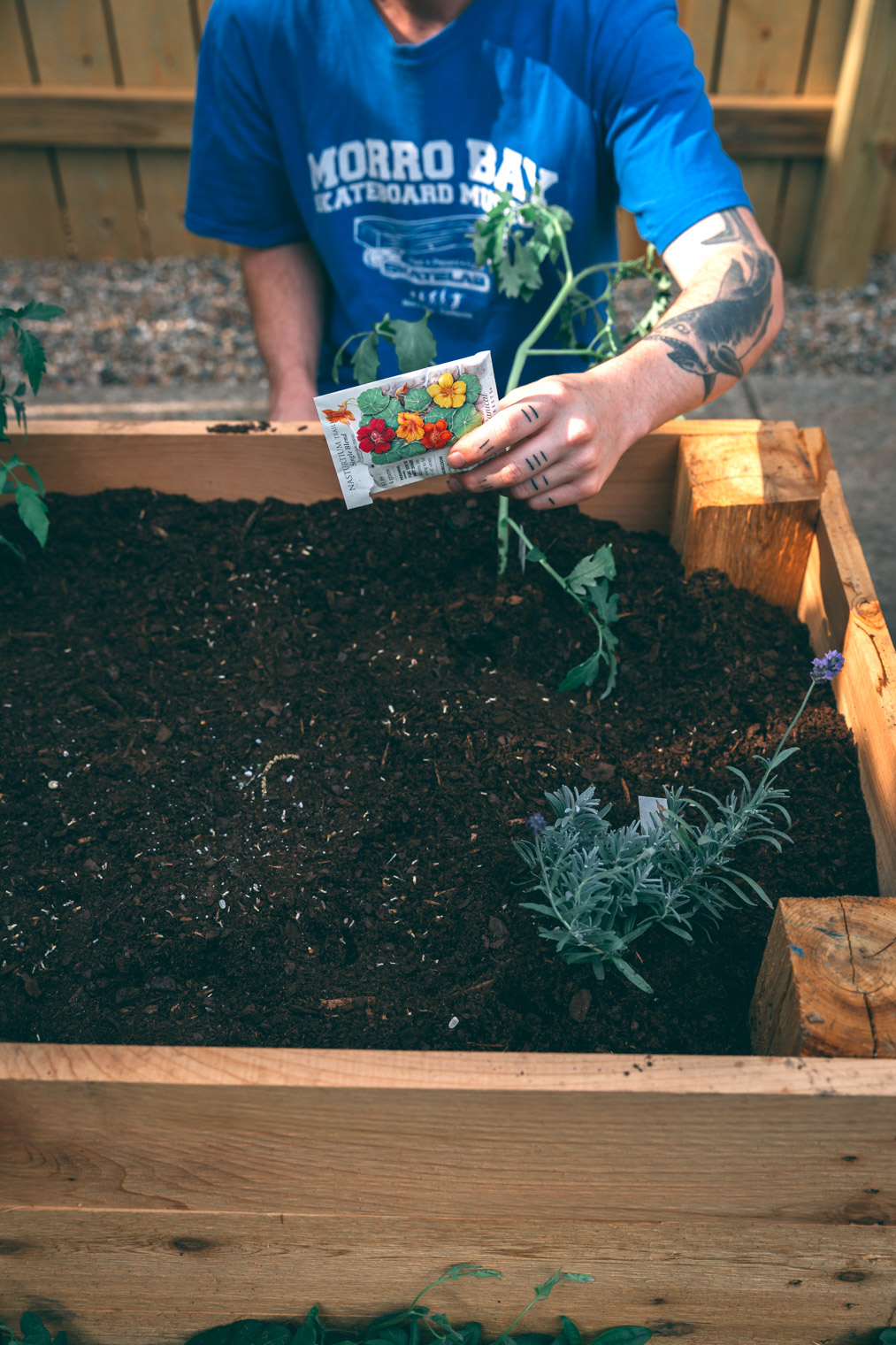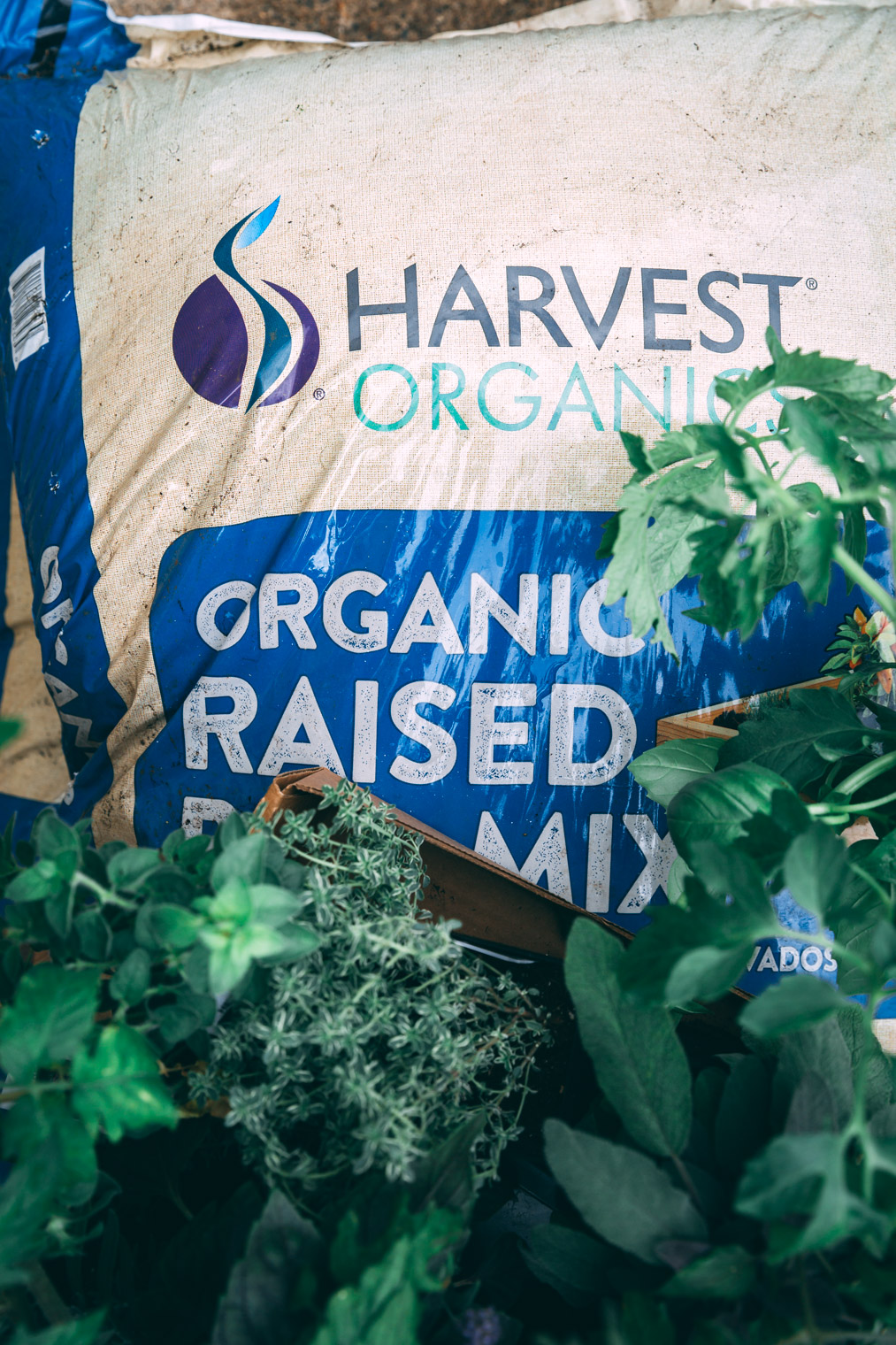 Seeds or starters? And where should I get them?
I plant a mix of both seeds and starters (starters = what I call small plants that have already sprouted). I tend to lean towards going with starters, when the option is available, as I'm terrible at planning ahead and my seeds are never as far along as I want them to be when I'm ready to plant. However, since my local nursery only has starters for herbs and vegetables that are common, I do plant most of my edible flowers from seeds so I can get whatever variety I am in the market for. If you are new to gardening, I would definitely recommend going the route of starting with "starters" to keep it easy.
For my edible flower seeds, I purchase them online as I can't find the ones I want locally. For starters, I shop at a locally owned nursery (ours is called May's Greenhouse) as I trust their products a bit more than the big box stores. If you don't have a local nursery, Lowe's and Menards both have herb and vegetable starters.
Other resources for starting an edible garden:
There are a ton of nitty-gritty things I didn't cover (full sun vs shade plants, plant spacing, watering routine, etc.) so I'm also including a few resources above for you to learn more.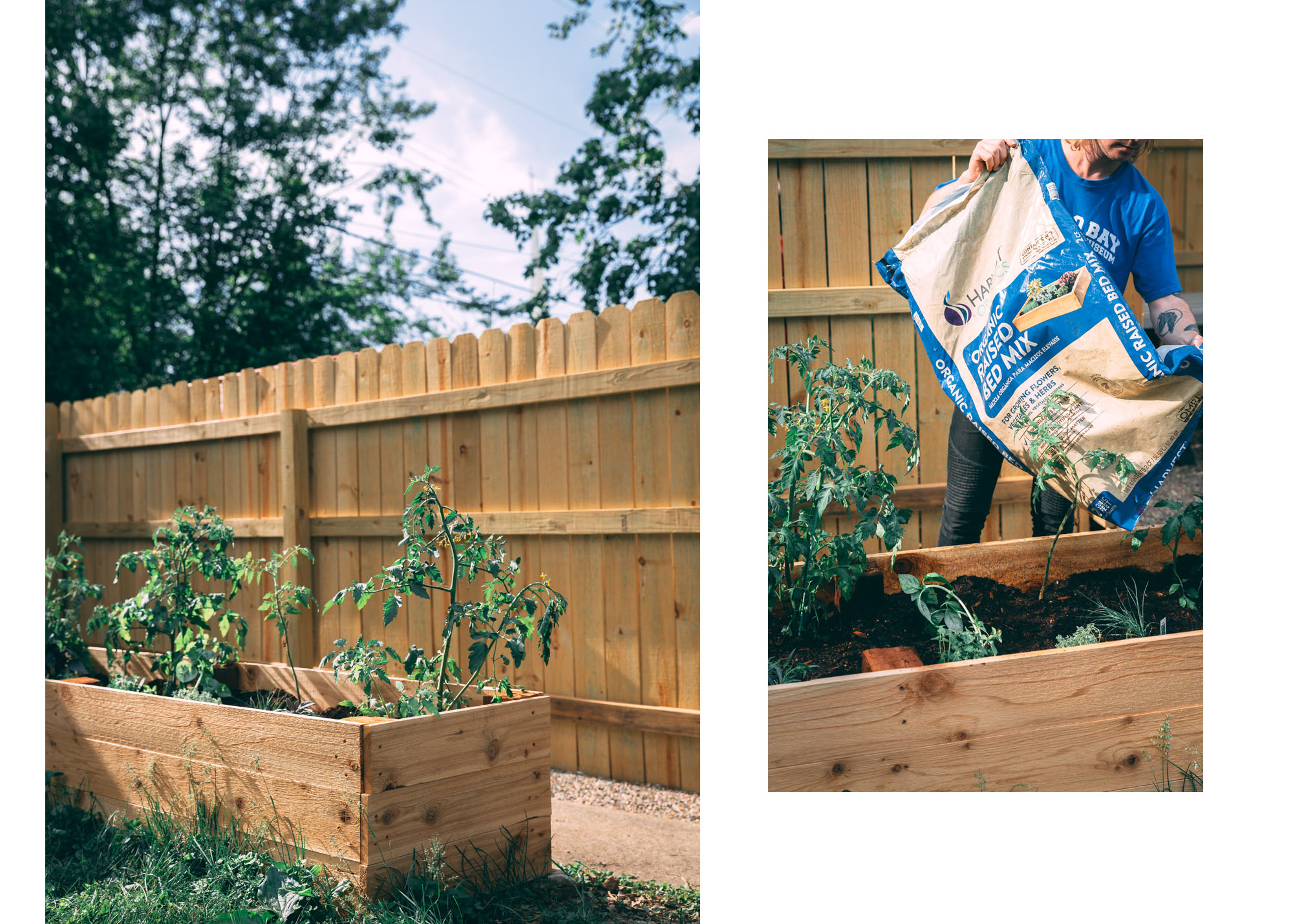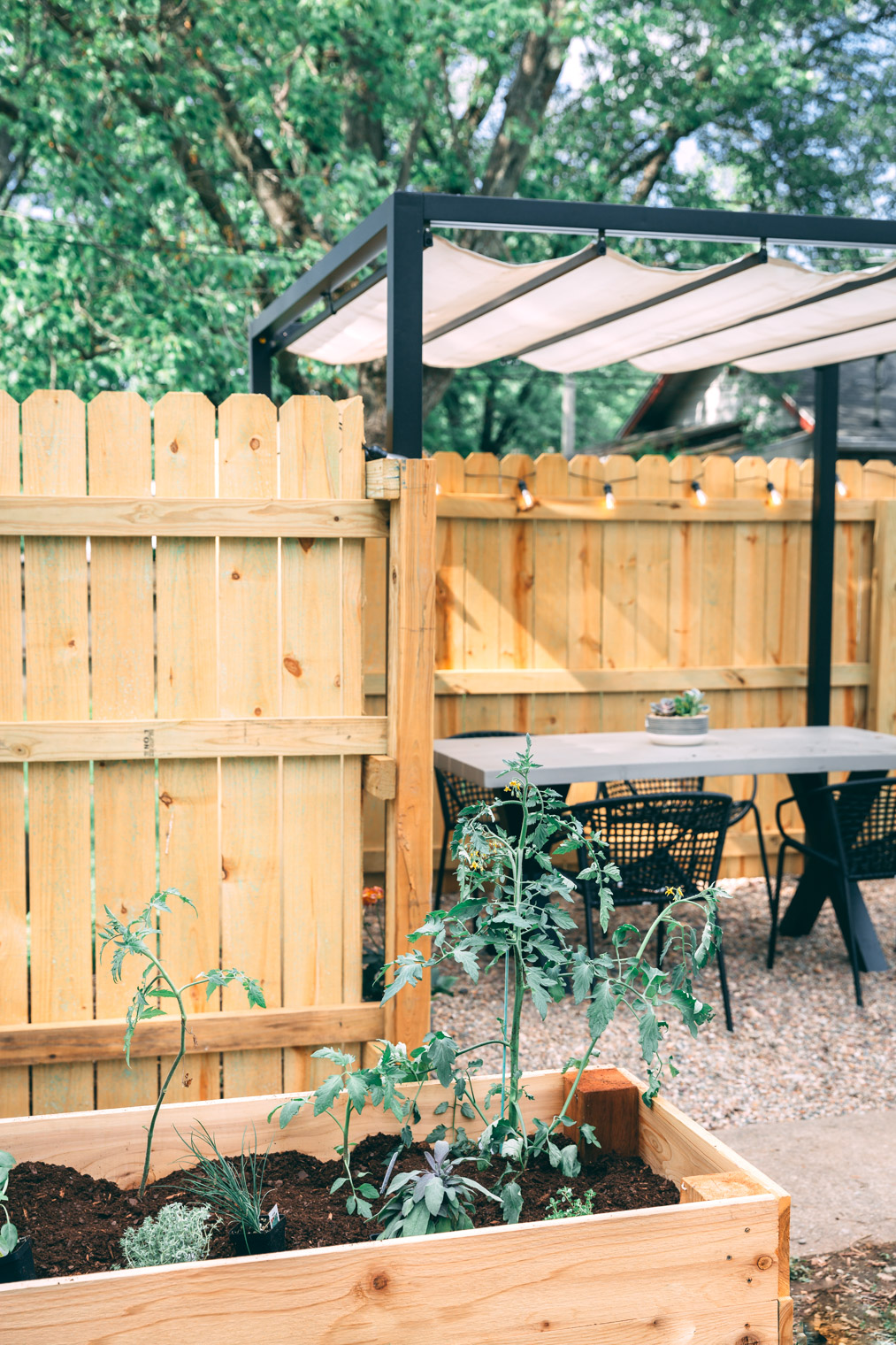 I hope this guide has inspired you to start your own garden! Feel free to leave any questions I missed answering in the comments and I'll make sure to answer as many as I can. Don't just garden, Harvest! #TheHarvestEffect