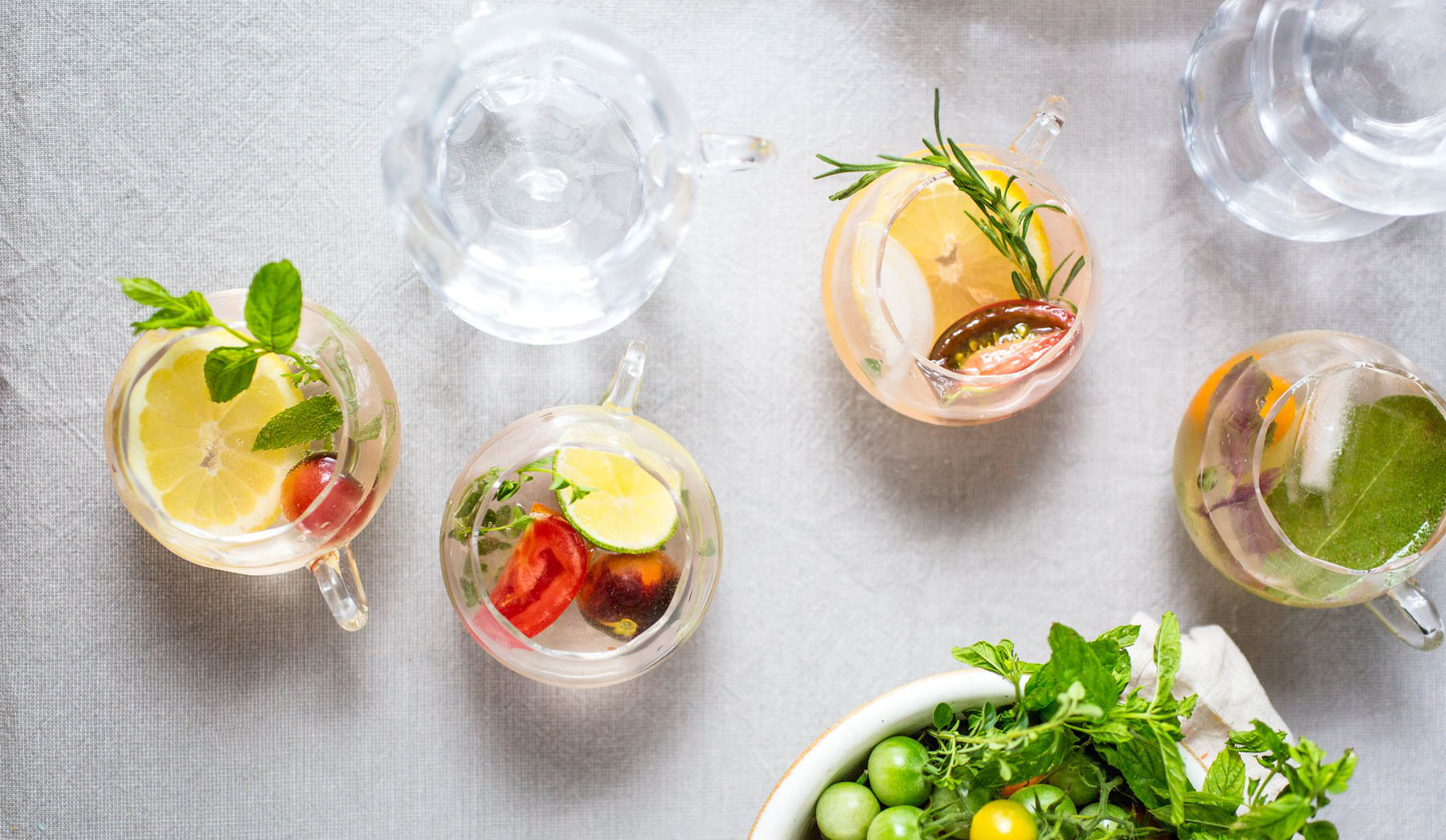 Garden Tonic Punch
In a hurry? Click here to JUMP TO RECIPE!
This Garden Tonic Punch is worthy of any summer cocktail party. It's made up of the herb and vegetable bounty found in my own backyard. A cold-pressed tomato simple syrup combined with an easy herb syrup creates a refreshing summer gin cocktail ideal for big batches.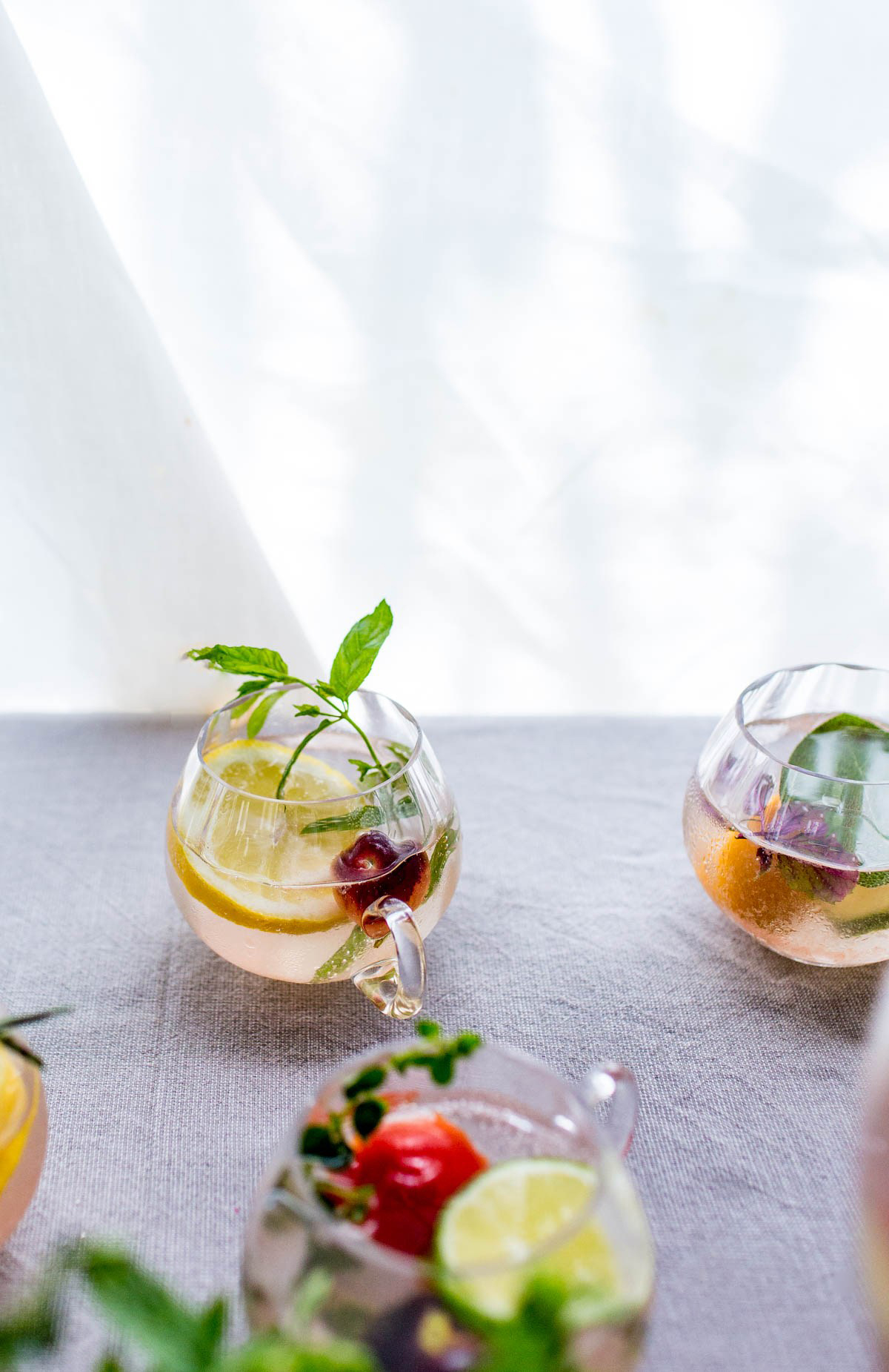 Guess what!? Today I am celebrating these two things with this Garden Tonic Punch: 1. #drinkthesummer which is a fun little virtual cocktail party where all my favorite bloggers get together and mix up something fierce (see the full list of cocktails below) and 2. Vegetarian 'Ventures FIVE year anniversary! Can you believe this space is FIVE years old (okay, it *technically* happened last week but who is keeping track)? Like imagine this space was a kid – she'd be HUGE by now… wanting to play dress up to look like mom and picking out her own ice cream flavors. But really, back to this space being a blog, this little space has grown up to host thousands of pictures, 534 posts, thousands of comments, millions of views (!!!), writing in the form of dreams and desires,  fears and worries, and a whole heck of a lot of recipes. Pretty cool, right?
It's so easy to get caught up in the day to day of worrying about not creating enough content, not getting those stats I had hoped for, not getting enough instagram followers, and so on that I forget to step back and look at it all as a whole. I forget to step back and see what a beautiful oasis this place as turned into – a place for me to be creative, to air out my thoughts, to connect with like-minded eaters, to be given opportunities I never thought would be possible (being published in my favorite publications! Getting a cookbook deal! Connecting with some of my food idols!), and to, most importantly, grow. Grow from being a college student to a clue-less adult to a baker to a cook to a blogger to a writer to a photographer and finally to an author. VV, I'm amazed at how far we've come in five years and I'm even more excited to see where we'll be in five more.
Some bloggers are into updating old content with new photos but where is the fun in that? To celebrate embracing this growth, let's look back at what we were creating during this month over the past five years (and the stellar photos I took back in those days):
First post: August 17th, 2011: Vegan Chocolate Strawberry Cupcakes
VV Turns 1: Butterscotch Roll-Up Cake (oh yeah – when it was totally cool to put a sprinkle mask over a photo..)
VV Turns 2: Spicy Double Chocolate Chip Cookies with Cappuccino Frosting
VV Turns 3: Creamy Peanut Butter Pup Pops
VV Turns 4: Sparkling Peppered Plum Blush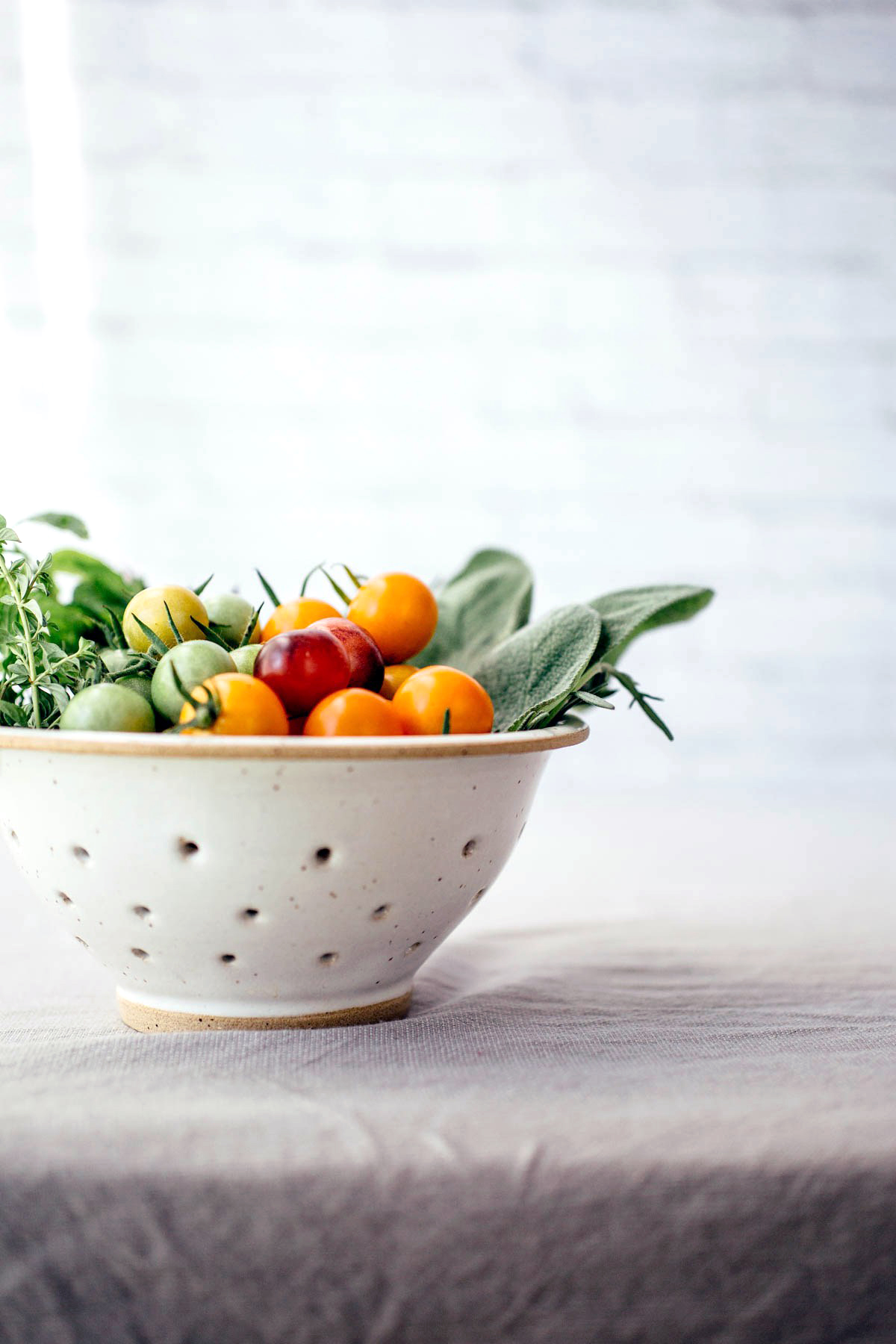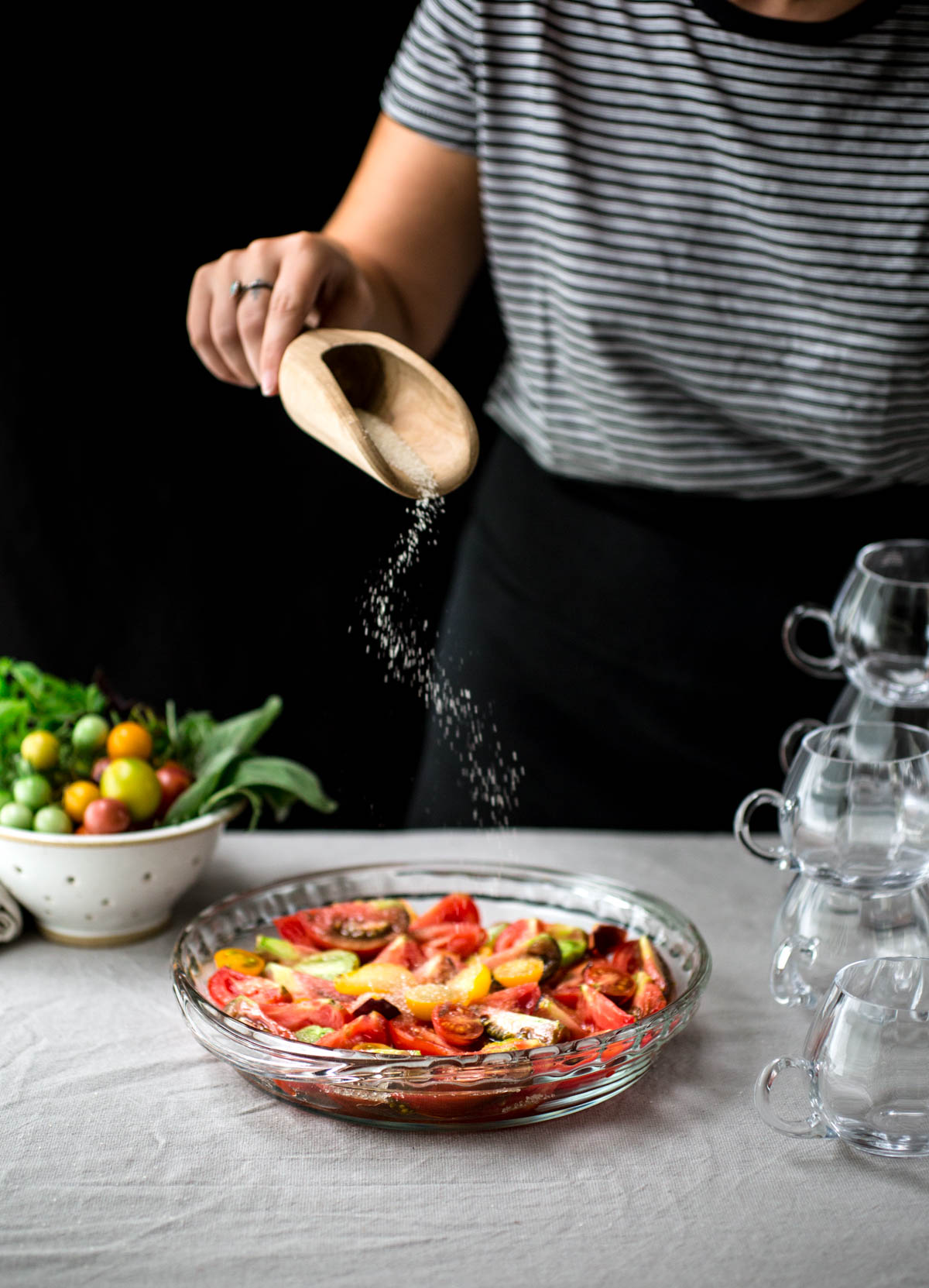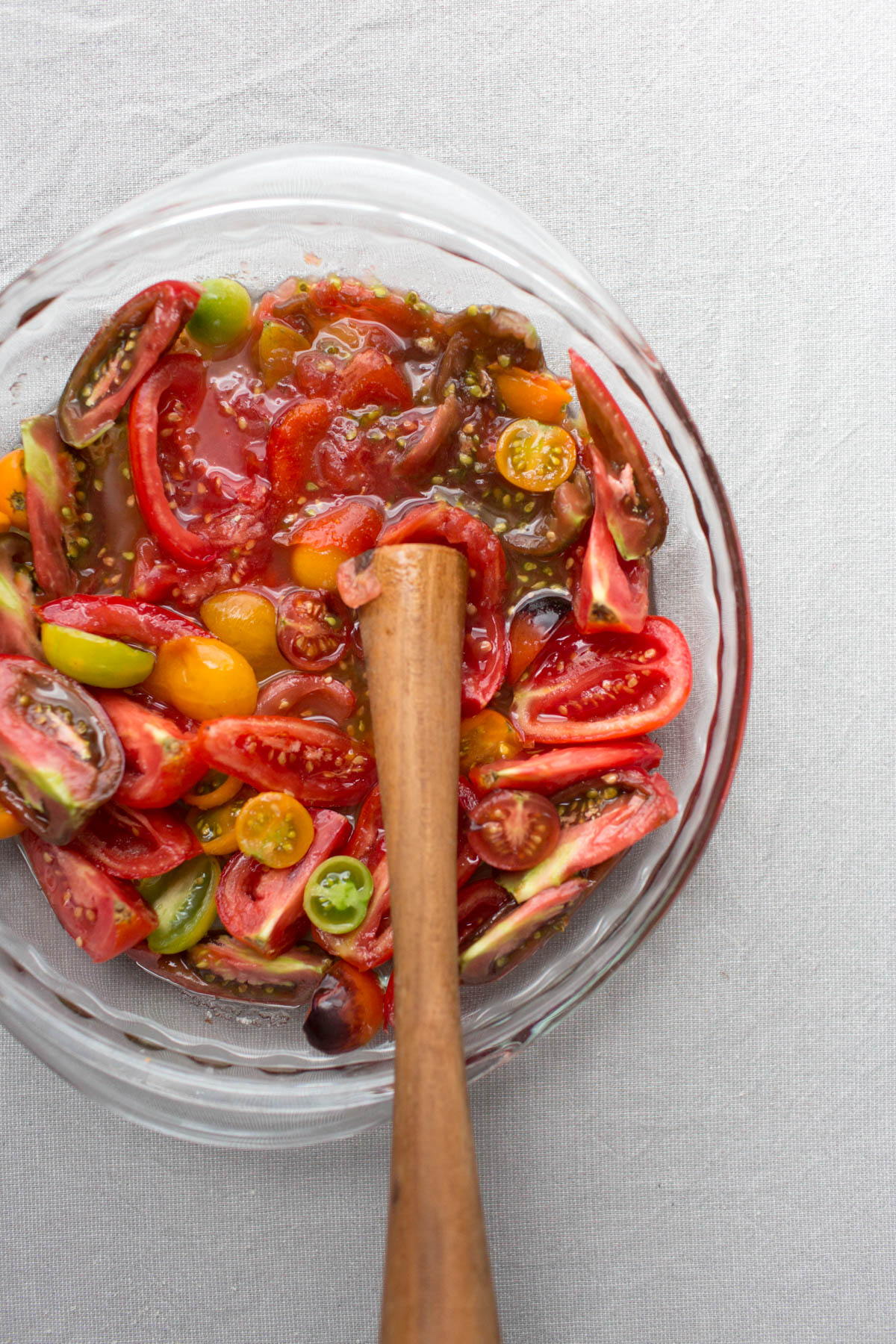 Okay, now that we've reminisced, let's talk about this Garden Tonic Punch! Is it totally appropriate to throw your entire garden into a cocktail and call it a punch? Well if it's not then too bad because I just made it happen. There are two simple syrups that come together to create a slightly sweet fizzy punch with hints of both herbs and tomatoes. Instead of heating the tomato simple syrup over the stove like a traditional simple syrup is made, the tomatoes are soaked in sugar, to bring out their juices (similar to what you do to strawberries for strawberry shortcake), muddled, and then strained into the punch to create a gorgeous pink hue and subtle acidic bite that will leave your guests coming back for more. I used the herbs I had on hand for the herb simple syrup but feel free to use whatever you had around: thyme, basil, rosemary, tarragon, mint, sage, etc. I also prefer my drinks to be more citrus than sweet but keep some honey handy to sweeten the punch at the end in case you like it sweeter.
Is this Garden Tonic Punch not your thing? No problem, here are a ton more #drinkthesummer recipes from bloggers all over the web to try:
BOOZY
NOT BOOZY
Anyhow, did somebody say cocktail hour? Let's get sippin'!
Garden Tonic Punch recipe below: