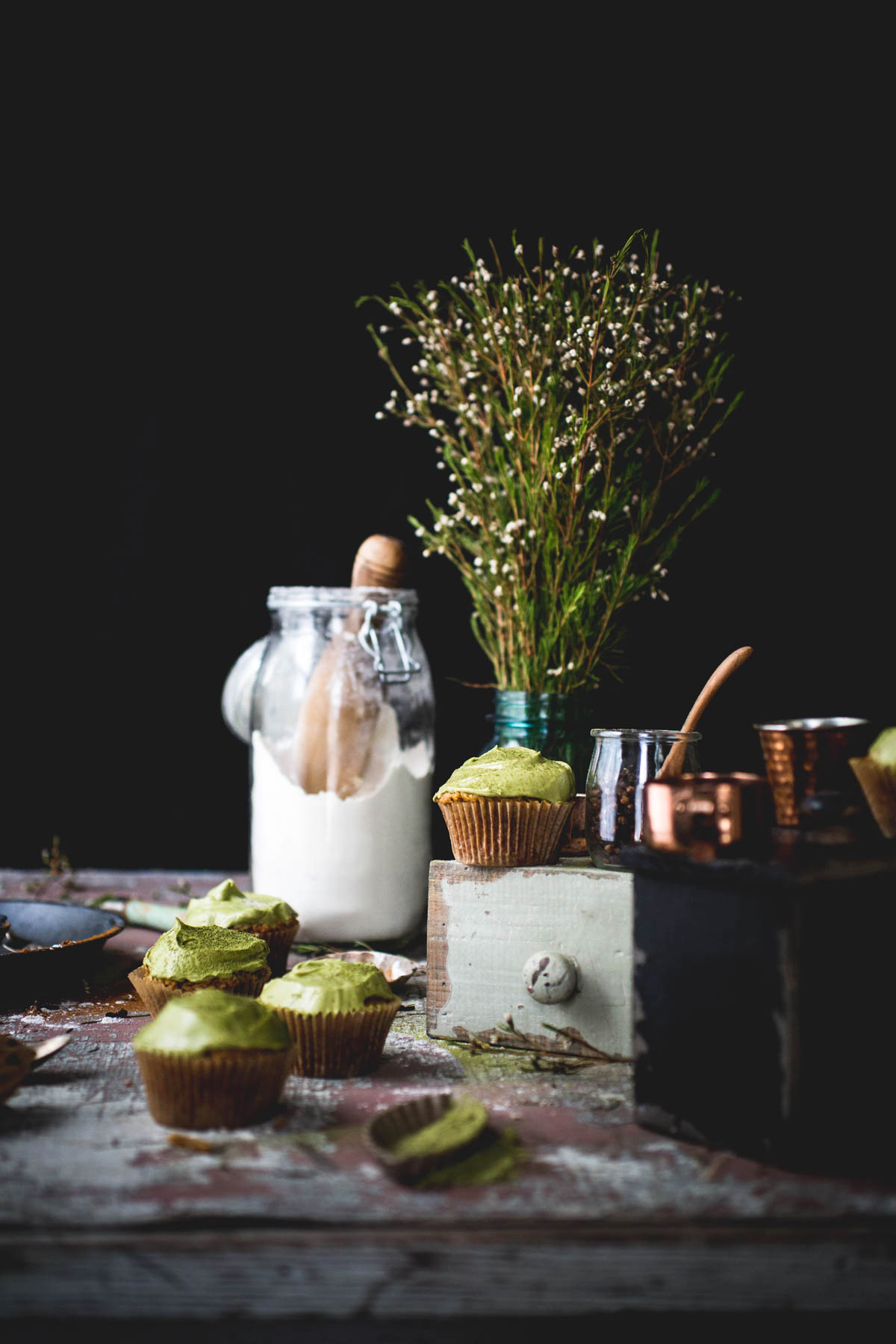 Persimmon Cupcakes with Matcha Frosting
In a hurry? Click here to JUMP TO RECIPE!
These Persimmon Cupcakes with Matcha Frosting are a perfect fall treat infusion of my southern Indiana persimmon pulp and the chinese green tea super powder, Matcha.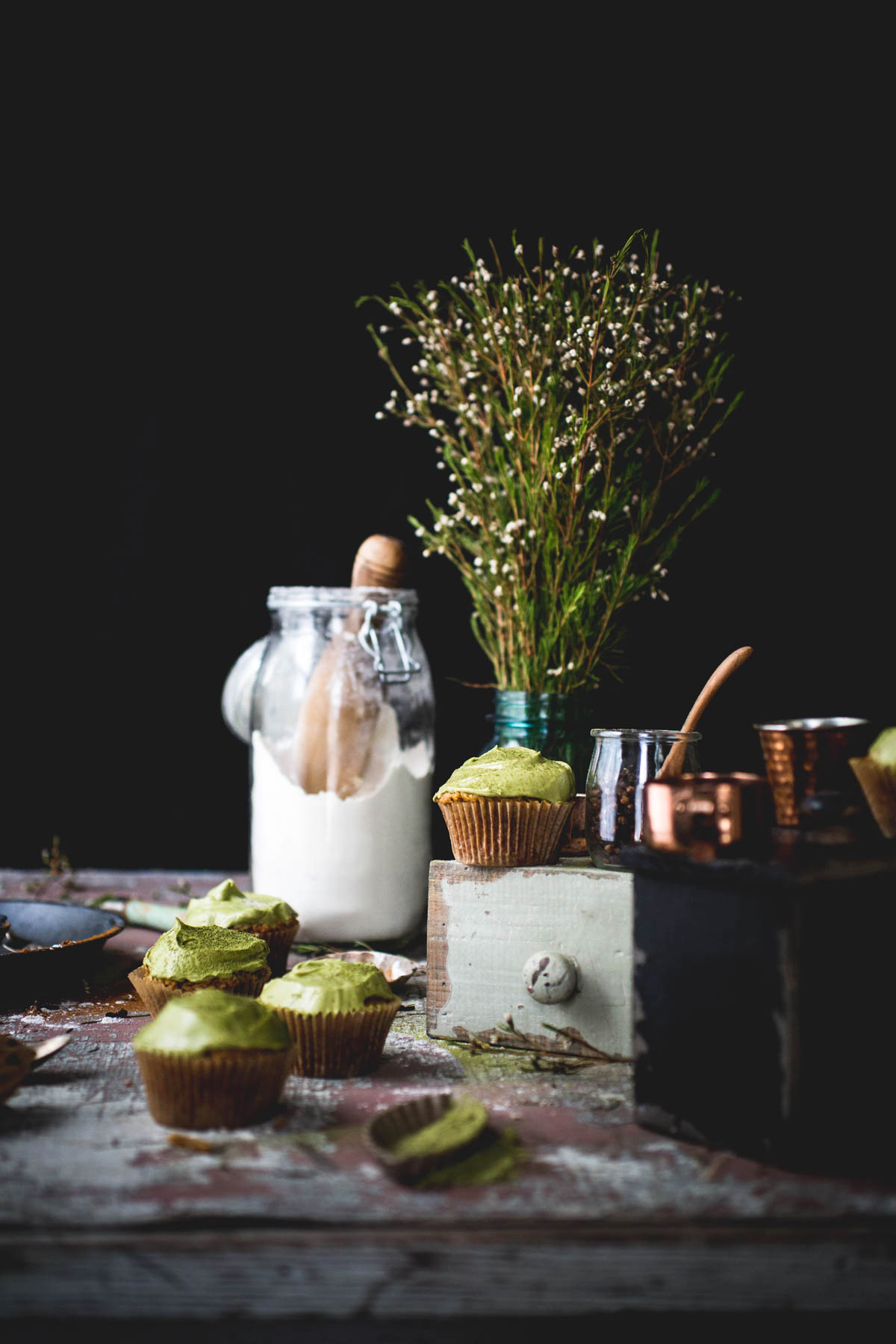 Last month around this time, my neighbor, Susie, and I took our boyfriends on what we said was going to be a 'quick stop on the way to get some pizza'. What we didn't tell them is that we had signed up to pick the day's supply of persimmons from a friendly couple's tree (known to the locals as 'the giving tree'). With me bringing my small apple picking basket and Susie a reusable bag, the joke was on all of us when we got there to find out that the tree has dropped 30 pounds of persimmons that day (!!!). Unlike when Susie and I "picked" persimmons last year in the form of sneaking onto private property after dark to pick up half rotten fruit from the under a tree, this was a big production. The couple had built a giant net contraptions under the tree to catch any fruit that ripened and fell. There were poles keeping the net up that they could then release to let the fruit drop into big buckets.
In case you've never picked your own persimmons before, let me give you a small description of how this went down. American Persimmons are ready when they fall from the tree and seem overripe; because of this, they go bad very quickly if they aren't washed, pitted, pureed into pulp, and frozen within a day or two.  After getting a small tutorial on how to work the poles and the net, we managed to fill 4 bins (equalling between 30 and 40 pounds) from what had fallen onto the net that day. Thank goodness they had the net system because that was only the beginning of the process. From there, we had to take the stem off of every piece of fruit and dunk it in water to wash it. Between the four of us doing this in an assembly line fashion, it took us about 45 minutes. From there, we divided the harvest in two so that Susie and Ryan got half and Wyatt and I got the other half. Back at home, with the stereo blaring Alannis Morsette, I used a cheesecloth bag to extract the pulp from the pits. All in all, my 15 to 20 pound bounty yielded 8 cups of pulp. So far I've used 1 1/4 cup of that pulp and the rest resides in the freezer. Guess I'll be serving Persimmon Pudding for any gatherings that come up for the rest of fall.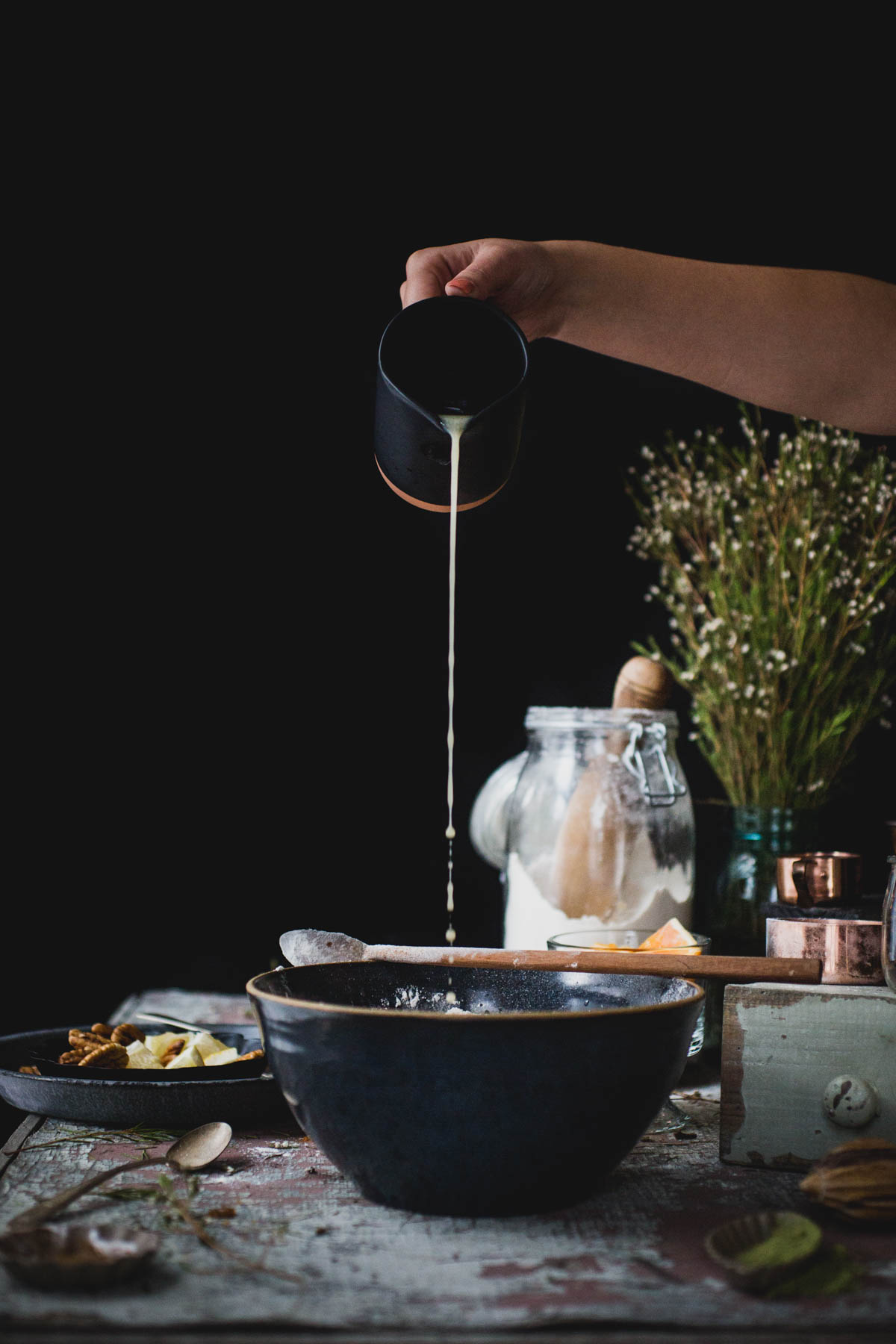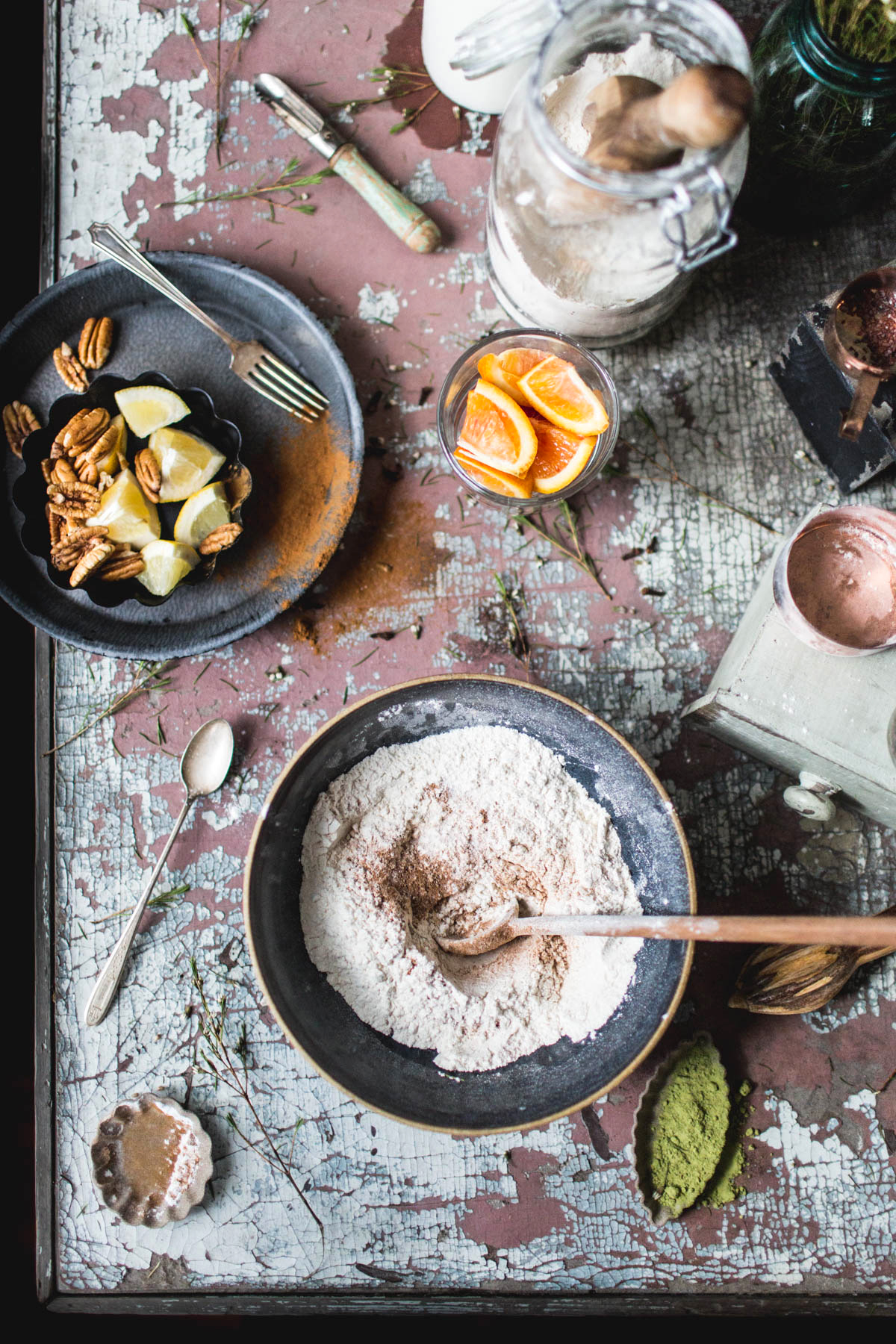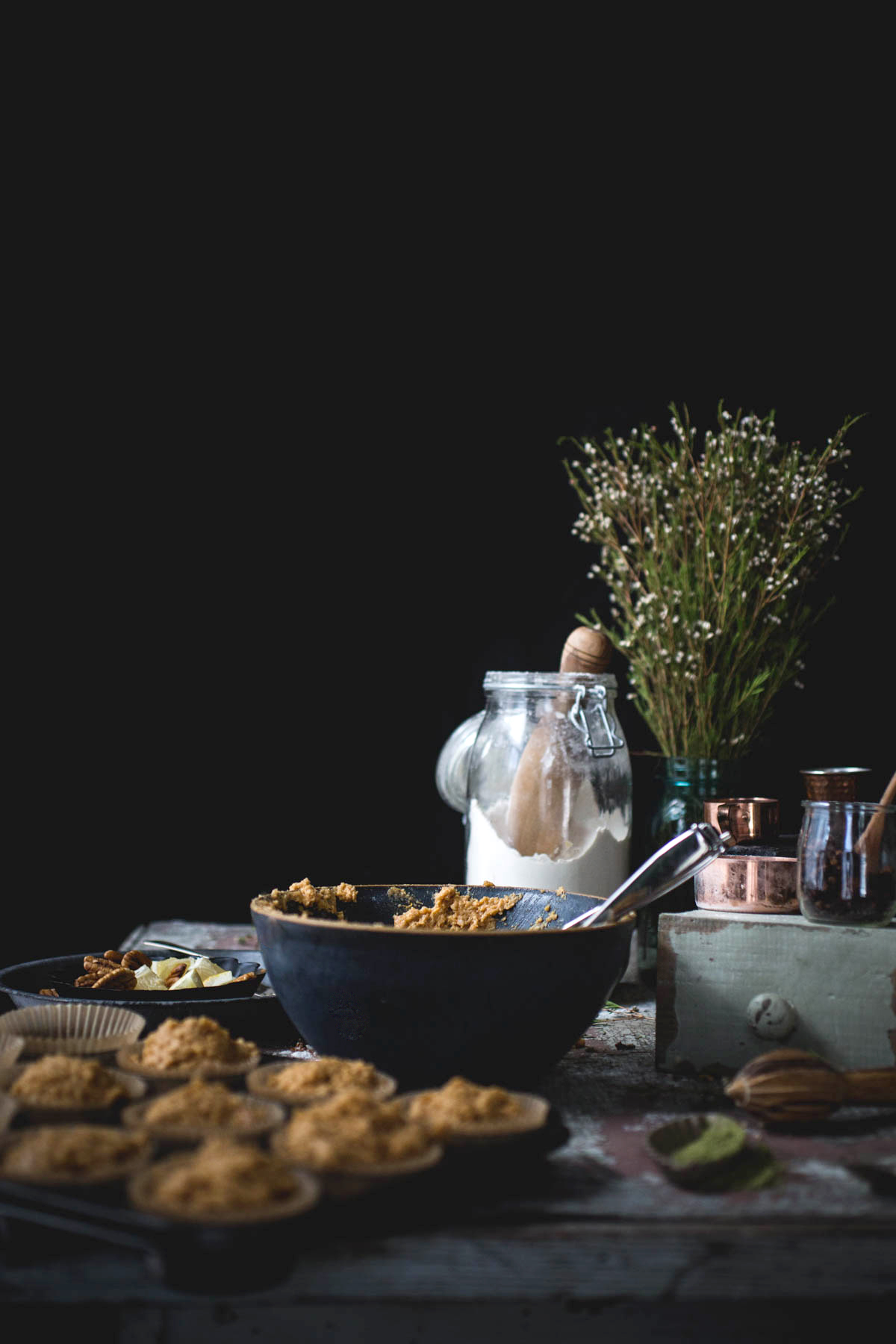 I'll give it to you, American persimmons are a bit strange to people who aren't familiar with them. To be honest, I had never even heard of them until my 20s because growing up in a small town in Northern Indiana meant our grocery store had only the very basics (and persimmon trees don't grow up north). However, when I moved down here to Bloomington, Indiana, I first discovered Persimmon trees because I passed one on my way to class every day freshman year and it STUNK during the late fall (YAY rotting fruit). As I became more engrossed in the culture here, I soon learned that Persimmon pudding is a HUGE deal in southern Indiana and there is a whole festival to celebrate it. You can't meet a townie that doesn't have a family recipe for Persimmon Pudding passed down from their grandma.
However…persimmon pudding is the extent of it. This mushy – kind of like pumpkin pie filling but not – dessert is, at least it feels like, all anyone around here makes with persimmons. It fascinates me – how is there not more to them? As with so many quirky things this town does different, Persimmons grew on me…hell, I don't even mind Persimmon Pudding now and then. But, with that being said, I wanted to adventure away from the pudding – to prove they could be more than an old fashioned potluck dessert. Queue these Persimmon Cupcakes with Matcha Frosting! The earthy flavors found both in matcha and persimmons complement each other perfectly to create a heavily spiced mash-up. Turning the persimmon pulp into cupcakes brings it into the 21st century while the matcha takes it out of it's Southern Indiana roots. It's still heavily spiced with cinnamon and fall spices (as persimmon recipes tend to me) so it's perfect for this time of year. If matcha isn't your thing, I'd imagine regular cream cheese frosting is probably also a fantastic option for these cupcakes.
Side note: I know I've mentioned this book before here but the Matcha Frosting recipe is from Alanna Taylor-Tobin's Alternative Baker cookbook which I can't recommend enough!
Persimmon Cupcakes with Matcha Frosting recipe below: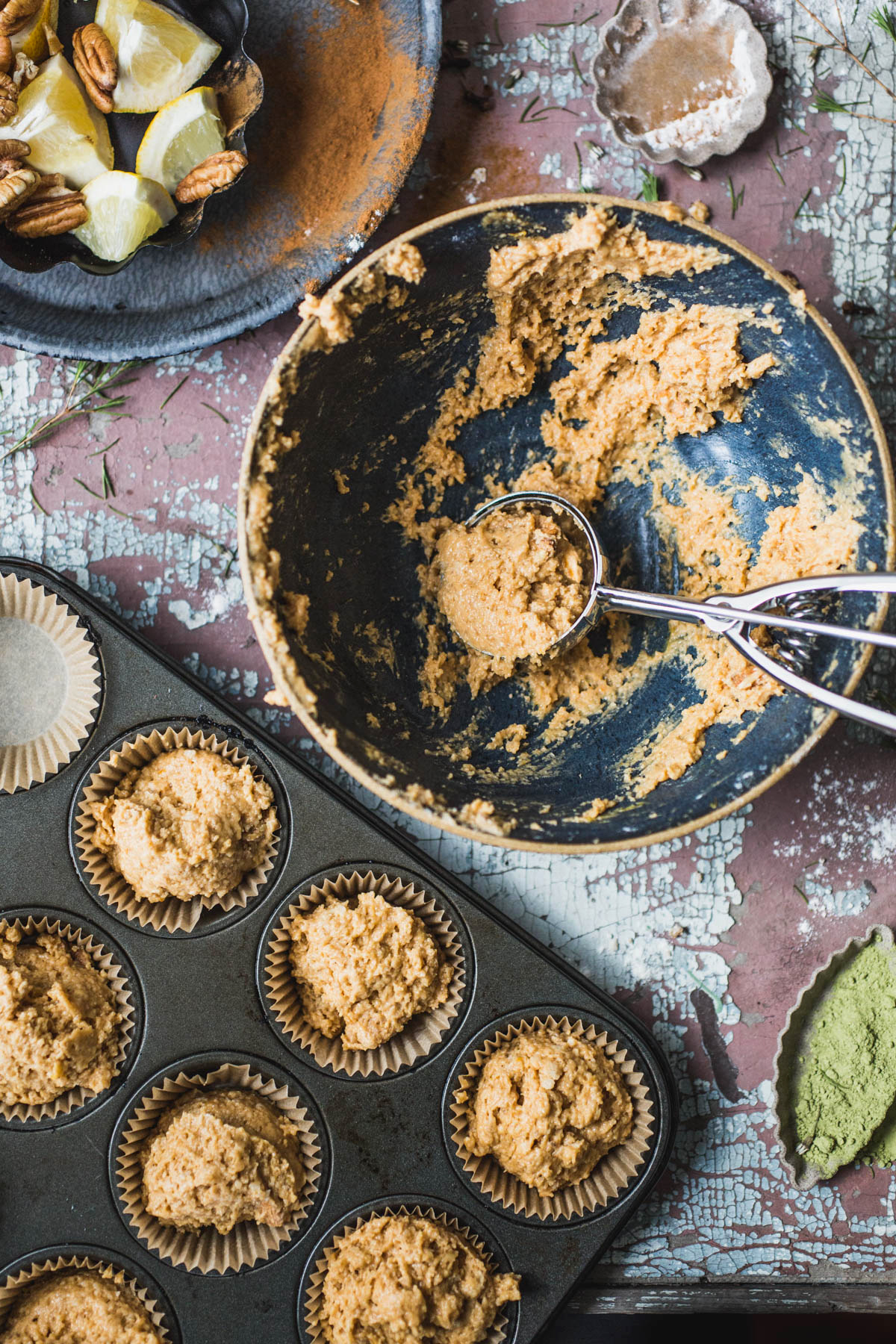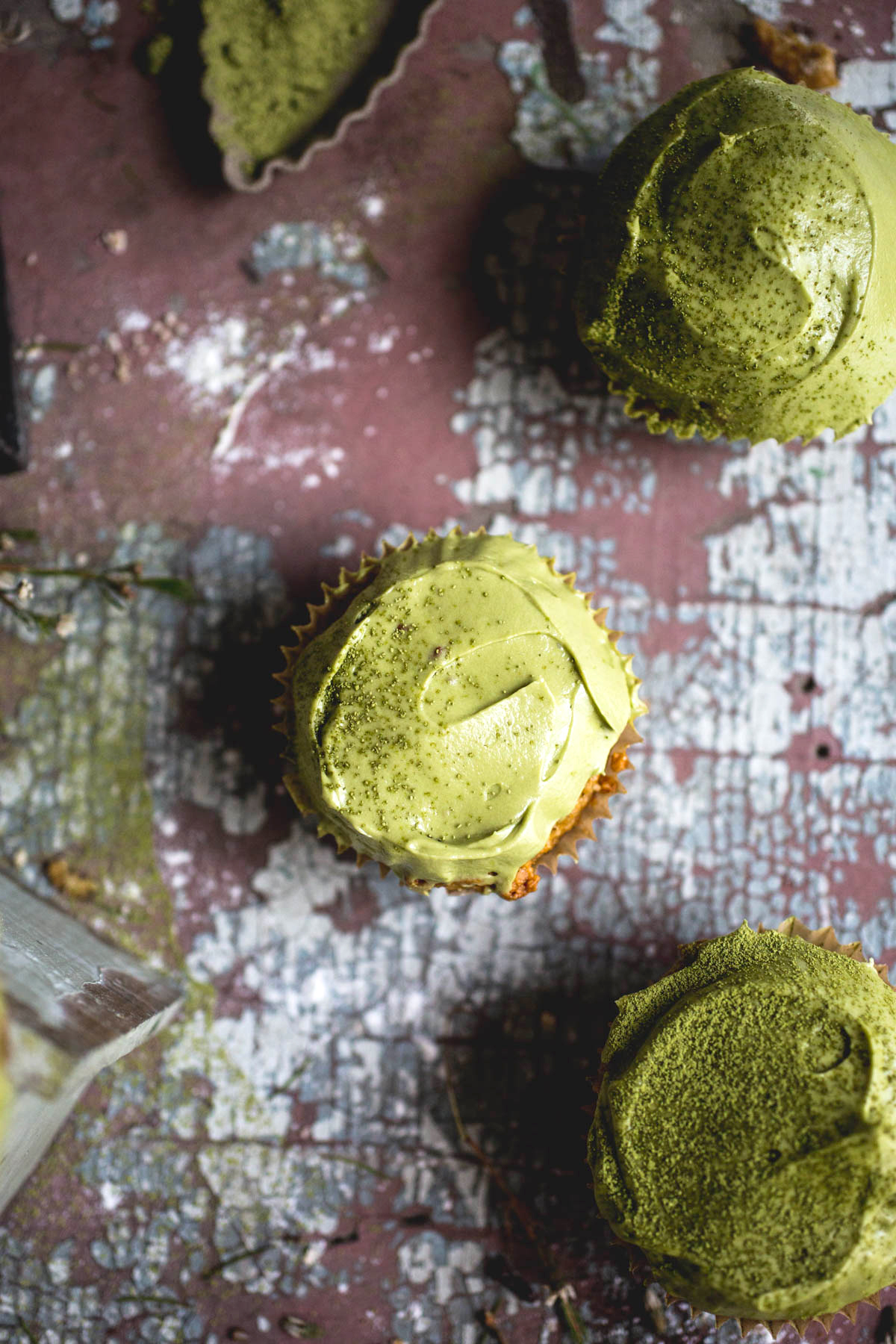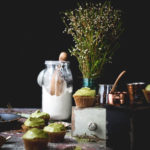 Persimmon Cupcakes with Matcha Frosting
These Persimmon Cupcakes with Matcha Frosting are a perfect fall treat infusion of my southern Indiana persimmon pulp and the chinese green tea super powder, Matcha.
/// Cupcakes adapted from a cake recipe from
All Recipes
and frosting from
Alternative Baker
.
Ingredients
1 1/4

cups

persimmon pulp

1

tsp

baking powder

2

cups

all-purpose flour

1

cup

brown sugar

2

tsp

baking powder

1/4

tsp

salt

1

tsp

ground cinnamon

1/2

tsp

ground nutmeg

1/2

cup

butter

, melted

1/2

cup

chopped pecans

1

tsp

citrus zest

(I used orange)
For the frosting:
6

oz

cream cheese

, softened

1

Tbsp

matcha powder

3

Tbsp

unsalted butter

, softened

3/4

cup

powdered sugar

Pinch of sea salt
Instructions
Preheat oven to 350 degrees and line a muffin tin with 12 muffin liners.

Fold the baking soda into persimmon pulp and set aside.

In a large mixing bowl, whisk together flour, sugar, baking powder, salt, cinnamon, and nutmeg, Make a well in the center of the dry ingredients and add in pulp and melted butter. Whisk the pulp and butter together until combined and then fold the dry ingredients into the pulp mixture. Add in pecans and zest and mix until combined (your dough will be stiff and this is okay).

Divide the dough evenly between the 12 muffin liners. Bake for 22 - 25 minutes or until a toothpick comes out of the center clean and the tops have browned. Transfer to a baking sheet and let cool.

For the frosting: combine all the frosting ingredients into a bowl of a stand mixer fitted with a paddle attachment. Whip on low speed until everything is combined then turn it up to medium and whip up light and fluffy, about 2 to 3 minutes.

Divide frosting evenly between the cupcakes and spread with a spatula.
Nutrition Facts
Persimmon Cupcakes with Matcha Frosting
Amount Per Serving
Calories 385
Calories from Fat 171
% Daily Value*
Fat 19g29%
Cholesterol 43mg14%
Sodium 168mg7%
Potassium 287mg8%
Carbohydrates 51g17%
Protein 4g8%
Vitamin A 580IU12%
Vitamin C 16.5mg20%
Calcium 102mg10%
Iron 2.2mg12%
* Percent Daily Values are based on a 2000 calorie diet.