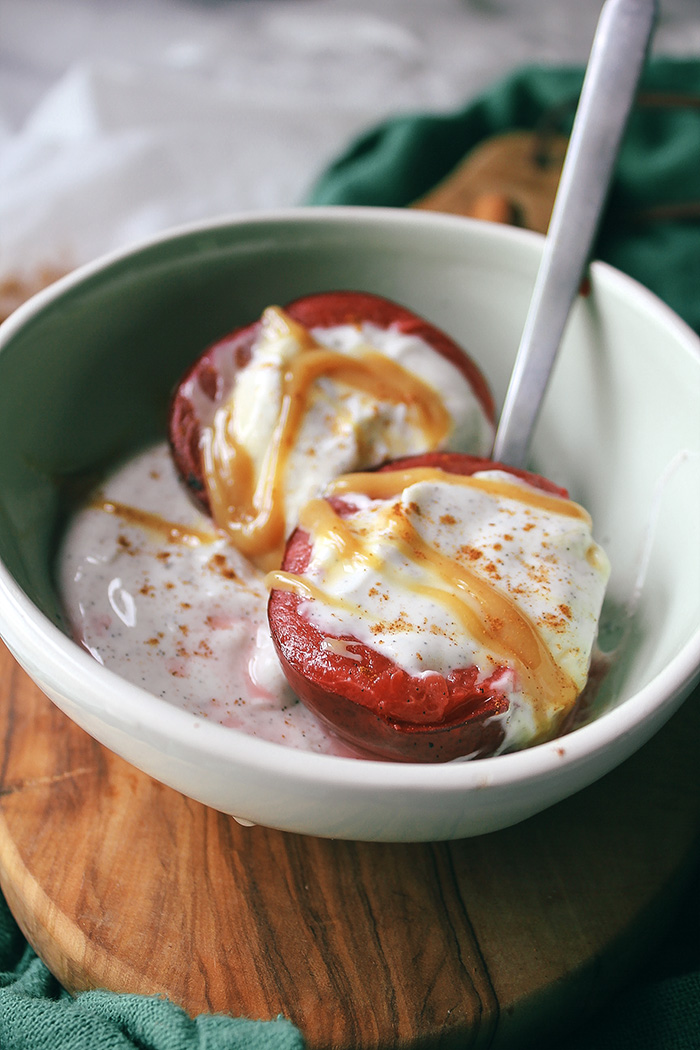 Poached Plums WIth Vanilla Bean Greek Yogurt & Dulce de Leche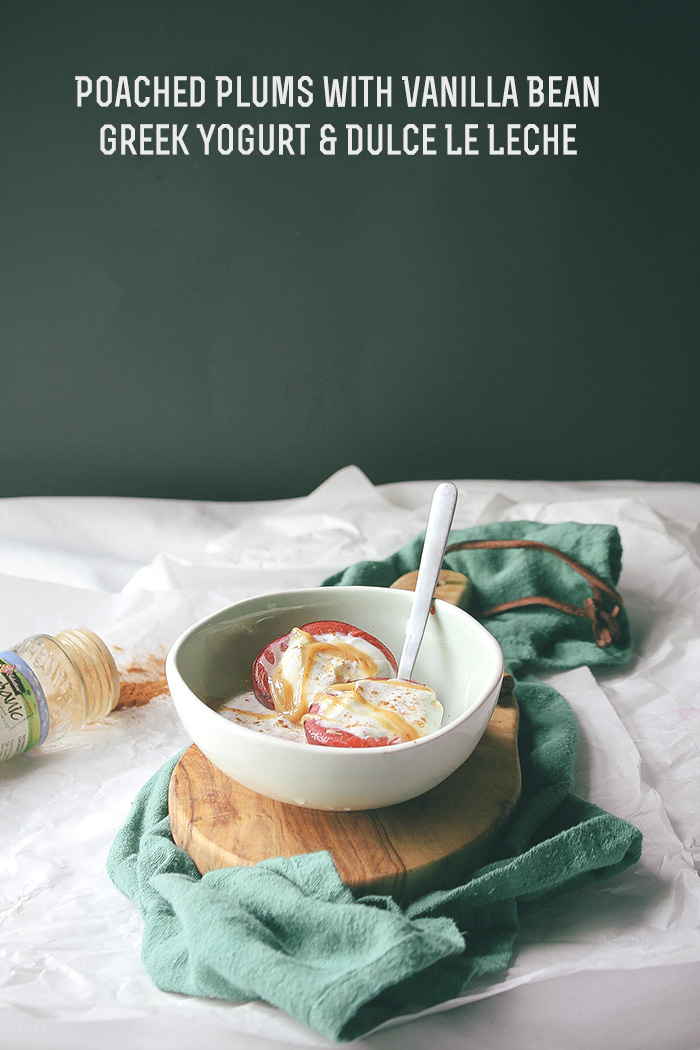 Being an aspiring baker is hard. Sometime I wonder if it'd be easier to just hide the sugar from myself instead of whipping up a batch of 4 dozen cookies on impulse. What single couple needs FOUR DOZEN cookies? I usually eat 1 and a half followed by Wyatt and the dog eating maybe another 4. Such a sad sad waste. This also sometimes ends up being the case with pies – it's hard to make a portion controlled pie when you have a pan that comes in large and X-large.
Portion control is one of the main reason I've been so in love with poaching and roasting fruit lately. It's super easy and simple to just poach a single plum and add more if someone happens to drop in. No worrying about who I'm going to give an half eaten pie to anymore or if I'll have to throw away those stale cookies from two weeks ago.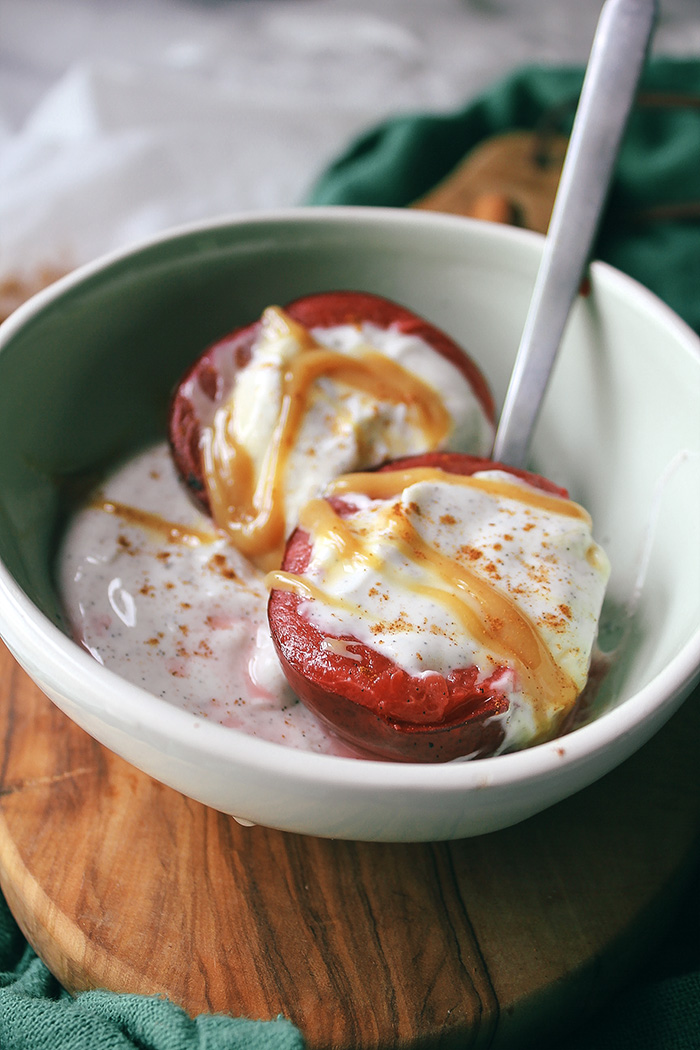 Have you ever had Dulce de Leche? But have you had it homemade?? It's an Argentinan caramel that can be made with only one ingredient. Yup, one ingredient. There are about 20 billion (exaggeration) ways to make it according to google. These methods vary from using the microwave, stove-top, or the oven. Even one method is called "The Bomb" in which you put an entire can into the oven and cook (I would cautious against using this method..). I don't own a microwave so that option was out of the equation for me. I was into doing the stove-top method but many recipes called for anywhere between 2 and 6 hours of stirring and well…I wanted Dulce de Leche like.. now. I chose the oven method because it's the fastest and most hands off. It's actually as simple as making a sauce can get – pour everything into an oven proof pan and bake. Boom. Easy.
Lastly, I have to admit something. I could not decide on a name for this recipe. I knew it was going to be long and filled with wonderfully sweet words but I couldn't settle on which ones. At my day job I have to be very particular and consistent in my writing. This means I'm over being consistent and will do whatever I want on my blog..because well… I can. So call it whatever you want but just remember that in the end it's a big plate full of bright fruit, irresistible dulce de leche, creamy yogurt, and loaded with spices like vanilla and cinnamon.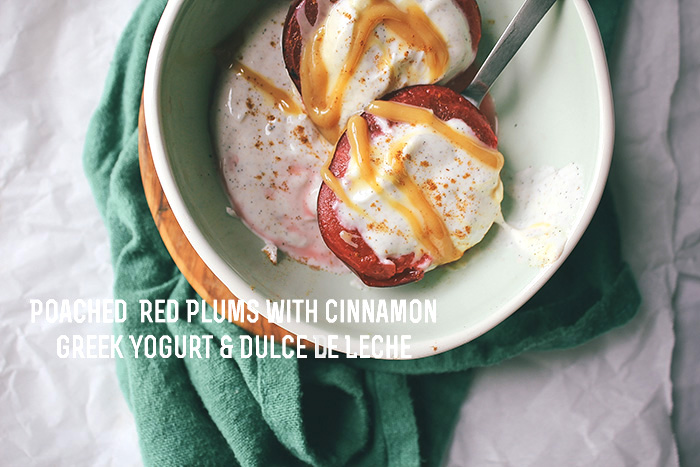 Poached Plums With Vanilla Bean Greek Yogurt & Dulce Le Leche
Serves 2
2 plums, sliced in half and pits removed
2 Tablespoons honey
2 teaspoons cinnamon
1 vanilla bean, sliced lengthwise and split in half
1 cinnamon stick
1 14 ounce can condensed milk
Preheat oven to 425 degrees. Place the condensed milk in a glass oven-safe pan and cover with aluminum foil. Then place that pan in a large oven-safe pan. Fill the larger pan with water so that the condensed milk pan is submerged – leave room in the pan for the water to boil but make sure it's filled up enough that it's above the milk level.
Cook for an hour to an hour and a half. Check frequently and add more water as needed. Mine took close to 1 1/2 hours but my oven is slow so I'd recommend checking it after an hour. Carefully remove from oven once it turns a light caramel color and stir. Set aside.
Fill a small saucepan with just enough water that the plum halves will be submerged. Add the cinnamon stick and half the vanilla bean. Bring to a simmer over medium heat and add the plums. Let them only cook for about 2 minutes (time will vary depending on ripeness) – enough to soften but not so much that they become mushy. Once poached, remove using a slotted spoon.
Remove the vanilla beans by scraping out the inside of the other half vanilla pod with a knife. Discard the pod and transfer vanilla beans to a small bowl with the Chobani yogurt, cinnamon, and honey. Whisk until combined.
To assemble: Scoop a dollop of yogurt over the plums and drizzle with dulce le leche.
If the dulce le leche has hardened then use a double boiler to re-melt.