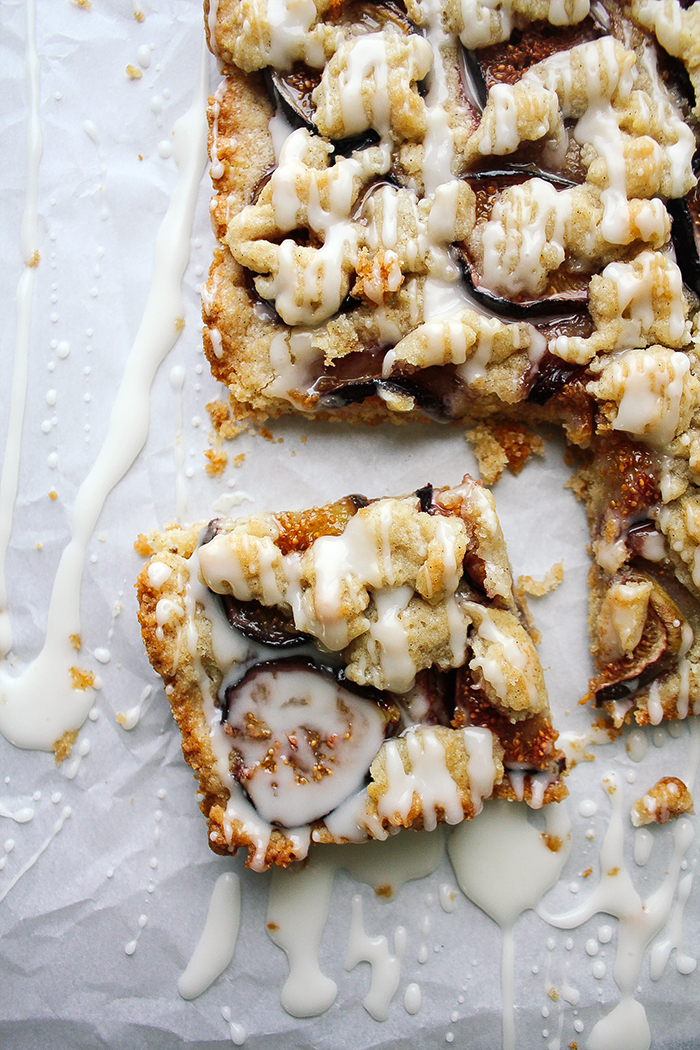 Vanilla Bean & Fig Shortbread Drizzled with Honey Glaze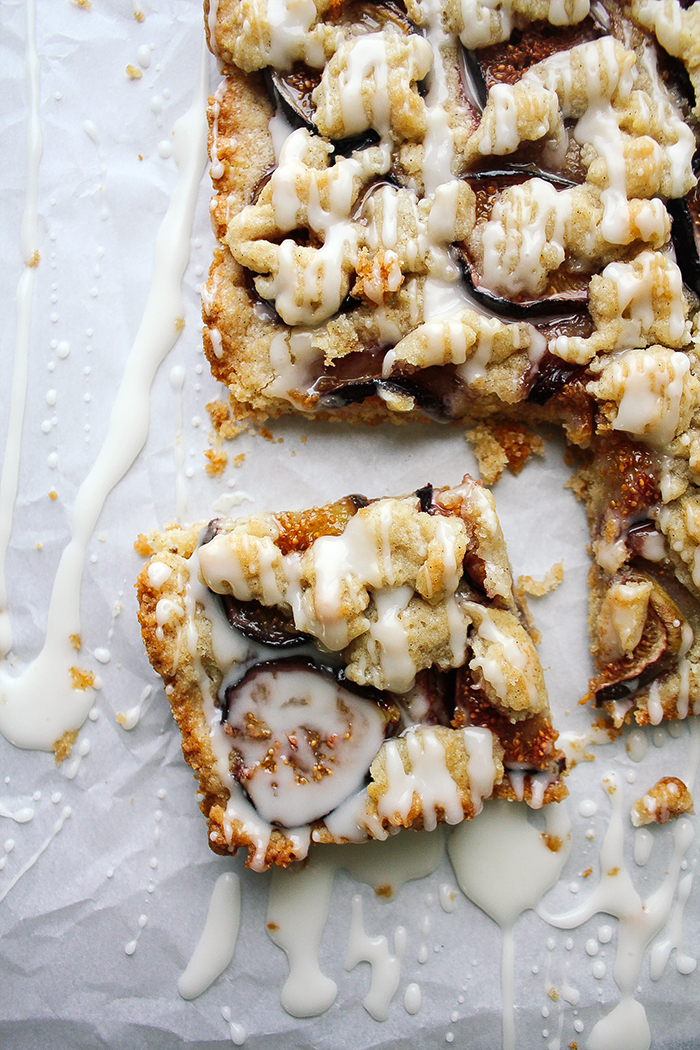 This past week has been wonderful. It was my birthday on Wednesday and I've been spoiled silly by so many wonderful people. Packages in the mail, trips to the city, visits from my mother, late night dinners. All this positive attention reminded me that I can also spoil myself a little -I decided I was entitled to as much sangria and shortbread as I please during this week. I whipped up a big batch of sangria and peach shortbread last Sunday and spent the week picking away at it. Heck, I even ran out of shortbread by Wednesday and whipped up another batch; this time I whipped up these fig shortbread bars.
Sometimes you are kind of nervous about getting older and the only cure is large amounts of butter and sparkling wine. Oh and having amazing people in your life.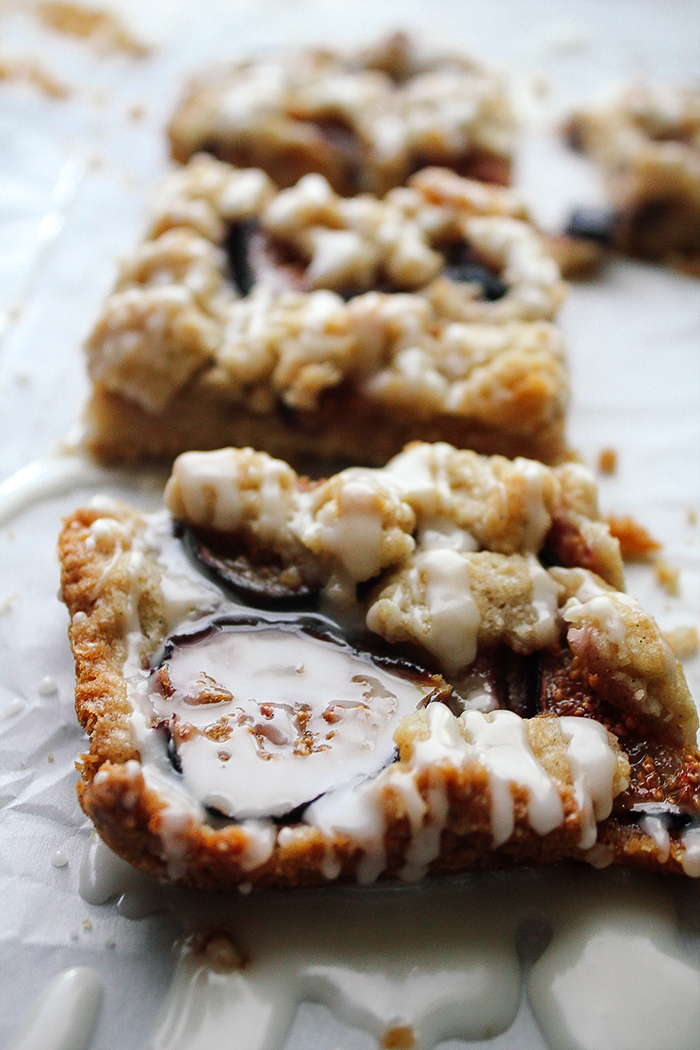 There is something incredibly comforting and satisfying about shortbread. Maybe it's the mix of savory butter and sweetened fruit. Or maybe I just grew up with a little too much butter in my cookies. Either way, these cookies will not disappoint. The honey is just icing on the cake (literally) – use maple syrup instead of honey if you are making the vegan version and double the recipe (use a 13×9 inch pan) if you are baking for a crowd.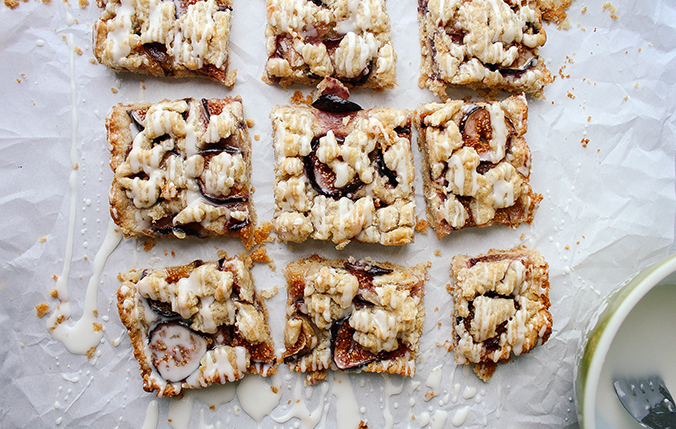 Vanilla Bean & Fig Shortbread Drizzled with Honey Glaze [Vegan Option]
1/2 cup sugar
1/2 teaspoon baking powder
1 1/3 cups all purpose flour
1/4 teaspoon cinnamon
1 vanilla bean, sliced lengthwise and seeds removed (can discard pod after)
1/4 teaspoon salt
2 1/2 tablespoons applesauce
8 Tablespoons (1 stick) of butter or Earth Balance (if making vegan), sliced into big chunks
5-7 figs, sliced into 1/4 inch thick pieces
For the drizzle:
1 cup powdered sugar
2 tablespoons hot water
1 tablespoon honey (or maple syrup if making vegan)
Preheat oven to 375 degrees and spray a 8×8 inch pan. In a large mixing bowl, combine the flour, sugar, cinnamon, vanilla beans, baking powder, and salt. Use clean hands to work the butter and applesauce into your dry mix until the dough is course and crumbly. Press 2/3 the mixture into the bottom of your pan, lay the figs in a single layer across, and top the figs with the rest of the mixture.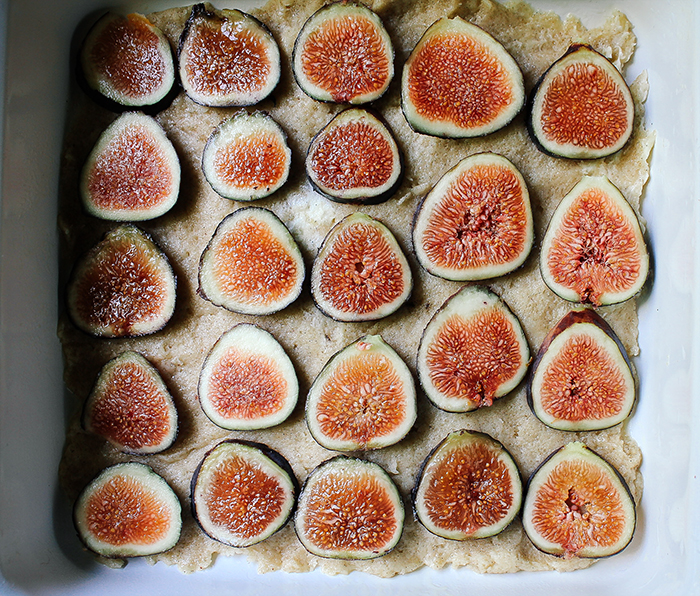 Bake for 20-25 minutes or until the top is browned. Remove from oven and set aside to cool.
Whisk together the powdered sugar and honey. Slowly add in the hot water 1 teaspoon at a time until a thick glaze is  created. Drizzle glaze over your shortbread and enjoy!