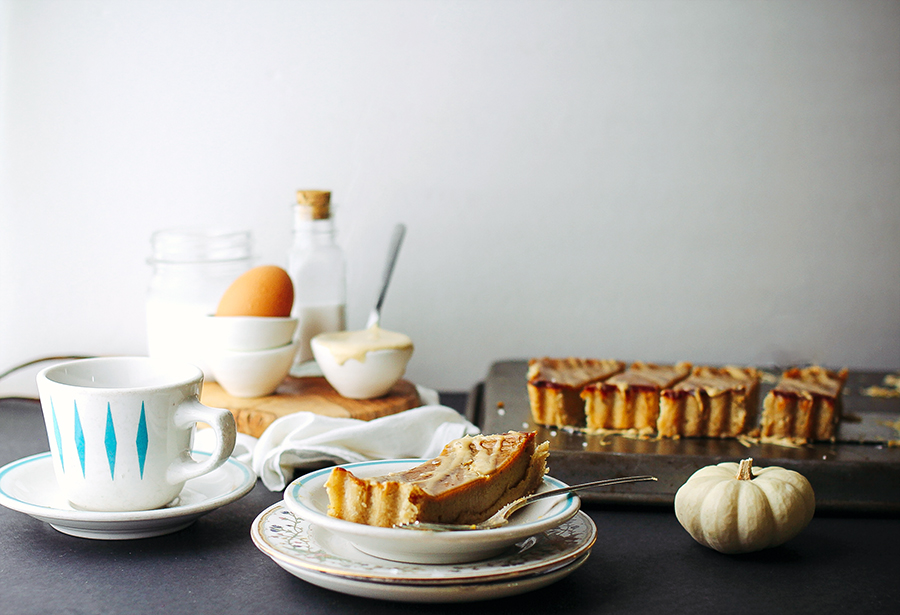 Pumpkin Pie with Salted Molasses Créme Fraîche /// Let's make Pumpkin Puree from Scratch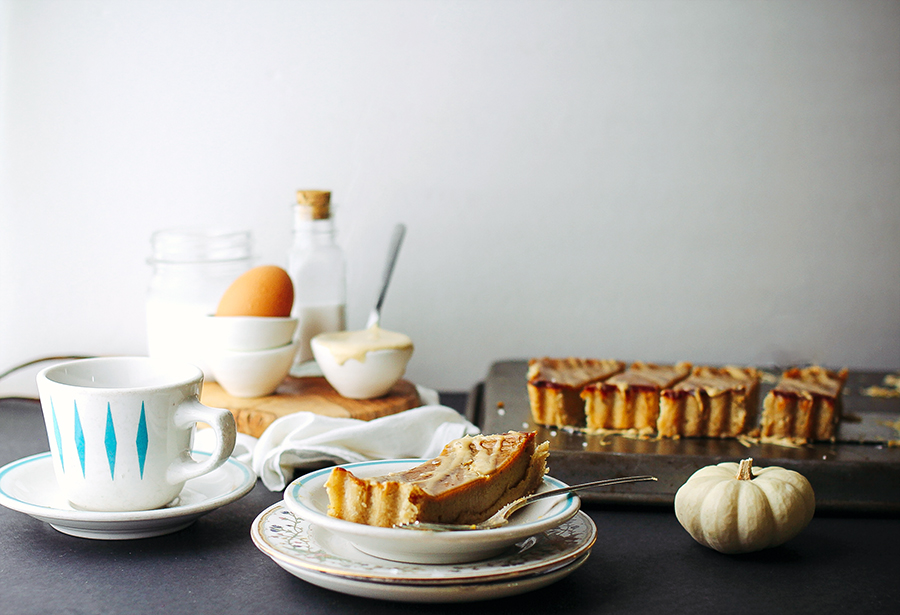 Think caramel is the only sweet topping you can salt? Think again. Imagine this salted molasses as the darker-spicier-brunette sister to the blondie we know as salted caramel. It also has that addicting sweet / salty flavor profile but with a bit of a richer flavor. I'm really not sure why caramel gets all the attention and why we don't salt more sweet syrups. Why not salted honey? salted molasses? salted date syrup? Salted agave nectar? Based on how this pie tasted…I think I'm on to something here.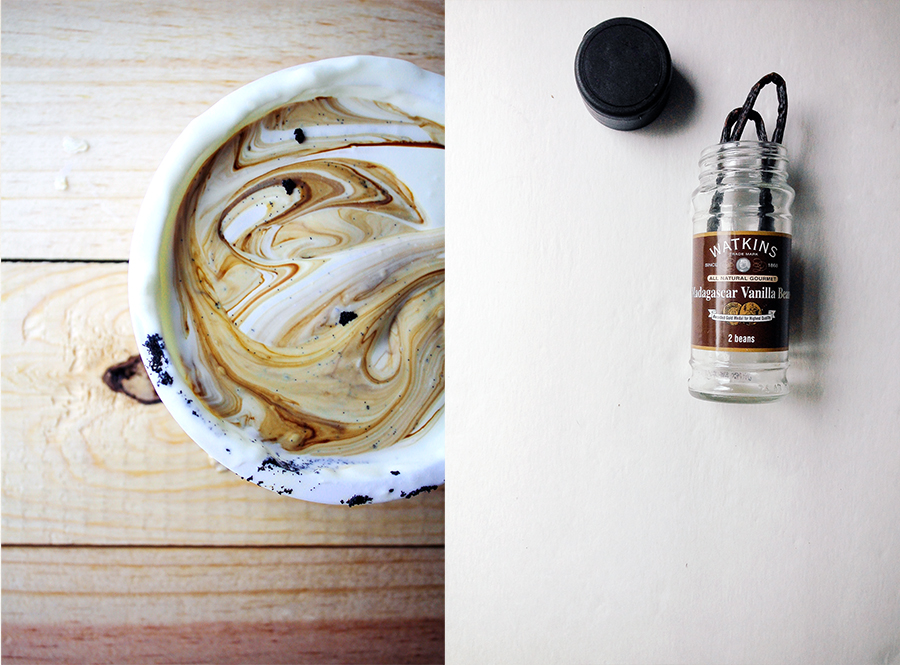 Besides the salted molasses, the other secret ingredient that really sets this pie apart is the use of vanilla beans. Vanilla extract is great when you want to infuse your baked goods but there is nothing better than speckles of fresh vanilla seeds. I stuck them in both the custard filling and in the molasses drizzle. If your local grocery store doesn't carry vanilla beans (I know many don't – shame on them!) then I highly suggest hopping over to J. R. Watkin's site and picking up some of theirs. They were kind enough to send me some samples a few weeks back and I was legitimately blown away. I'm the kind of person who usually buys the beans in bulk and these beans put all of those to shame. These beans were some of the freshest I've ever baked with (and I, weirdly enough, have a lot of experience baking with vanilla beans. Check out here and here and here and here and here and here for written proof of it).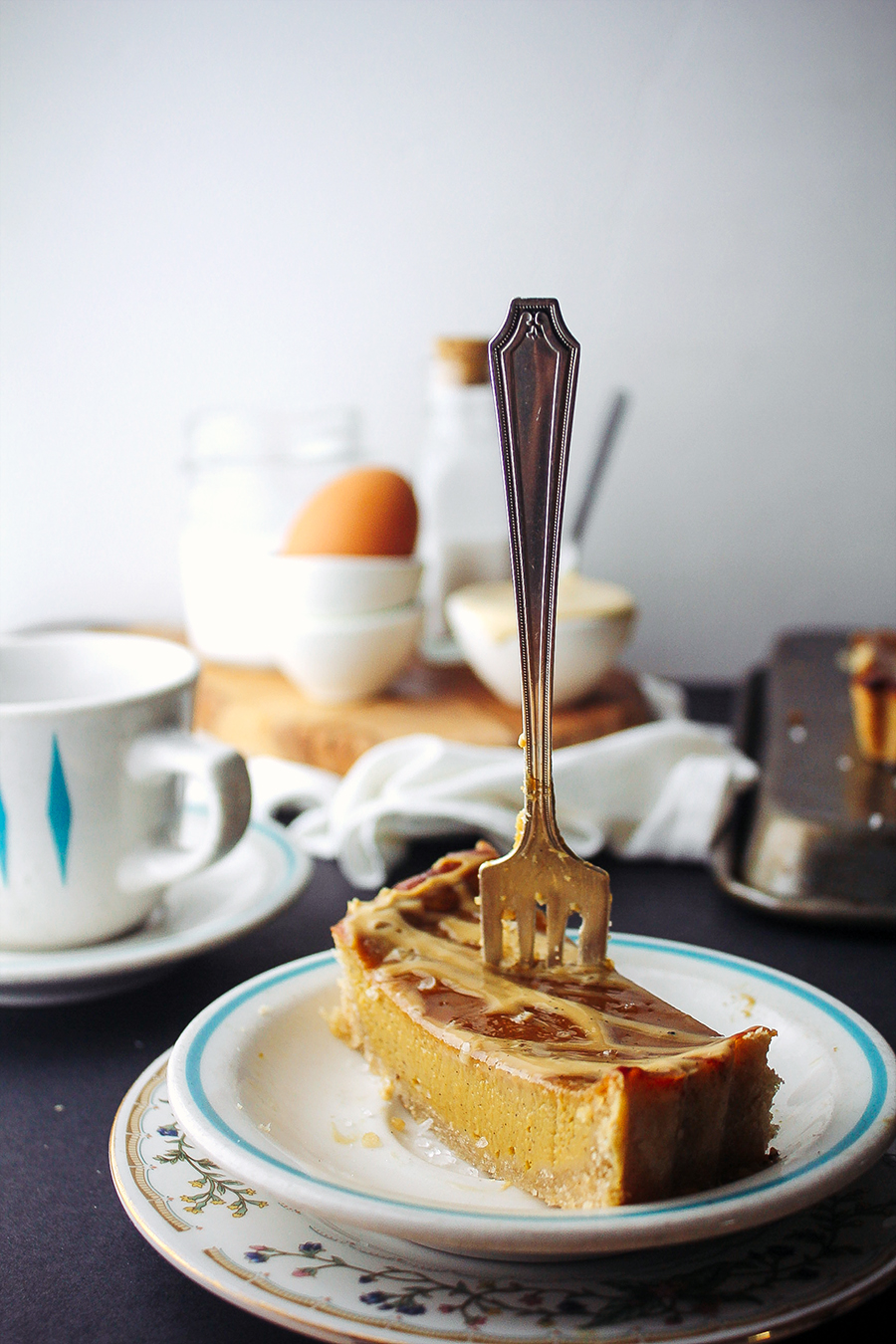 Let's talk about making pumpkin puree from scratch (ie from a real sugar pumpkin, not from that can you've had sitting in your cabinet since last October). Have you ever made your own pumpkin puree? Come on, you can be honest with me. I'll be honest with you – this was my first time ever making it. It's so easy to pick up a can around this time of year that we often forget where the puree inside actually comes from.
So, here is what you really want to know: was it worth it? Well, to be completely honest, this pumpkin pie was pretty damn good. Like oh-my-god-this-pie-is-so-good-I-feel-like-I-haven't-had-pumpkin-pie-in-a-year—oh-wait-I-haven't good. But again, if we are being honest (which we are, remember?) then when have you ever had bad pumpkin pie?! With enough all-spice and cinnamon, any pie will taste amazing after being deprived of it for a year. So, with that truth in front of us – where does that leave making pumpkin puree from scratch? Well, here are my thoughts (because, I know you asked):
Pros:
+ If you are going organic, then it's most likely cheaper than buying the canned stuff. I spent $2.50 on this sugar pumpkin but the organic canned pumpkin was $4.00 per a can.
+ If you compare this to making a fruit pie, the roasting time probably takes about as long as it does to core, peel, and slice all those apples and/or pears. Plus, you can easily prepare the rest of the ingredient / crust while it's roasting in the oven.
+ Since you have to let the dough chill for an hour, making a pie is time consuming regardless.  So why not have the pumpkin roasting while you wait?
Cons:
– More dishes (BLAH)
– An extra step in an already lengthy recipe

So, I guess what I am saying is that you should most certainly make the puree from scratch if you have the time / energy. However, don't feel guilty about using that canned stuff if it's the sole factor between you making this pie or heading to the bakery section of your grocery store (most likely, in your PJs) to pick up one of theirs. Making festive treats is fun and you should remind yourself of that when diving into this; do whatever suits your effort level so that you can eventually get to the end result: eating pie. No, no. Eating lots and lots of pie. Easy.
***Please note: there are a couple ingredients (salt, sugar, etc) listed twice down below in the ingredient section. I did this because I wanted to group the different parts together (dough, filling, drizzle, etc) so that you could skip around if, for examaple, you wanted to use your grandma's legendary pie crust instead of the one listed or if you wanted to make just the drizzle to devour over pancakes. Easy? Easy.***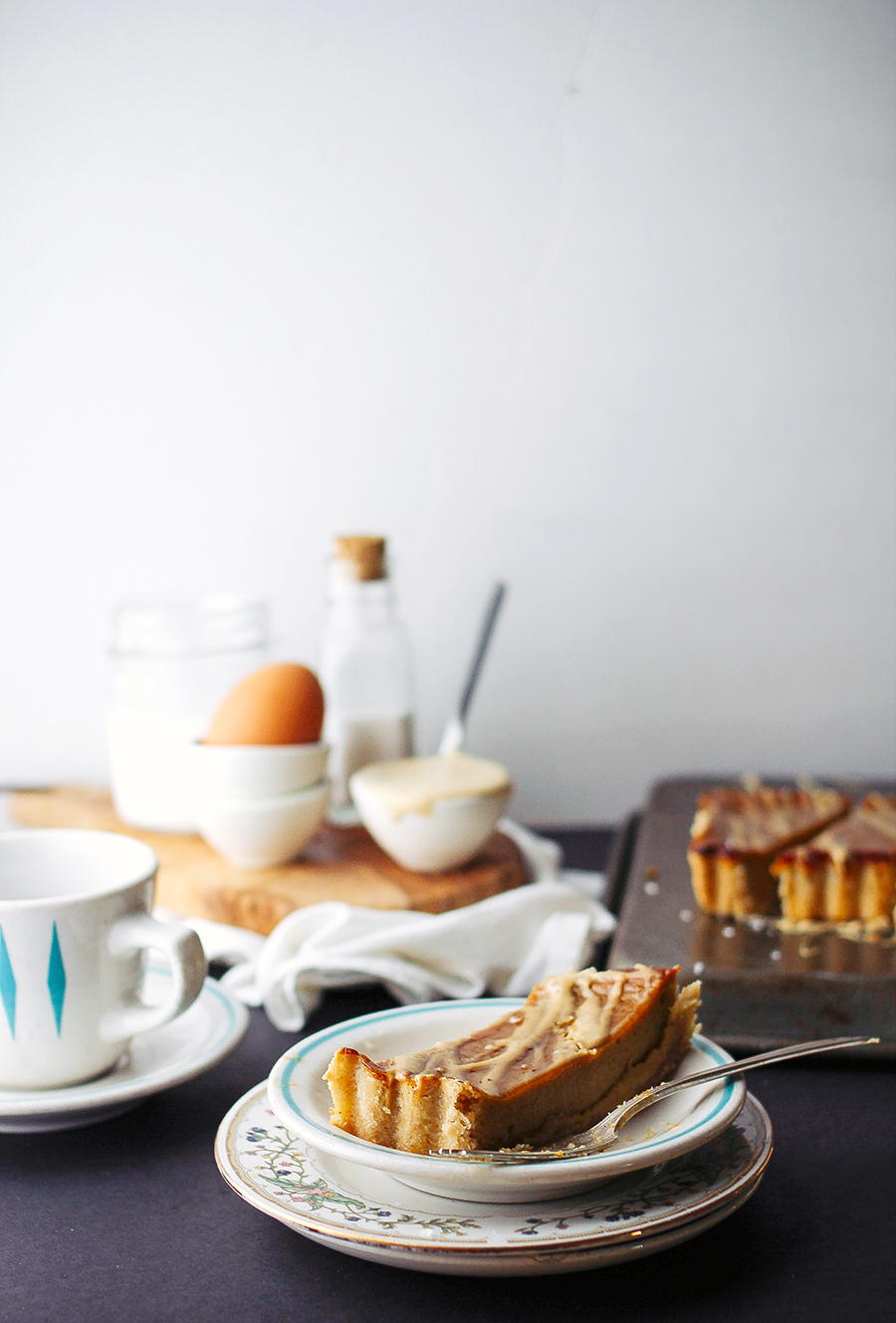 Pumpkin Pie with Salted Molasses Créme Fraîche
makes 1 8 inch round pie (I used my 13×4 inch pan but feel free to use whatever you've got on hand) / Roasting technique courtesy of Smitten Kitchen
1 1/4 cups all purpose flour
1/2 teaspoon salt
1/2 teaspoon sugar
1 stick (1/2 cup) butter, chilled
1/4 cup ice water
1 medium size sugar pumpkin (or 2 cups from a can of pumpkin puree)
1 Tablespoon of olive oil
3 eggs, lightly beaten
1/2 cup heavy cream
1/2 cup sugar
1 Tablespoon molasses
1 vanilla bean, seeds removed and pod discarded
1/2 teaspoon ground all spice
1/4 teaspoon ground nutmeg
1/2 teaspoons ground cinnamon
1/2 teaspoons ground ginger
1/2 teaspoon salt (in addition to the salt listed above)
1/2 cup Créme Fraîche
1 Tablespoon molasses
1 vanilla bean, seeds removed and pod discarded (in addition to the bean listed above)
Sea Salt, to taste
If making the puree (if not, skip down to the next paragraph): Preheat oven to 400 degrees. Slice the sugar pumpkin in half and scoop out all the seeds / slimy pulp. Rub the pumpkins with olive oil and place on a cooking sheet. Roast for 40 minutes or until completely soft. Scoop out the insides into a blender and puree until smooth. Set aside and let cool.
To make the dough: Whisk together the flour, salt, and sugar. Use your clean hands to work the butter into the dry ingredients until it resembles coarse meal. Slowly, adding a tablespoon at a a time, add in the water (you may not need all of it!) until a thick, compact dough as formed. Wrap dough in plastic wrap and stick in the fridge for an hour to chill.
Preheat oven to 375 degrees (or turn it down from 400 if still on from roasting). Roll out dough on a floured work surface until it's large enough to fit around your pan and fit the dough snuggly in a greased pie pan. Eat the leftover dough (oh, wait. Don't do that).
To make the filling: Whisk together the sugar and molasses until a dark brown sugar forms (brown sugar!). Next, whisk in the cooled pumpkin puree, heavy cream, eggs, salt, spices, and vanilla beans until everything is combined. Pour over your pie crust in pie pan. Bake for 50 minutes or until the custard has set. Finally, remove from oven and let cool completely before cutting into.
To make the drizzle: whisk together the Créme Fraîche, molasses, and vanilla beans. Drizzle over cooled pie and sprinkle with a few big chunks of sea salt.