Roasted Apples With Oats & Salted Molasses
In a hurry? Click here to JUMP TO RECIPE!
I'm writing this evening's post between washer loads as I get ready for a trip up north. I'm getting ready to go on a mother daughter trip up to Northern Michigan (Mackinac Island, Traverse City, & Sleeping Bear) for the long weekend and am packing my whole closet as I haven't figured out my fall wardrobe yet (it's still warm here but will be much much chillier 8 hours north). I don't think I've ever taken a mother daughter trip before but it feels appropriate as last month marked the one year anniversary of my stepfather passing away. I don't face that fact on a daily basis since I'm so removed down here in Bloomington but I know she does…everyday. And she's too reserved to ever really talk about it so instead we are going to ignore it and try to create new memories to replace (if only a little) the empty gap in her life that, I can only imagine, she is still feeling.
I have such a love / hate relationship with fall. There is both so much beauty but also sadness in the season. I love the calm feeling that is evoked from the chilly mornings but there is also a dark undertone as the evenings creep in earlier and earlier. I can't tell if it quite lives up to the hype but it sure beats the mosquito infested evening spent on the porch (or so I tell myself).
We went apple picking a few weekends back so I've been trying to use up our massive fall by throwing them in oatmeal, eating as a snack with almond butter, and whipping up desserts with them. This recipe was inspired by my love for molasses – it's such a delicious sweetener that gets overlooked for it's subtler acquaintances like honey and maple syrup. It has such a strong flavor that it steals the show no matter what you mix into it so I've learned to just stop fighting it and let it be the center of attention in recipes.
Roasted Apples With Oats & Salted Molasses recipe below: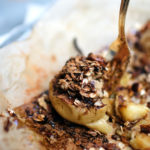 Roasted Apples With Oats & Salted Molasses
These stuffed apples filled with oats and salted molasses make for the perfect simple fall dessert.
Ingredients
3

apples

, divided

1/2

cup

oats

1/4

cup

almonds

, chopped

2

Tablespoons

brown sugar

Zest from 1 lemon

1

Tablespoon

butter

(use earth balance to make vegan)

1

Tablespoons

molasses

Coarse sea salt

yogurt

, for topping (optional – use coconut yogurt to make vegan)
Instructions
Preheat oven to 375 degrees and use a spoon to scoop out the core of the apples so that they have a two tablespoon hole in the center.

Place in a single layer on a baking sheet with the cut sides facing up.

In a small bowl, toss together the oats, almonds, brown sugar, and zest. U

se your clean hands to work the butter into the mixture until a coarse meal has formed.

Divide the mixture between the six halves, cover with foil, and bake for thirty minutes.

Remove from heat, drizzle the molasses over the baked apples and return back to the oven, uncovered, for an additional five minutes.

Sprinkle with coarse sea salt and serve with yogurt (optional).