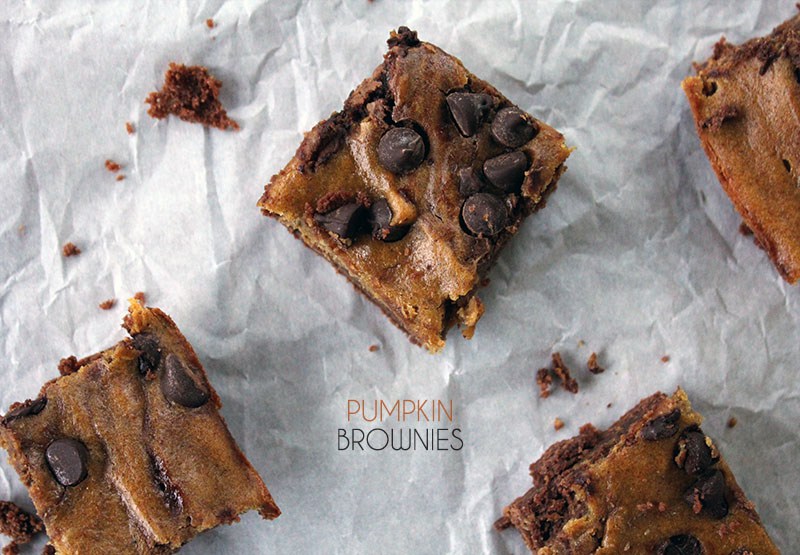 Pumpkin Swirl Cocoa Brownies
I was doing so good in September…constantly cooking with fresh produce, little butter, and smaller portions. And the yoga…2…3….4 times a week! It was excellent. But then my fall taste buds kicked in. The first time I gave into the apple crisp because it was my way of welcoming in Fall. But then I made those pumpkin cinnamon rolls…and then the persimmon pudding. And here I am again with ANOTHER sugary, buttery, delicious fall dessert. It's like my taste buds are saying 'yeah…that summer eggplant was good…but now it's time for mounds of sweets disguised as fall.' Ah well, I own a food blog for goodness sake…can I really beat myself up for cooking [baking] delicious treats? Oh..I'm going to use that excuse more often!
All guilt aside, these brownies are super rad. I LOVE chocolate (Hey, I am a girl…) but these brownies give chocolate a whole new meaning. They aren't the over dense, gooey bars that force you to slurp down a giant class of soy milk afterwards. They are airy, melt-in-your-mouth, and the pumpkin keeps them from becoming overbearingly sweet. AND they are seasonal so it's totally acceptable to make them now before it's not fall anymore! Plus, it's Friday. Who doesn't want to treat themselves with a big batch of brownies on their Friday night? Have I convinced you to pull out your baking supplies yet? Come on, seriously, what are you waiting for?
Pumpkin Swirl Cocoa Brownies
Adapted from YumSugar
4 Tablespoons unsalted butter (1/2 stick)
1 cup chocolate chips, divided
1 cup all-purpose flour
1/2 teaspoon baking powder
dash of cayenne (optional but highly recommended!)
1/4 teaspoon salt
3/4 cup sugar + 2 Tablespoons
2 eggs
1 Tablespoon vanilla extract
1/2 cup canned pumpkin
2 Tablespoons vegetable or coconut oil
1 Tablespoon pumpkin pie spice
1/2 cup chopped walnuts, optional
Preheat oven to 350 degrees and grease a 9 by 9 inch square baking pan.
In a small saucepan, heat 1/2 cup chocolate chips and butter over medium-low heat until it is melted and smooth (stir frequently to make sure the chocolate doesn't burn). Remove from heat and set aside.
In a large mixing bowl, whisk together the flour, baking powder, cayenne, and salt. Set aside.
In the bowl of your mixer [I know, we are using LOTS of dishes for this one], combine the eggs, vanilla extract, and sugar. Beat until incorporated (about three minutes). Turn mixer down to low, slowly add in the dry ingredients, and then turn back up to medium for another minute.
Divide the batter in half and split it among two bowls. First, add the chocolate mixture into one bowl and add the pumpkin, pumpkin pie spice, and oil to the other bowl. Mix each batter until everything is incorporated.
Alternate between the two batters by pouring a combination of both bowls into the prepared baking pan. Use a toothpick to "swirl" the pumpkin into the chocolate and then sprinkle with remaining 1/2 cup chocolate chips.
Bake for 30 minutes or until a toothpick comes out of the center clean.
Serve warm with ice cream or apple cider.