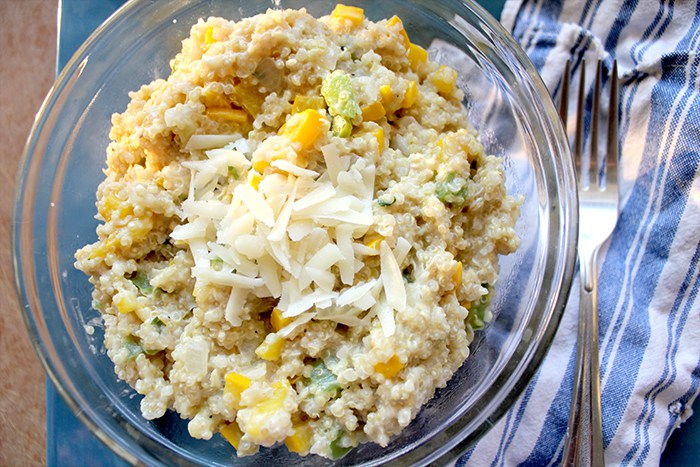 Quinoa Primavera
As an attempt to cure my pizza hangover (symptoms included but were not limited to lethargy, lack of desire to wear 'going out' clothes, food baby, etc), I decided we need a healthy dinner to counteract all the over eating lately.
This recipe was my answer. It's a rather weird one because it basically replaces pasta with quinoa to create a "healthified" twist an Italian classic. So why quinoa, you ask? Well it's considered the "superfood" of grains (it is a…seed?) because it is a complete protein (contains all the essential amino acids), has twice as much fiber as other grains, and is low in fat. And, if that doesn't sell you then maybe it's light texture and quick prep time will win you over!
Regardless, this was a super easy and delicious recipe that I managed to whip up in about 20 minutes. To make it even healthier (and vegan!) feel free to omit the cheese (but that will compromise the slight creaminess that the cream cheese gives it.)
Also, it made for delicious leftover to bring to work the next day!
Quinoa Primavera
1 1/2 cups uncooked quinoa, rinsed
3 cups vegetable broth
2 ounces of cream cheese
2 Tablespoons fresh basil leaves, chopped
3 garlic cloves, minced
1 cup onion, diced
3 cups zucchini, diced
1 cup orange pepper, diced
1 Tablespoon olive oil
1/4 cup Parmesan
 Start by bringing the vegetable broth to a simmer. Cook quinoa for 15 minutes or until the liquid has been absorbed. Remove from heat and stir in the cream cheese and basil. Cover and set aside while you prepare the vegetables.
In a medium skillet, heat a tablespoon of olive oil over medium. Add in the garlic and saute for about a minute. Next, add in the zucchini, onion, and pepper and cook until very softened (I did mine for about 15 minutes but you can judge it on how crispy or softened you like yours!). Season with salt and pepper and add into the quinoa mixture.
Serve warm with some delicious rose sangria and a baguette.