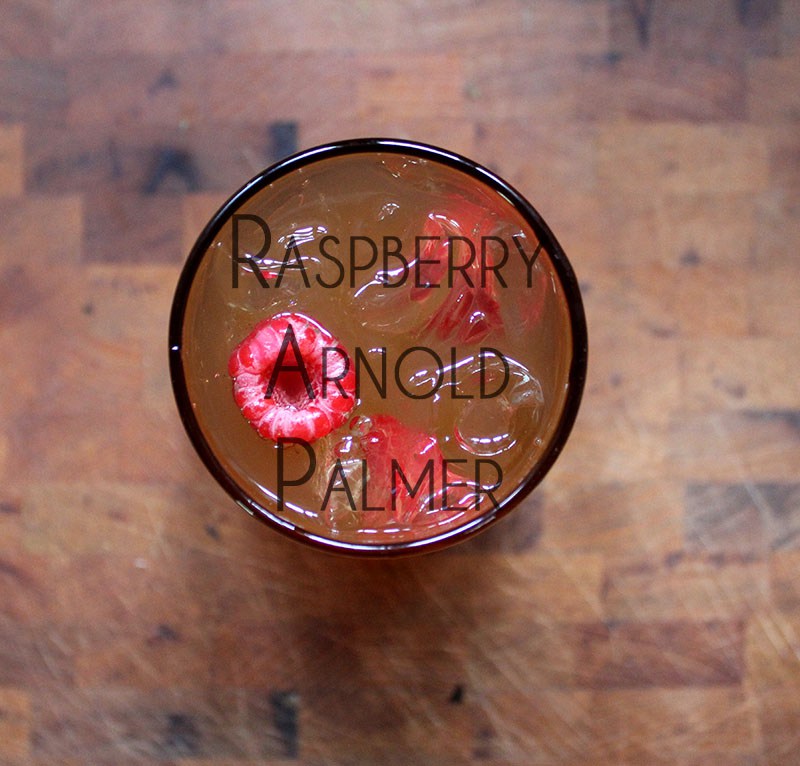 Raspberry Arnold Palmer
And I'm back with another cocktail recipe (did you try the Vanilla Champagne Peach Punch or the Blueberry Limeade Cocktail yet?).  I looked into this 'Arnold Palmer' business and I think that this drink's proper name might be a 'John Daly' because it has alcohol in it…but who has ever heard of a John Daly? I am sticking with Arnold Palmer whether it's proper or not. End of discussion.
Anyhow, this drink was inspired from two every different summer experiences. The first was I received a lovely 4 pack of Pure Leaf Tea in the mail the other week which have just been sitting on my counter itchin' to be experimented with. This tea is not only oh so delicious but it's made from all-nature ingredients and contains no preservatives (how ideal is that?). The second is that Wyatt has been obsessed with those dollar gas station Arnold Palmer drinks. Honestly, I loved the idea of mixing lemonade and ice tea but those gas station drinks were not doing it for me (and neither were there dozens and dozens of grams of sugar). So…as usual, I decided I would just make my own.
This cocktail can obviously become a virgin cocktail by omitting the rum but honestly the raspberry rum really adds an extra level of deliciousness. This cocktail is the perfect refresher after a long day that won't leave you feeling overwhelmingly full [helloooo beer] and tastes like summer in a glass.
Raspberry Arnold Palmer
+ 1 ounce raspberry rum (I used Bacardi Razz)
+ fresh raspberries, for garnish
In a fancy cocktail glass, pour even amounts of both lemonade and Pure Leaf Sweet Tea. Add in a few raspberries, ice, and a shot of rum.
Perhaps even garnish with mint (if you are into that kind of thing) and enjoy on your porch with your favorite puppy.