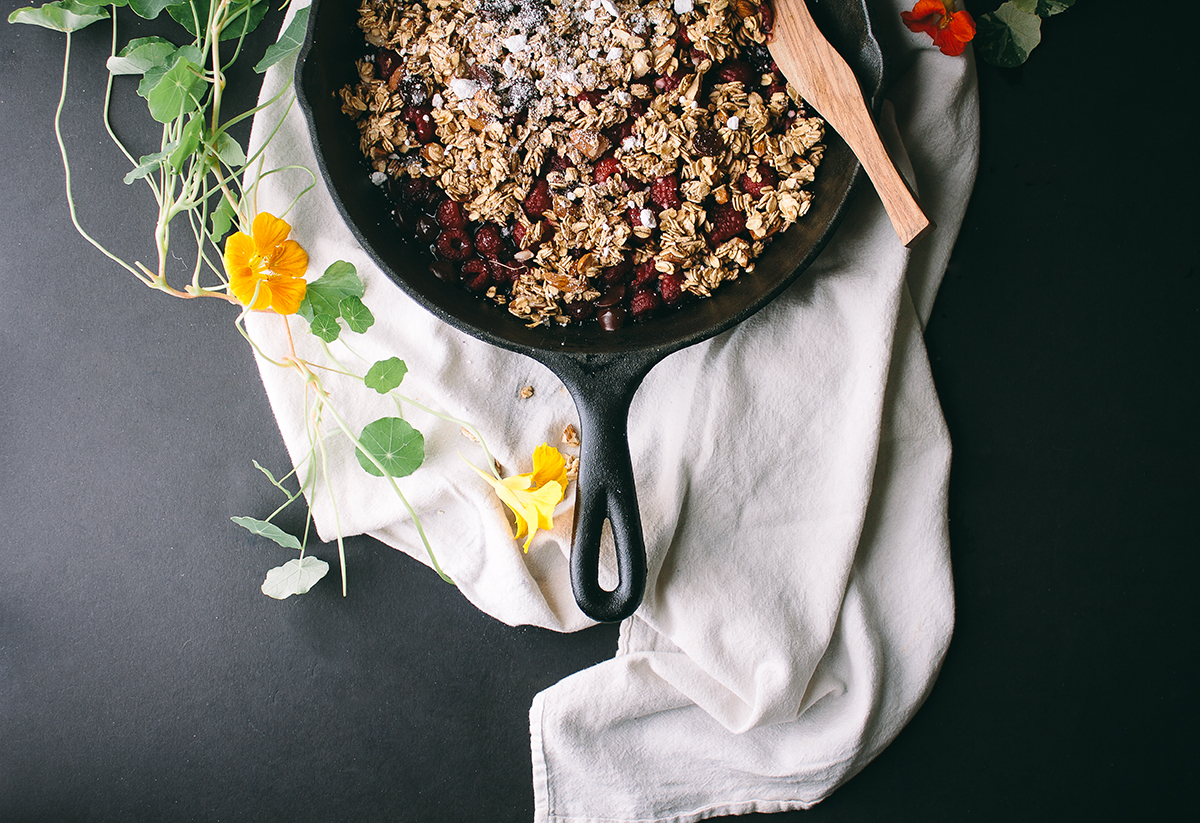 Salted Maple Dark Chocolate Raspberry Crumble [Vegan Option] + Raspberry Picking
In a hurry? Click here to JUMP TO RECIPE!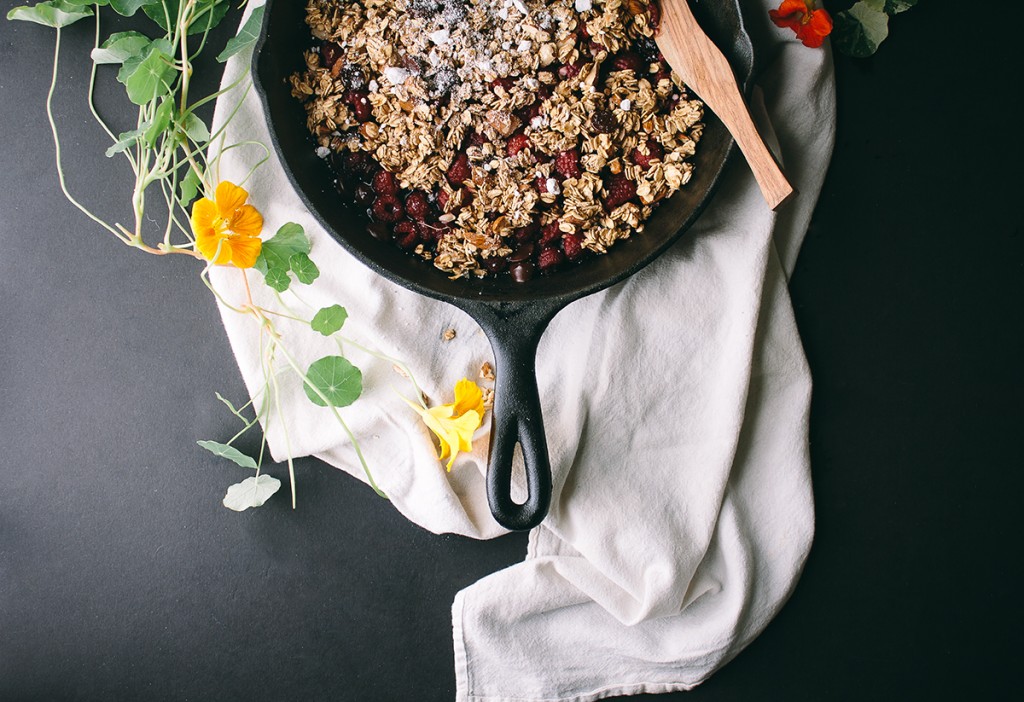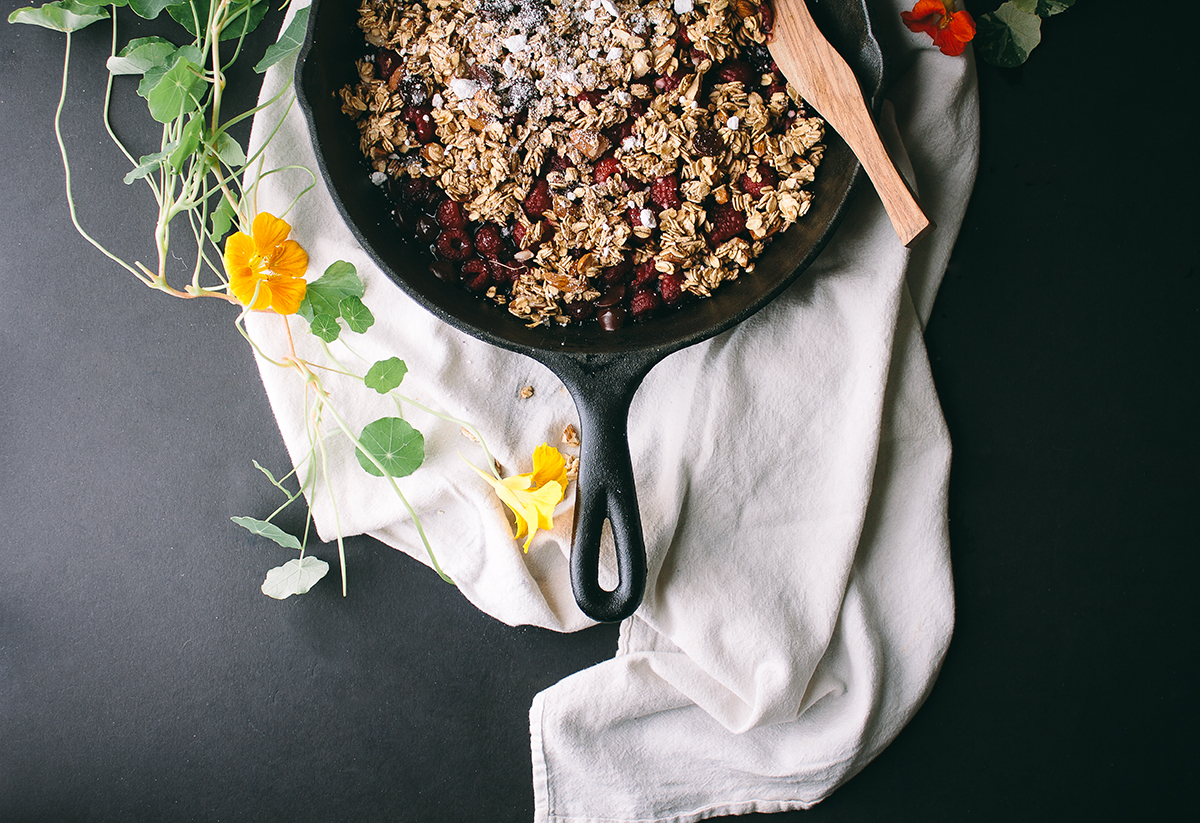 Caroline and I took a short drive into the country yesterday in search of an apple orchard that would fulfill our fall fever. We knew the moment we were close because the vast open corn fields were upbruptly interrupted with what seemed like skyscraper-high blow up bounce houses and multi-colored tents popping up in the distance. As we approached the entrance, we realized we had no idea what we got ourselves into with police officers directing traffic and fields filled with minivans. Luckily, the apple orchard was large enough that we could find pockets of solitude to snap some photos of the gorgeous apple trees and our picking adventure. After we had our fill of the apples, we headed back to the entrance to pay and inquired about a 'Pick Your Own Raspberry' sign that was near the parking lot. The worker handed us a bucket and told us to head across the street if we were interested in berry picking. To our surprise, across the street was a whole different story; the sound of children squealing and the constant need to dodge groups of people disappeared. Not only was the berry field completely void of cars, but also of people in general. We were shocked to be the only ones out there picking thriving raspberries while hundreds of families pushed their way through the crowds for apple-flavored everything just yards away. It was a small oasis of solitude in an otherwise crazy tourist attraction and we were surprised to unexpectedly stumbled upon it. Cheers to the bright red underdog of the season and here are a few photos from our adventure:
I did not even realize I liked raspberries before yesterday's adventure. The berries I've bought from the stores in the past were always mushy and flavorless but eating them straight from the bush was nothing short of heavenly. The berries we picked yesterday were firm and bursting a slightly tart flavor. Remembering my experience with the berries in the past, I knew I'd have to enjoy them fast before they turned into their grocery-store counterparts so I didn't delay in whipping up this simple crumble today.
This recipe is so easy that I feel bad calling it a recipe. I used no butter and the only sweetener is maple syrup so it's basically healthy enough to enjoy for breakfast. Feel free to omit the powdered sugar if eating for breakfast and serve it along a big serving of yogurt. If serving as a dessert, it's the perfect amount for 4 if you add a big scoop of vanilla ice cream to accompany it fresh out of the oven.
Salted Maple Dark Chocolate Raspberry Crisp recipe below: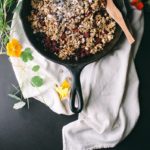 Salted Maple Dark Chocolate Raspberry Crumble [Vegan Option] + Raspberry Picking
A simple crumble to use up the fresh berries that are too fresh to hide in a complicated recipe.
Ingredients
1

quart

of raspberries

1/2

cup

dark chocolate chips

juice from half a lemon

3

Tablespoons

maple syrup

, divided + more to top with

1/4

cup

almonds

, chopped

1

cup

oats

1/4

teaspoons

baking powder

1/2

teaspoon

cinnamon

dash of salt

1

Tablespoon

coconut oil

, divided

1/4

cup

milk

(I'd recommend coconut milk here if making vegan)

Powdered sugar

(optional)
Instructions
Preheat oven to 350 degrees.

Combine the raspberries, dark chocolatelemon juice, and 1 tablespoon of maple syrup in a bowl and set aside.

In another bowl, combine the oats, almonds, baking powder, dash of salt, and cinnamon.

Slowly pour in the milk until the mixture resembles wet oatmeal (you want it to be moist enough for the oats to soak up the milk but not too much that the end product is soggy).

Grease a cast iron skillet or small baking dish with the coconut oil.

Lay raspberry mixture in a single layer on the baking dish and then spoon the oat mixture on top by the spoonful.

Dot the remaining coconut oil over the oats and bake for 12-15 minutes or until the oats on the top are browned.

Remove from oven, drizzle with maple syrup and coarse sea salt, and powdered sugar.

Serve with yogurt or ice cream.