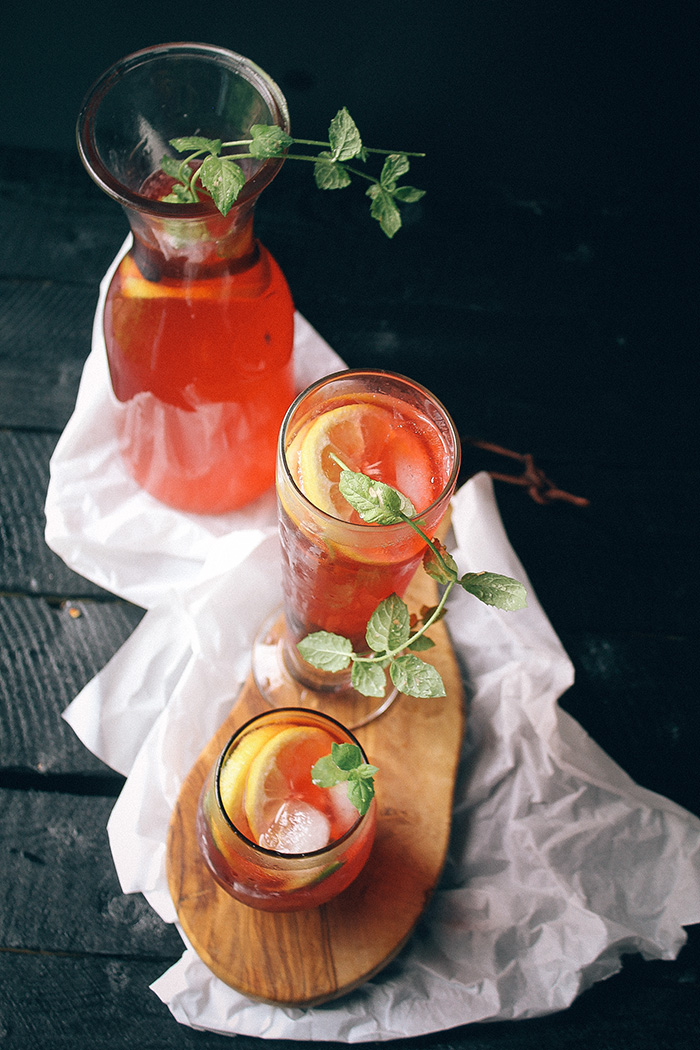 Loaded Hibiscus Arnold Palmers
Feeling hot? Mix your own hibiscus Arnold Palmer drink with tea, lemonade, fresh blueberries, lemon slices, and mint leaves, plus agave for sweetness.
Jump to Recipe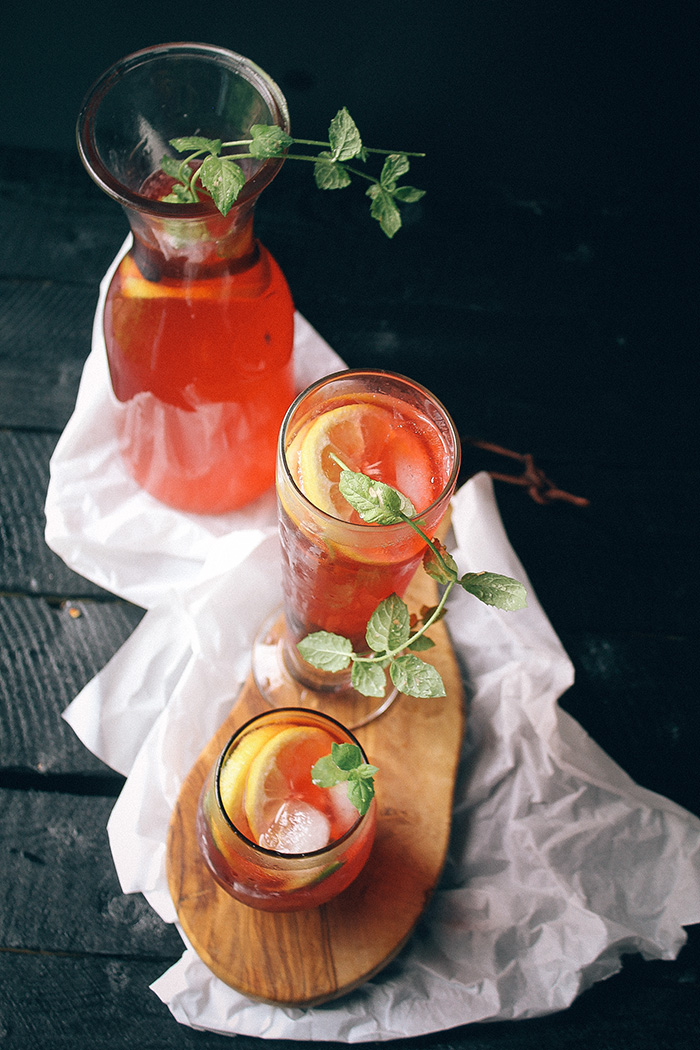 Somewhere down the line I picked up this habit of "loading" my drinks with fruit and herbs. I could probably link this on my mother for exposing me to sangria at such an early age. Or blame it on drinking the same boring glass of soda water for lunch for over a year that I was bound to start throwing extra things into it. Either way, I'm hooked. There is something so elegant and fancy about adding a little bits of color and infusion into your everyday drinks.
This Hibiscus Arnold Palmer drink is summer in a glass. Not only is it full of homemade lemonade and fresh iced tea, but it's also chockfull of lemon slices, blueberries, and mint leaves. Heck, if I would have had cucumber lying around then I could have thrown that in there too!
Do you drink hibiscus tea? 99% of tea that I drink is in the winter and hibiscus is one of the few I reserve for iced tea and summer picnics. There are supposed to be many health benefits links to this tea as well — ranging from lowering blood pressure to being full of antioxidants.
I do hope to make my own hibiscus tea from scratch in the near future for you guys, but until the flowers bloom like crazy on my plant store-bought tea will have to suffice. I do, however, make the lemonade from scratch in this recipe to guarantee a fresh and dizzying lemon punch.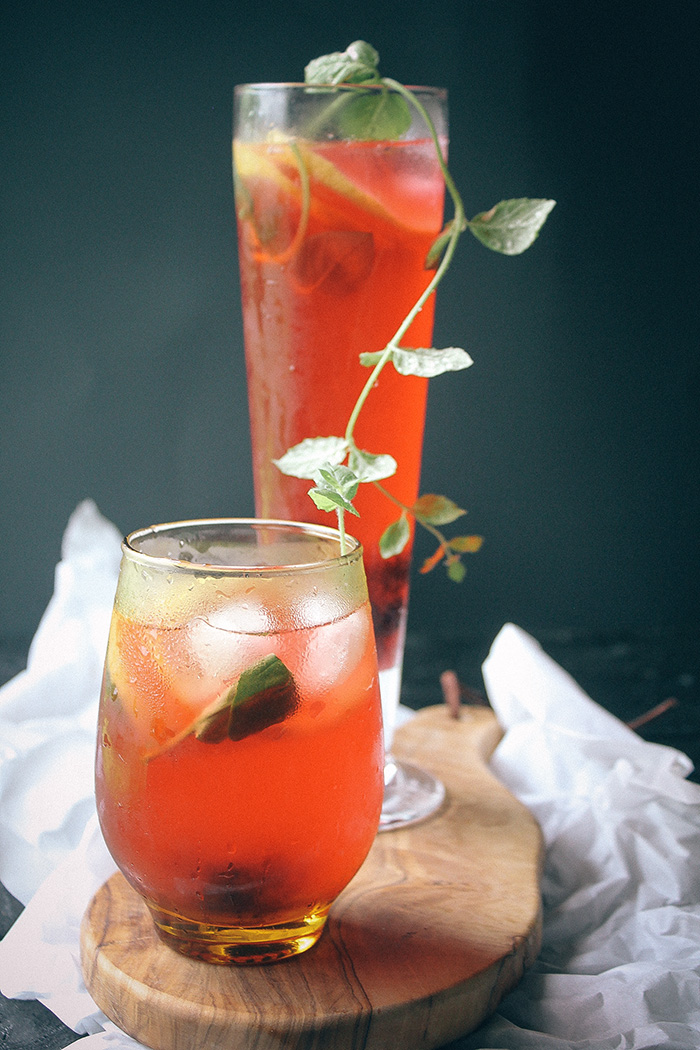 Loaded Arnold Palmer Ingredients
What is an Arnold Palmer drink? In essence, it's a combination of iced tea and lemonade (the favorite concoction of the golfer, Arnold Palmer). This Arnold Palmer drink recipe is a fun twist on the classic recipe:
Lemon juice
Agave nectar
Filtered water
Brewed hibiscus tea
How to Make an Arnold Palmer
If you can brew iced tea, then you're totally capable of making this refreshing summer drink. I've given detailed instructions in the recipe card below, but here are the basic steps to making an Arnold Palmer drink:
Combine some water and agave in a saucepan and simmer for 3 minutes. Transfer to a pitcher.
Add the remaining ingredients to the pitcher and stir.
Serve immediately over ice or chill for later.
Do I Have to Use Agave?
The following recipe uses agave as the sweetener in the simple syrup but feel free to use equal parts sugar if that is what you have on hand.
Can I Use Regular Iced Tea?
I've only made this Arnold Palmer drink recipe as written, so I can't say for sure if swapping hibiscus tea for regular iced tea will work. It likely will, but if you give it a try please leave me a comment below!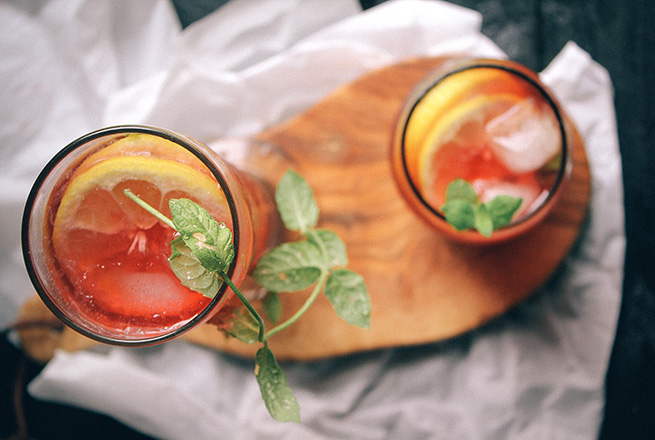 Tips for Making Arnold Palmer Iced Tea
This Arnold Palmer drink recipe a great way to use up fruits and herbs leftover in your fridge — wilted herbs will perk up when placed in water so no need to waste your good ones on this drink!
If you don't have much experience with hibiscus tea, then I would recommend the Republic of Tea's Natural Hibiscus. It's wonderfully delicious and makes a mean iced tea. And no, I'm not endorsed by them (other than that fact that I buy their product) so feel free to give me suggestions if you have a better hibiscus tea to try!
Also, I keep my Arnold Palmer drink pretty tart so if you like it sweeter then up the agave ratio or add more agave at the end to adjust flavor.
Want More Summer Drink Recipes?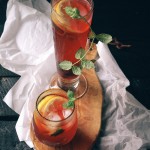 Loaded Hibiscus Arnold Palmer
Ingredients
1

cup

lemon juice

(from 4 large lemons) + extra sliced lemon for garnish

1/3

cup

agave nectar

3 1/3

cups

filtered water

4

cups

prepared hibiscus tea

, cooled
To garnish:
handful of mint leaves

1/2

cup

blueberries
Instructions
In a small saucepan, combine 1/3 cup water with 1/3 cup agave syrup. Bring to a boil, stir until combined, and let simmer for 3 minutes. Remove from heat and transfer to a pitcher.

Juice the 4 lemons and transfer juice to the pitcher. Add the extra 3 cups of water to dilute the lemonade. Pour in the prepared hibiscus tea and garnish with lemon slices, blueberries, and mint leaves.

Serve over ice at your next cookout or picnic adventure.