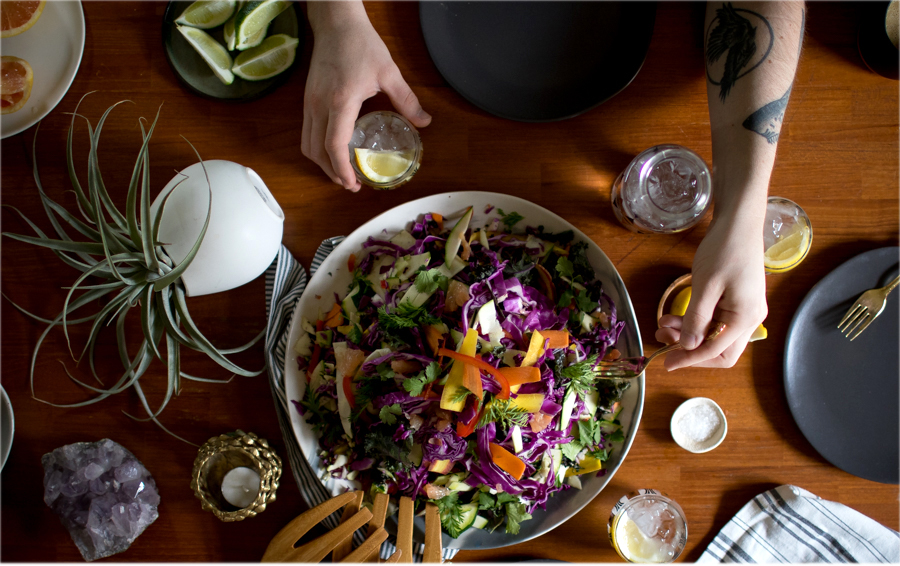 Raw Thai Citrus Crunch Salad
This spring has been quite the season for vegetarian cookbooks: My New Roots, The Sprouted Kitchen Bowl & Spoon, A Girl & Her Greens. I received My New Roots, Clean Slate, & A Modern Way To Eat all in the same week but A Modern Way To Eat quickly made it's way to the top of my reading list with it's gorgeous photos and practical food insight. Perhaps my obsession with this book started because I had no expectations; I didn't even know who Anna Jones was before getting this book in the mail, but her book made an impression on my eyes and appetite that I won't be forgetting anytime soon. It's thick with absolutely stunning photographs and packed full of insanely delicious but healthy recipes. So often healthy books and blogs make you feel like they are taking a page out of the 70's yoga movement but this book feels like it's moving forward instead of back. It feels simple yet exciting and modern is the perfect way to describe the whole thing. She doesn't use expensive or hard-to-find ingredients but still keeps it exciting with new flavor combinations. She doesn't try to be flashy or show her culinary skills by creating recipes that take forever to make. I absolutely love that I was able to bookmarked recipes all throughout this book that I could easily make with ingredients I have on hand for a weekly dinner. To sum it up, this is by far my favorite cookbook of the season, and perhaps even ever (yup, I'm not even lying to you right now) so if you are going to snag one book this spring then make sure it's A Modern Way to Eat.
Wyatt and I are pretty obsessed with our local Thai joint and go there weekly to snag some coconut curry or Pad Thai; my constant craving for thai food is the exact reason I was drawn to this recipe. I was like 'Anna, are you telling me I could get that amazing Pad Thai flavor in my own kitchen without the noodles + a bunch of amazing vegetables?'. She wasn't in my kitchen to answer me but she basically said 'yes' through her gorgeous Thai salad photography and I was sold.
This salad is raw so it's essential that you use the freshest of ingredients to achieve the brightest flavor possible. I also found that since cabbage holds up better than most leafy greens, that this salad was just as delicious (if not more) the next day; that extra day gives the salad dressing time to absorb into the vegetables which brings out the flavor even more.
I only made a few slight adjustments to this recipe from the original. I swapped a few vegetables and herbs for what I had on hand and what looked the best at the market. Anna used a white cabbage in her book which resulted in it looking slightly more like noodles but the purple cabbage I found was just too beautiful to pass up.
Raw Thai Citrus Crunch Salad
Adapted slightly from Anna Jones' A Modern Way To Eat
For the salad
1 zucchini, chopped into 1 inch long matchbook pieces
3 medium carrots, chopped into 1 inch long matchbook pieces + a few of the leaves left out for garnish
1/2 heat of red cabbage, thinly sliced
1 red bell pepper, thinly sliced
A bunch of red kale, stemmed removed and torn into small pieces
2 scallions, chopped
1 pink grapefruit
1 lime
A bunch of fresh cilantro
For the dressing
1 medjool dates
1/2 cup cashews, soaked overnight if possible (my vitamix handles them without a soaking but you may want to soak if using a regular blender)
1 inch piece of fresh ginger, peeled
1 garlic clove, peeled
juice of 2 limes
2 Tablespoons soy sauce
squirt of sriracha or hot sauce
To serve
a handful of cashews, crushed
a few sprigs of cilantro and carrot tops
Place all the dressing ingredients in a blender with 2/3 cups of water and blend on high speed until you have a thick dressing. Set aside until ready to serve.
Use a knife to peel the grapefruit and lime. Then with the knife, roughly cut out all the segments from both, leaving the pitch and membrane behind.
In a large bowl, combine the sticks of zucchini, carrots, cabbage, kale, bell pepper, scallions, and citrus segments.
Once ready to serve, toss the dressing over the salad and garnish with crushed cashews and cilantro / carrot tops.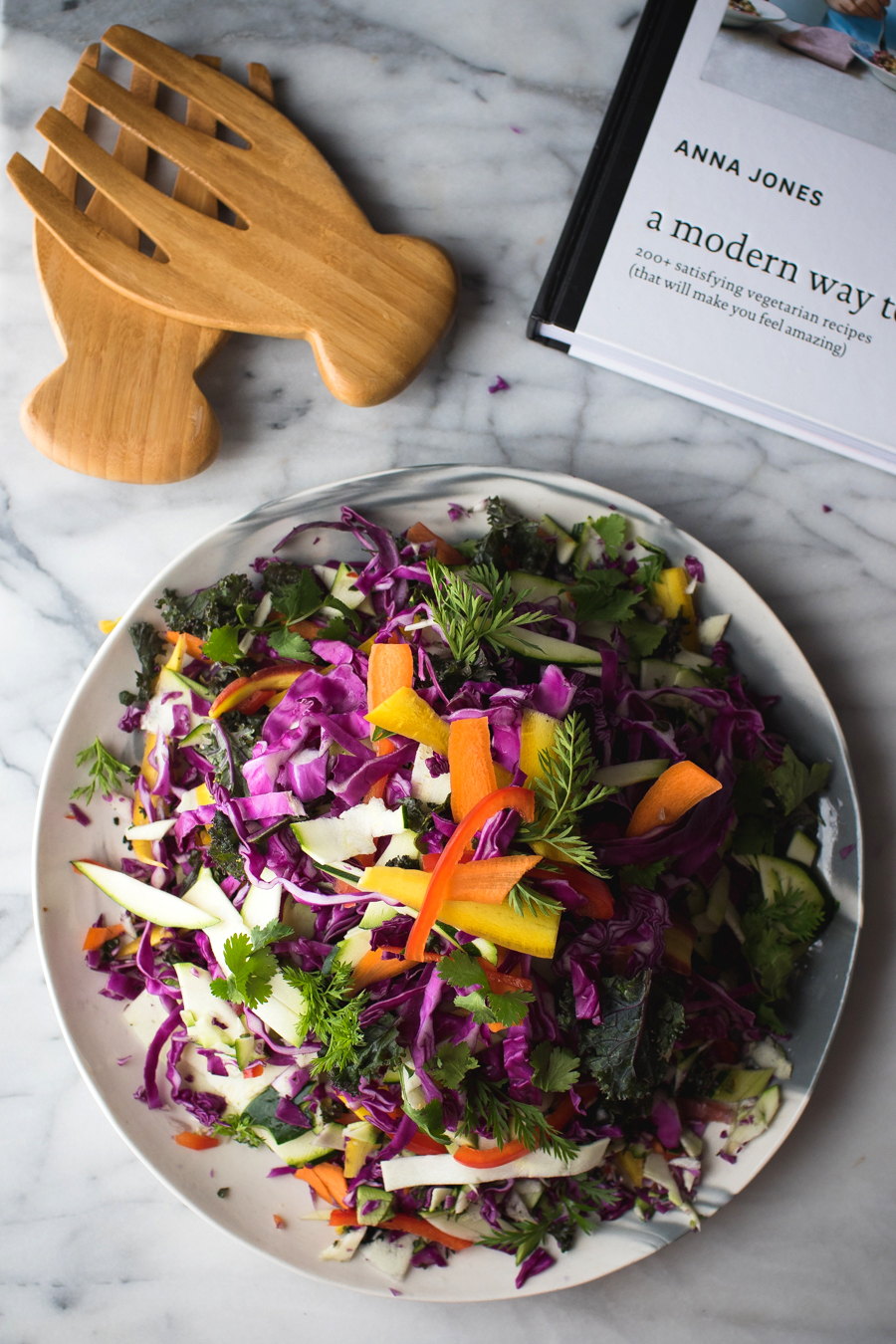 Marble Platter, gray plates, & dish towels: West Elm / Small ceramic white dish: Marite Acosta / Green ceramic plate: Clay Kat Ceramics / Mid-century Modern glasses, wooden bowls, and gold silverware: thrifted / Black Small Pitcher: Target