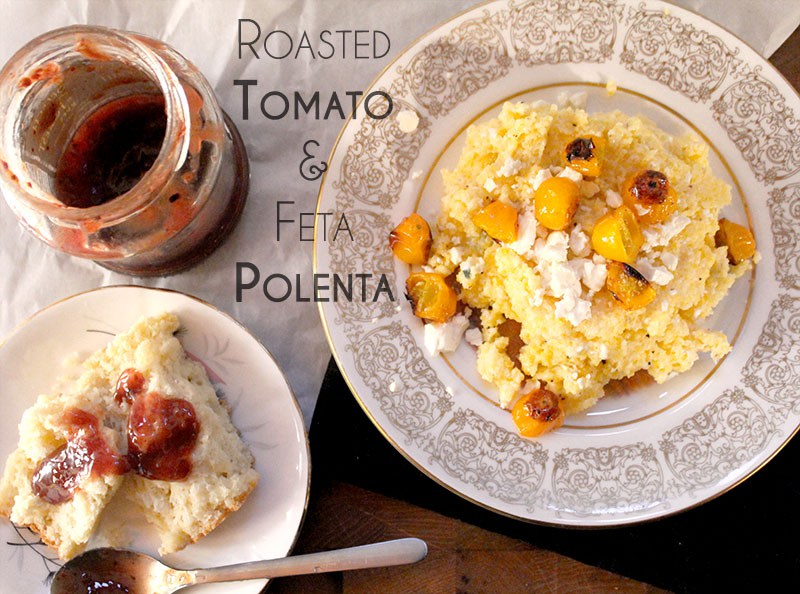 Roasted Tomato and Feta Polenta
This weekend is creeping up fast which means it's time for me to start thinking about what I can knock off my August to-do list. I immediately thought of camping but the weather channel claims its suppose to rain both days this weekend (although I have  my doubts…they have talked of rain for months now and it still manages to miss over us). But if rain really is in the forecast, perhaps its time to finally start working on my recipe zine?
_________________
Polenta and I have a very weird relationship. It's such a comfort food for me that you would think I had been served it for breakfast since I was a toddler. But truth be told, I only first discovered the stuff maybe 5 years ago. And still there is something about it's velvety texture and versatile use that I seem to find comfort in. It manages to shine as a side (in the form of fries) or bring out a main (like under a pile of cheesy eggs) or take charge as the entrée (like in a lasagna and in this recipe below).
I've been a little stubborn (and probably a bit stupid) lately and decided it was time to just let go. We have two HUGE tomato plants that are growing in our backyard but they were fruiting at snail pace because of the heat waves and drought. I have a very large pile (that is growing everyday) of tomato recipes I want to try this summer but kept putting the off waiting for my tomatoes to be ready. And guess what? Tomato season is already half over and I have yet to indulge in any sweet yellow cherry or rainbow heirloom tomatoes this year! I had one of those 'DUH' moments the other day where I realized just because my tomato plants are taking their fine time to bloom does not mean I have to shun all other tomatoes during their peak season. This triggered the reaction to immediately take a walk to my local co-op (which his thankfully just down the street) and pick up a pint of my favorite sweet yellow cherry tomatoes.
I really didn't even care what else I put the roasted tomatoes with but I just knew I had to roast them….I spent hours in the winter daydreaming about the sweetness that comes out when these little guys are roasted. From there, this recipe developed into a medoly of my comfort food at it's finest.
Roasted Tomato and Feta Polenta
1/2 cup dried polenta
1 cup water
1 cup milk
1/2 pint of sweet yellow cherry tomatoes
2-3 ounces of crumbled feta (depends on how salty you like it!)
Salt/Pepper
Preheat oven to 400 degrees. Slice the tomatoes in half and stick on a cooking sheet with the sliced part facing up. Cook for about 30 minutes or until soft and juicy.
In a small saucepan, add the water and milk. Heat just until before boiling and add in the grits. Stir constantly for about ten minutes or until the polenta starts to thicken. Remove from heat and stir in half the feta and salt/pepper to taste. Cover and set aside for about ten minutes or until it sets.
Finally, top the roasted tomatoes and the rest of the feta on top. Serve with some warm Sky High biscuits and your favorite jam.