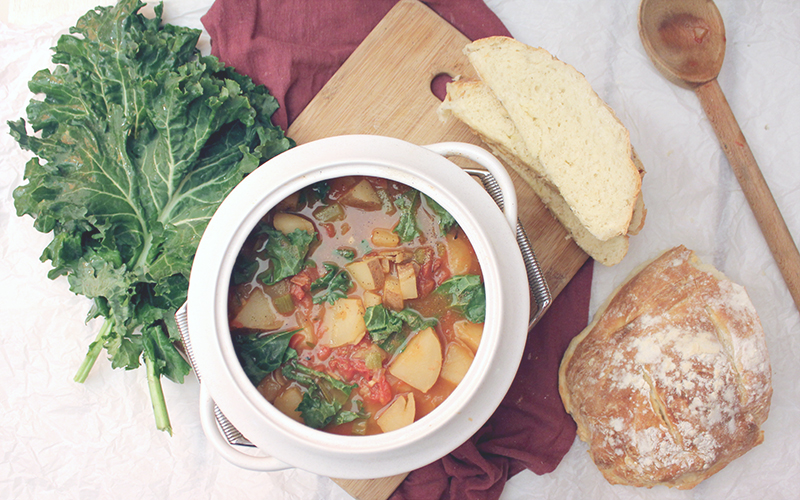 Rosemary & Vegetable Soup with Rustic Bread
Well, I think I've finally accepted that winter is here and we won't be experiencing any more 70 degree days. Ah, this a very bittersweet realization. On one hand, it means endless cups of chai tea, lazy mornings under the covers with favorite novels, all day bake-a-thons, and soup soup soup. On the other hand, this means six more months before lake adventures, cross country road trips, and waterfall picnics.
And with this new acceptance comes a soup recipe! I've already made a few soups this season (see: curried butternut squash soup) but the weather had me craving a hardly soup packed full of starchy potatoes and earthy flavorings. This soup did the trick! Along with some simple (and delicious) rustic bread, this soup filled us up and will be making leftover appearances for the next two days!
As for the rustic bread…so simple and soft with a crisp outer crust. I've discovered (after trying it for the first time with my Muesli Bread) is the trick to REALLY delicious bread baking is to have a pot of steaming water under the bread while it's cooking. This helps keep the bread soft and full of moisture. Oh so delicious! Perfect side to this soup. And let's be honest, the only reason we even make soup is for an excuse to make homemade bread to go with it. Right? Or is that just me?
So what I am are trying to say is you should embrace that the cold and darkness is forcing you to stay inside and spend a few hours in your kitchen…perhaps whipping up this comforting and hardy dish?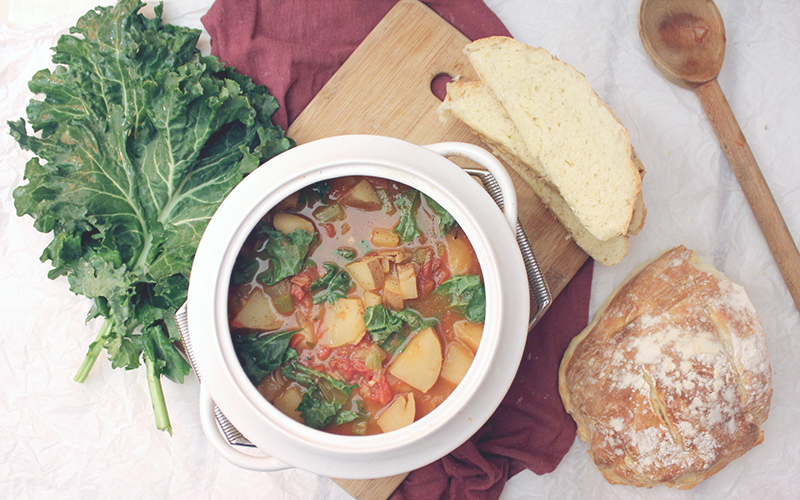 Rosemary & Vegetable Soup with Rustic Bread
For the bread:
3 1/4 cups all purpose flour
2 teaspoons salt
2 1/4 teaspoon of active yeast
1 1/2 cup lukewarm water
For the soup:
1 Tablespoon olive oil
1 onion, diced
2 garlic cloves, minced
4 potatoes, cubed
1 cup white wine
1 cup water
5 cups vegetable broth
4 celery stalks
4 springs of rosemary
2 cans of fire roasted tomatoes (14 ounces)
1 bunch of kale, washed and chopped (with stems removed)
Salt/Pepper
Start with the bread: In a small bowl, combine the yeast and water and let sit for five minutes (this will give it some time to start foaming and activating). In a large mixing bowl, combine the flour and salt. Make a well in the center of the flour mixture and pour in the water/yeast mixture. Mix until combined (the batter will be VERY sticky – don't worry! It's suppose to be like this). Place in an oiled bowl and cover with a towel. Let rise in a warm place for an hour. [Start on the soup while this is rising]
Once it has doubled in size, knead the dough a few times and move to an oiled baking sheet. Let rise on this sheet for a half an hour. Sprinkle with flour and preheat oven to 450 degrees. Place a cast iron skillet or pan on the bottom rack of the oven and let it heat during the preheating process. Once the oven is ready, place the dough (on the baking sheet) on the top shelf of the oven and pour a cup of warm water in the skillet below (it will steam and this is exactly what we want to happen). Let cook for 40 minutes or until golden brown.
To make the soup: Heat the olive in a large stockpot over medium. Add in the onions and cook for about five minutes (or until translucent). Next, add in the garlic and cook for another 30 seconds. Add cubed potatoes and celery and then season with salt / pepper. Next, combine in the tomatoes, rosemary (throw them in whole and then take out the twigs at the end), white wine, water, and vegetable stock. Bring the mixture to a bowl, cover, and lower to a simmer. Let simmer for about 40 minutes or until the potatoes are soft.
Once ready to serve, chop the kale and add at the last moment (this keeps the kale a little crispy) and season again with salt/pepper.
Serve warm with fresh bread!