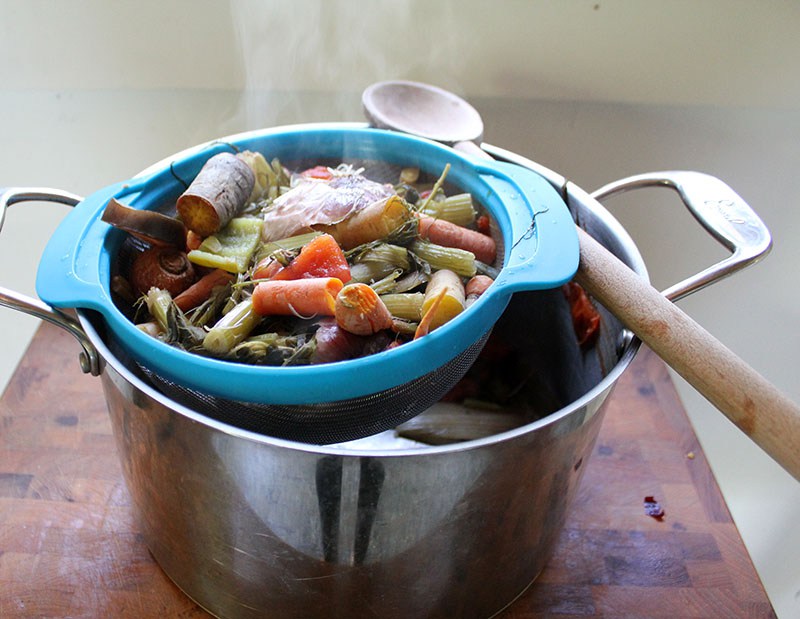 So I should start by letting you know that I'm a produce addict. Between our weekly CSA box, Farmer's market, and local co-op, we probably spend more money monthly on organic vegetables than we do on all our utility bills combined. This means that we end up with a garbage full of scraps almost every week. The "right" thing to do would be to start composting but for many [including us] this does not seem like an option. For 1, we rent so the idea of starting a compost for 9 months and then leaving the remains for the next tenant to deal with is just rude (could you imagine having to deal with a compost pile if you didn't know what you were doing?). And secondly, we don't have a proper place for it. Our backyard is fenced in but that is Tuko//Taco//Teekee territory and even if we got a bin for it, our little puppy is a nosy creature and would find ways to munch down on composting parts (which would not be the healthiest for the little guy).
Anyhow, I feel bad about not being able to compost. The amount of scraps we create is discouraging and I do believe that there is a lot of nutrition tossed away with those onion ends, zucchini peels, and herbs that have sat out for just too long. Luckily, I discovered that you can use those scraps to make vegetable broth. It's quite simple: you just throw your scraps into a zip lock bag in the freezer and whip up some broth when it's full. This is a truly great time to do this with soup season approaching!
A few reasons why we think you should make your own broth:
1. It's a way to use up all those vegetable scraps and not waste those 'on-the-verge' of spoiling vegetables (just throw them in the freezer when they are too far gone to eat raw but not yet moldy)
2. You know exactly what is in your broth and don't have to worry about preservatives or other chemicals sneaking into your food
3. It makes using vegetable broth so easy! You don't have to worry about using up only half a can of because you have a stock pile in the freezer that allows you to only take out what you need
4. The broth will stay good in the freezer for several months (I've read different things about the exactly length of time but I've heard anywhere between 3 and 5 months. If you are unsure if it's still good, use your nose! It's the best judge)
Well, there ya go. Are you convinced yet? I mean, come on! I know you are planning to make loads of soup in the next couple of months…why not have fresh vegetable stock easily accessible for you? I've done a lot of research on what you can/can't freeze and everyone seems to have a different opinion so here is a general list that I use (feel free to just google it if there is a specific vegetable that you aren't sure about):
Onion//leeks//scallions (red will dye your broth a bit pink which I don't mind but if you do then just omit)
Peppers
eggplant
root vegetables (beets will also dye the broth purple – again, omit if you aren't into that)
mushrooms
herbs (basil, sage, rosemary, cilantro, etc) – this includes the stems!
garlic
broccoli
asparagus
fennel
celery
Got it? Easy. Now just start a small stash in your freezer and make some broth when you've accumulated around 4 cups. It literally takes the same amount of time it would take to boil some dried beans (you DO make your chickpeas//black beans from dried, don't you? Maybe I should do a post on that topic as well soon). I usually prep my food for the week every Sunday afternoon and made the broth along side cooking some black beans. So easy and only takes about an hour.
PS- I should note that you don't need to use frozen vegetables by any means! If you just want to make some broth (not out of leftover scraps), just pick up 4 cups worth of organic produce at your local co-op and follow the same directions below.
Homemade Vegetable Broth
4-5 cups of vegetable scraps (see list above), chopped
Flavoring (bay leaf, a few peppercorns, herbs, etc), optional
garlic clove, optional
Tomato chunks or 1 Tablespoon tomato paste, optional
Place all ingredients in a large pot and cover with cold water (just enough so all the veggies are covered). Bring water to a boil and let simmer for an hour (don't let it simmer for much more or it starts to lose flavor.
Strain the vegetable mixture and discard the scraps. Let cool completely and either use right away or freeze/refrigerate in quantities that will suit you best (I froze them in ice trays and just made note that 6 broth cubes = half a cup).
Store in fridge for up to 5 days and in freezer for up to 3 months.
Use in all your favorite soups, stews, curries, and risotto including Curried Butternut Squash Soup, Fall Curry, and French Onion Soup.