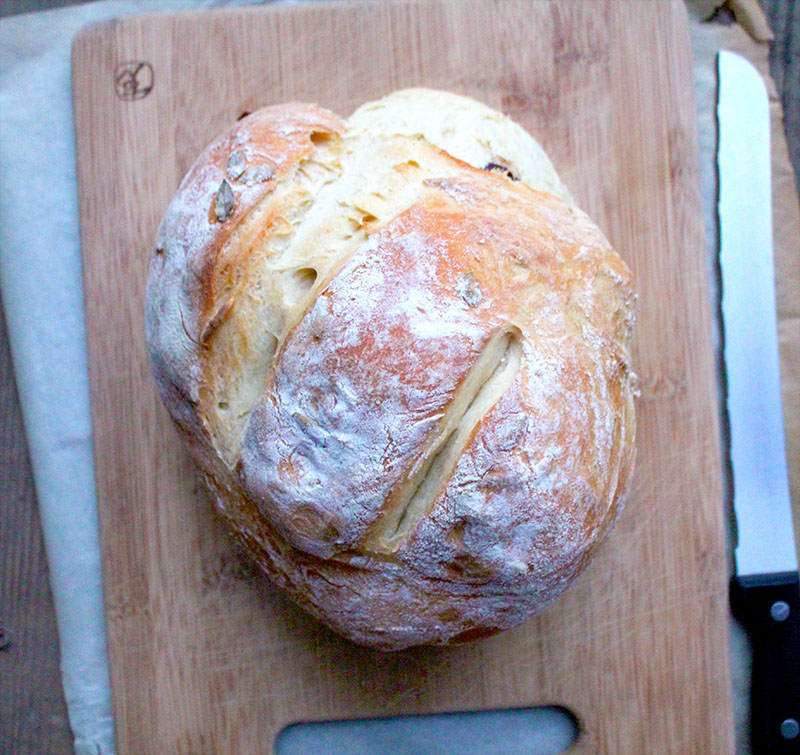 Muesli Bread
Not only is this indulgent muesli bread gorgeous, but it's also full of nuts, seeds, and dried fruit! Enjoy for breakfast with butter and strawberry preserves.
Jump to Recipe
I know I push making homemade staples on you guys (see: DIY ketchup, Pumpkin Granola, etc etc etc) but I only do it with the best intentions in mind. It's healthier, you know exactly what is going into your body, and it oftentimes taste better. I totally get that you aren't going to always have time to make everything from scratch, but you really should make some time now and then to make homemade bread.
It may sound unnecessary when you can walk down the street and pick up a loaf for 4 dollars, but let me tell you…nothing compares to homemade bread. There is something so satisfyingly addicting about fresh, steamy, buttered bread hot out of the oven. It's more addicting than that chocolate you sneak after dinner… than that giant triple espresso latte your body tells you it needs in the morning…this stuff is probably more addicting [and healthier] than crack [although I have no real life experience to testify this – sorry!].
Anyhow, cooler weather means we can turn our oven on for more than 20 minutes without fainting..or worse yet, feeling guilty about having it on. It means we stay in doors more (unless you are a skier…then you are gearing up for your busiest season. Luckily, my brother go the skiing bug in my family so I can safely say I prefer the indoors during the cooler months) so we have more time to prep the dough, we have more excuses to heat the house by turning the oven up, and we have more reason to "carb-up" (probably not a word but I'm using it) so our bodies can use those calories to keep us warm.
Okay, maybe I am over exaggerating a bit…it is still 60 degrees out there but when you are dealing with something as amazing as fresh bread, you NEED to extend the bread season as long as possible. So put your slippers on, turn that oven up, and start shivering so your body can crave those carbs!
Last "bread season" I tackled Garlic Naan, Breadmaker Jalapeno Cheese Bread, Pretzel Bread, Fall Focaccia, and Oatmeal Honey Buttermillk loaves (my personal favorite), to name a few. This season, I am starting it off with this breakfast muesli bread! I am really gonna have to go big this season because this bread is already one of my favorites! Not only is it gorgeous to look at but it's bursting with flavor from the nuts, seeds, and dried fruit! We ate this for breakfast with a thin layer of butter and strawberry preserves…oh. my. goodness. I wish breakfast could be this indulgent all the time!
What's Needed for Muesli Bread?
This dried fruit, nut, and seed bread requires few ingredients. Here's all that goes into this easy muesli bread:
Warm water
All-purpose flour
Salt
Fast acting yeast
Pumpkin seeds
Dried cherries
Almonds
How to Make Muesli Bread
Combine the warm water and yeast in a large cup. Set aside to let the yeast activate.
Combine the flour, salt, and yeast mixture.
Form the dough into a ball. Let it rise for 1 hour at room temperature, then let sit in fridge for another hour.
Transfer dough to floured surface and knead.
Add in seeds, dried cherries, and chopped almonds. Knead to incorporate.
Shape dough into a ball and let rest while the oven preheats.
Bake the muesli bread until browned on top and done in the center.
Can I Prep the Dough the Night Before?
Yes! I have done this with similar bread recipes in the past and it turned out great! For best results, I recommend taking the dough out of the fridge 30 to 40 minutes before baking so that it can rise a little at room temperature.
Tips for Making Muesli Bread
I used pumpkin seeds, chopped almonds, and dried cherries in this muesli bread recipe, but you're welcome to use any mixture of seeds, nuts, and dried fruit you'd like.
This nut and dried fruit bread is best enjoyed the day it's made, but leftovers can be toasted the next day.
You can also freeze this nut and seed bread — either the entire loaf or individual slices. Just be sure to wrap tightly in plastic wrap or seal in a freezer bag to prevent freezer burn!
Want More Bread Recipes?