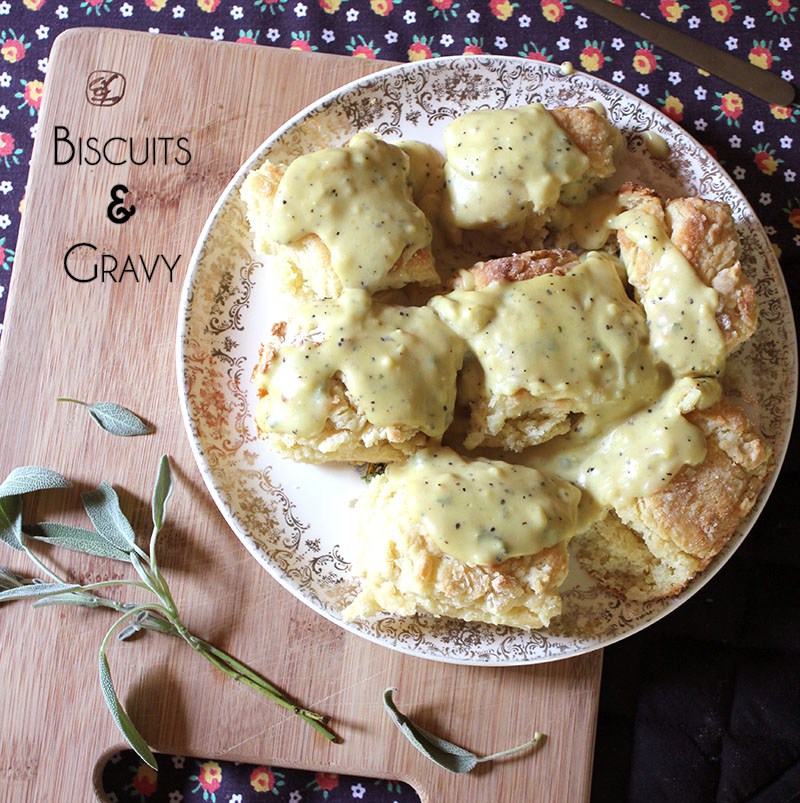 Sky High Biscuits and Sage Gravy
After dozens and dozens of failed attempts, I am still trying to photograph a beautiful plate of biscuits and gravy (see here and below). I am starting to feel like it's a lost cause…there is just no way to convey the rich and velvety flavor that go into this pile of grey gravy. I may sound frustrated but I am not going to give up; this is because biscuits and gravy is something I make more than I should probably admit. And here is why: I get really excited about food…like boy-crazy-school-girl-excited. Say, for example, you put a plate of baked Cajun sweet potato fries with a caramelized onion goat cheese aoili in front of me… I will get gitty and my eyes will light up like I am about to experience going to a new continent for the first time. This is how Wyatt gets about biscuits and gravy. I don't think I've ever seen him get as excited as he gets when I mention that I might make my sage gravy recipe. Heck, he even offers to help me! Woah.
Anyways, I am telling you this because it leads me to making biscuits and gravy on the regular. It makes me feel better about getting excited about food when I know I can make someone else feel that way. I've probably made the sage gravy and mushroom gravy a dozens times each but I had never (weirdly) made biscuits from scratch. My B&G breakfast is always triggered by me seeing my favorite organic biscuits on sale. But instead this time it was triggered by fresh sage in my CSA box.
I decided it was time to tackle my own biscuits. I kept it simple this time because I wanted to focus on achieving big and tall biscuits but I can't wait to experiment with cheddar and dill biscuits in the near future.
See here is the recipe for the Sage Gravy I put on these biscuits (or try out this Mushroom Gravy or even this Chickpea Gravy).
Sky High Biscuits
2 cups all-purpose flour
1 Tablespoon of baking powder
1 Tablespoon sugar
1 1/2 teaspoons salt
4 Tablespoons cold butter, cut into chunks
1 1/2 cups of buttermilk (or I didn't have buttermilk so I made some with whole milk and vinegar using this method)
+
Extra flour
2 Tablespoons butter, melted
Start by preheating the oven to 500 and greasing a 9 inch circle cooking pan and a 1/4 cup measure.
In a large mixing bowl, combine the flour, baking powder, sugar, and salt. Using your clean hands, add in the butter and rub mixture between your hands to combine into a coarse dough. Next, make a well in the center of the mixture and add in the buttermilk. Fold the dough into the buttermilk just until combined (the dough will be SUPER wet but don't worry).
Spread out about a cup of flour onto a clean counter top or cutting board. Using that greased measuring cup, scoop out 1/4 cup of dough, roll in the flour, and place in the greased cooking sheet. The dough is super sticky so work fast so that it doesn't have a whole lot of time to expand in the pan. After you are done, they should all fit very snugly in the 9″ pan.
Pour the melted butter over the top of the biscuits.
Cook for five minutes and then reduce the temperature to 450 and cook for another 15 minutes.
Remove from oven and let cool slightly.
Later with delicious gravy and enjoy with a big glass of freshly squeezed orange juice!