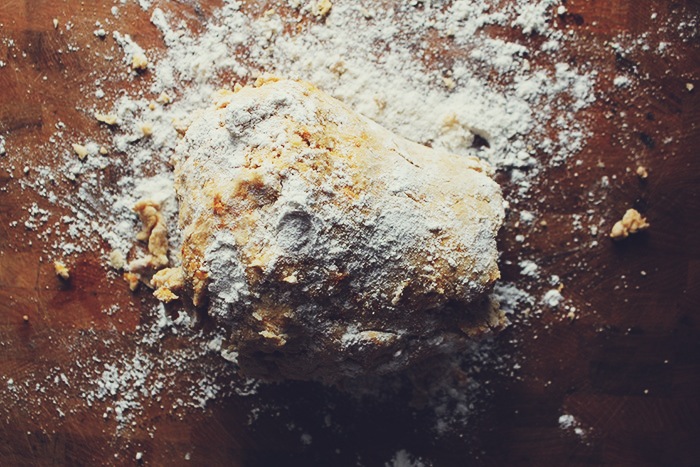 Sweet Potato Biscuits with Peppered Sage Gravy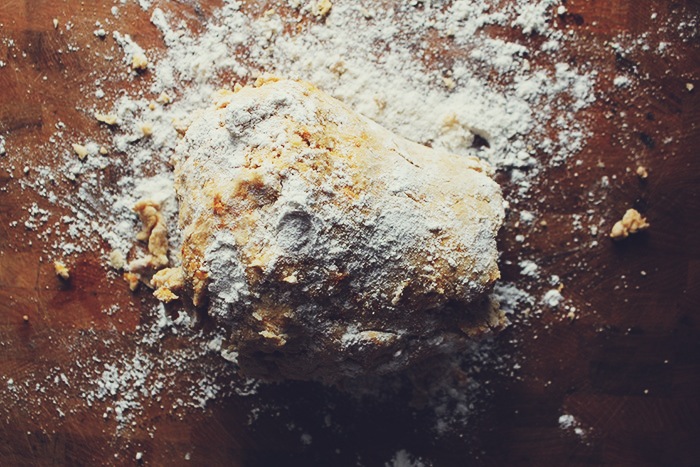 Biscuits and Gravy are a pretty re-occurring theme here on VV (see here. And here. And here). It's not my fault… It's my boyfriend's favorite food to ever exist. And it's pretty much the only way I can get him to help me in the kitchen. He LOVES making the gravy (probably because it means that I won't get the chance to change it up). However, that gives me authority over the biscuits and an opportunity to experiment on that end.
Each time I choose a different biscuit recipe, I make a goal…last time I was determined to make sky high biscuits that rise for days. This time? I was feeling biscuits that were big (always an essential for biscuits) and moist. Flaky can sometimes lead to dry and I was determined to have none of that. I had recently read that cooking with potatoes help to keep bread moist… and needed to find out for myself. The verdict? OOOOH YEAHHH! Sky high, flaky, and moist?! Absolute heaven!
Oh, and as for the gravy…my boyfriend knows what he likes and refuses to do anything else besides this sage recipe. I've posted it on the blog several times (here and here) but he still claims its a hassle to find so I'm going to post it again. It is pretty delicious…and it's ridiculously easy. Even your kitchen-illiterate boyfriend will be able to handle it.
PS: If you aren't into sage then you could try out this mushroom or chickpea gravy!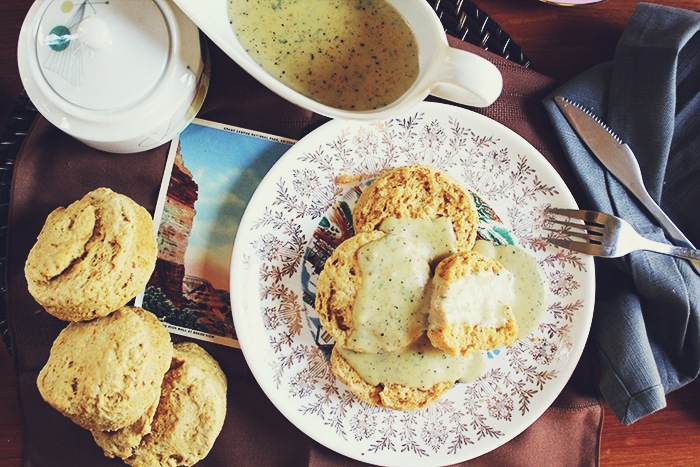 Sweet Potato Biscuits and Peppered Sage Gravy
For the Sweet Potato Biscuits:
1 small sweet potato, cut into small chunks (the smaller they are the faster they will cook)
2 1/4 cups all purpose flour
1 Tablespoon baking powder
1 teaspoon salt
1 teaspoon sugar
8 tablespoons butter, chilled and cut into cubes
1/2 cup buttermilk (I made my own)
For the Peppered Sage Gravy:
1/4 cup flour
3 Tablespoons nutritional yeast
2 cups almond milk (or regular)
4 fresh sage leaves, finely chopped
1 teaspoon salt
1 teaspoon pepper
1 Tablespoon butter
Bring a large pot of salted water to a boil. Add in the sweet potatoes and cook until you can pierce a fork into them (the amount of time will completely depend on how small you diced the potato…mine took about 15 minutes). Drain and use a fork to mash. Measure out 1/2 cup and reserve the rest for another use.
Preheat oven to 400 degrees. In a large mixing bowl, combine the flour, salt, and sugar. Use your hands or a pastry knife to cut the butter into the dough until a coarse meal has formed. Fold in the mashed sweet potatoes and buttermilk (the dough will be very sticky – that is okay).
Transfer dough to a floured surface and knead for about five minutes. Continue to add a little more flour if the dough is sticking. Use a round cookie cutter to cut out the biscuits. Transfer to a greased cast iron skillet or pan (make sure the biscuits are close together so they will rise). Bake for 15 minutes or until the biscuits are browned on top. Serve warm.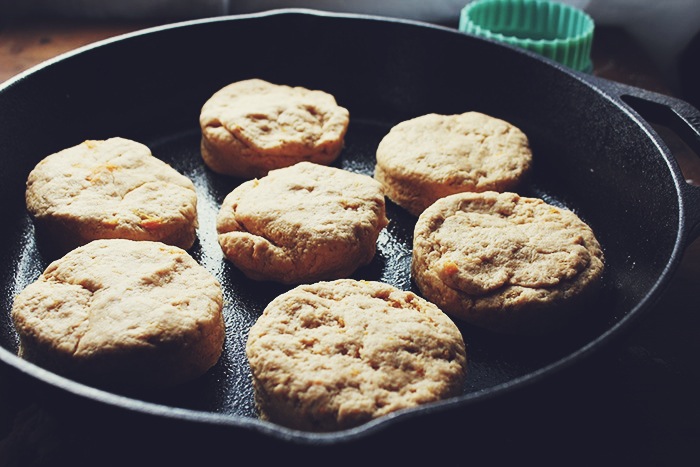 To make the gravy:  Whisk the flour, nutritional yeast, and milk together in a large skillet. Whisk until a smooth consistency and then add in all the spices. Place the skillet over medium heat and bring to a simmer. Next, add in the butter and reduce to medium low. Whisk often until the gravy has reached your desired thickness. Remove from heat and season to taste.