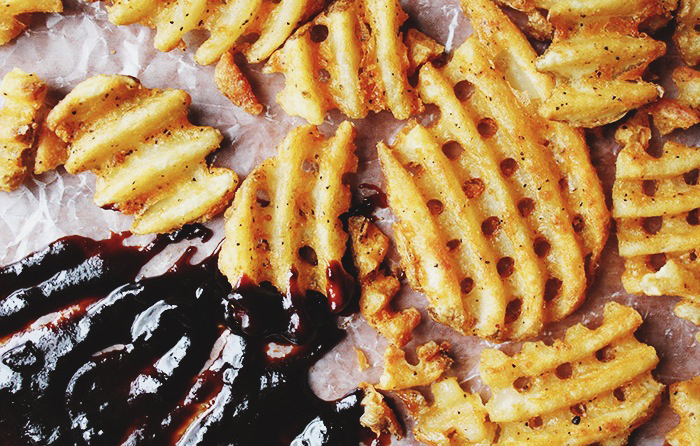 Slow Cooker Honey Bourbon Barbecue Sauce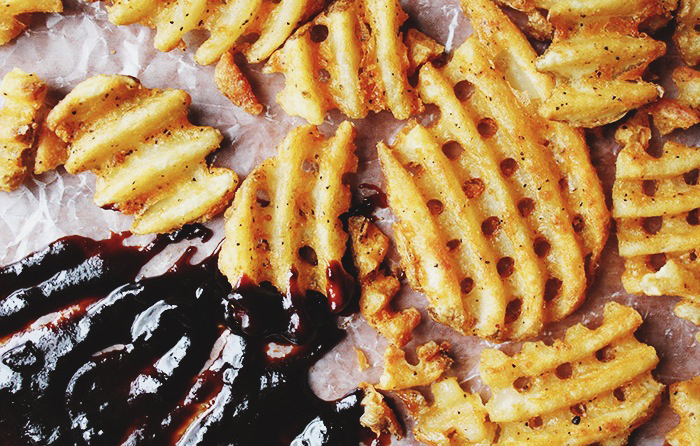 If close up pictures of french fries doesn't make you want to ditch your soup dinner plans and run out to the nearest diner then I do not know what does. Sorry that I just ruined your diet with this photo. Don't worry, you can start again tomorrow.
I grew up a firm believer that ketchup was for eggs and barbecue sauce was for french fries. Although I've grown out of lathering ketchup all over my morning scramble, I still cannot resist a big side of tangy barbecue sauce to accompany my french fries and tofu nuggets (yes, I am guilty – I do enjoy those processed fake chicken nuggets that you can find in you organic freezer section at Kroger).
Although I am known to still down the occasional fry or chicken-less nuggets, I do try avoid the processed and high-fructose packed condiments that fill our grocery stores. Have your REALLY looked on the back of that condiment jar in a while? It's a rather upsetting sight. Instead, I usually whip up a batch our this barbecue sauce  and it usually holds me through all summer (and I participate in A LOT of grill outs every summer).
I decided to mix it up and try a new bbq sauce this time around. It's definitely not the traditional bbq sauce you are used to (I'd suggest using this recipe if you are looking for that) but it's a great sauce to use for special occasions. It's a wonderful way to add new flavor to your condiments or to fancy up a side of fries at a party. The bourbon gives it the inevitable and sophisticated alcoholic aroma while the honey helps sweeten and tone it down.
I made this in my slow cooker so I could walk away and not worry about it. But it would probably be made just as easy in a saucepan by throwing in all your ingredients and letting it simmer down to your desired consistency (bet it wouldn't take more than 30 minutes!).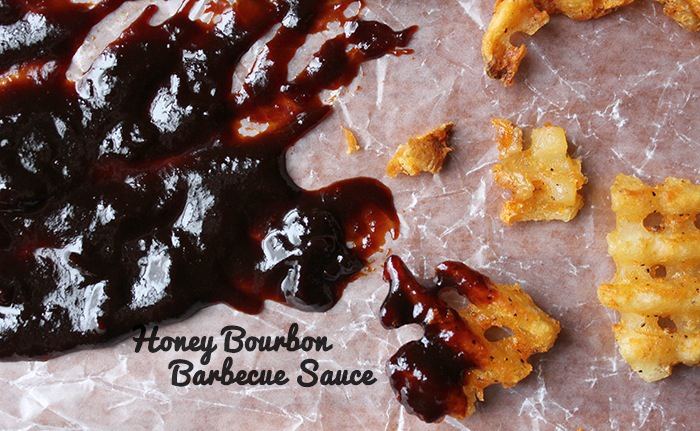 Slow Cooker Honey Bourbon Barbecue Sauce
1 tablespoon olive oil
1/2 onion, diced
2 garlic cloves, minced
12 ounces of tomato sauce
1/3 cup bourbon
1/2 cup honey
1/2 cup brown sugar
1/4 cup cider vinegar
2 Tablespoons soy sauce
1 teaspoons Worcestershire sauce
dash of hot sauce, optional
salt, to taste
Heat the olive oil over medium in a small skillet. Add onions and sauté until translucent (about five or so minutes). Add in the garlic and cook for another minute. Remove from heat.
Combine all ingredients in a slow cooker and turn the slow cooker on low. Let cook for 8 hours. If the sauce is too thin after 8 hours, remove the lid and let cook down to desired consistency.
Use an immersion blender to blend into a smooth sauce or leave the small chunks of onions (they are delicious!).
Serve right away or transfer to an airtight container in the fridge for up to a week. If you'd like to keep it longer, freeze it in ice cube trays for easy access to later.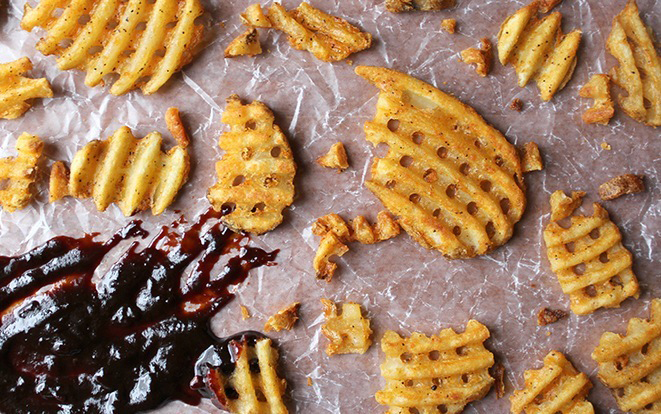 Because Nobunny is both saucy and probably a bit alcoholic (yeah –  not really sure what that means either):