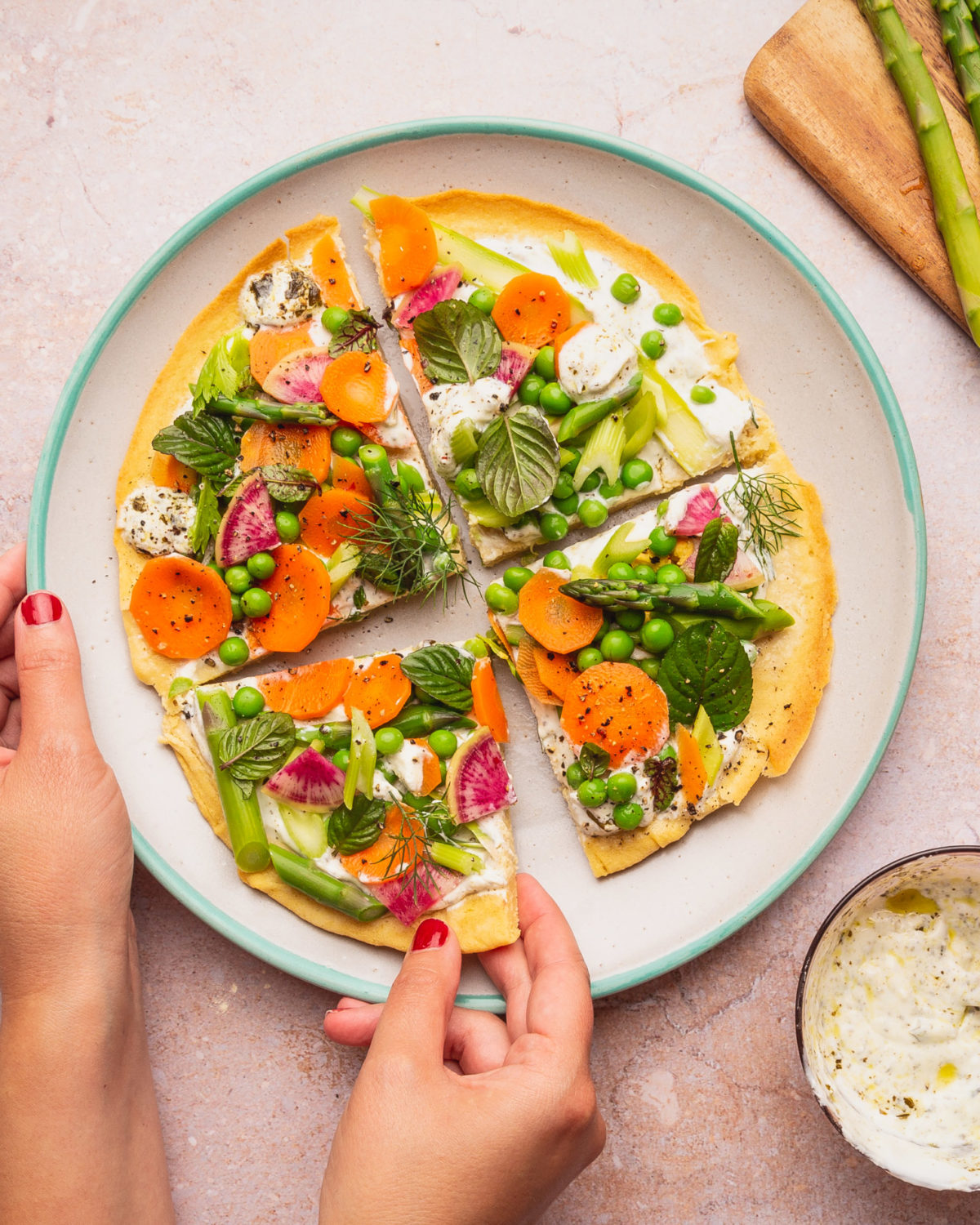 Socca Pizza with Spring Veggies & Creamy Pesto Sauce
This Socca Pizza with Spring Veggies & Creamy Pesto Sauce is a delicious and gluten-free recipe that can be used with whatever veggies you have on hand!
This is a sponsored conversation written by me on behalf of Bob's Red Mill. The opinions and text are all mine. Thank you for supporting the brands that make VV possible.
In a hurry? Click here to JUMP TO RECIPE!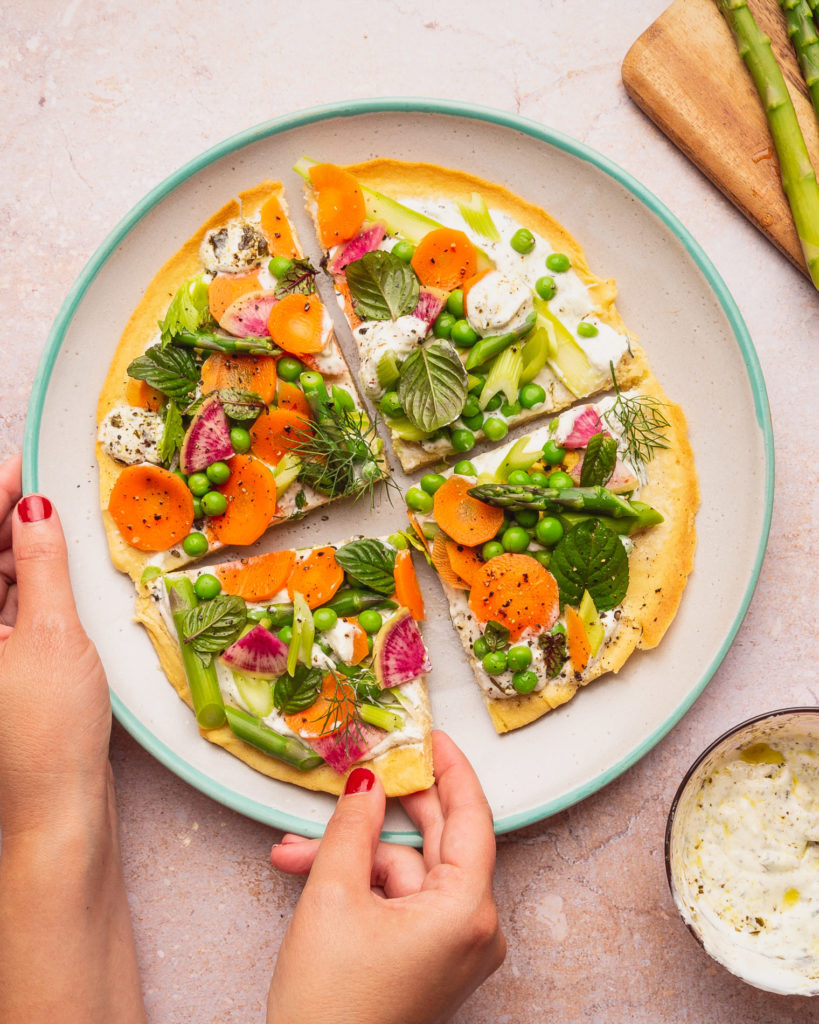 A "fun" activity of self-quarantine has been working my way through our pantry and freezers filled with half used bags of dried beans and flours. I actually exclaimed out loud 'YES' when I found the half opened bag of chickpea flour because it's one of my favorite flours to make savory pancakes and batters out of. And if you have chickpea flour on hand then you can make socca pizza (chickpea pizza) because that and water are really the only ingredients you need so it doesn't get any simpler than that!
Even if you don't already have Bob's Red Mill's chickpea flour on hand, I thought this recipe might be helpful for a lot of you who are having trouble finding regular flour in your stores as it's a alternative substitute and also not out of stock online (unlike a lot of other flours). Plus, it's high in fiber and packs 5 grams of protein per a serving which, to me, makes it a great vegetarian meal option! Also, if you are worried about getting an entire bag and only using a portion of it for this recipe, I want to suggest my other favorite way to use chickpea flour up: BBQ battered cauliflower!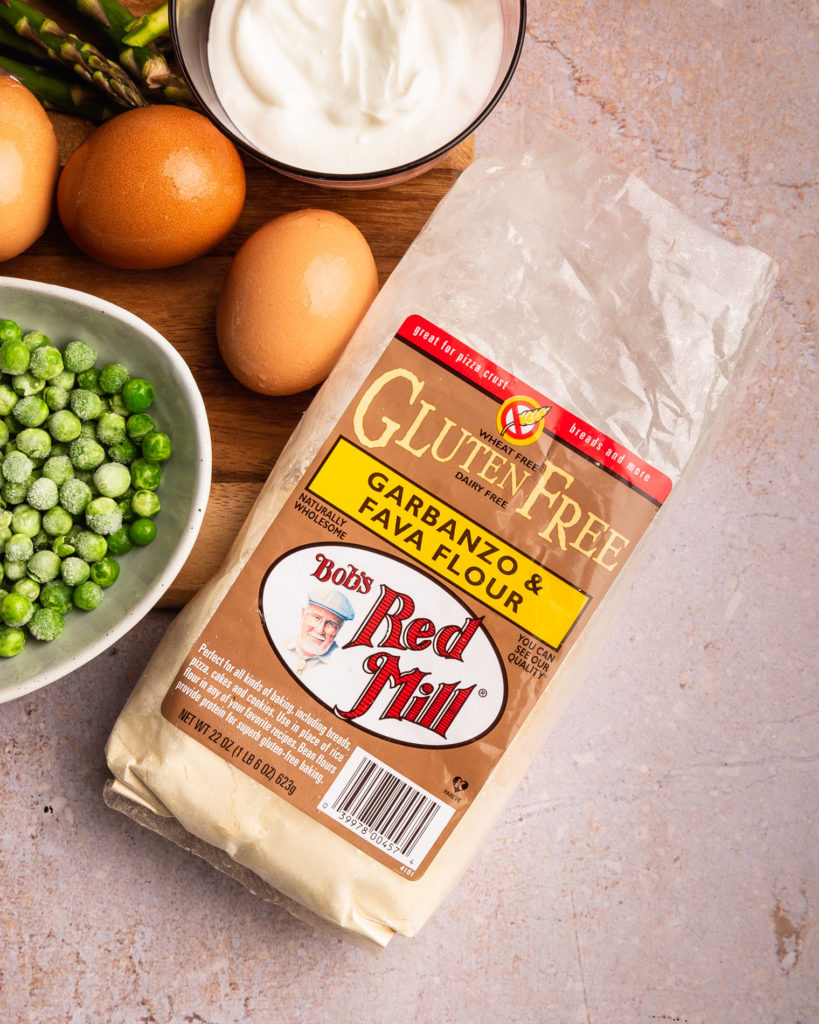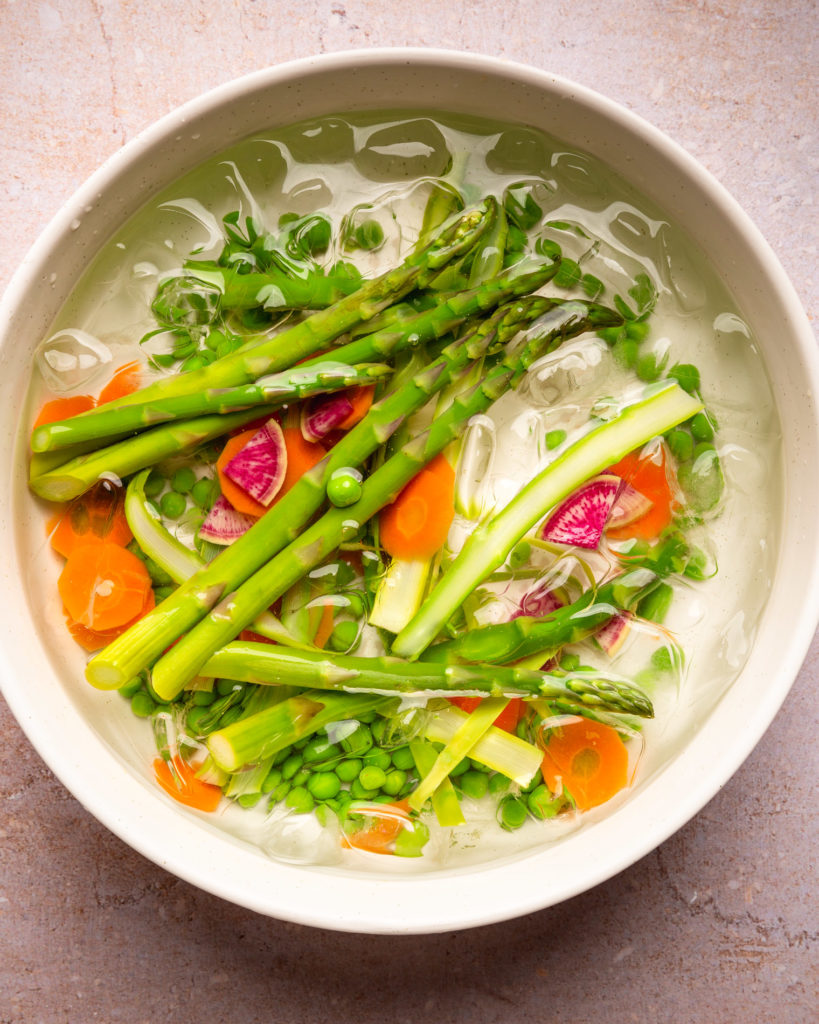 I talked about this a bit on Instagram yesterday but I've really been leaning into blanching my vegetables lately. To be honest, it's a cooking technique I wasn't really utilizing much before the pandemic but we've been going so long between grocery orders (on day 11 right now) that it's been such a great way to re-hydrate the fresh veggies we do still have (which are looking a little on the sad side at this point). In addition to helping perk up fresh veggies, it's also a quick way to cook the frozen veggie you've got stored in your freezer. For this recipe, I blanched some asparagus, carrots, and frozen peas all in the same pot and gave them a quick ice bath afterwards to bring out their color.
I've been calling this a "socca pizza" because I like to serve it open faced with a sauce and veggies but the socca is maybe a bit closer to the texture of a pancake and can bend pretty easily if you'd prefer to eat it like a pancake instead. You could also use a large size pan and make it thinner so it's more like a crepe.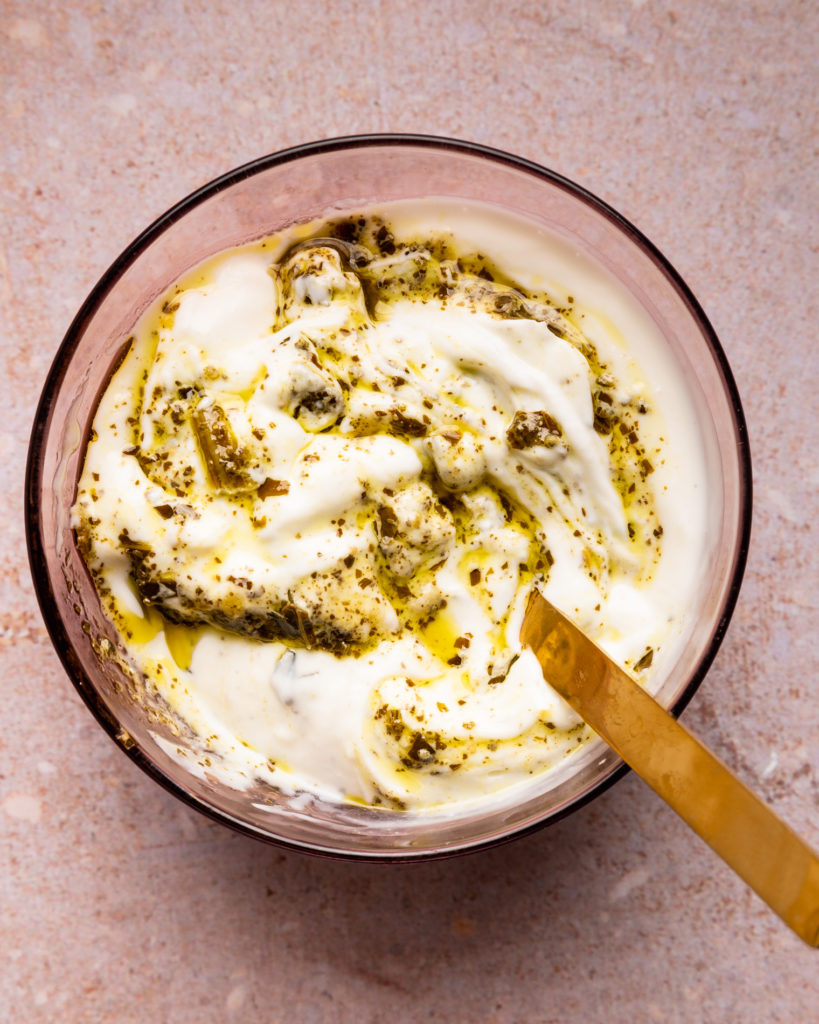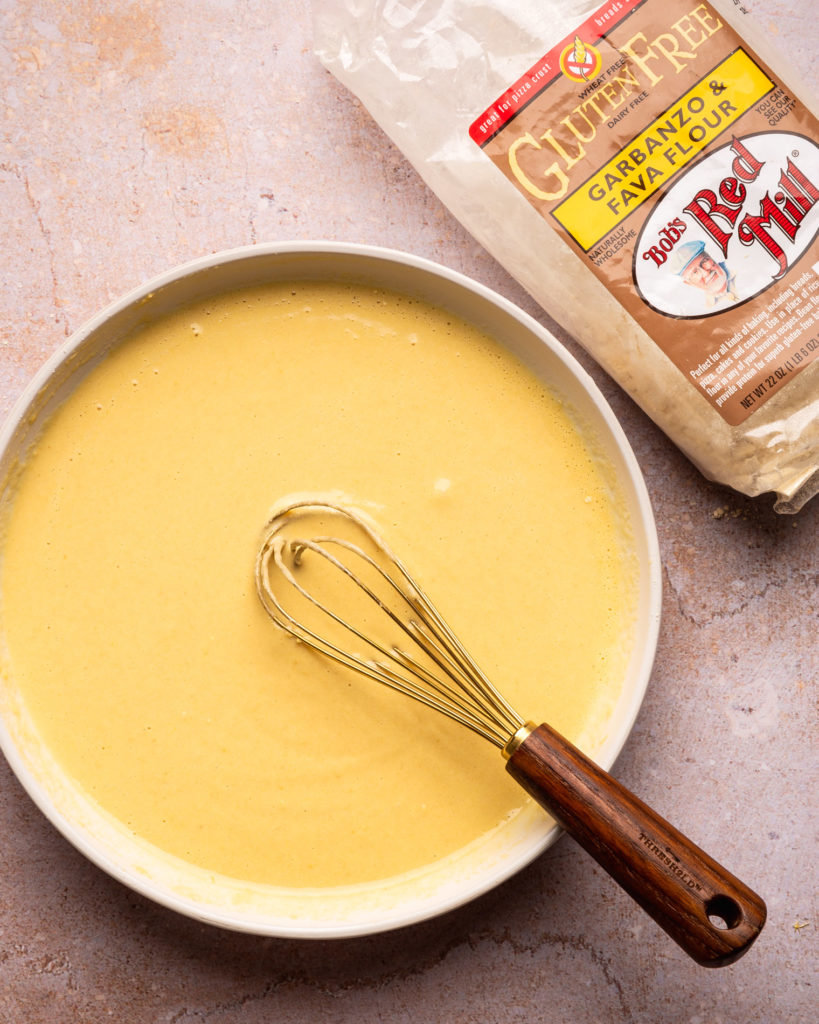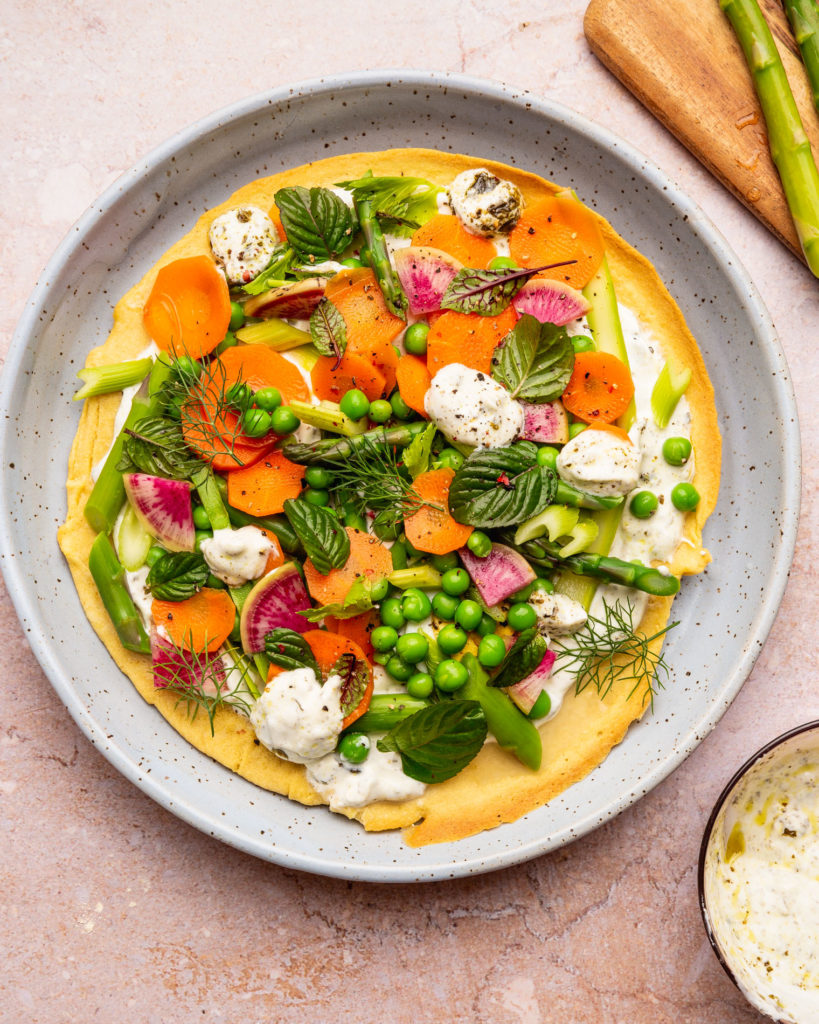 With the ongoing pandemic, I plan to give as many substitution suggestions as possible so you can continue to cook without having to run out to the store. Although some of these suggestions may vary the end result, I only make suggestions if I think it will still be delicious. Here is a list of substitute suggestions for this Socca Pizza with Spring Veggies & Creamy Pesto Sauces recipe in case you don't have certain ingredients on hand:
Greek yogurt – You could use another creamy dairy product here instead such as ricotta or mascarpone cheese if you don't have yogurt on hand.
Veggie options – I used asparagus, frozen peas, carrots, and radishes for this but any vegetable you like to eat would work here! Just make sure to pre-cook any hardy vegetables (like potatoes) and cut everything into bite size pieces.
Herb options – I went with dill and mint because they felt spring-y and I had them in my garden but any soft herb (such as basil, parsley, cilantro, etc) would work great here!
Pesto – I used some pesto I had leftover in my fridge but you could easily make a homemade one based on any leafy green and olive you have on hand! I love a hearty kale pesto.
Parmesan – Any salty cheese (think feta, Manchego, etc) would add a delicious punch here!
garlic and onion powder – You can skip these if you don't have any on hand or substitute with a minced garlic clove.
The one thing I don't suggest you substitute is the chickpea flour as it's the main ingredient in the crust and any other flour would substantially alter the final dish.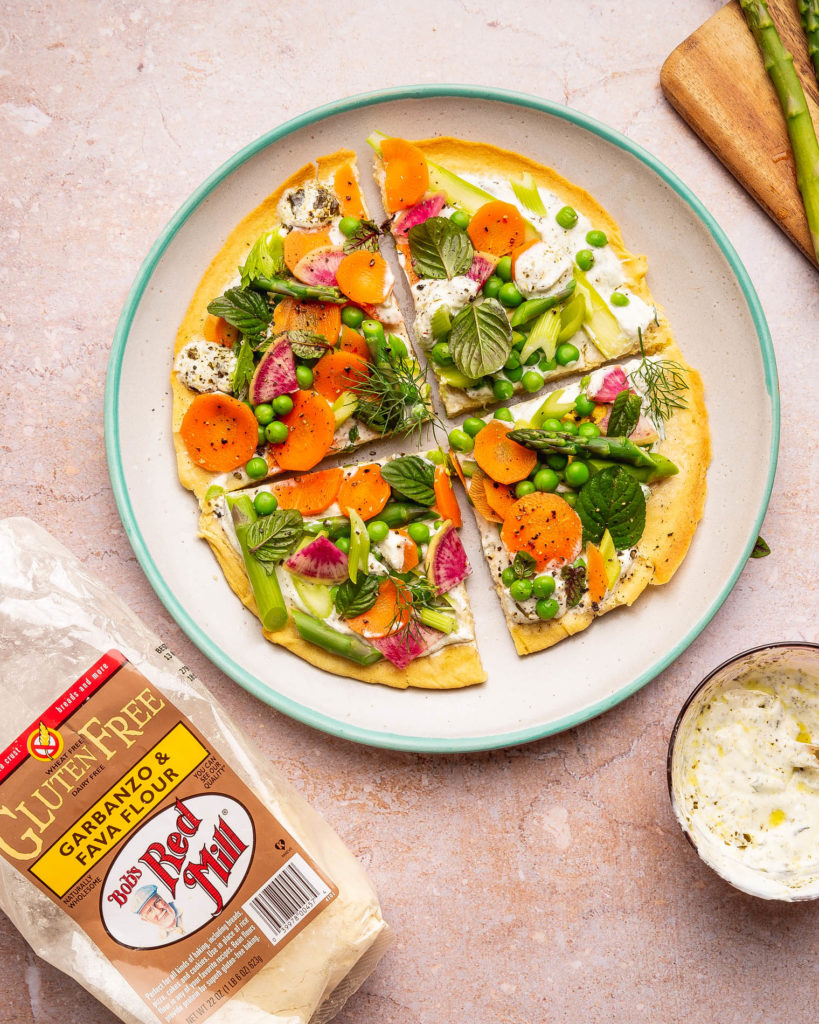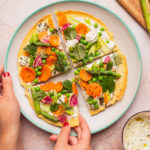 Socca Pizza with Spring Veggies & Creamy Pesto Sauce
This Socca Pizza with Spring Veggies & Creamy Pesto Sauce is a delicious and gluten-free recipe that can be used with whatever veggies you have on hand! The socca recipe is adapted from a recipe on The Kitchn.
Ingredients
For the socca pizza:
1

cup

Bob's Red Mill Chickpea flour

1

cup

water

1/2

tsp

garlic powder

1/2

tsp

onion powder

2

Tbsp

olive oil

divided

1/2

tsp

salt

dash of pepper
For the toppings:
1/2

cup

plain greek yogurt

1/4

cup

pesto (homemade or store-bought)

1/4

cup

shredded Parmesan

1 1/2

cups

vegetables (such as asparagus, carrots, celery, frozen peas, radishes, kale)

cut into bite size pieces

mint and dill (I also added a few pieces of sorrel from the garden for garnish as well – totally optional!)

for garnish

salt and pepper

to taste
Instructions
For the socca pizza: In a medium mixing bowl, whisk together the chickpea flour, water, garlic powder, onion powder, 1 1/2 tsp olive oil, salt, and pepper. Set aside for at least 30 minutes so the batter can hydrate.

Meanwhile, preheat oven to 450 degrees and place a 10 inch heat proof skillet in the oven to warm up.

After the batter has set and the oven is ready, carefully (using oven mitts because the pan will be hot!) remove the skillet from the oven and drizzle 1/2 Tbsp olive oil into the pan (tilting the pan as you add to coat the bottom of the pan). Pour in the batter and swirl it around until it has completely covered the bottom of the pan. Bake for 8 to 10 minutes or until browning around the edges and complete set. Remove from oven and transfer the socca onto a cutting board.
For everything else:
Whisk together the greek yogurt, pesto, Parmesan, and a dash of salt in a small bowl.

If blanching your vegetables, bring a medium saucepan of salted water to a boil. In a medium bowl, create an ice bath by filling the bowl with at least 1 cup of ice and water. Drop your vegetables into the boiling water and let blanch for about 3 minutes or just until beginnning to soften. Use a slotted spoon to transfer your vegetables from the boiling water to your ice bath. Let sit in the ice bath for a few minutes before transferring to a paper towel lined plate to dry.

When ready to serve, spread the yogurt pesto mixture over your socca and top with prepared vegetables, herbs, and a sprinkle of pepper. Slice into 4 pieces and serve right away.