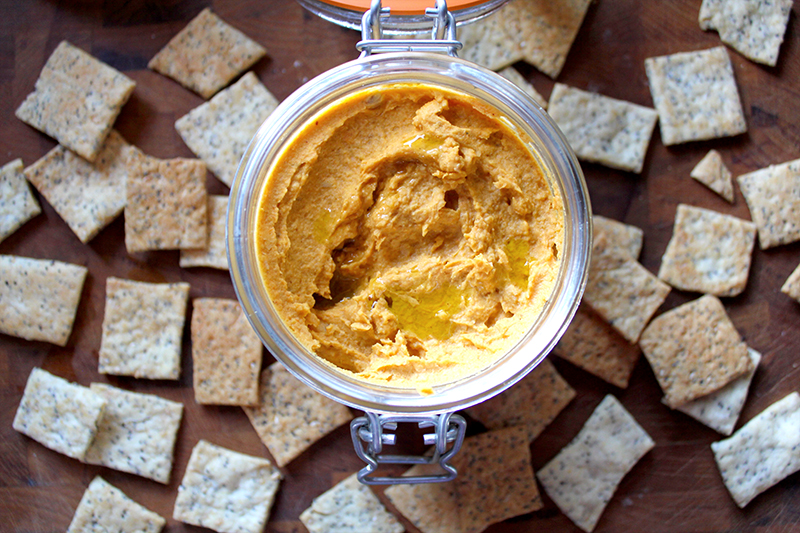 Spiced Sweet Potato Hummus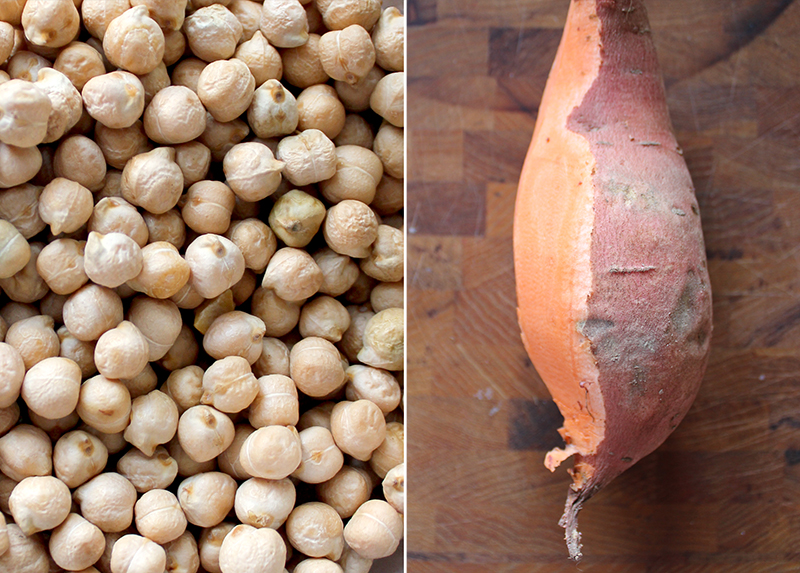 Did everyone [From the US] have a wonderful long weekend? Are you all busy Cyber Monday shopping for the best holiday deals instead of working right now? Don't worry. I won't tell! I would be as well but I spent all my money on Black Friday (yup – I'm one of those that goes out at Midnight to save myself 50 bucks). Ah well. It's all part of the adventure, right?
Oh! Please disregard the shamble that is my 'recipes' page right now. It's in the process of being re-vamped and should hopefully be back to normal tomorrow. Cool? Cool and thanks for being so patient!
Anyhow, wanna talk hummus? Remember when I made that amazing Spicy Jalapeno Corn Hummus? Damn, that stuff was sooooooo good. Well, I'm back with more funky flavors and this one might take the cake. The soft sweet potatoes create the perfect texture for a creamy and flavorful dip. Seriously, this stuff is crazy good. And smother it on top of those homemade Sesame and Poppyseed Crackers and you are golden!
Impress your guests at your next holiday party with not only homemade crackers but homemade dip as well! Or save it all for yourself….that is what I did.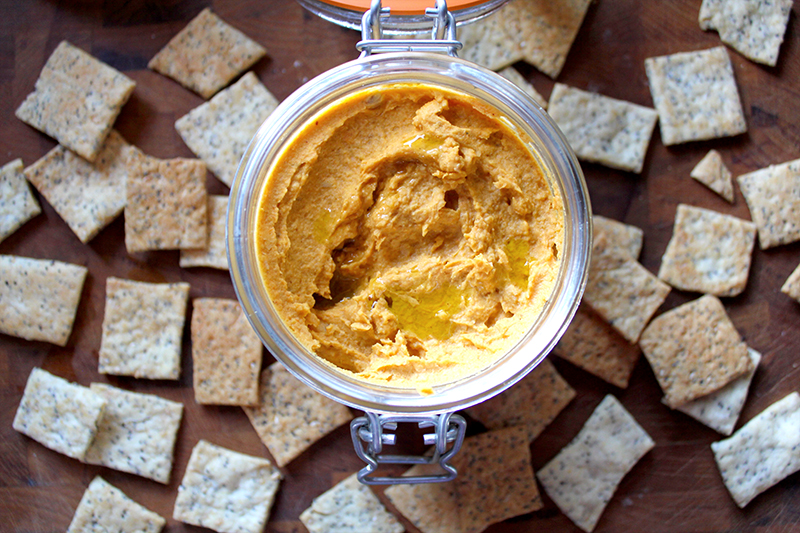 Spiced Sweet Potato Hummus
1 large sweet potato, cubed
2 cups cooked chickpeas (I made mine from dried beans but feel free to use canned)
4 Tablespoons tahini
2 Tablespoons olive oil (you may need more if the hummus comes out thick)
2 garlic cloves, minced
Juice from 1/2 a lemon
1 Tablespoon cumin
1 teaspoon sriracha
dash of nutmeg
dash of cinnamon
Salt/Pepper to taste
Bring a large pot of water to a boil. Lower to medium low and add in the sweet potatoes. Cook until softened (about 10 to 15 minutes). Strain and let cool.
In a large blender or with a food processor, blend all the ingredients together until a desired consistency is reached. Taste and add more olive oil if dry, more sriracha if not spicy enough for you, or more lemon juice to bring out the flavors more.
Serve with homemade crackers!