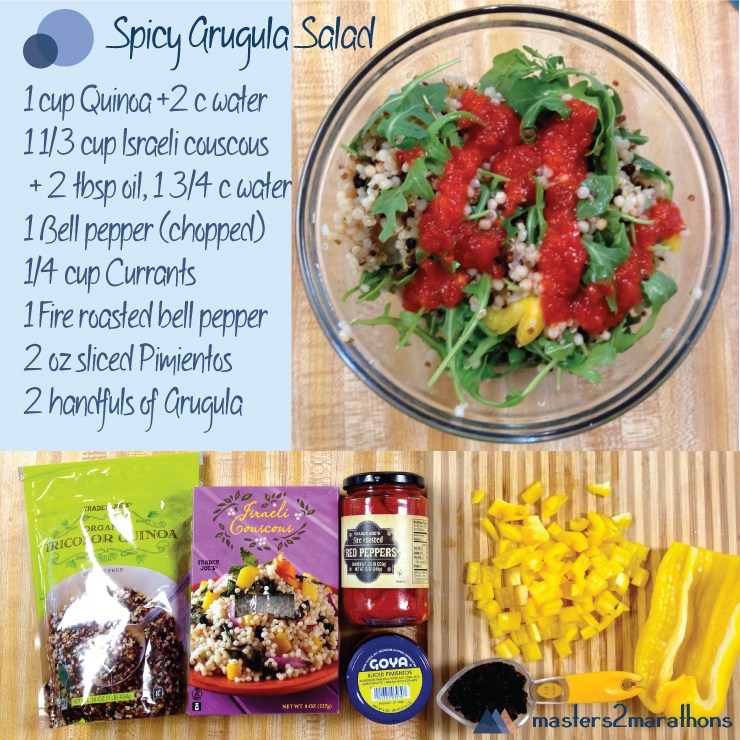 Happy Tuesday! I am very excited to welcome Nicole from Masters2Marathons to VV today. She has a wonderful post about an absolutely scrumptous Trader Joe's inspired salad. And feel free to hop on over to Masters2Marathon to see my guest post about DIY Granola Bars! Enjoy!
_________________________________
Hi everyone, my name is Nicole (blog Masters2Marathons) and I am super excited to be featured as a guest writer on Vegetarian 'Ventures!  I started following Shelly's blog a few weeks ago and absolutely love all the recipes she shares.  Today I will be writing about my new favorite recipe called "Spicy Arugula Salad" which is jam packed with protein and flavor!  As a runner, I need to make sure I eat foods that give me the most 'bang for my buck' and this salad does exactly that: quinoa is a complete protein, bell peppers and arugula contain lots of crucial nutrients, and currants quench my sweet tooth craving.  For those of you wondering where my inspiration came from, this recipe is my vegetarian friendly version of Trader Joe's "Lemon Chicken and Arugula Salad".  Now where does the 'spicy' part come in? Well the arugula certainly has a little 'bite', but so does the dressing consisting of fire roasted bell peppers and sliced pimento. They certainly round out the salad nicely. My version of this recipe is given below, but there is definitely room to 'play' with ingredients to make it your own (see some of my suggestions). Hope you enjoy!
How to make this healthy deliciousness:
1. Prepare the quinoa and Israeli (pearled) couscous. To make my life easier, I like to cook them at the same time. I pour 1 cup tri-colored quinoa and 2 cups water into my rice cooker and press the button because I have problems with quinoa on the stove. For the couscous, I follow the directions on the package:  In a 2 quart sauce pan, saute 1 1/3 cups couscous with 2 tbsp olive oil over medium heat until lightly browned (~5 min). Slowly add 1 3/4 c boiling water (watch for spattering!!!) and bring to a boil. Reduce heat to medium/low, cover, and simmer for 12 minutes until liquid is absorbed. Once both are done cooking, let them cool completely if you want a cold salad. Otherwise head to step 3 if you were multitasking and made #2 during the cooking process 🙂
2. Make the spicy dressing.  Add 1 fire roasted bell pepper and 2 ounces of sliced pimento (with a little bit of their juices) to a  blender or food processor. Blend until smooth and salt to taste.  To add a bit more 'kick' feel free to include a little lemon juice and cayenne pepper powder. Also, if you want extra dressing, just double the recipe!
3. Put it all together. Add the quinoa and couscous to a very large bowl. Mix in the currants, chopped bell pepper, and arugula. Serve yourself and dress the salad to your satisfaction! This recipe makes a few servings, around 3-4, for me personally.
Some suggestions: This salad would also taste great with some raw or lightly toasted pine nuts or raisins instead of currants. Also, feel free to throw in some chopped onions when sauteing the couscous for a caramelized flavor! Finally, this salad tastes great warm or cold (first time I made it, I couldn't wait to dig in). Enjoy!
 If you end up making your own version of this recipe, please share it in the comments below!!!
___________________________
Hop on over and check out Nicole's blog here.