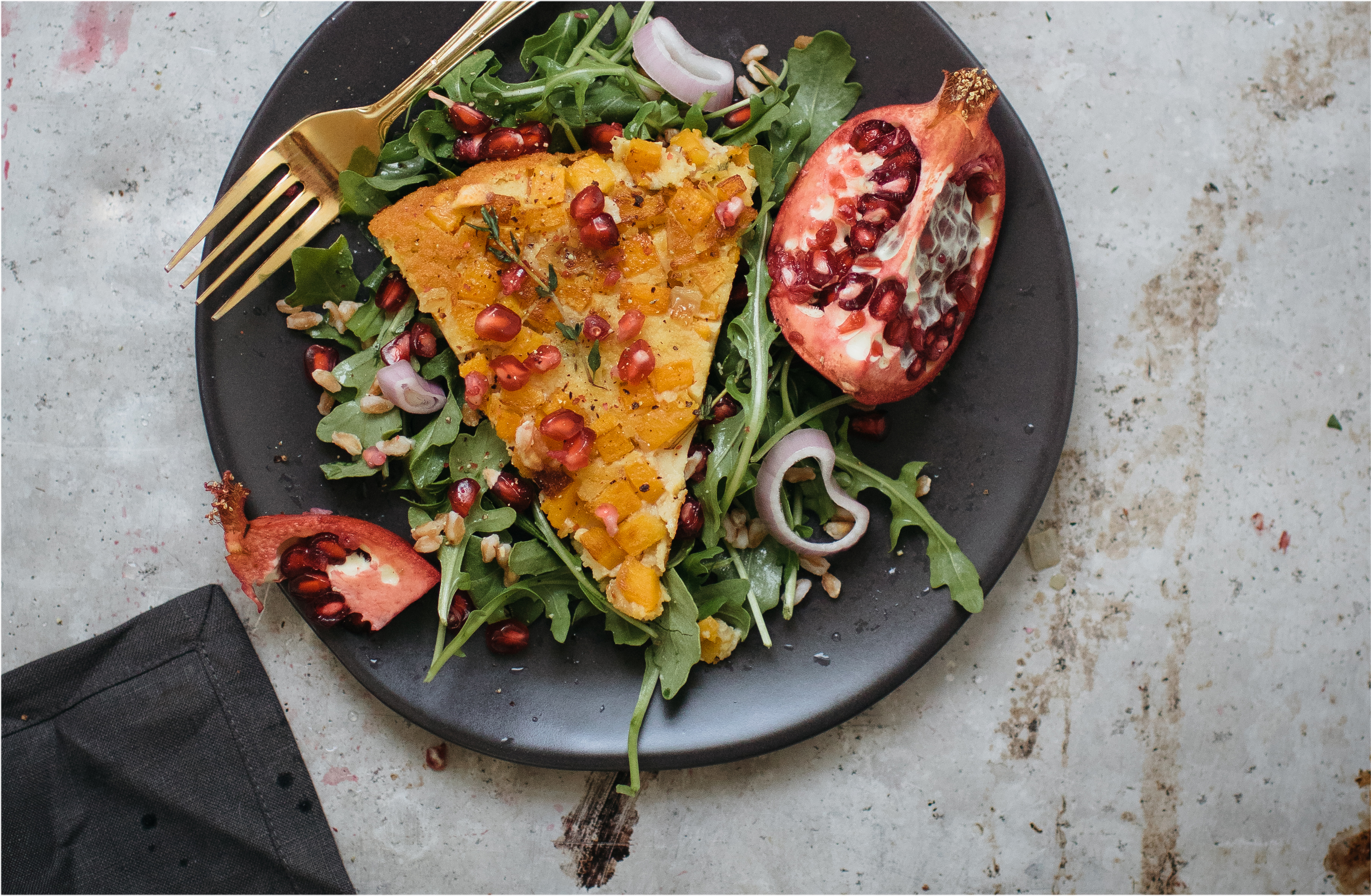 Butternut Squash Farinata With Arugula Salad & Pomegranate Vinaigrette
In a hurry? Click here to JUMP TO RECIPE!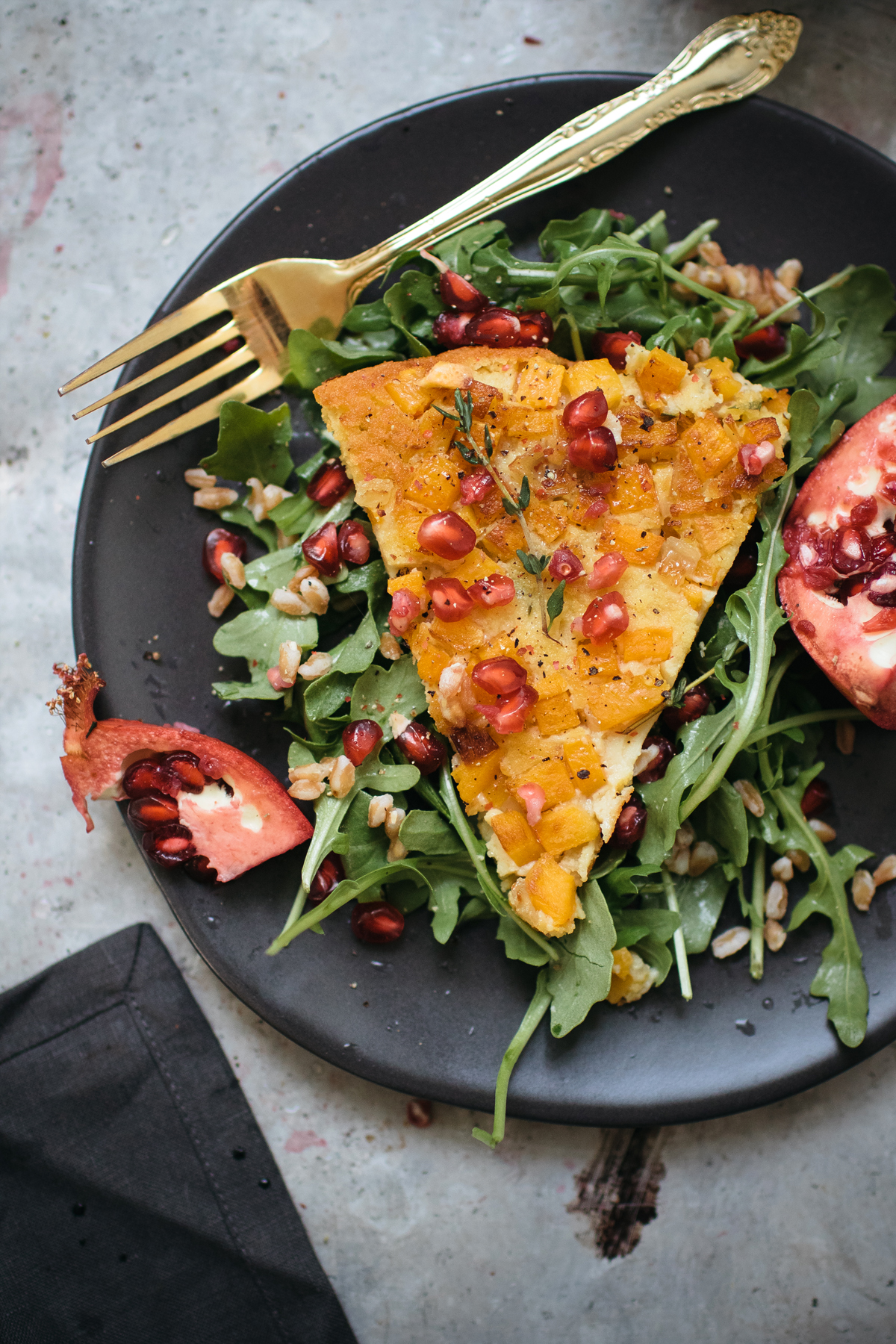 You know you have an amazing friend when she'll fly halfway across the country to help ease your stress. During one of our weekly phone conversations, I had mentioned to my good friend, Ella, that I had a stressful fall ahead of me and she took it upon herself to book a plane ticket out here to help. We spent this past weekend trying new recipes in the kitchen, hosting photo shoots by the lake, and finding time to sneak out to surprise parties on Friday night. After four days of cooking, this was our favorite recipe we whipped up.
Today's recipe comes from the new vegan cookbook, Crosswords, which is written by the famous vegan restaurant by the same name in LA. I'd be lying if I didn't mention the first thing that drew me to this vegan cookbook was that fact that Jay-Z was quoted on that back – you know what the means, right? We all know that he probably frequents this restaurant with Beyonce because B is vegan. And you know what? If this vegan food is good enough for B then it's good enough for me. Also, I won't even go down the rabbit hole of this book having the same name as the coming of age classic that Britney starred in (so many pop references connected to this book – I can't help but be drawn!).
Anyhow, my first reaction to this book when flipping through it is that the recipes looked gorgeous but also intimidating. However, after whipping up this farinata earlier today, I realized that the names are fancy and the results are delicious but the process is more than manageable.
Farinata is a rustic Italian bread made out of chickpea flour and this recipe reminded me of a European version of cornbread. The protein from the chickpea flour makes it filling enough for a meal and the salad creates the perfect balance. Pomegranate molasses is the trickiest ingredient to find in this whole recipe but it's well worth the search as it's flavor is unique and refreshing. Similar to crepe batter, you'll need to let this batter sit for at least an hour so prep that first and then prepare the farro and salad while it sits.
Butternut Squash Farinata With Arugula Salad & Pomegranate Vinaigrette recipe below: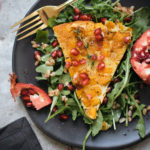 Butternut Squash Farinata With Arugula Salad & Pomegranate Vinaigrette
A filling and vegan chickpea based entree served on a bed of arugula.
Ingredients
1 1/2

cups

chickpea flour

2

cups

filtered water

, room temperature

5

Tablespoons

olive oil

, divided

2

fresh thyme sprigs

, leaves stripped from stems and chopped

3/4

teaspoon

salt

1/4

teaspoon

freshly ground pepper

1

Tablespoon

vegan butter

(such as Earth Balance)

2

cups

finely diced butternut squash

1

shallot

, minced
For the dressing:
1/4

cup

pomegranate molasses

1/2

shallot

, minced

Juice from 1 lemon

Zest from 1 lemon

1/2

cup

olive oil

1

teaspoon

finely chopped mint

(I used thyme here because it was what I had on hand)

1

Tablespoon

finely chopped parsley

2

Tablespoons

pomegranate seeds + more for garnish
For the salad:
8

lightly packed cups baby arugula

2

cups

cooked farro

1/2

cup

Pomegranate Vinaigrette

Salt / black pepper
Instructions
For the farinata, whisk together the chickpea flour and water until smooth and free of lumps.

Add 3 tablespoons olive oil, thyme, parsley, salt, and pepper, and continue to whisk until combined.

Cover and let sit at room temperature for at least an hour.

After the batter has set, preheat oven to 425 degrees.

Melt the remaining butter substitute and olive oil into a 10 inch cast iron skillet, on the stove top, over medium heat.

Add the squash and shallot and saute, stirring often, for four minutes or until soft. Season with salt and pepper.

Spread the squash and shallots into an even layer and pour the batter over it.

Transfer to the oven and bake for thirty minutes or until the center is set and the edges are browned.

Remove from oven and let cool for at least ten minutes.

For the dressing, whisk together the pomegranate molasses, shallot, lemon, and olive oil until emulsified. Fold in the mint, parsley, and pomegranate seeds. Season with salt and pepper.

For the salad, mix together the arugula, farro, and vinaigrette. Season with salt and pepper.

To serve, flip the farinata out onto a cutting board and slice into 8 pieces. Place a bed of salad on the place and top with a slice of farinata. Garnish with pomegranate seeds and season with salt and pepper.