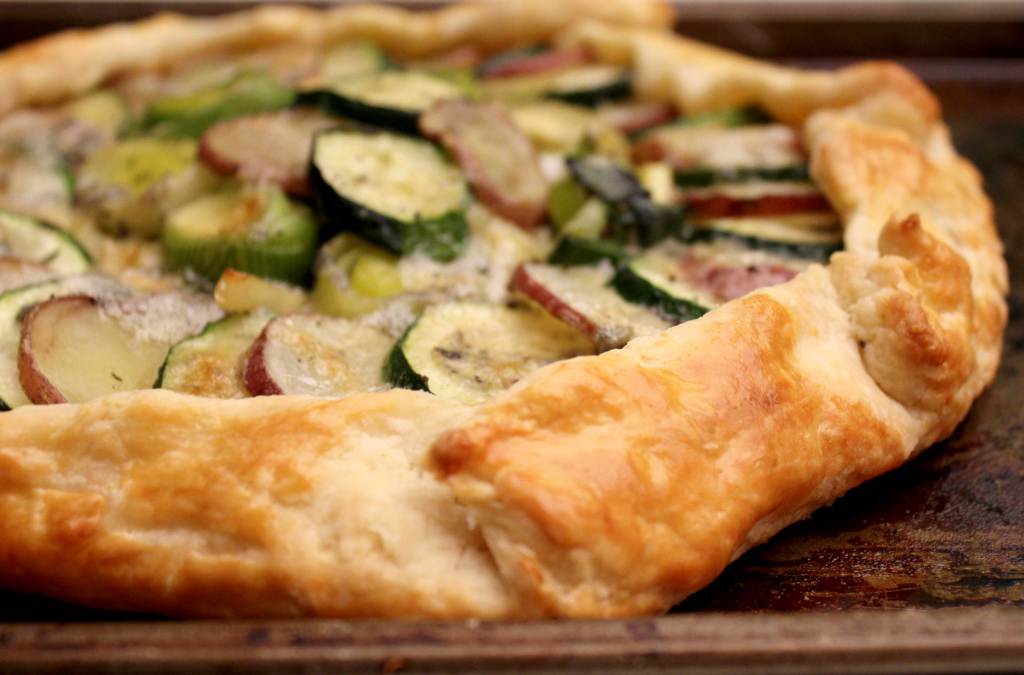 Spring Leeks and Zucchini Galette
I actually made this last weekend but have been putting it off for two reasons: 1. I was a little frustrated because pictures could not convey how beautiful this piece of food was and 2. I don't even know where to begin with being able to describe just how delicious this thing was.
Honestly, this is a bit more complicated than most of the recipes I blog about but it's well well well worth the extra effort. The crust is flaky like a crescent roll with the slightest hint of sweet from the sour cream that you would never expect. And then the veggies are roasted until they practically melting in your mouth and to top it all of there is a layer of cheese on both the top and bottom. Looking to impress some guests? Please please please make this Galette!
I suggest making the pastry crust earlier that day so save  time when it comes to cooking it. Also, I got the crust recipe from Smitten Kitchen so head over there and prep the crust!
Spring Leeks and Zucchini Galette
1 Tablespoon olive oil
2 Leeks, sliced
2 zucchinis, sliced
2 small red potatoes, thinly sliced
2 garlic cloves, minced
1 cup smoked mozzarella, shredded
3 teaspoons dried thyme
1 ounce blue cheese, crumbled
Drizzle of honey
1 crust from Smitten Kitchen
Salt/Pepper, to taste
1 egg white mixed with 1 Tablespoon water
Preheat oven to 400 degrees.
Heat the Olive oil in a large skillet over medium. Add the garlic, potatoes, zucchini, and leeks and saute for about 3 minutes. Then add in the thyme and salt/pepper and saute for another 2 to 3 minutes.
Spread the cup of smoked mozzerela evenly across the bottom of the crust. Line the vegetables however you'd like within the crust (we did in inward spiral with the zuccini and potatoes and then put the leeks in the middle but feel free to get creative)! Top with chunks of goat cheese and fold the extra crust over (see pictures below!). Brush the egg white mixture along the crust and pop in the oven for about 40 minutes or until the vegtables has softened and the crust is browned.
Drizzle a tiny bit of honey over the goat cheese sections and serve right away! Be careful though because there was three of us and this was gone in about 2 minutes with us wishing we had made 2…or 3 galettes!