This recipe for Vegetarian Spring Curry Ramen is the perfect comfort food on a rainy spring day. A curry broth chocked full of vegetables and noodles!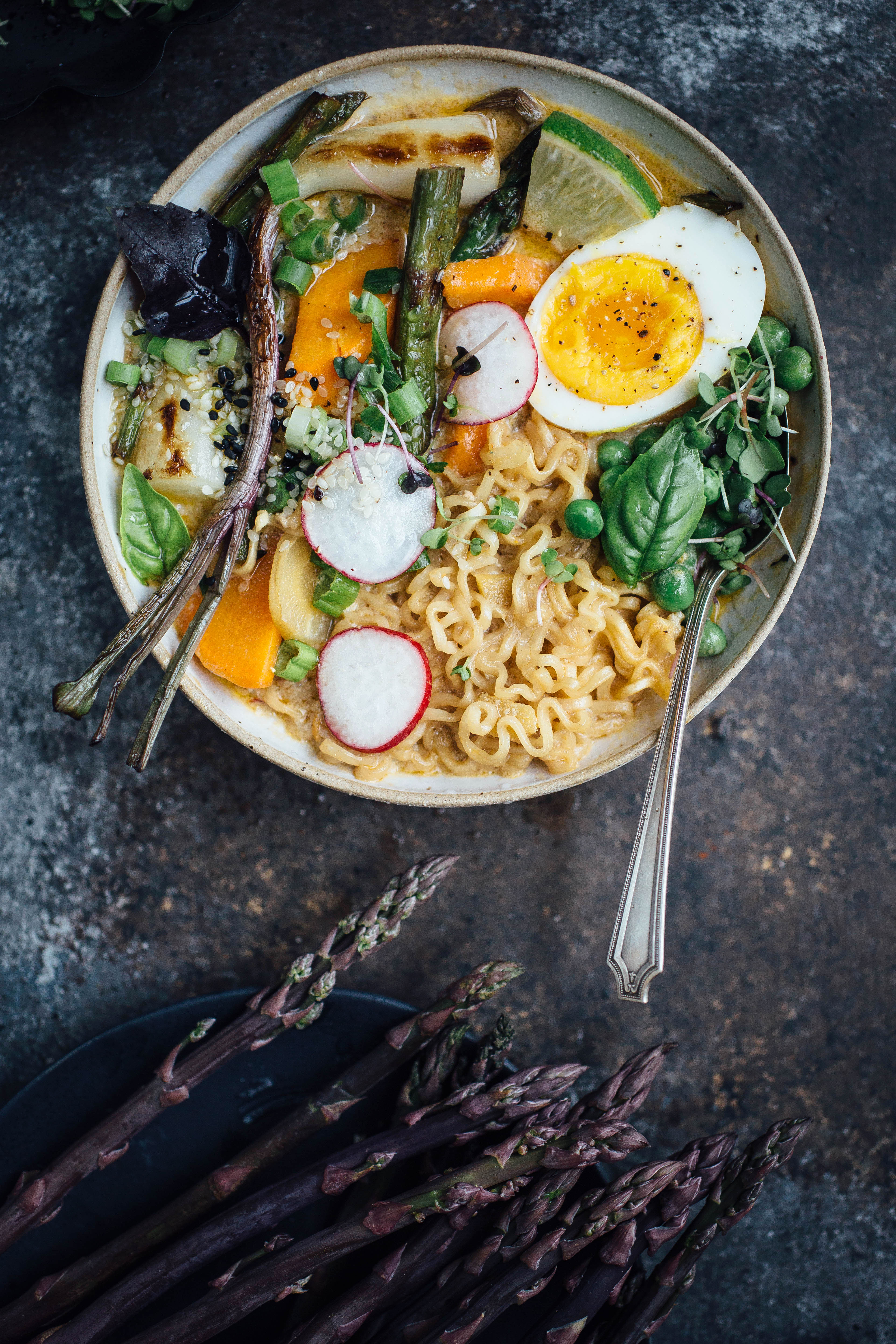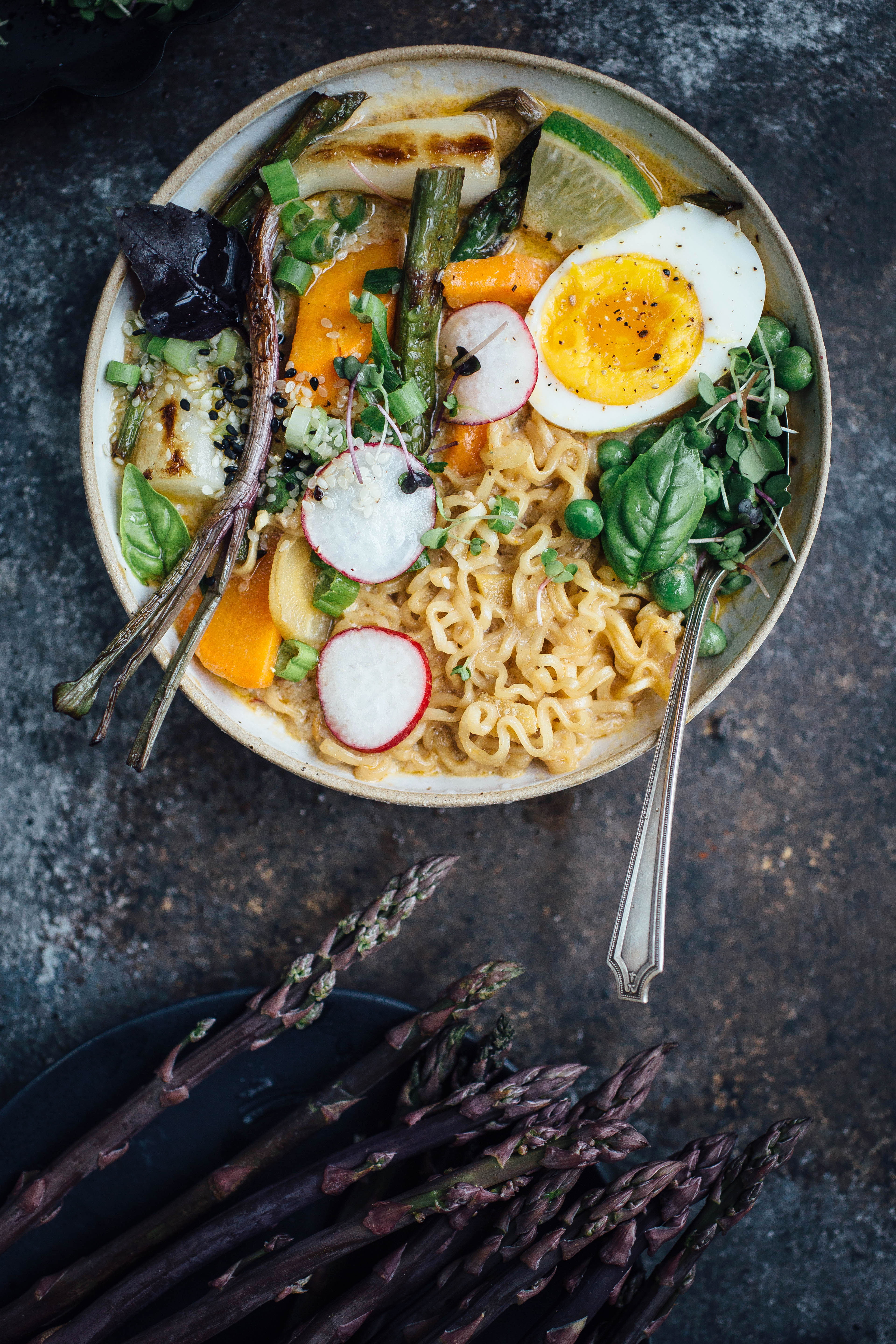 Living in smallish Midwest city has its advantages – I can get anywhere in town in under 15 minutes, I can find ramps at the market for $3 a big bushel, and I can't remember the last time I had to wait to get a table for dinner. The university brings in people from all over the world so we still have plenty of music and food culture. The one set back is that it tends to take a long time for food trends to make their way into our local restaurants. For example, we don't have any place in town that sells fancy Ramen. Heck, I even looked up places in Indianapolis (about an hour away) as I was willing to drive but they didn't have any place that served vegetarian Ramen. What the heck Indiana? Not only are your super conservative laws whack (no alcohol on Sundays!) but you are going to deny me this food trend as well?
As any decent food blogger would do, I took matters into my own hands and whipped up my own. In this Vegetarian Spring Curry Ramen you'll find noodles surrounded by an array of spring vegetables all wrapped in a rich spicy curry broth. I used ramps because I was able to easily get my hands on them but leave them out if they aren't in your neck of the woods right now, because the scallions already give a great onion addition to the dish. Also, if it's no longer spring, swap in whatever vegetables are fresh right now – think bell peppers, eggplants, fresh corn, etc.
Recipe for Vegetarian Spring Curry Ramen below: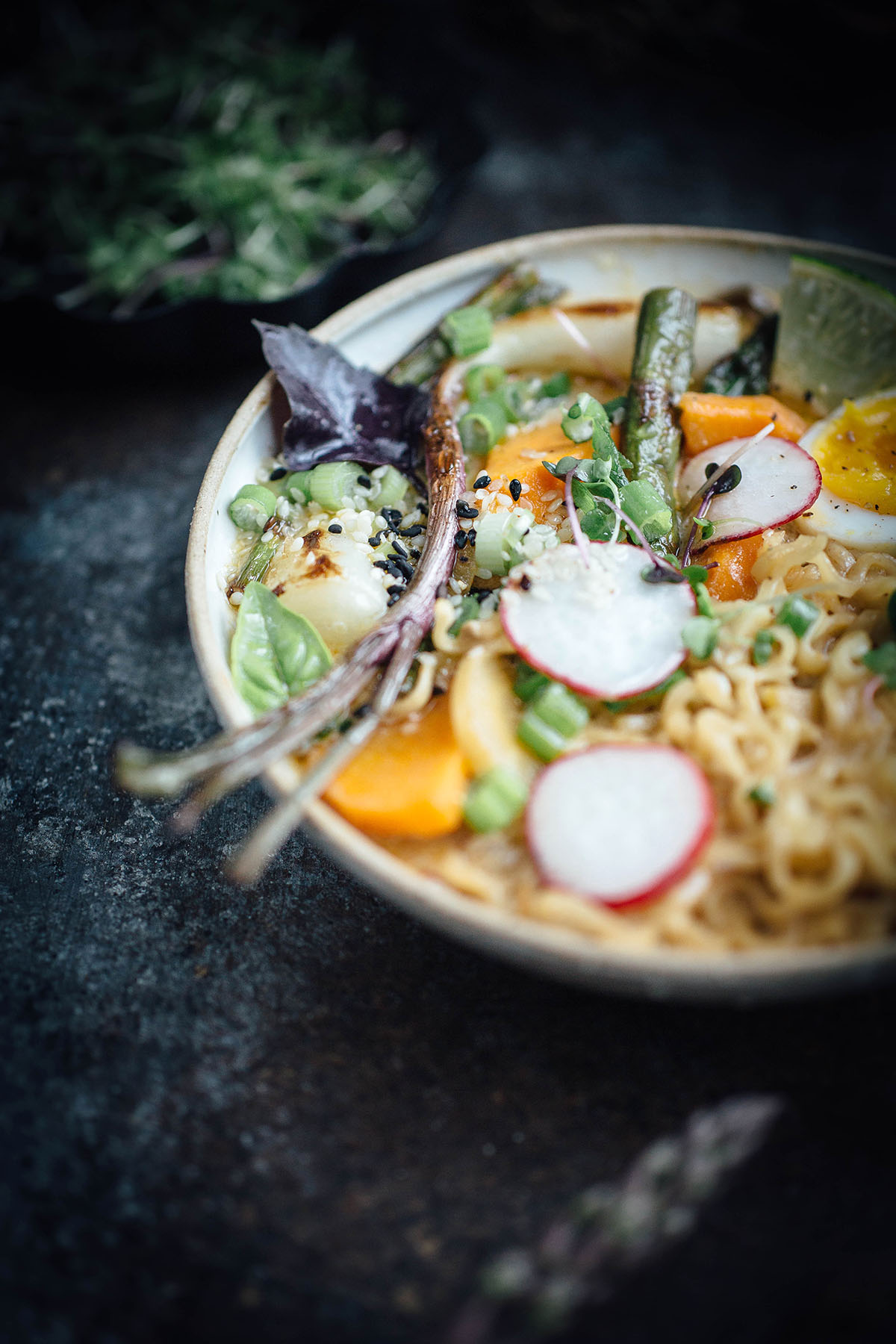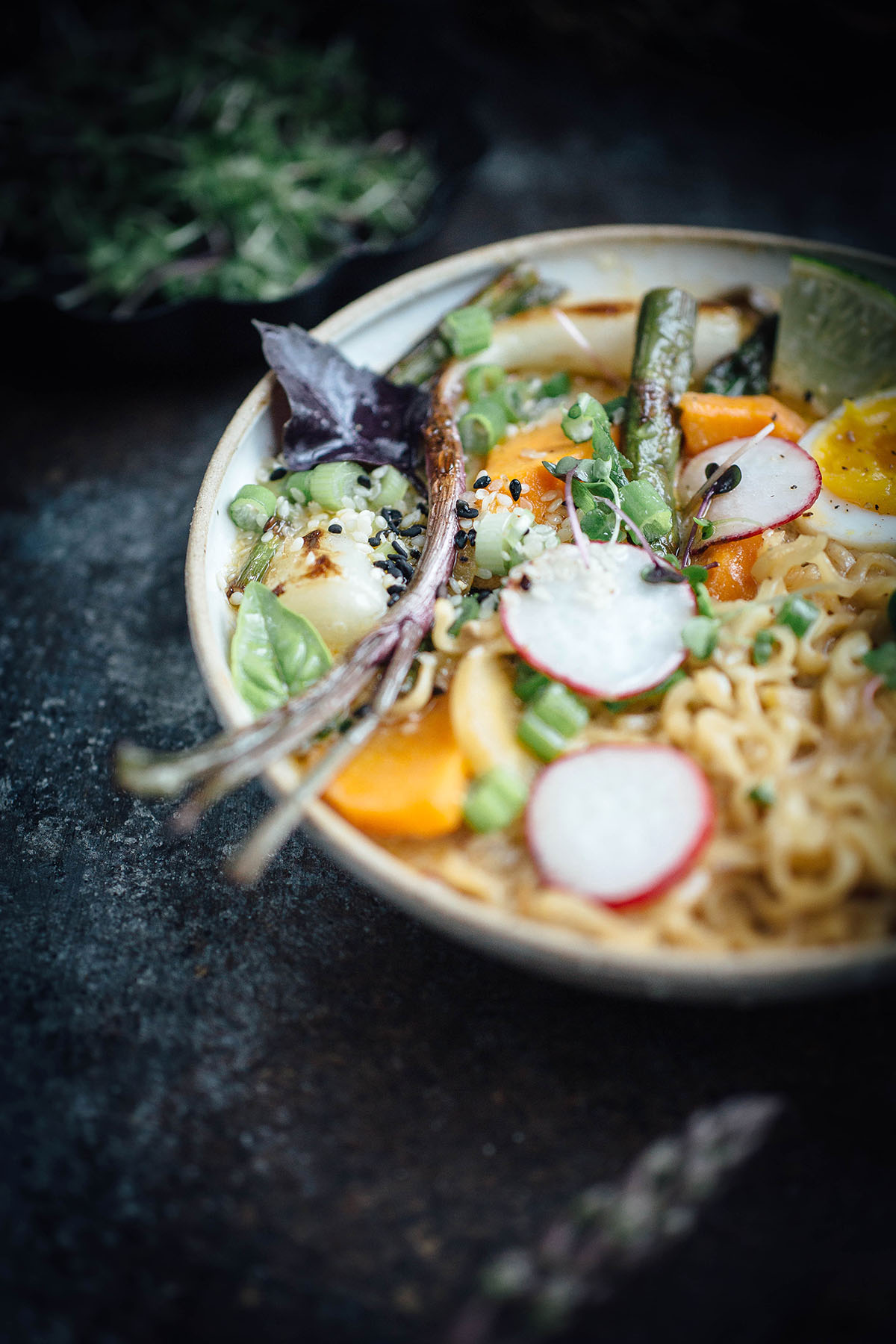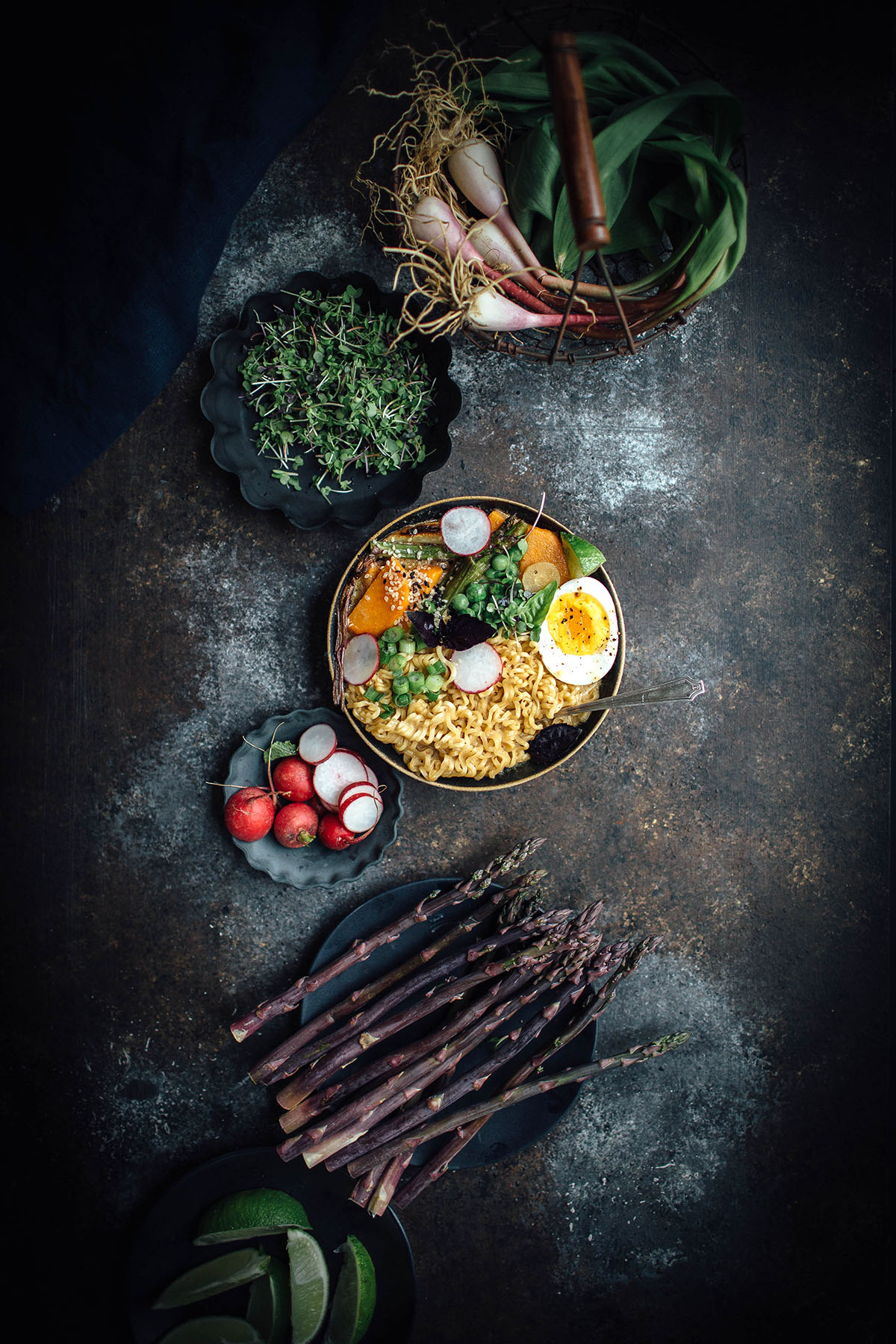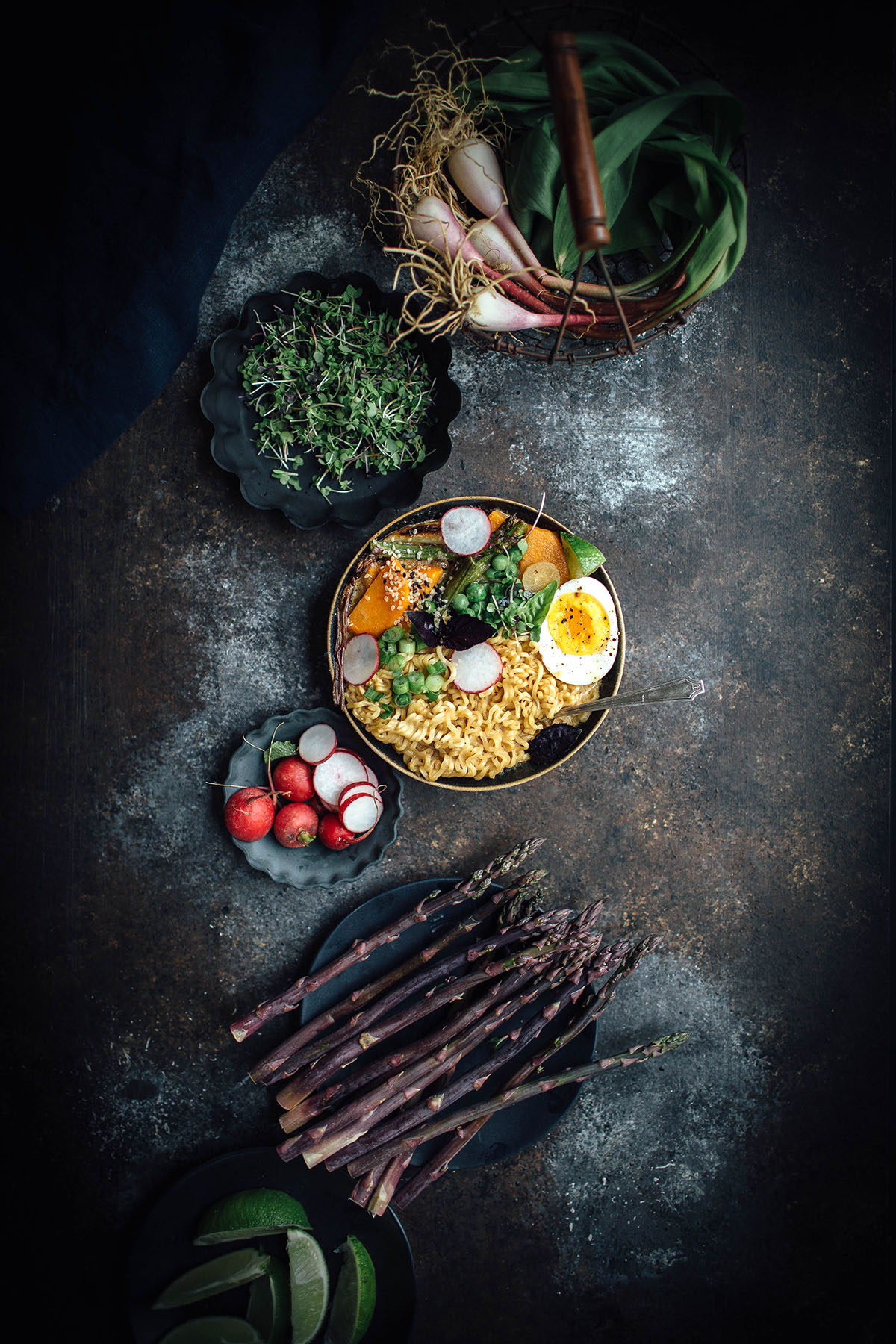 Vegetarian Spring Curry Ramen
Adapted from A Couple Cooks / This recipe for Vegetarian Spring Curry Ramen is the perfect comfort food on a rainy spring day. A curry broth chocked full of vegetables and noodles!
Author:
Shelly Westerhausen
Ingredients
2 Tbsp. peanut oil, divided
1 sweet potato, thinly sliced
2 carrots, thinly sliced
2 tsp. green curry paste
2 garlic cloves, minced
1 Tbsp fresh ginger, peeled and chopped
2 tsp. brown sugar
2 tsp chili garlic sauce
1 (13.5 oz) can of full fat coconut milk
13.5 oz water
1 (3 oz) package Raman nooldes, seasoning package discarded***
½ cup frozen peas
Juice from half a lime
2 eggs
½ bunch asparagus
½ bunch ramps, optional
1 radish, thinly sliced
2 Tbsp. chopped scallions
Torn Basil or microgreens, for garnish
Sesame Seeds, for garnish
***I buy the organic version as most of the regular ones have meat flavoring in the packet. You won't be using the packet but I still prefer not to buy anything with meat products in it.
Instructions
Heat 1 Tbsp. peanut oil in a medium skillet over medium heat.
Add sweet potatoes and carrots and saute until just starting to often, about five minutes.
Next, add curry paste, garlic cloves, and ginger and saute until fragrant, thirty seconds.
Add brown sugar and saute for another 15 seconds and or until melted.
Add garlic sauce, coconut milk, and water.
Raise heat to medium-high and bring to a simmer. Let simmer for 10 minutes or until the sweet potatoes are easily pierced with a fork.
Add ramen and peas and cook for another 3 minutes. Remove from heat, squeeze in lime juice, and set aside.
Heat the remaining 1 Tbsp. peanut oil in a small skillet over medium heat. Once oil is hot but not smoking, add asparagus and ramps and saute until starting to brown on all sides, about 5 to 7 minutes. Remove from heat and set aside.
To soft boil the eggs: Place two eggs in a small saucepan and cover with enough water to completely cover the eggs. Transfer to stove top and heat over high until boiling. Let boil for one minute and then remove from heat. Cover and let sit for six minutes. Run eggs until cold water for three minutes. Peel eggs and sliced in half.
Divide the ramen mixture between two large soup bowls and divide the asparagus, ramps, eggs, scallions, radish, and basil between the bowls. Sprinkle with sesame seeds. Serve right away.
Other recipes on VV that features ramps:
Styling & photography notes: Ceramic blue and white bowls: m.bueno / Large black fluted plate, wire basket, & silverware: thrifted / Small black fluted plate: Kate Lewis Made / Black plates: Crate & Barrel / Photos shot with a Canon EOS 5D Mark III
and edited with Adobe Photoshop Lightroom 6.