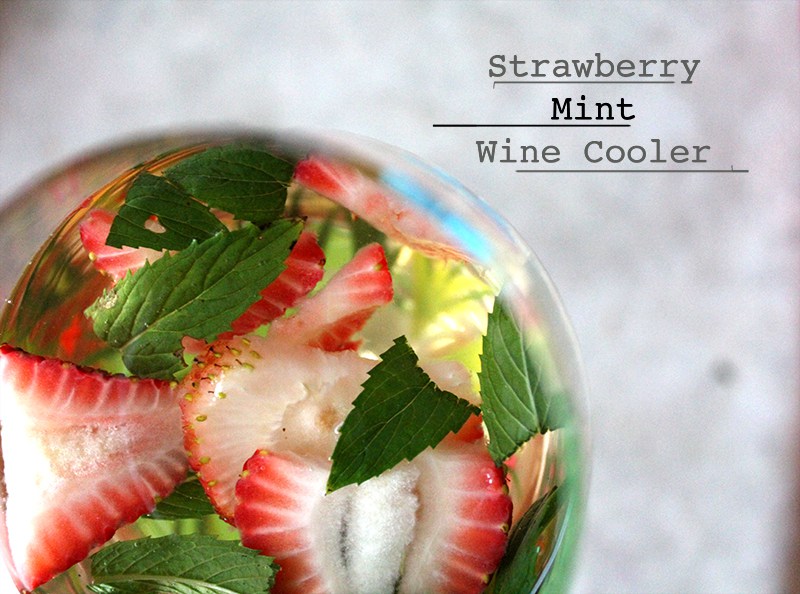 Strawberry and Mint Wine Cooler
Now that the heat wave is officially over (fingers crossed), it's time to pull out your favorite recliner into the yard, pick up an alcoholic drink, and station yourself in the yard with all those back issues of 'Vegetarian Times' for the next month. Oh wait, or is that just something I do?
One of my summer goals was to experiment with new cocktails. I've enjoyed Tequila Sunrises and Dark & Stormys at the bars but what about experimenting at home? It's already July and I've posted about…ONE cocktail. Not okay. Come on, get with it! To catch up for lost time I made TWO cocktails this weekend and am oh so excited to show them with you!
This simple wine cooler was something super easy that I made to spice up the plain white wine I was indulging in. Really, it's not even a cocktail…but just a fun way to jazz up your drink. Heck, you could use sparkling water or sprite or champagne (oh!) instead of the white wine.
Strawberry Mint Wine Cooler
1 bottle of your favorite white wine
1 cup strawberries, chopped
a handful of mint leaves, torn slightly (to release extra flavor)
1 cup carbonated/seltzer water (to make it fizzzzy and refreshing!)
Combine all ingredients in a pitch and serve over ice. Enjoy on your porch couch or hammock while watching your amusing puppy play in the yard.