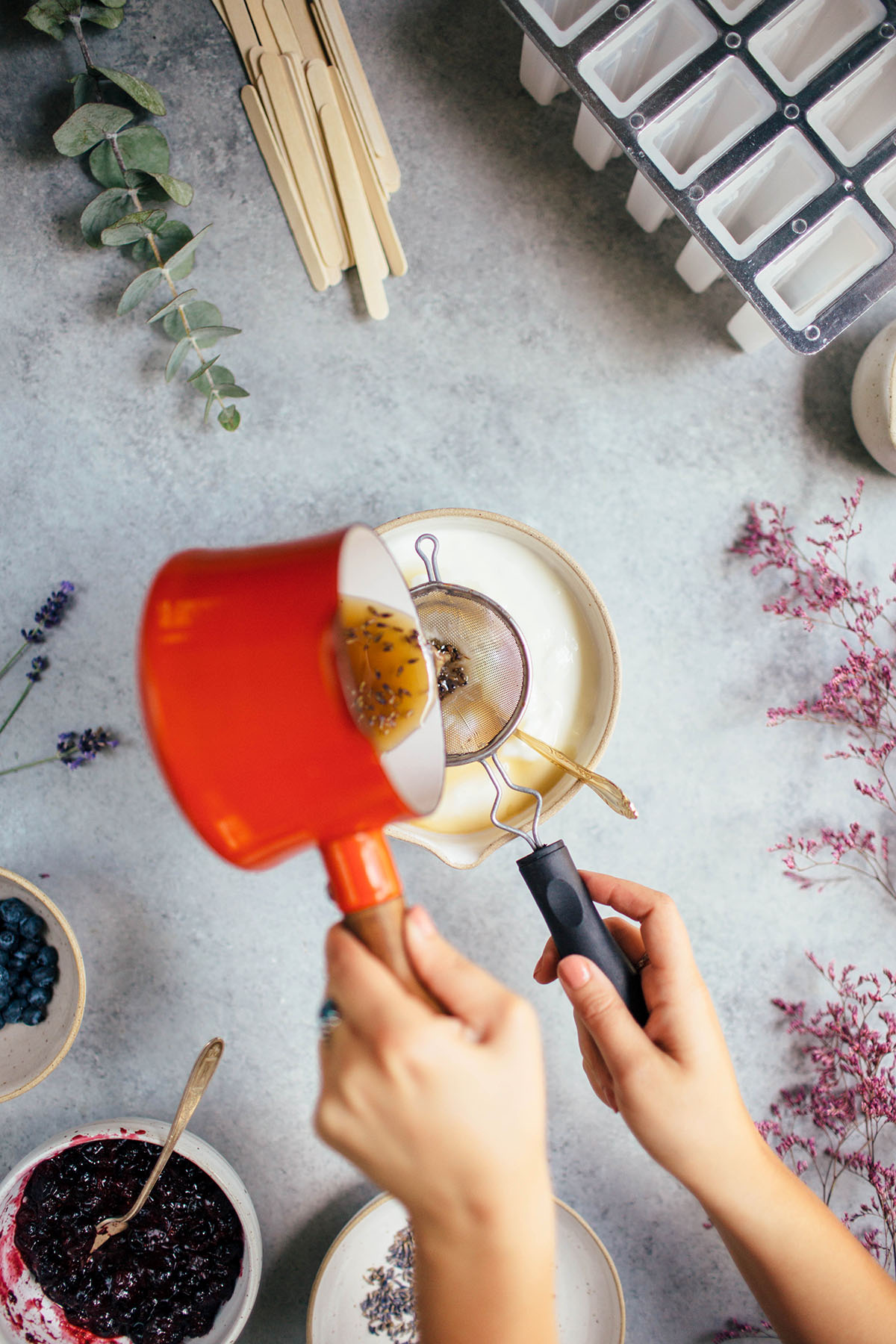 Roasted Blueberry Lavender Popsicles
In a hurry? Click here to JUMP TO RECIPE!
These healthy Roasted Blueberry Lavender Popsicles for #popsicleweek are sure to cool you down for a refreshing snack or even an on the go breakfast!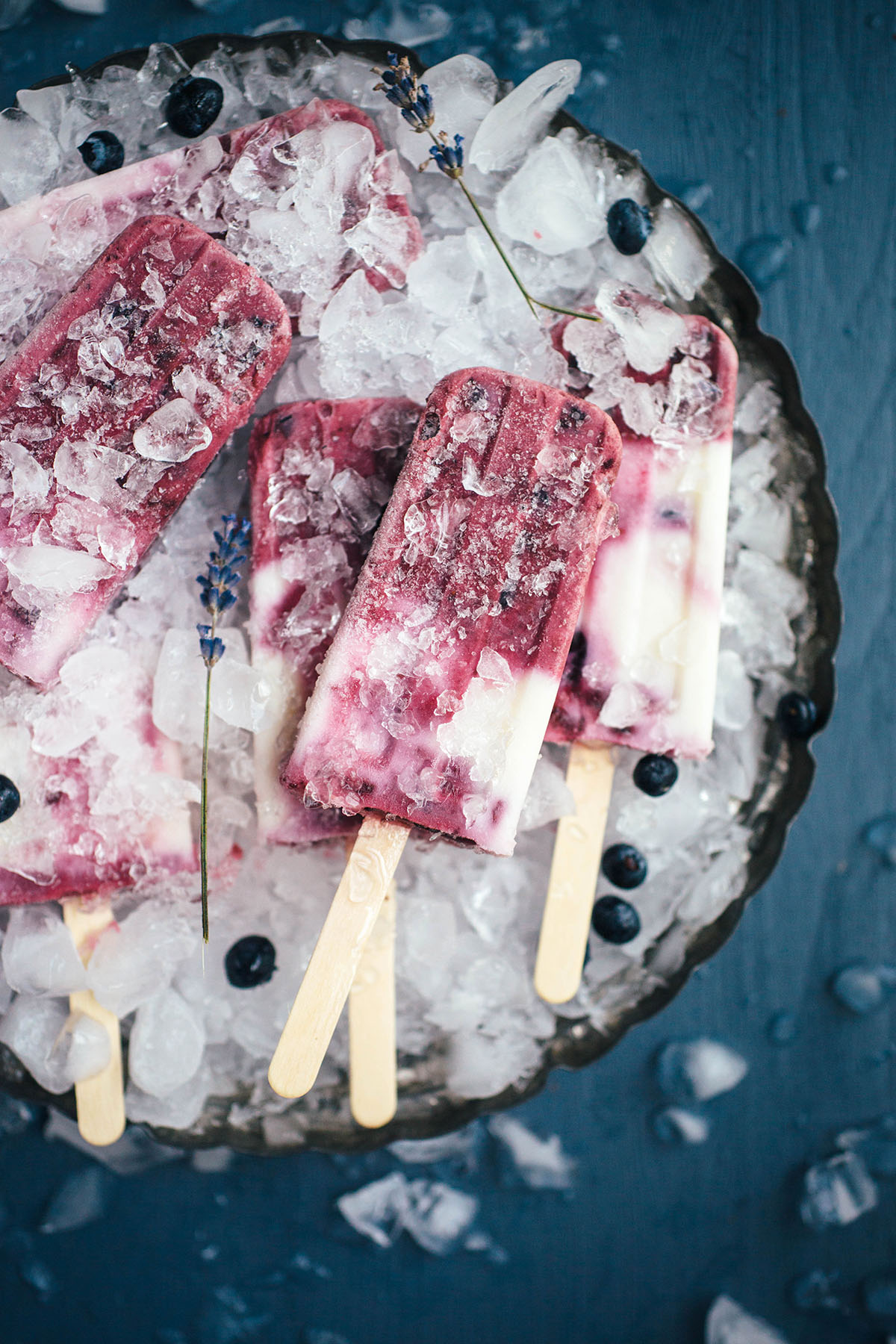 First off, #POPSICLEWEEK!
Did you plant lavender in your garden this year? I've got all the standards – tomatoes, jalapenos, basil, thyme, tarragon, chives, rosemary, mint, and…lavender. It's been so hot, humid, and rainy these past few weeks that everything is growing like crazy and I've found a good use for most of it but the lavender. First off, I'm not a patient person and you have to go through the whole drying process before you can use it which totally annoyed me. After I finally let the flowers dry out for a week, I left it on my counter for another week pretending like an idea for it would come to mind. Honestly the wait process almost made me lose interest until I was reminded that #popsicleweek was coming up. The thought of lavender popsicles was so lovely and plus, these little Roasted Blueberry Lavender Popsicles were invented!
These Roasted Blueberry Lavender Popsicles are relatively healthy with a plain yogurt base and a honey simple syrup for sweetener. Roasting the blueberries concentrates their flavor for an extra punch that don't leave the pops watery at all. If you aren't growing lavender in your garden then you can usually find dried flowers in the bulk section of most grocery stores. However, if you are having trouble finding it then you can definitely make these without adding lavender into the simple syrup for a less floral flavor.
Roasted Blueberry Lavender Popsicles below: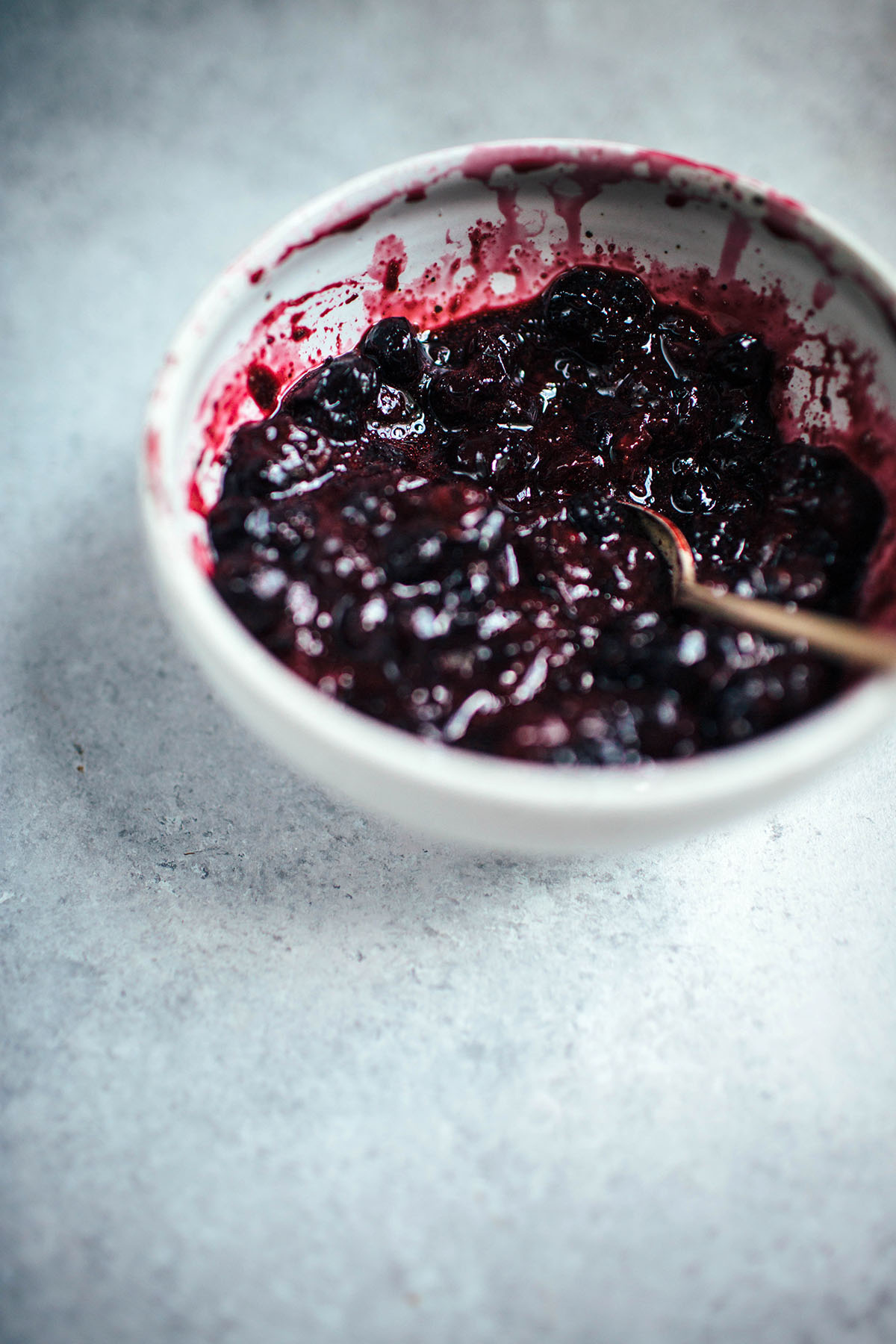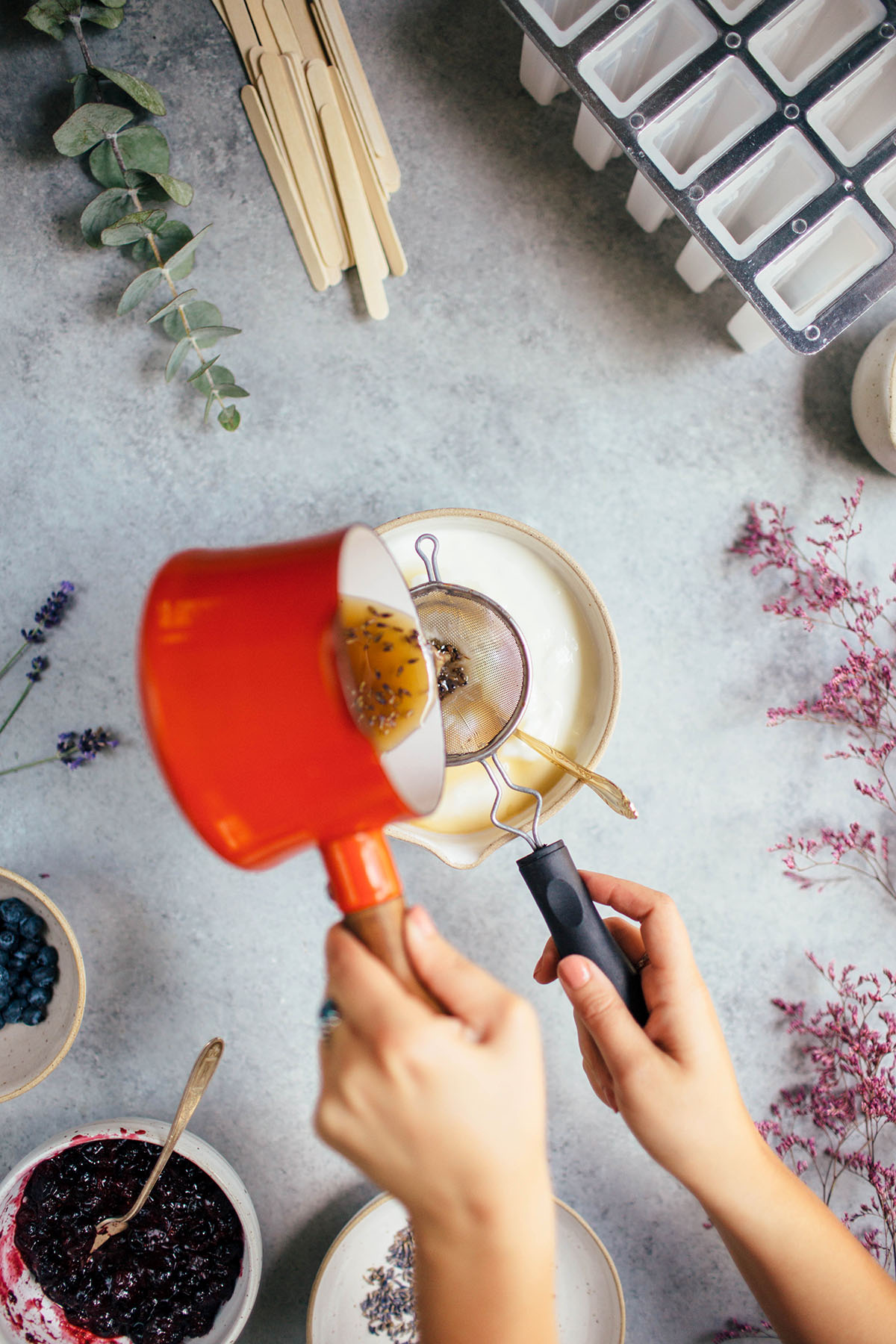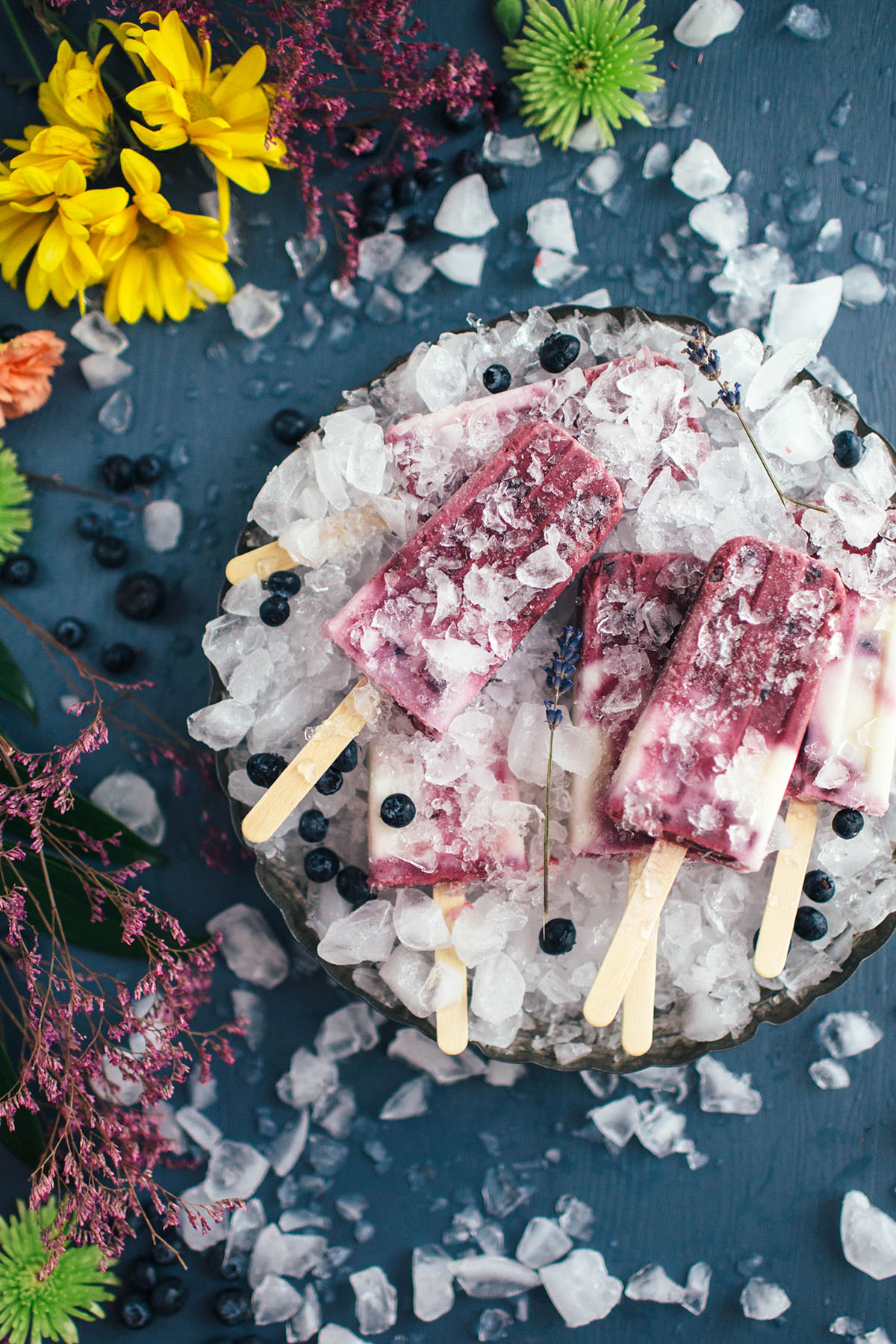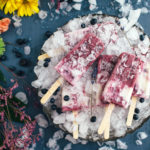 Roasted Blueberry Lavender Popsicles
These healthy Roasted Blueberry Lavender Popsicles for #popsicleweek are sure to cool you down for a refreshing snack or even on the go breakfast!
Course:
Breakfast, Dessert
Ingredients
For the Roasted Blueberries:

1

pint

fresh blueberries

, washed and patted dry

1

Tbsp

granulated sugar

For the lavender-honey simple syrup:

1/2

cup

honey

1/2

cup

water

1

tsp

dried lavender buds

For the popsicles:

2

cups

plain yogurt

(I used regular but I'm thinking greek would also work)

Popsicle Mold
Instructions
For the roasted blueberries: Preheat oven to 375 degrees and line a baking sheet with parchment paper. Transfer place dry blueberries on baking sheet and sprinkle with 1 Tbsp sugar. Bake for 15 minutes or until most have burst. Remove from oven and set aside to let cool.

For the simple syrup: Combine 1/2 cup honey and 1/2 cup water in a small saucepan and bring to a simmer over medium heat. Once simmering, remove from heat, and stir in lavender. Let steep for at least 30 minutes before straining out lavender flowers.

Once strained, whisk the simple syrup into the plain yogurt. Divide the yogurt evenly into two small mixing bowls.

Add roasted blueberries (and all the juces you can scrap off the parchment paper) to one of the mixing bowls with yogurt and mix until combined.

Pour both yogurt mixtures into popsicle molds, rotating spooning the two mixtures to get a swirl effect, until all the popsicle molds are filled. Follow the popsicle package's directions on the best way to apply popsicle sticks to your pops, cover, and stick in the freezer. Let freeze for at least six hours.

Run under water for 20 seconds to get the pops to easily come out of molds and serve chilled!