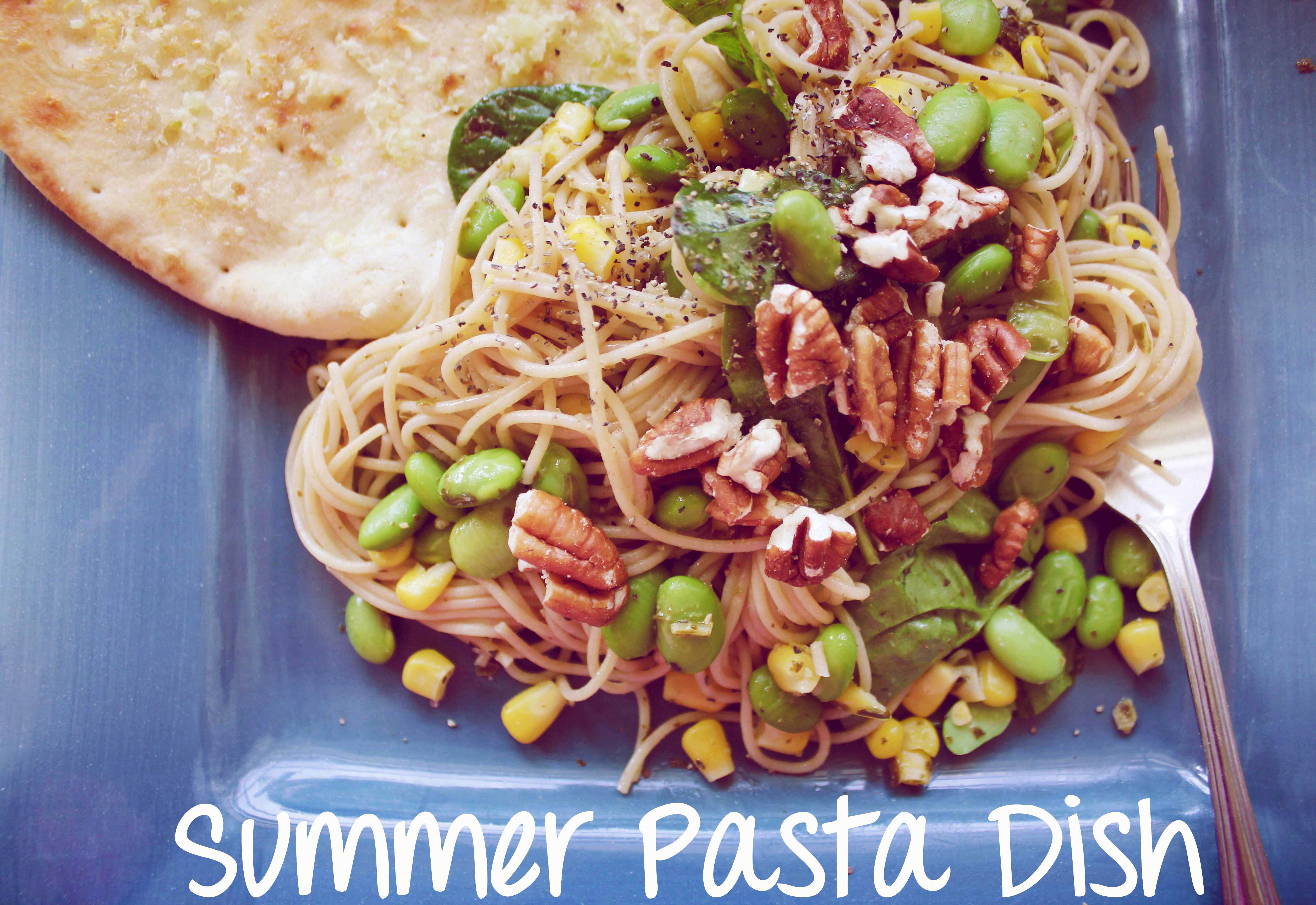 Summer Pasta: Pesto Linguine with Spinach, Edamame, Lime, and Toasted Pecans
I am both excited and a bit embarrassed to admit that I am about as nerdy as they come! Not even two weeks into finishing up my 16 years of schooling, I signed up for another class! Luckily, it's an online blogging course put on by Decor8! I am so excited to expand my blogging skills and see what new thing I can absorb from this. I already have so many goals for VV this summer that I am hoping this course will push me to reach in ways I would have not thought of otherwise. If you'd like to learn more about it (or become my classmate! haha), hop on over to Blogging Your Way.
Anyhow, back to the point at hand: easy pasta dish! This dish has it all – protein from the edamame, nutrients from the fresh spinach (and maybe-sorta the corn?), and energy packed into the whole wheat pasta and pecans. Not to mention it's delicious, colorful, and can be made in under 15 minutes. What more do you want? Yeah, maybe some garlic bread and red wine but those things are so easily solvable as well!
I whipped this up for a date night we had a few days back because when you are planing to spend your whole evening with that special cutie, who wants to waste the first two hours slaving away in the kitchen? Although, if its a FIRST date, I might recommend holding off on the garlic bread (or bringing a toothbrush!- just sayin').
8 ounces of linguine
1/2 cup prepared pesto
4 ounces fresh spinach
1 1/2 cups edamame, cooked according to package
1/2 cup frozen corn, cooked according to package
1/2 cup pecans, chopped
2 Tablespoons lime juice
Prepare the linguine according to the package directions.
While the pasta is cooking, add the chopped pecans to a small skillet. Saute on low for 5 to 10 minutes or until they are toasted.
Drain the pasta and toss with the pesto and lime juice. Fold in the edamame and corn. And finally, top with the toasted pecans!
Serve with garlic bread (I just took two pitas and put butter/crushed garlic on top and stuck it under the broiler for a few minutes) and red wine!