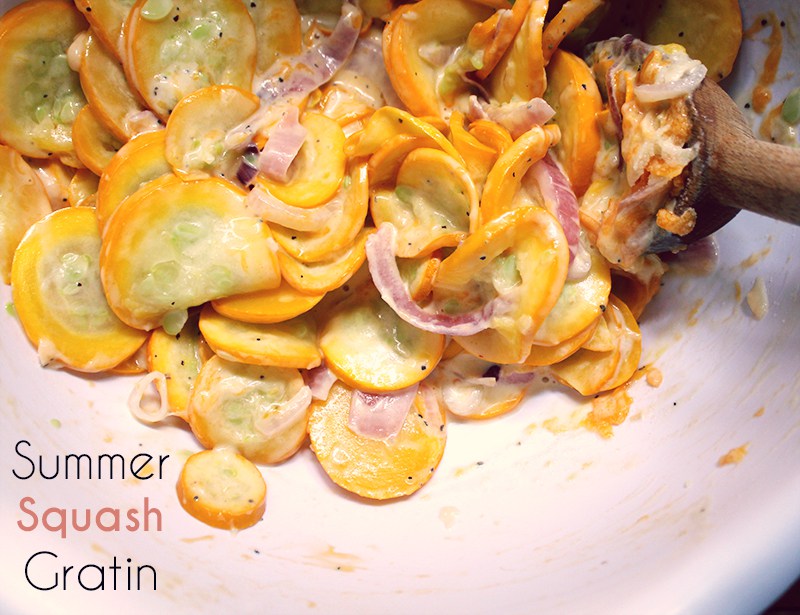 Summer Squash Gratin
Here is a spectacular example of why the weekly CSA box is perfect for me. I never buy yellow squash- I am a total zucchini nut and don't usually stray. However, we received five summer squashes in our box last week so I was forced to whip up a yummy recipe with them. And let me tell you, this was such a surprising and wonderful dish! Mmmm. (Although, let's be honest- when is anything lathered in cheese and buttery crackers bad?)
You can easily enjoy this as a filling main or have it as a side to a bbq. It's also super versatile so feel free to subsitute any kind of cheese you would like!
Not much other news here- it's my Ma's bday (so glad I remembered…unlike for my brother's birthday last week…) but I won't be spending it with her (4 hour difference is just enough to keep us from getting together on a regular basis). But they will be coming down to see our new house next weekend which I am oh so excited about!
Summer Squash Gratin
4 medium yellow squash, thinly sliced
1 small onion, thinly sliced
1 Tablespoon olive oil
1 Tablespoon butter
1/2 cup Parmesan, grated
1 cup cheddar cheese, shredded
1/2 cup sour cream
1 sleeve of ritz crackers, crushed
salt/pepper, to taste
Preheat oven to 350 degrees.
In a large skillet, heat the olive oil and butter over medium. Add the squash and onions and saute until soft (about 10 minutes or so).
Remove from heat and stir in the cheeses and sour cream. Season with salt and pepper.
Transfer to a casserole dish (I used a 2 gallon dish) and top with crushed crackers.
Bake for 25 minutes or until the top is browned.
Serve warm as a side to your grilled goods or as a filling main dish.