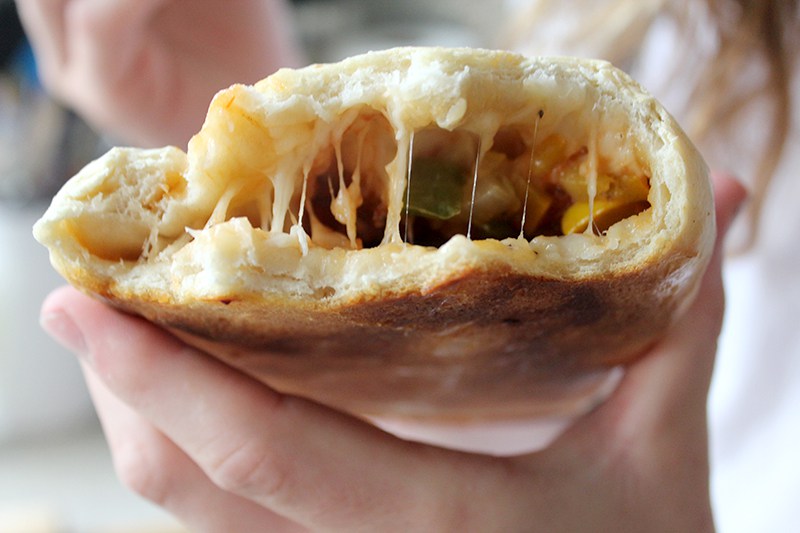 Summer Vegetable Calzones
Oh! Do you remember those delicious pizzas I made here? Well, I froze the rest of the dough and made calzones out of it yesterday! It was oh so yummy and a great way to get versatile with the dough. I don't know about you guys but we eat pizza A LOT over here so it's nice to  mix it up. However, since I stuck eggs and blueberries on top of our pizzas last week, I promised Wyatt that I would keep these simple. BUT believe me- next time I will be throwing in pesto, potato slices, feta, thyme, and gouda! Not a doubt in the world.
In non-food related news, we are ALMOST moved into our home and are shooting for Sunday to be our official "all moved in" date (if this 100 degree weather subsides). Honestly, we just have a bunch of clothes and plants to transfer to the place and we are set. We even slept in our new bed for the first time last night- it was like we were at a slumber party because the place does not feel like home yet. Exciting (but kind of scary!) stuff going on around here.
Summer Vegetable Calzones
Makes 4
1/2 cup marinara sauce
2 cups mozzerella cheese
1 yellow zucchini, diced
1/2 onion, diced
3 garlic cloves, minced
1/2 bell pepper, chopped
1 Tablespoon fresh basil
1 Tablespoon olive oil
If you are using dough that you froze, make sure to take it out of the fridge at least four hours before and cover it in an oiled bowl. Set it in a warm place to rise and do it's thing.
Preheat oven to 450 degrees.
In a large skillet, heat the tablespoon of olive oil over medium heat. Add the garlic and sauté for about a minute. Next, add in the onion, pepper, and zucchini and sauté until the vegetables are tender (I cooked them for about ten minutes). Season with salt and pepper.
Divide the dough into 4 balls. Use a floured surface and rolling pin to roll out 4 circles (or ovals). Divide the veggie mixture into 4 parts and make a line in the center of each dough piece with them. Next, do the same for the sauce, basil, and cheeses. Finally, fold over the dough and seal by pressing a fork along the edges. I then rolled the edges to make them look pretty but it does not matter as long as it's sealed.
Bake for 10 to 15 minutes.
Enjoy warm and gooey!