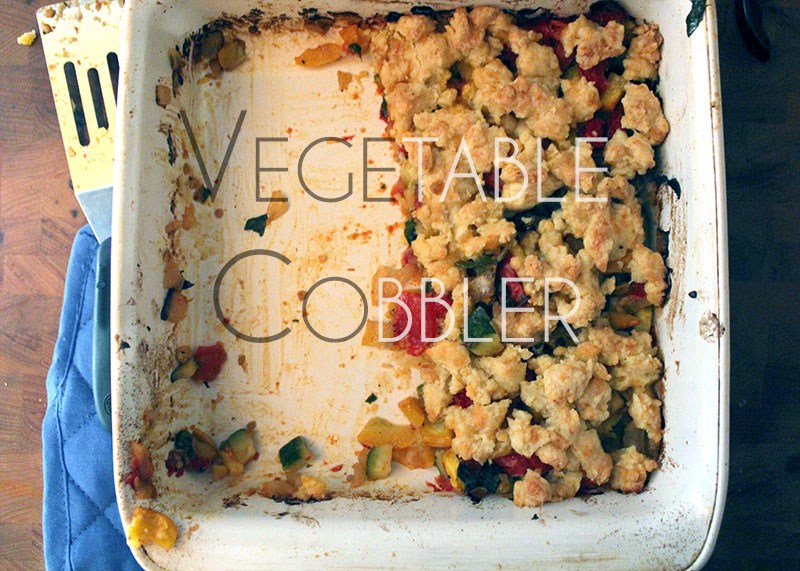 Savory Vegetable Cobbler
CSA Box this week! So excited that we got one since last week's had to be cancelled because of the drought.
I have been starting to feel summer winding down in my mind so I sorted through and made a list of all the recipes I MUST complete before the fresh produce goes out of season. This was number 1 on my list. It was something that I had made last summer and as soon as I ran across the scribbled recipe in my notebook, I started craving it. The best part too is that you can totally substitute whatever veggies you have on hand and this will help get rid of the huge basil plant infestation that is starting to take over your garden!
Also, I totally realize that making something that is usually sweet into a savory dish may sound weird. But it's amazing! I have a delicious savory french toast recipes that I will be making in the next couple of weeks to re-enforce this statement. And I am really sorry to whoever invented this idea because the notes I have of this recipes (which were written down years ago) does not include the original source.
Is it just me or is this the perfect dish to make the night you get your CSA box and use up a bunch of those veggies while they are the freshest? I think so.
Savory Vegetable Cobbler
Serves 2 as a main (double for a family of 4 or to have leftovers)
For the topping:
3/4 cup all-purpose flour
dash of salt
dash of sugar
1/2 cup grated cheddar
1/4 cup unsalted butter, chilled and cut into large chunks
1 Tablespoon ice old water
Filling:
1/2 Tablespoon butter
1/2 Tablespoon olive oil
2 garlic cloves
1/2 sweet onion, diced
2 tomatoes, diced
1 medium zucchini, diced
1/2 bell pepper, diced
1/3 cup basil, chopped
1 teaspoon sugar
1/3 cup flour
1 Tablespoon milk
Salt/Pepper
To make the topping: Combine the flour, salt, sugar, and cheddar into a small mixing bowl. Throw in the butter and with [washed hands] press the butter and batter between your fingers to create a coarse dough. Slowly add in the tablespoon of cold water and mix until a thick ball forms. Wrap in foil and stick in the freezer until ready to use.
For the filling: Preheat oven to 400 degrees. In a large skillet, heat the butter and oil over medium. Add the onion and garlic and cook for five minutes. Add in the squash and bell peppers and cook until everything is soft and begins to brown. Season with salt and pepper and remove from heat. Fold in the tomato, sugar, flour, and milk. Place in a 9 by 9 inch pan.
Remove dough topping from fridge and pinch off tablespoon pieces to lay over the top. Stick in the oven for 35 or 40 minutes or until it's browned.