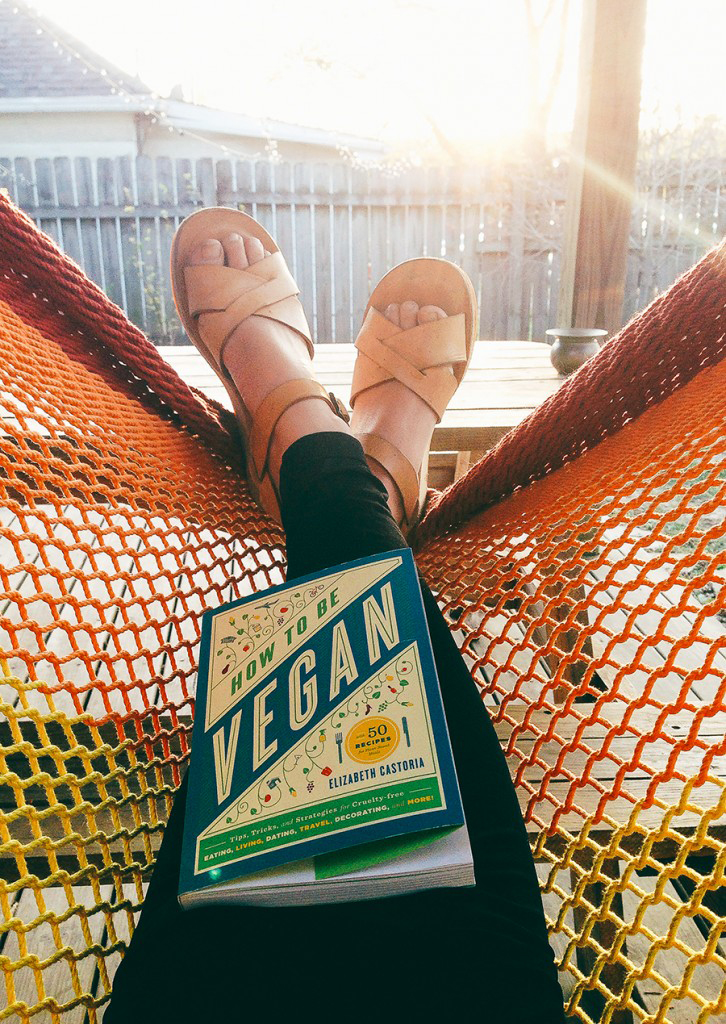 Tips For Living a Vegan Lifestyle + A Giveaway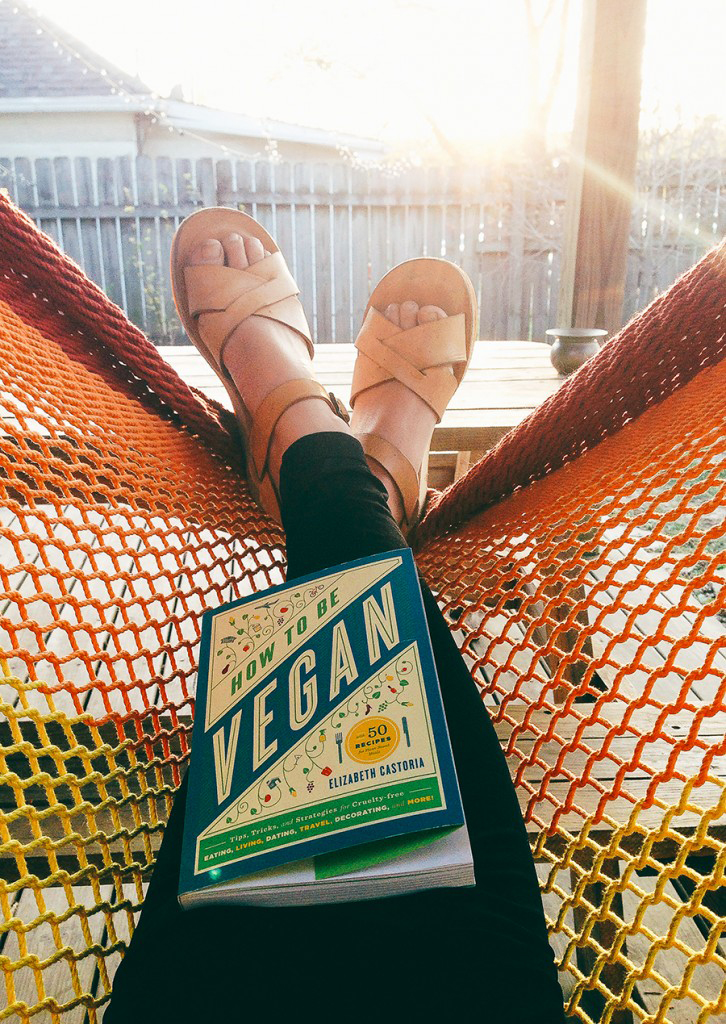 How to Be Vegan By Elizabeth Castoria struck me in a way that the majority of vegan books weren't able to in the past. So many of the books I've read about making the transition into veganism focus primarily on your diet. Although what you eat is very important as a vegan, diet is only one topic of many that this book touches on with chapters dedicated to diet, travel, manners, and lifestyle.
My favorite part about this book is, right off the bat on the first page, she breaks all expectations down and reminds you that no one can be vegan all the time. That right there immediately lifts so much pressure off any aspiring vegan. She also manages to be so witty throughout the whole book and makes sure to mention all the things you can buy and eat as a vegan instead of the  usual 'no this or this or this or this'.
One really unique topic in the book that struck me as super informative was the part on how to eat vegan while traveling. I often times worry about what I'm going to eat while traveling as a vegetarian and can only imagine it has to be 100x worse for full on vegans. Elizabeth gives great tips for not only the airport but also how to handle being vegan in foreign countries. Plus, if you really are stranded somewhere without any vegan options, she's got 50 recipes listed in the back of the book for you to whip up in your Airbnb kitchen.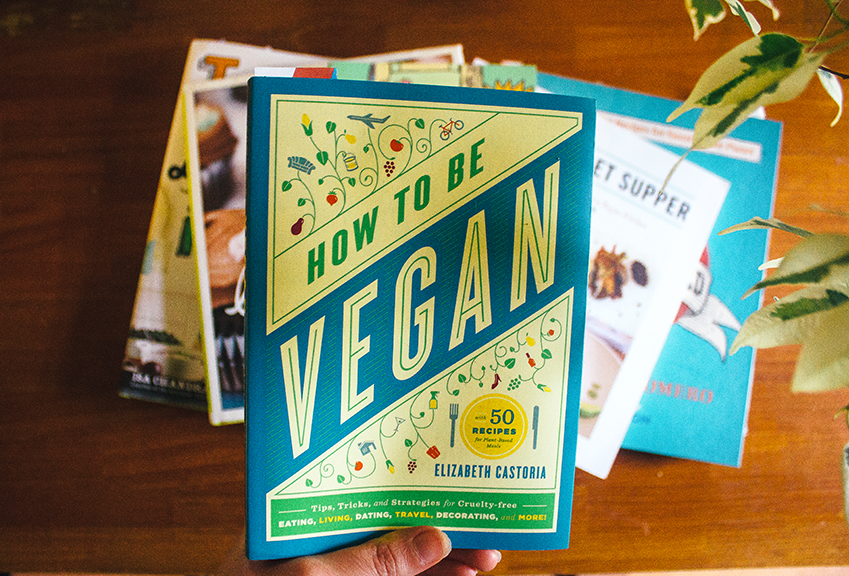 This may sound surprising with all the vegan book reviews I've done around here but I'm not actually a vegan. I do eat vegan sometimes but if my body is craving an egg or a cheesestick, I'm not going to deny it. I believe strongly in listening to your body and my body has told me time and time again that it craves protein in the form of cheese and scrambled eggs (and I also believe everyone's body is different so you should take some time to figure out what your body is telling you!). With that being said, I am still fascinated with the vegan culture and actions I can take to harm less animals in my everyday routine.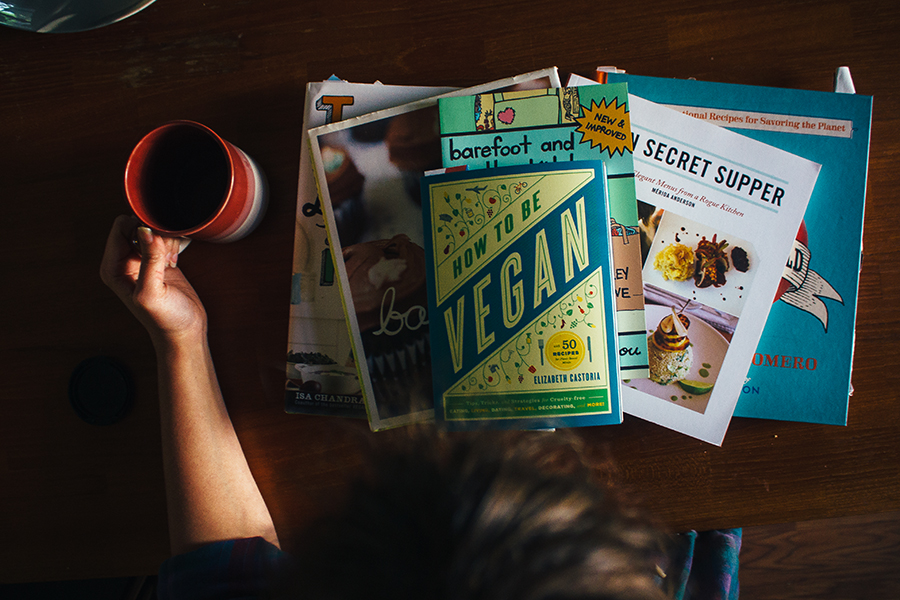 If you can't seem to deny yourself that greasy burger or thick slice of cheesecake, why not think of other ways that feel less limiting on your diet to help out the environment and living creatures around you. For example, have you ever read about the horrors that go into animal testing (I won't go into detail here, I promise. It's much too much for me to even handle writing about)? Or the fact that your leather chair is actually skin? There are hundreds of brands out there dedicated to not only exposing you to less chemicals but also dedicated to using ingredients that have already been around for decades (which means there is no need to test them on animals). Here are a few of my favorite vegan household items that can be found anywhere in the country:
Tom's of Maine – we use their natural toothpaste which is not tested on animals and works just as well as any mainstream brand I've ever used. We also sometimes use their deodorant.
Lush Cosmetics – they carry an array of shampoos, soaps, and even makeup (their lipstick does wonders for my Friday night adventures)
Seventh Generation – we use a wide range of their cleaning products (or, better yet, make your own!)
Not sure if the products you use are cruelty free? Check for the bunny symbol on the back of products to make sure they follow the 'cruelty-free' guidelines.
 ___________
And this brings me to the giveaway I have for you today! Not only is Artisan books letting me giveaway a copy of How to Be Vegan but PlanetShoes has also been kind enough to offer a $50 gift card to help you get your vegan wardrobe started! If you are unfamiliar with PlanetShoes, they are a Eco-friendly shoe store that lets you shop not only by type but also by if shoes are vegan or made in the USA or eco-friendly. I struggled last Christmas trying to find a pair of non-leather boots that I could wear with confidence and was so happy to find a resource like this! Click here for a quick link to their vegan shop (and look around since that $50 giftcard could be yours!).
I've actually paired up with PlanetShoes in the past and they always feature a VV recipe in their monthly newsletter so hop on over and sign up if you are interested in receiving monthly updates from them (which usually include healthy recipes, exciting fitness tips, and easy eco-friendly suggestions.)

  a Rafflecopter giveaway
To get you excited about the potential of winning free shoes, I've picked out my favorite 4 vegan pairs from PlanetShoes, which you can click on below and check out (Okay, so maybe this was more because I love shopping too…):