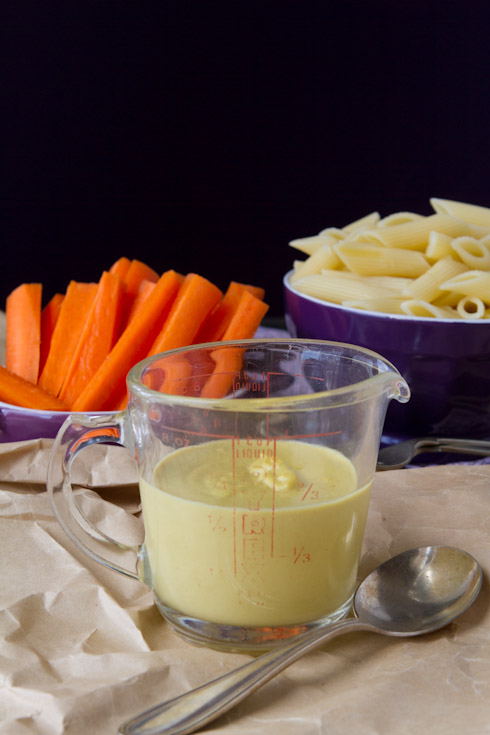 Guest Post: Nut-Free Vegan Cheese Sauce by Leanne of Healthful Pursuit
Good morning! I am thrilled to introduce you all to my friend Leanne from Healthful Pursuit! 
Leanne Vogel is a holistic nutritionist and the girl behind the healthy living blog, Healthful Pursuit. Whether you're sensitive to dairy, gluten, soy, eggs, grains, or sugar, or are just interested in eating healthy, Leanne is fun and simple healthy recipes; of which she has more than 550 on her blog, are a great resource for everyone.
vvvvvvvvvvvvvvvvvvvvvvvvvvvvvvvvvvvvvvv
Thanks for the introduction, Shelly – and a big hello to all of you!
Do you like cheese sauce?
I do. On pasta, veggies, nachos, a spoon… I'll take it any way that I can. But… I'm allergic to dairy.
I know, it's tragic.
Dairy gives me headaches, bloating, ear infections, sinus infections, weight gain and acne. As much as I love it, it's evident that it just doesn't love me back. So, I live a life without the good stuff.
Once I removed dairy out for good about 10 years ago, I replaced my infatuation with dairy with a major reliance on expensive store-bought replacements like artificial, soy-based sour creams, cheeses, yogurts and milks. I was spending a lot of money on groceries and had a sneaking suspicion that the artificial dairy products weren't so good for my health. So, I started figuring out ways that I could make my own yogurts, creams and dips that were made from real food, saved me money, and made me feel great… and that's how my Done with Dairy Toolkit was born.
My Done with Dairy Toolkit is the ultimate (free) guide to living dairy-free. It's loaded with dairy-free recipes, tips and recommendations on how to thrive on a dairy-free diet – love every meal, snack, and dessert you prepare yourself without feeling limited in your options.

To give you a little taste of the types of recipes you'll find in the handy-dandy guide, I've created a nut-free, vegan cheese sauce for you!
Nut-Free Vegan Sauce
3/4 cup water
1/4 cup sesame seeds
2 tsp lemon juice
1 tablespoon virgin coconut oil
1/4 cup nutritional yeast
1 teaspoon yellow mustard
1/4 teaspoon onion powder
1/4 teaspoon garlic powder
1/4 teaspoon sea salt
Add water, sesame seeds and lemon juice to the jug of your high powered blender. Blend on high for 2 minutes, until smooth. Set aside.
Add oil to a medium saucepan or frying pan and melt on medium-low.
Add nutritional yeast and stir with a fork until all yeast is covered in oil.
Pour in sesame seed mixture and stir until it comes to a boil.
Add in remaining ingredients: mustard, onion powder, garlic powder and salt.
Cook for 1-2 minutes until thickened.
Remove from heat and stir in your favorite cooked pasta or serve warm with veggies.
Notes:
Feel free to replace the coconut oil with whatever oil you have on hand. The great thing about using coconut oil is that, when heated, the sauce is runny and perfect "cheese sauce" consistency. But when chilled, it is similar to a cheese spread. If another type of oil is used, this may not be the case.
Are you rockin' a dairy-free life or know someone who is?
Do you get overwhelmed with all of the substitutions you have to make to a recipe to make it dairy-free?

Author bio: Leanne Vogel is a holistic nutritionist who has chosen to celebrate her allergies, overcome her food restrictions, release her negative relationship with food and live freely. You can find her living out her journey as she documents her latest adventures on her blog, www.healthfulpursuit.com.
Connect with Leanne
Facebook: healthfulpursuit
Twitter:@be_healthful