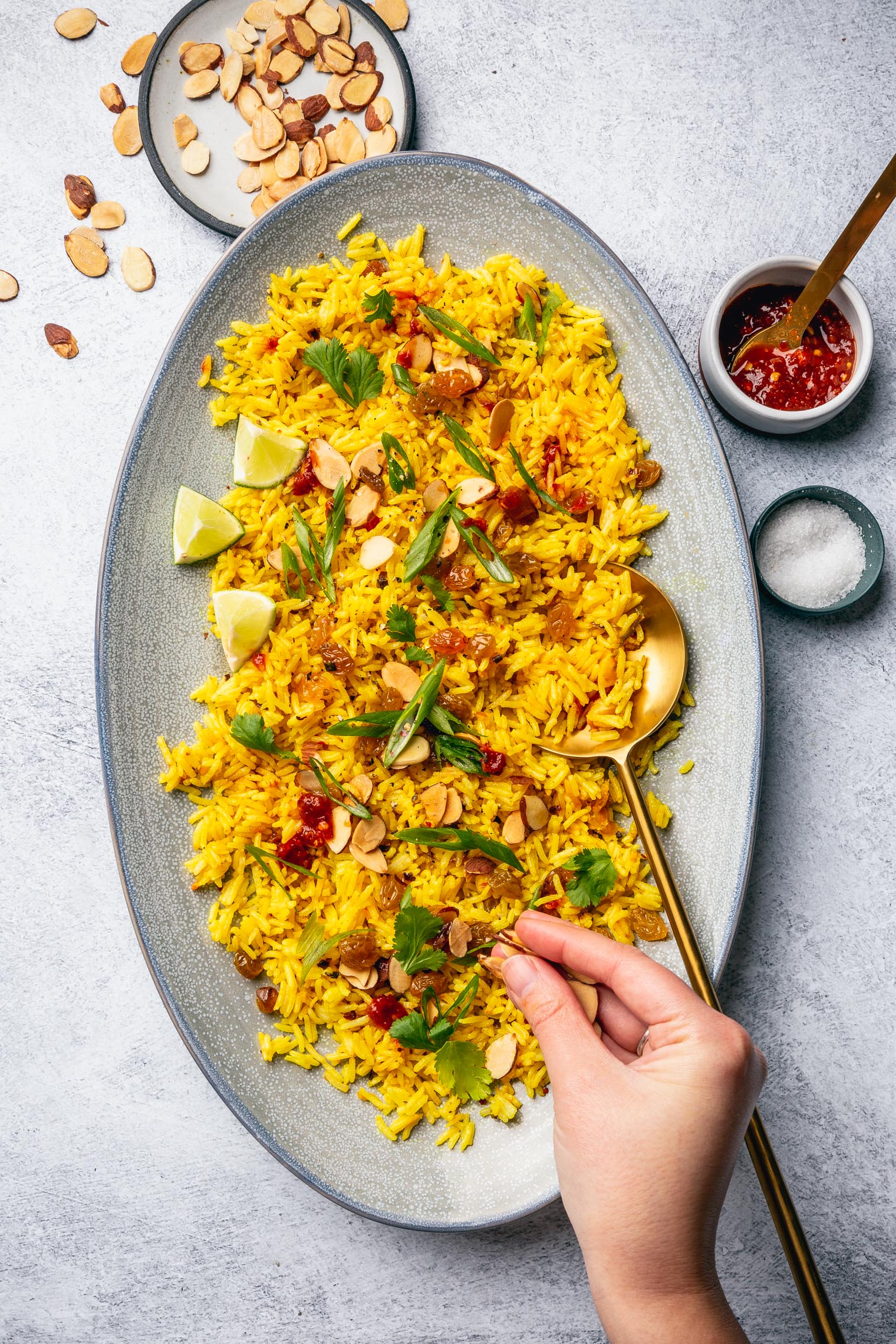 Turmeric Rice with Quick Pickled Golden Raisins & Toasted Almonds
This Turmeric Rice with Quick Pickled Golden Raisins & Toasted Almonds is a simple vegetarian dish that can be easily adapted to accommodate what you have in your pantry.
In a hurry? Click here to JUMP TO RECIPE!
Hiii! First off, I hope you are holding up (mentally and physically) okay during these very bizarre times. As we continue on with these weird times, I'm working on creating content using things I have leftover in my pantry and fridge in hopes that simpler / easier recipes will be more helpful right now as we all try to take less trips to the store. I'm also going to make an extensive list of substitutes for ingredients in these recipes I post in hopes that it helps you to be able to create something delicious using ingredients on hand.
I made this turmeric rice recipe when I was craving a simple lunch the other day and had some leftover rice in the fridge. The quick pickled golden raisins give the dish a wonderful punch of acid and sweet while the spices flavor the rice beautifully and the roasted almonds add some crunch. You could easily add more vegetables into this if you have them on hand (was thinking some nice sauteed bell pepper would have given this some extra oomph) or extra protein with a fried or scrambled egg.
It sound of reminds me of a homemade rice-a-roni (anyone else grow up on that boxed rice dish?) but much less salty and brighter from all the fresh herbs.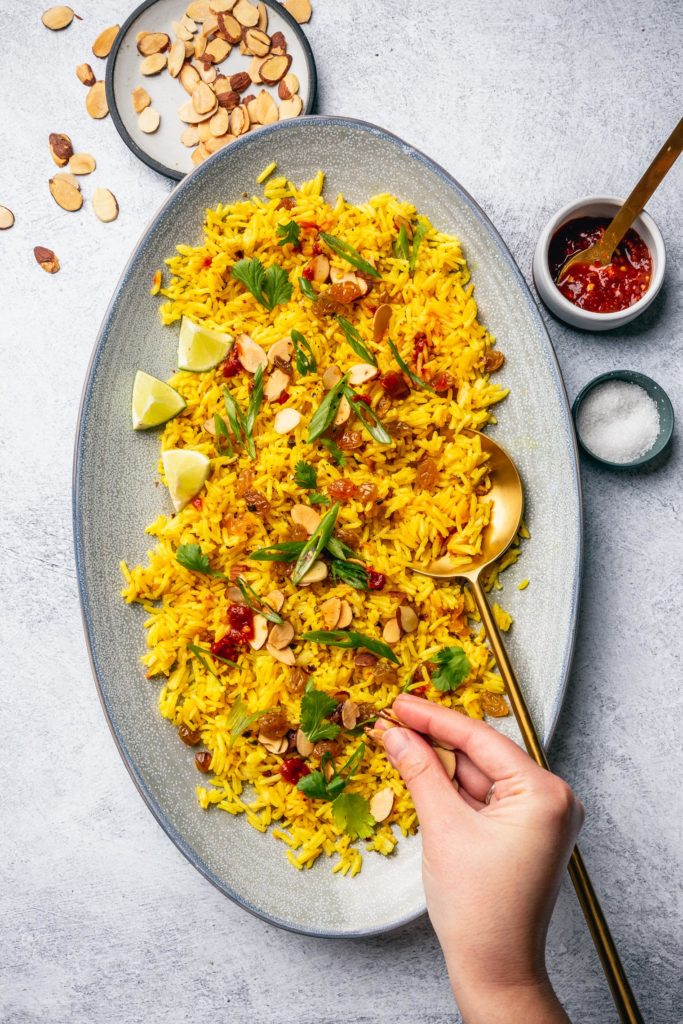 Here is a list of substitute suggestions for this Turmeric Rice recipe in case you don't have certain ingredients on hand:
Almonds – any toasted nut would work fine in this recipe but I'd recommend pistachios if you have them as they'll add a nice pop of color. If you don't have nuts, other options to add some crunch could be toasted quinoa or fried onions (even crushed up FUNYUNs cold work if you are feeling extra desperate and happen to have them on hand?)
Scallions – Chives are an easy subsitute (just wait to add until the very end) as are shallots and red or white onions (thinly slice and cook at the beginning as you would do with the white parts of the scallions). If you don't have any fresh onion family related goods on hand, you could add in 1/2 tsp dried onion powder or just skip altogether.
Garlic Chili Paste – You can use 1/2 tsp dried chili pepper flakes (up that quantity if you like things really spicy) and add at the same time the recipe calls to add the garlic chili paste. Alternatively, wait until the end and top it all with a few dashes of your favorite hot sauce.
Golden raisins – swap in any type of raisin you have on hand or dried cranberries for the same quantity. You could also use dried apricots but may want to chop them up into smaller bits. Also, feel free to use regular white sugar for the pickling sauce if you don't have brown sugar on hand.
Garlic cloves – use 1/4 tsp dried garlic powder instead and wait to add until when you had the turmeric powder.
Vinegar – I suggest red wine or rice vinegar for this recipe since they are both mild but you can use any vinegar you have on hand if it's all you got. White wine or apple cider would work particularly well but distilled white vinegar can also work.
Long Grain White Rice – Cooked brown rice can be easily substituted here. Switching out the rice with a new ingredient will substantially change the recipe but this could easily be turned into a nice grain salad by using cooked farro or wheatberries. Cooked quinoa could also work here but again, you will end up with a very different recipe.
Fresh Cilantro – Substitute with fresh mint or parsley or omit altogether if you don't have any fresh herbs.
Have lots of rice around the house right now? Here are a few other recipe suggestions to use some of it up: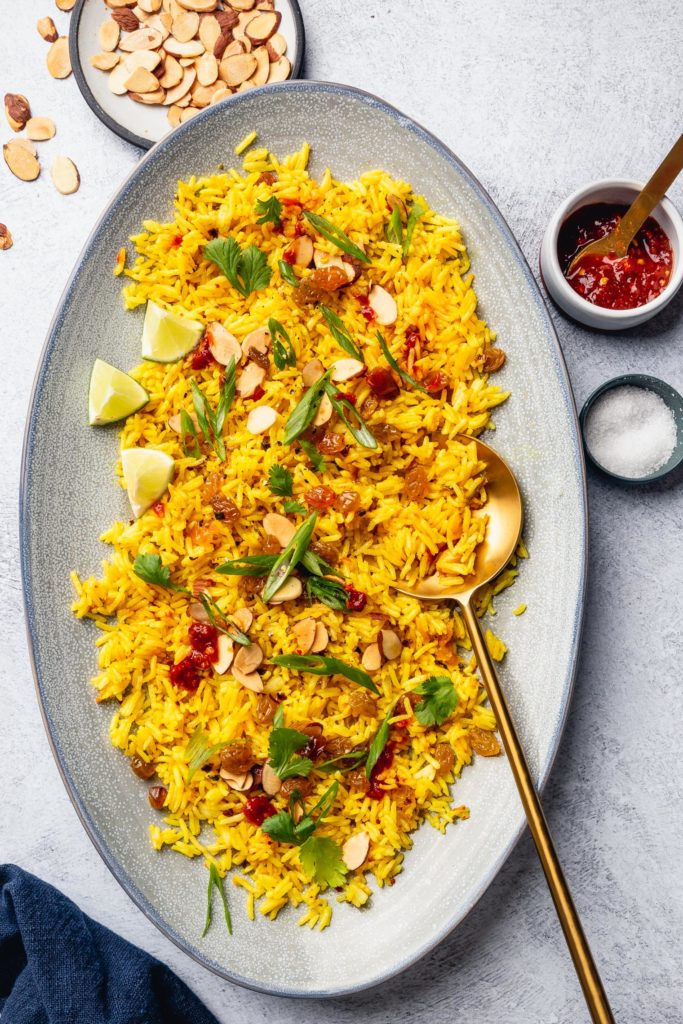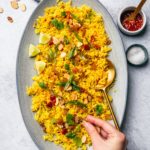 Turmeric Rice with Quick Pickled Yellow Raisin & Toasted Almonds
Ingredients
1/2

cup

sliced almonds

1

Tbsp

brown sugar

1

Tbsp

rice vinegar or red wine vinegar

1/4

cup

yellow raisins

1

Tbsp

olive oil

3

cups

cooked long-grain white rice (such as basmati or jasmine)

2

scallions

trimmed and chopped into small pieces, white and green parts seperated

2

garlic cloves

minced

1/2

tsp

turmeric

1

tsp

chili-garlic paste (skip if you don't have and consider adding a few dashes of your favorite hot sauce at the end)

2

Tbsp

chopped cilantro leaves + more for garnish

salt and pepper

to taste

lime wedges

for garnish
Instructions
Preheat oven to 350 degrees and arrange almond slices on a baking sheet in a single layer. Toast for 3-4 minutes or just until starting to turn in color. Remove from oven and transfer almonds to a bowl to cool.

Meanwhile, in a small bowl, whisk together brown sugar and vinegar until most of the brown sugar has dissolved. Add in the raisins and set aside to quick pickle for 10 minutes.

Heat olive oil in a large skillet over medium. Add garlic and the white parts of the scallion and cook until becoming fragrant and starting to change in color, about 2 minutes. Add turmeric and cook for another 30 seconds or until very fragrant. Add the rice and chili-garlic paste, season with 1/4 tsp salt, and cook until the rice has warmed, mixing around to make sure all the rice has been coated in the spices, for about 3 more minutes.

Remove rice from heat and stir in the raisins (adding any juices that remain in the bowl), remaining scallions, cilantro, and toasted almonds. Taste and season with more salt and pepper, as needed. Garnish with more cilantro and lime wedges and serve right away.