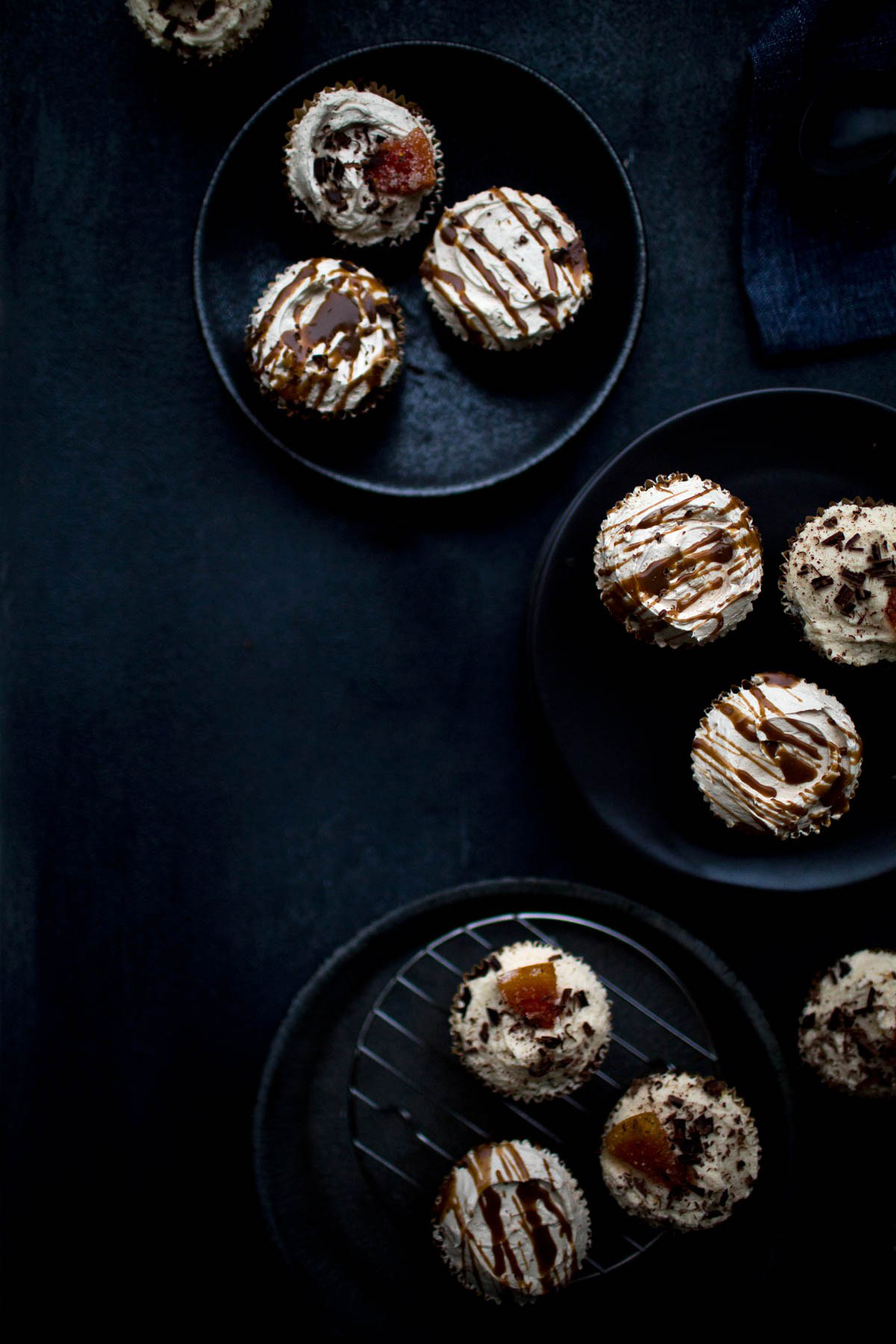 Vegan Chocolate Grapefruit and Dulce de Leche Cupcakes
In a hurry? Click here to JUMP TO RECIPE!
These Vegan Chocolate Grapefruit and Dulce de Leche Cupcakes for the perfect vegan treat for any celebration – rich, chocolately, & full of citrus!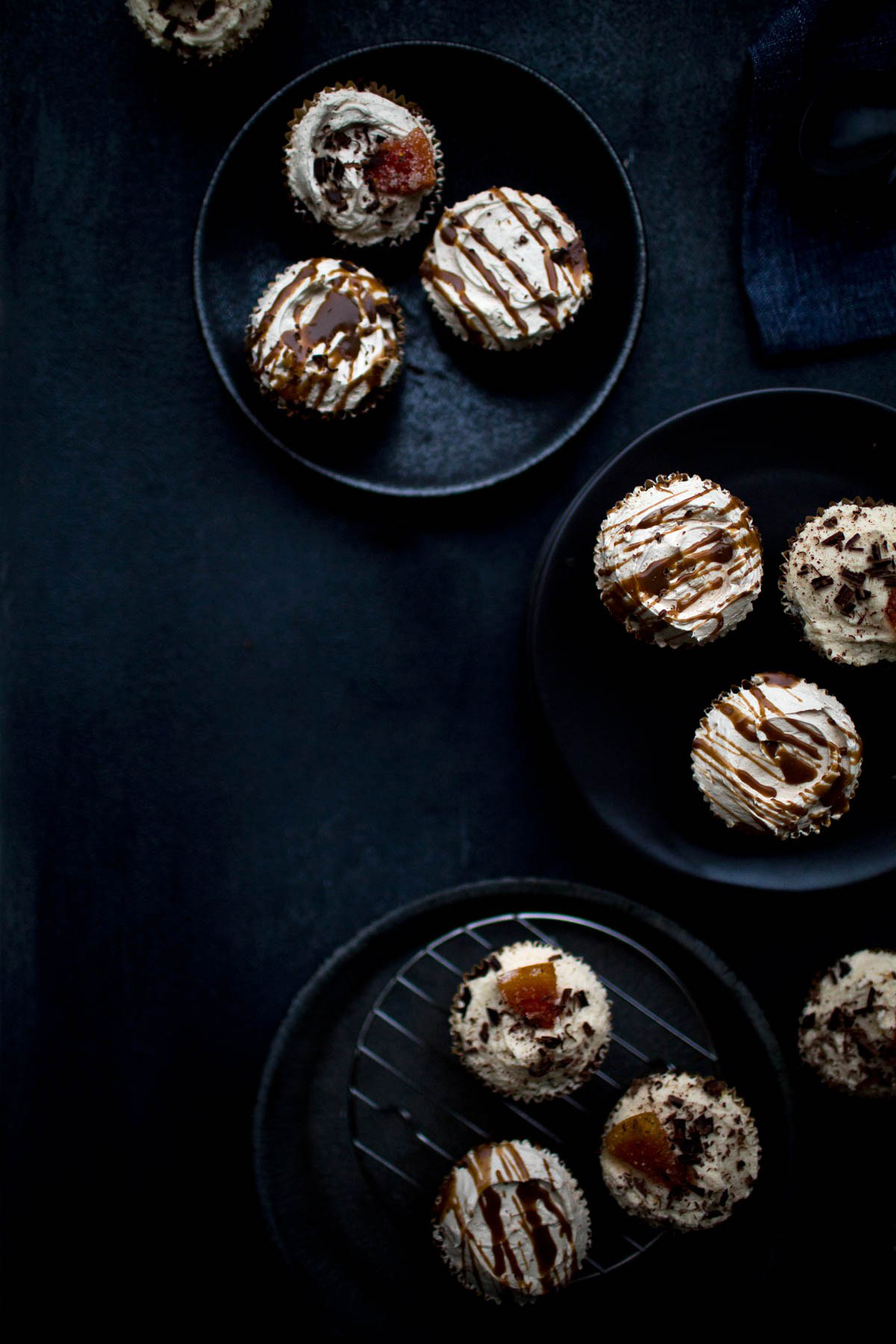 My favorite part about making these cupcakes is that, for the first time in 2016, it was warm enough to open the kitchen windows and let both the sun and breeze trickle in. I feel like these photos are pretty on point with my mood while making these – starting to see the glimpse of warmth and light that spring brings while still chasing the moody light of winter. I obviously couldn't pick a mood here so I have both moody and bright photos this time around.
Renee introduced me to vegan Dulce de Leche two years ago and I've used it on numerous treats since. Every time I'm bummed that it's not berry season or apple season, I remember this sauce and how it's flavors are perfect for any time of year. You'll probably have leftover sauce after drizzling on these cupcakes and I'd recommend drizzling it over your morning granola or evening helping of ice cream.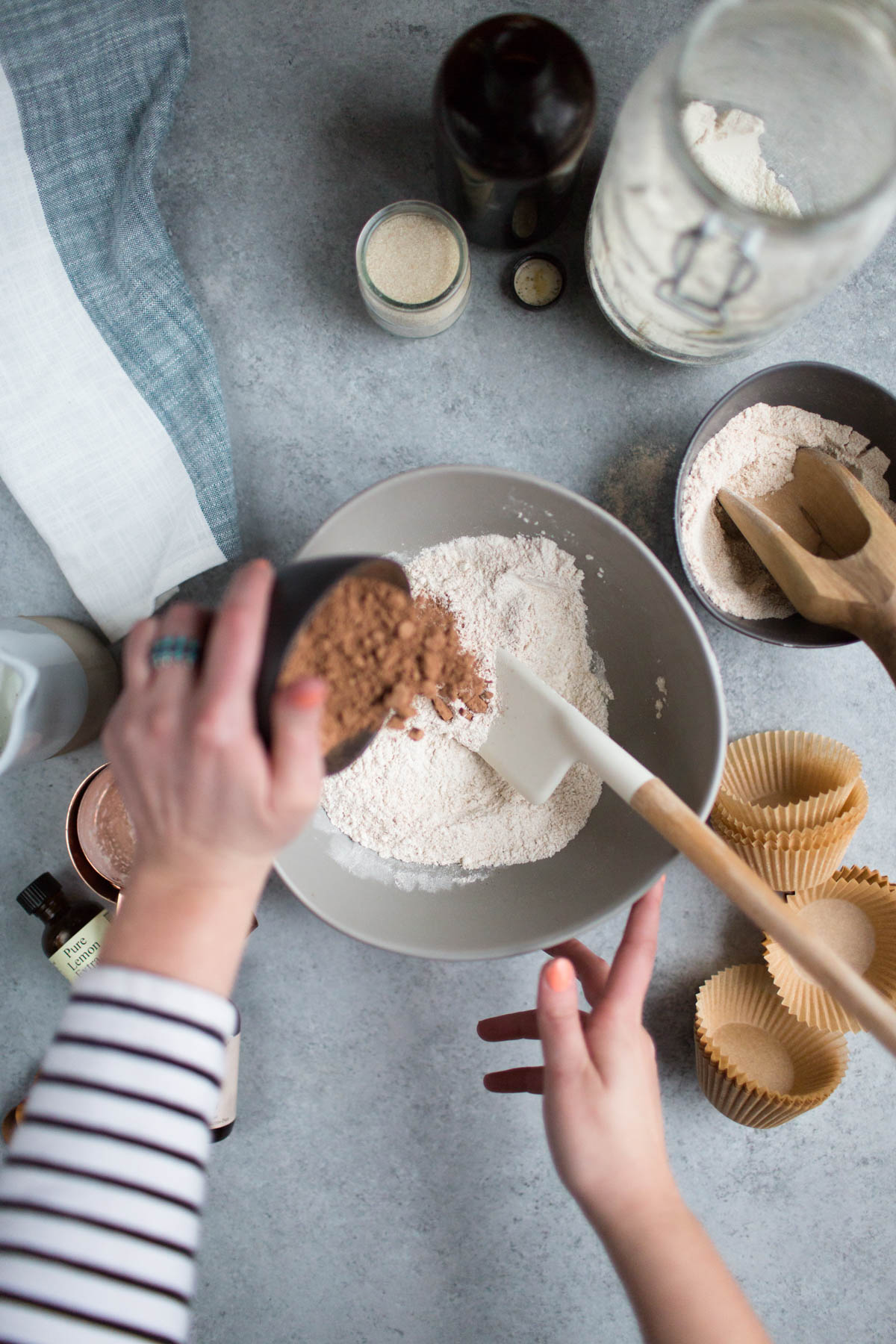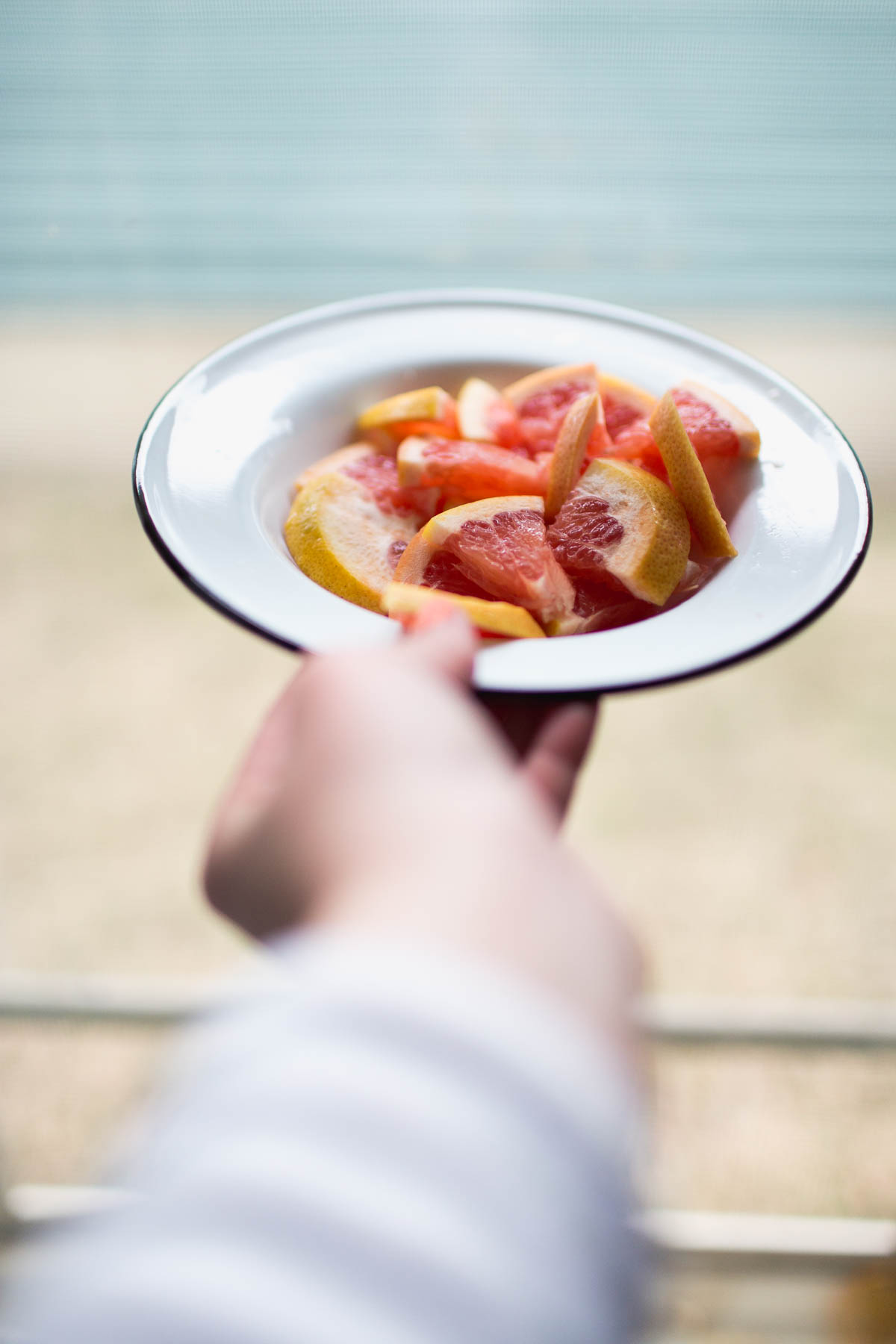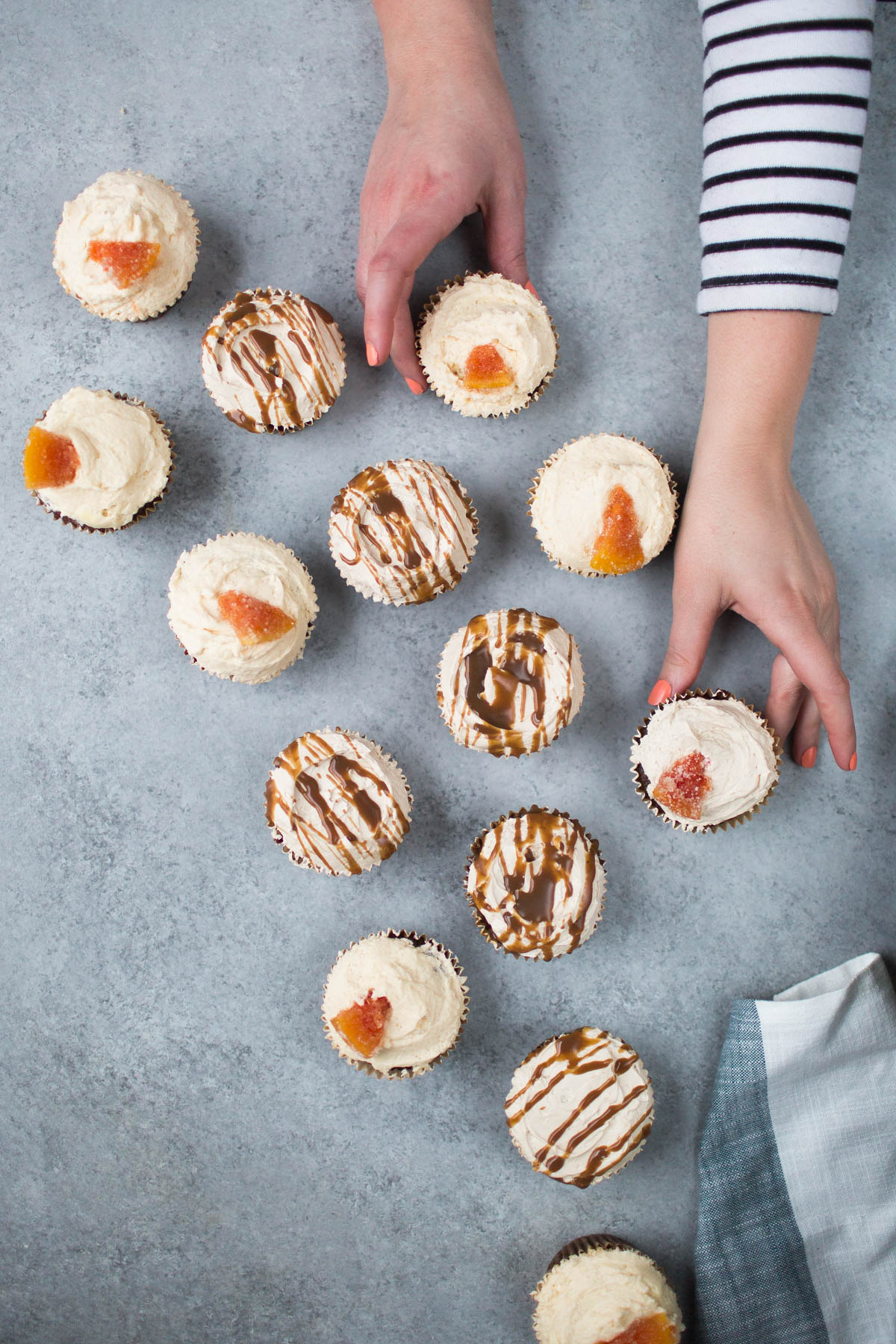 These cupcakes are so delicious that you won't even notice the dairy missing from them. The chocolate grapefruit has the flavor marriage of a creamsicle and fudge pop (in the best way possible). It's tart from the citrus with slight bitter tones found in the chocolate, neither of which are overbearing because of the overall sweetness of the cake. The Dulce de Leche is made with coconut milk which does give it a slight coconut flavor that may come as a surprise to whoever is indulging in their first bite but the texture is so velvety that I wouldn't recommend using anything else.
In the recipe below, I give instructions for how to make 24 cupcakes with enough icing (between the two flavor combos) for all 24 cupcakes. If you are looking to just make the Grapefruit Chocolate or the Dulce de Leche then make sure you double your mix-ins (so use twice as much coffee extract or grapefruit zest) so there is enough to cover all the cupcakes. You could also add a teaspoon of lemon extract to the cupcake batter if making all grapefruit cupcakes or a teaspoon of coffee extract if making all Dulce de Leche (I decided to opt for not adding either since I wanted to to use the same batter for both and I didn't think coffee and grapefruit would make the best combo). Also, I made the Dulce de Leche the night before, to save on time, and stored it in an airtight glass container in the fridge until I was ready to use it.
Vegan Chocolate Grapefruit and Dulce de Leche Cupcakes recipe below: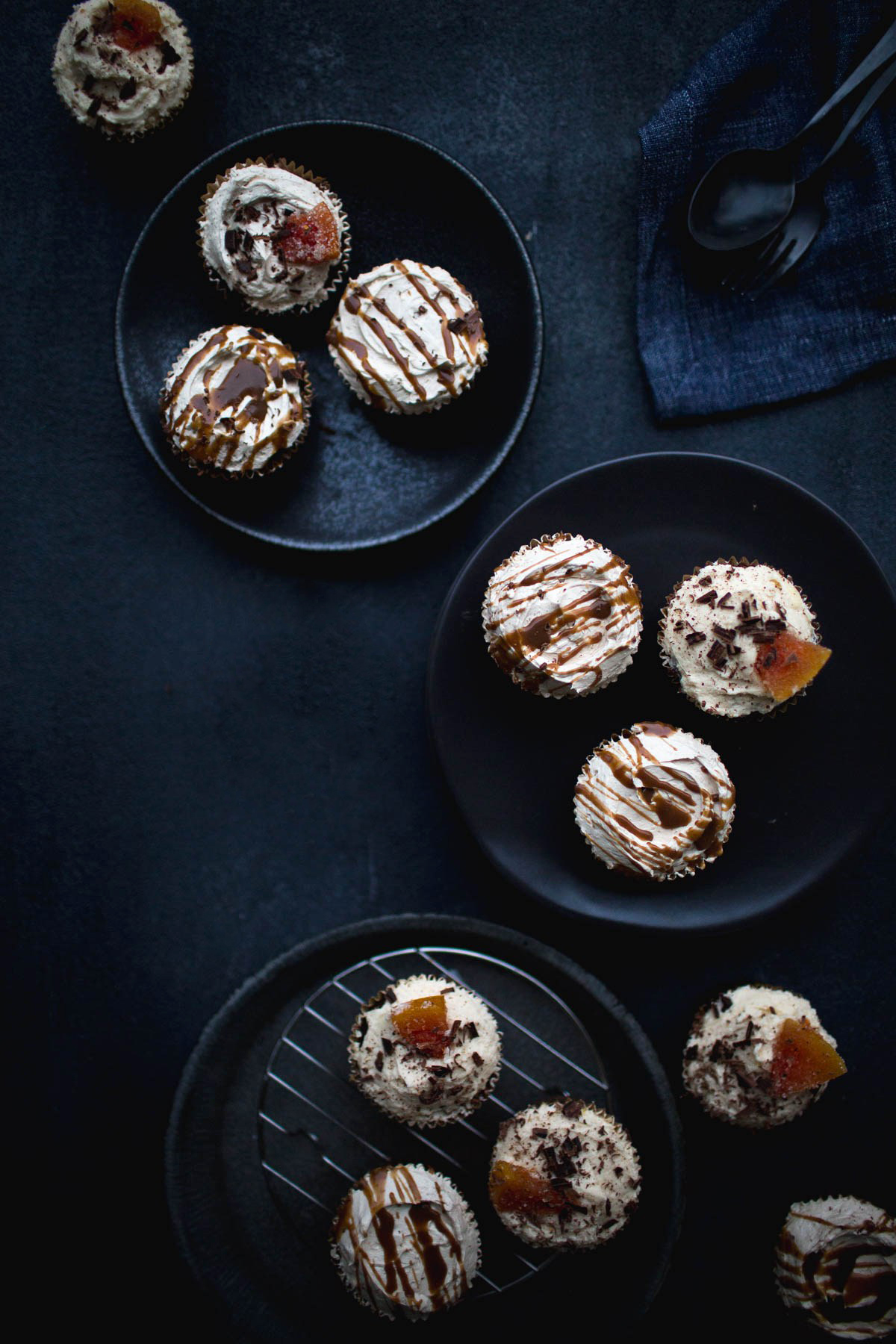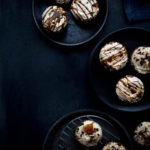 Vegan Chocolate Grapefruit and Dulce de Leche Cupcakes
These Vegan Chocolate Grapefruit and Dulce de Leche Cupcakes for the perfect vegan treat for any celebration! / cupcake recipe adapted from Isa's Vegan Cupcakes Take Over The World and vegan Dulce de Leche recipe ver so slightly adapted from Epicurious
Cuisine:
Vegetarian / Vegan
Ingredients
For the cupcakes:

2

cups

non-dairy milk

1

tsp

. lemon juice

1 1/4

cups

granulated sugar

1

cup

all-purpose flour

1

cup

whole wheat flour

1/2

cup

dutch pressed cocoa powder

1 1/2

tsp

. baking soda

1

tsp

. baking powder

1/2

tsp

salt

2/3

cup

coconut oil

, melted

2

tsp

. vanilla extract

1

tsp

lemon or coffee extract

(optional. Read notes on it above)
For the icing:
1/2

cup

vegan butter substitute

(I recommend Earth Balance), softened

2

cups

powdered sugar

1

tsp

. vanilla extract

2

tsp

coffee extract

3

tsp

. grapefruit juice

zest of 1 grapefruit
For the Dulce de Leche:
1

can full-fat coconut milk

1/2

cup

coconut sugar

(use brown sugar if you don't have coconut sugar on hand)

Dash of salt

Sugared grapefruit slices

, for garnish (optional)

Shaved chocolate

, for garnish (optional)
Instructions
For the cupcakes: Preheat oven to 350 degrees and line 2 cupcake sheets with cupcake liners. Measure out the milk in a liquid measuring cup and squeeze in the lemon juice. Set aside for five minutes.

In a mixing bowl, whisk together sugar, flours, cocoa powder, baking soda, baking powder, and salt. Make a well in the center of the dry ingredients and pour in coconut oil, vanilla extract, other extracts (if using), and lemon milk mixture.

Fold dry ingredients into wet ingredients until a thick and smooth batter has formed.

Fill each cupcake liner 3/4 full and bake for 18 minutes.

Remove from oven and transfer to a wire rack to cool completely before frosting.

For the icing: In the bowl of a stand mixer with a paddle attachment, whip the butter substitute and powdered sugar on medium speed until completely blended and a thick icing has formed, about three minutes.

With the mixer running, pour in vanilla extract and beat for another minute.

Divide icing into two bowl. In the first bowl, whisk in the coffee extract until fully incorporated. In the other bowl, whisk in the zest and grapefruit juice until completely incorporated.

For the Dulce de Leche: Whisk together coconut milk, coconut sugar, and salt in a medium saucepan or large skillet. Bring to a simmer over medium-high heat and let simmer for 15 minutes or until the mixture has turned into a dark caramel color.

Remove from heat and transfer to a glass container with a lid to cool.

To assemble: Divide the frosting evenly between the 24 cupcakes and smooth the frosting along the top with a knife or icing spatula. Drizzle with Dulce de Leche or top with a piece of candied grapefruit and shaved chocolate.