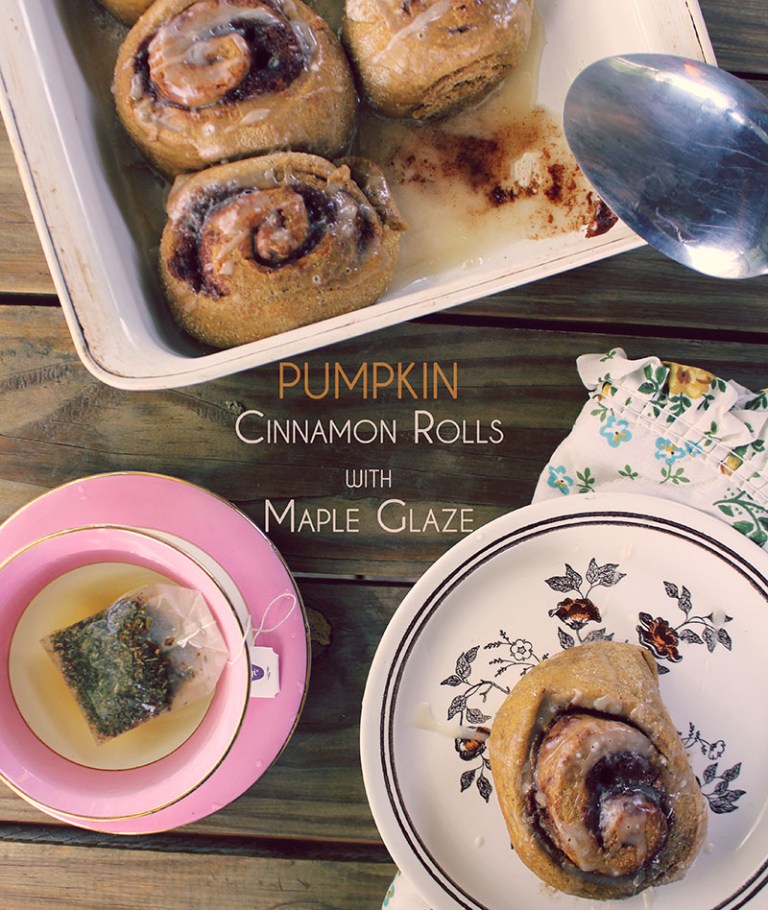 Vegan Pumpkin Cinnanom Rolls with Maple Glaze
Ah, Tuesday. Sometimes I feel like Tuesday is worse than Monday because you've already got back into the swing of things but still have so much more time before it's the weekend. But there is a cure for the Tuesday blues and that cure is Cinnamon Rolls! [How could you possible be down when you have a fresh, warm and gooey cinnamon roll in your belly?] What about cinnamon rolls with an extra kick of pumpkin in them? Oooooh yeah! I'm sold. I became hooked on what I called cinnamon roll "spin-offs" after I made those Sweet Potato Cinnamon Rolls. Oh goodness. Nothing like taking something already delicious and making it even better.
And so, it's officially fall for me because I cooked with my first pumpkin of the season. Ah, I love it! How can you not get excited about a season that features pumpkin, cinnamon, apples, and cider?!? I just don't understand.
These were amazing but I will, however, add more pumpkin next time around. You could definitely taste the pumpkin but it was subtle. Also, don't forget to prep these SEVERAL hours before you want to indulge since they take two rounds of rising (I started them the night before and then let them rise all night which worked as a perfect way to cut out an extra hour and half in the AM.
Vegan Pumpkin Cinnamon Rolls
2 Tablespoons Earth Balance
1/3 cup almond milk
1/3 cup pumpkin puree
1/4 cup sugar
1 Tablespoon corn starch + 3 Tablespoons water (mix together so that a gel forms)
2 1/2 teaspoons yeast
2 cups all purpose flour
1 teaspoon cinnamon
1 Tablespoon pumpkin pie spice
For the Filling:
1/4 cup brown sugar
3 Tablespoons Earth Balance
1 Tablespoon cinnamon
For Maple Glaze:
2 Tablespoons maple syrup
1/2 cup powdered sugar
1/2 Tablespoon Almond Milk
Heat the butter and almond milk over low in a small saucepan until the butter has melted and is incorporated. Remove from heat and wait for the mixture to cool slightly (should be able to touch the milk with your finger and not be uncomfortable) and add the yeast. Let sit for five minutes or until the yeast becomes foamy.
In a small bowl, whisk together the cornstarch/water mixture with the pumpkin. In the bowl of your stand mixer (with the dough attachment) combine the flour, sugar, cinnamon, and pumpkin pie spice. Add in the pumpkin mixture and turn the mixer onto medium until everything is combined. Next, add in the yeast mixture and let the dough knead for about five minutes. The dough should end up elastic and firm.
Transfer dough to a greased mixing bowl and cover. Let rise for an hour (or overnight).
Go do some yoga. Turn the vinyl over. Dance with your puppy. Or take a nap. Or whatever you like to fill your time with.
Transfer dough to a flour surface and roll out to form a large rectangle shape. Mix the filling together in a bowl and sprinkle on top of the dough. Roll dough by taking the long ends and forming a long cylinder. Cut in the middle and then cut each of those pieces into thirds (you should end up with 6 rolls). Stick in a greased 8×8 cooking pan and cover. Let rise for another 40 minutes.
Preheat oven to 350. Bake rolls for about 30 minutes or until the tops are browned. Remove and let cool.
While cooling, prepare the glaze! Mix all ingredients together in a small bowl until it starts to gel. Pour over the rolls.
Enjoy warm and with tea or coffee.