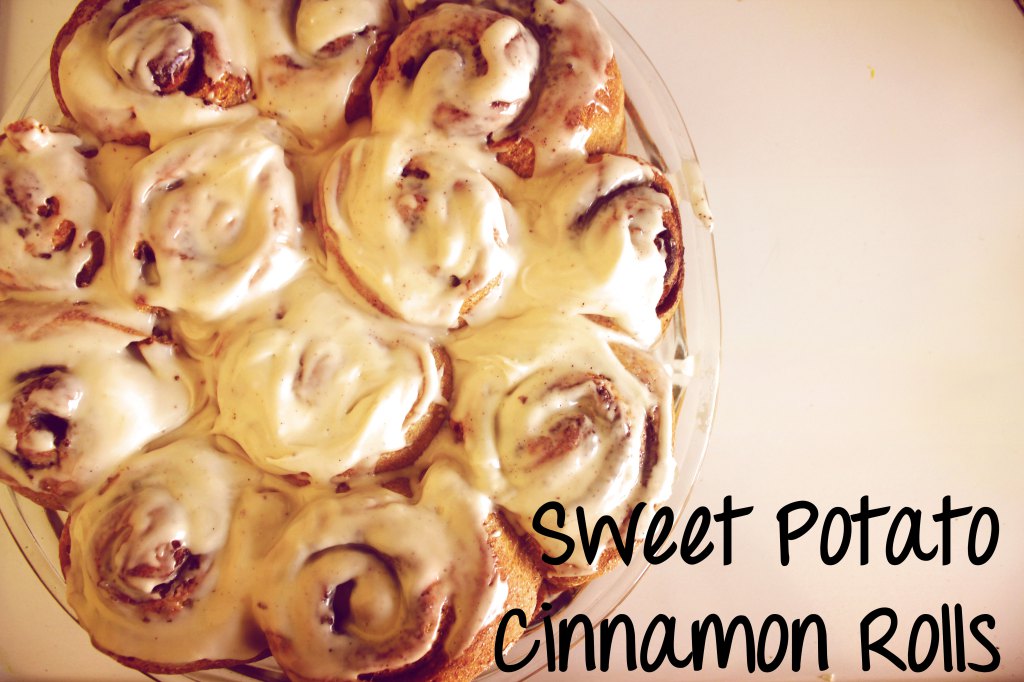 Sweet Potato Cinnamon Rolls with Maple Glaze
Every Easter since I can remember I spent it with family. Since my parents are divorced, my brother and I would have two huge Easter meals. I would have a brunch with my Ma and a dinner with my Father. This was great as a kid because that also meant you received two baskets, twice the amount of candy, two egg hunts and twice the amount of dessert.
However, in addition to be being grown up and grown out of Easter baskets, I now live 4 hours away from family and going home for the holiday just did not seem feasible. I knew it would be okay because I'm not religious and I would have been dragged to church by my Ma and lectured about my faith. But I felt a little sad not celebrating my favorite meal of the day- brunch. So, I had to compensate in some way by whipping up a brunch recipe that I've been eyeing for weeks.
The product of my Easter blues were these Sweet Potato Cinnamon Rolls. And they were well worth not receiving a free buffet brunch this year. These rolls are not over sweet because they are made with whole wheat flour and sweet potatoes but still very indulgent with the sugary maple glaze lathered all over them.
For the rolls:
2 cups mashed sweet potatoes, cooled
1 cup almond milk, warmed
4 teaspoons yeast
2 Tablespoons maple syrup
1 egg
1 Tablespoon canola oil
1 cup spelt flour
4 cups whole wheat flour
1 teaspoon salt
1 cup brown sugar
2 Tablespoons cinnamon
1 Tablespoons nutmeg
5 Tablespoons butter, melted
For the glaze:
1 cup powdered sugar
1 Tablespoon heavy cream
2 Tablespoons maple syrup (+ more if you'd like a stronger flavor)
In a large mixing bowl, whisk together the milk and maple syrup. Sprinkle the yeast over the top and let sit for ten minutes.
In another bowl, mix together the sweet potatoes, eggs, oil, and spelt flour. Add to the yeast mixture and mix well. Next, add in the flour a cup at a time until a sticky ball of dough forms.
Transfer to an oiled bowl and cover with a towel. Let rise for one hour or until it has doubled in size.
Wait…go play with your puppy…wait…dance to 90s classics…wait….watch a rerun of Twin Peaks…wait…
Split the dough in half. On a floured surface, roll out a looooooong rectangle (this doesn't have to be an exact measurement or science. Just roll it wider if you like more layers and taller if you like them big and popping out the top of the pan).
Make the filling mixture by combining the brown sugar, cinnamon and nutmeg. Spread half the melted butter over the dough and sprinkle with half the filling mixture. Roll from the bottom (with the long sides being from left to right) to the top as tightly as possible. Slice into 6 sections and place in a greased baking dish. Repeat with the other half of the dough so you end up with a total of 12 rolls.
Cover with a clean towel and let rise for another half an hour.
Go take a walk…play bananagrams with your roommates….do some online shopping…wait…
Preheat oven to 400. Cook for 18 to 20 minutes or until the edges begin to brown.
To make the glaze: Whisk together the powdered sugar, heavy cream, and syrup until a thick glaze forms. Lather over the rolls and let sit for a minute so it melts.