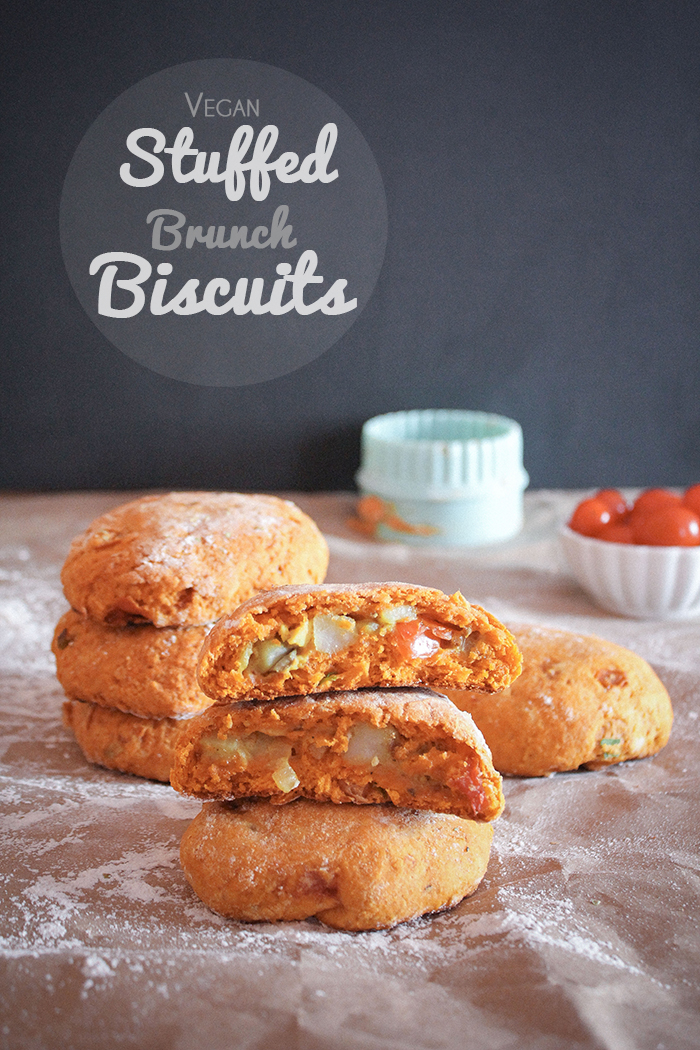 Vegan Stuffed Brunch Biscuits
The title of this post is a bit misleading. These biscuits are not actually stuffed with real vegans…unlike how you probably read it the first time. There was just no easy way to throw a title together for this. I could have put 'Stuffed Breakfast Biscuits' but then people would have wondered where the eggs and sausage was? Or I could have wrote 'Tofu Scramble Scones' but that would have seemed like the tofu goes along side the scones… which is not correct either. What I really wanted to put was 'Peppered Gravy & Tofu Hash Scramble Stuffed Biscuits That Are Vegan' but oh goodness…look at how long that title is. I don't think that title would have fit on one line…and maybe not even on two. So I settled for 'Vegan Stuffed Brunch Biscuits'…I am sorry if it's misleading and you conjure up thoughts of cannibalism instead of wonderfully flaky, warm biscuits oozing with peppered gravy and filling tofu goodness. See!? Do you see why it took me 20 minutes to settle on a title for this post?
I guess it makes up for the fact that it took about 20 seconds to know that I wanted to make these. I love the Morningstar breakfast sandwiches as a treat every now and then but couldn't help but wonder…could I make fresh ones that are probably 10000xxx times better? After searching around on the web and failing at finding any recipes that matched the vision in my head, I decided to make it up myself. This recipe is a mutant product of my favorite tofu scramble recipe and tomato scones recipes found in Isa's Vegan Brunch. And a simple peppered gravy recipe that we often times to turn when we need some thick and flavorful gravy in a hurry. And then I threw in some hashbrowns because…welll…what is breakfast without hash browns?
So…in turn, this recipe is Delicious? Yes. Freezable? Yes. Easy to prepare the night before? YES. Portable? YES. Everything you've ever wanted in a breakfast rolled into one pocket of deliciousness? YESSS. Why would you not make these for a vegan potluck or freeze a batch for a quick breakfast on the go?!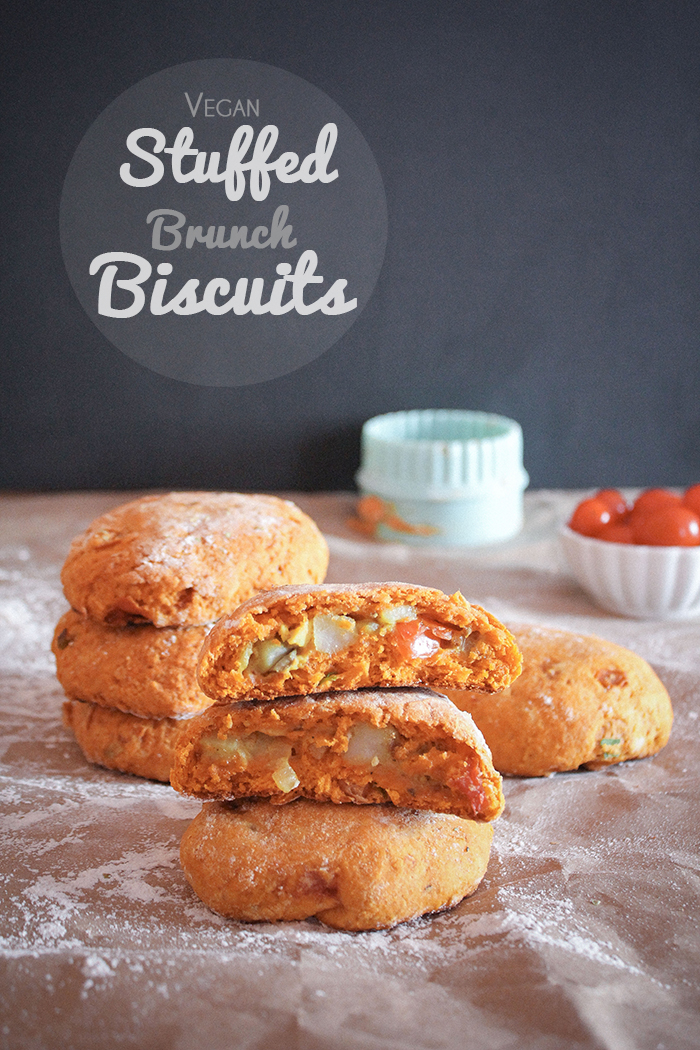 Vegan Stuffed Brunch Biscuits
For the Gravy:
1 cup unsweetened almond milk
1 Tablespoon Earth Balance
1 1/2 Tablespoons all purpose flour
1+ teaspoon salt / pepper
For the Tofu Scramble:
1 Tablespoon olive oil
1/2 block extra firm tofu, drained
1/4 cup diced onion
2 garlic clove, minced
1/8 cup nutritional yeast
1 teaspoon ground cumin
1/2 teaspoon ground turmeric
1 Tablespoon water
Salt / Pepper
1/4 cup diced tomatoes, optional (because I like lots of veggies)
For the Biscuits:
3 cups all purpose flour
2 Tablespoons baking powder
1/4 cup sugar
1 teaspoon salt
1/2 teaspoon pepper
1/3 cup olive oil
1 1/2 cups tomato sauce
1 teaspoon apple cider vinegar
1/2 russet potato, diced very small
Bring a pot of salted water to a boil and add in the potatoes. Cook until they are soft but not mushy (about 10 minutes depending on how small you diced them).
To make the scramble: Heat olive oil in a skillet over medium. Add onions and saute until soft (about five minutes). Add garlic and saute for another minute. Next, crumble the tofu and add into the skillet along with the cooked potatoes. Saute until the tofu has browned and add in the water, tumeric, salt, pepper, nutritional yeast, and cumin. Saute for another five minutes or until the water has evaporated (if the tofu seems dry then add a bit more water and let it cook down). Remove from heat and stir in the tomatoes.
To make the gravy: combine all the ingredients in a small saucepan and whisk constantly over medium heat until thickened (about ten to fifteen minutes). Season with more pepper (if necessary) and pour over the tofu scramble. Mix until everything is combined.
Preheat oven to 400 degrees.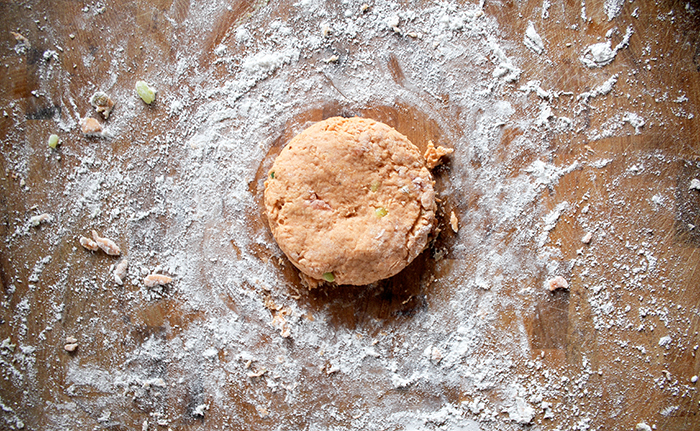 To make the biscuits: Place all the dry ingredients in a large mixing bowl and stir together. Make a well in the center of the bowl and add wet ingredients. Fold dry into wet until a soft dough has formed. Flour a surface and roll out half of the dough into an inch thick (make sure to keep everything very well floured because the dough is super sticky). Cut out desired biscuit sizes using a biscuit cutter and then flatten the dough to about 1/2 inch (you can use your rolling pin or your hands here). Place a heaping tablespoon of the tofu/gravy mixture in the center and fold the edges into each other until you've made a sealed round ball. Transfer to a greased cooking sheet. Roll out the rest of the dough and repeat.
[This is where you can wrap them in an airtight container and stick in the fridge overnight if you are preparing ahead of time]. Cook for 15 to 20 minutes or until the tops are firm and the insides are warm.
Enjoy hot or freeze for later breakfasts!