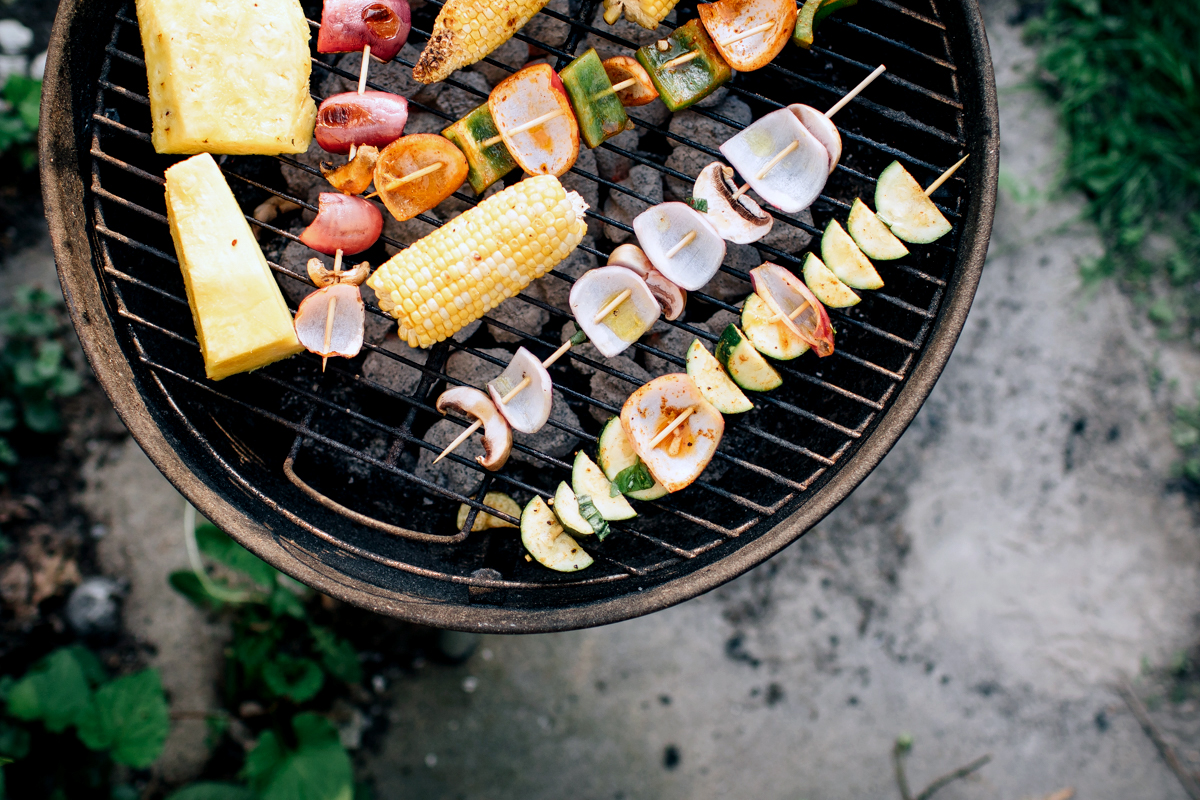 Vegetable Skewers From The Easy Vegetarian Kitchen
In a hurry? Click here to JUMP TO RECIPE!
We are moving in a little over a month and I could not be more excited. I've already begun to make piles of throwaway items, taken inventory on what we'll be bringing with us, and picked out new paint chips for the new place. The house we are moving into is only a few blocks from where we currently live but there are so many little problems with this 100+ year old place that we have just completely given up on it knowing that we'll be in a new home soon enough. The new house is actually smaller which we are both excited about as it's just the two of us (and our pup) so we don't really need all the room we have (plus, I've learned that I really dislike cleaning and the more room we have, the more there is to clean).
Really, the only downside we can think of at all with our new place is that the outdoor space isn't nearly as ideal as we currently have it. We currently have a huge backyard that is fenced in and has a large deck with a tin roof. It's the perfect place for entertaining as we have a huge picnic table, grill, string lights, and all the essentials for the best outside hangs. Our new place has a backyard but it's not fenced in and is right up against our neighbors so grill outs are bound to happen but they won't be nearly as secluded. Needless to say, we've been taking advantage of the outdoor space as much as possible by grilling non-stop and entertaining whenever we have the chance.
These vegetable skewers were a recipe from Erin Alderson's new cookbook, The Easy Vegetarian Kitchen. I was thrilled when I received her book in the mail as she is a long time blogger friend and a woman I admire dearly. The book is laid out with a foundation of simple vegetarian recipes that anyone of any skill level can handle. From there, she does 4 variations on the simple recipes for each season so you'll never get bored with the recipe. It's such a great resource for someone just diving into the world of vegetarianism or for the person who thinks they don't have enough time or skills to cook; she has managed to lay out a simple and delicious guide to getting into the kitchen and whipping up delicious quick meals.
 Vegetable Skewers recipe below: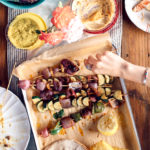 Vegetable Skewers From The Easy Vegetarian Kitchen
Ingredients
3

cups

assorted 1-inch cubed vegetables

(I used zucchini, mushrooms, & green peppers)

2

Tablespoons

olive oil

2

garlic cloves

, minced

1

Tablespoon

freshly squeezed lemon juice

1/2

teaspoons

salt

1/2

teaspoon

black pepper

Wood skewers

, soaked in water for at least an hour
Instructions
In a medium mixing bowl, whisk together the olive oil, garlic, lemon juice, salt, and pepper. Add your diced vegetables and toss until all the vegetables are coated. Cover and let sit while the grill preheats.

Heat your grill to medium-low. Thread the cubed vegetables onto the skewers, making sure to leave a little space between each vegetable so they cook evenly. Transfer kabobs to the grill and grill until charred, about 3 to 4 minutes on each side. Once charred, remove from heat and serve immediately.
*variation: I also tried one of her variations by sprinkling some jerk seasoning over the zucchini which was delicious