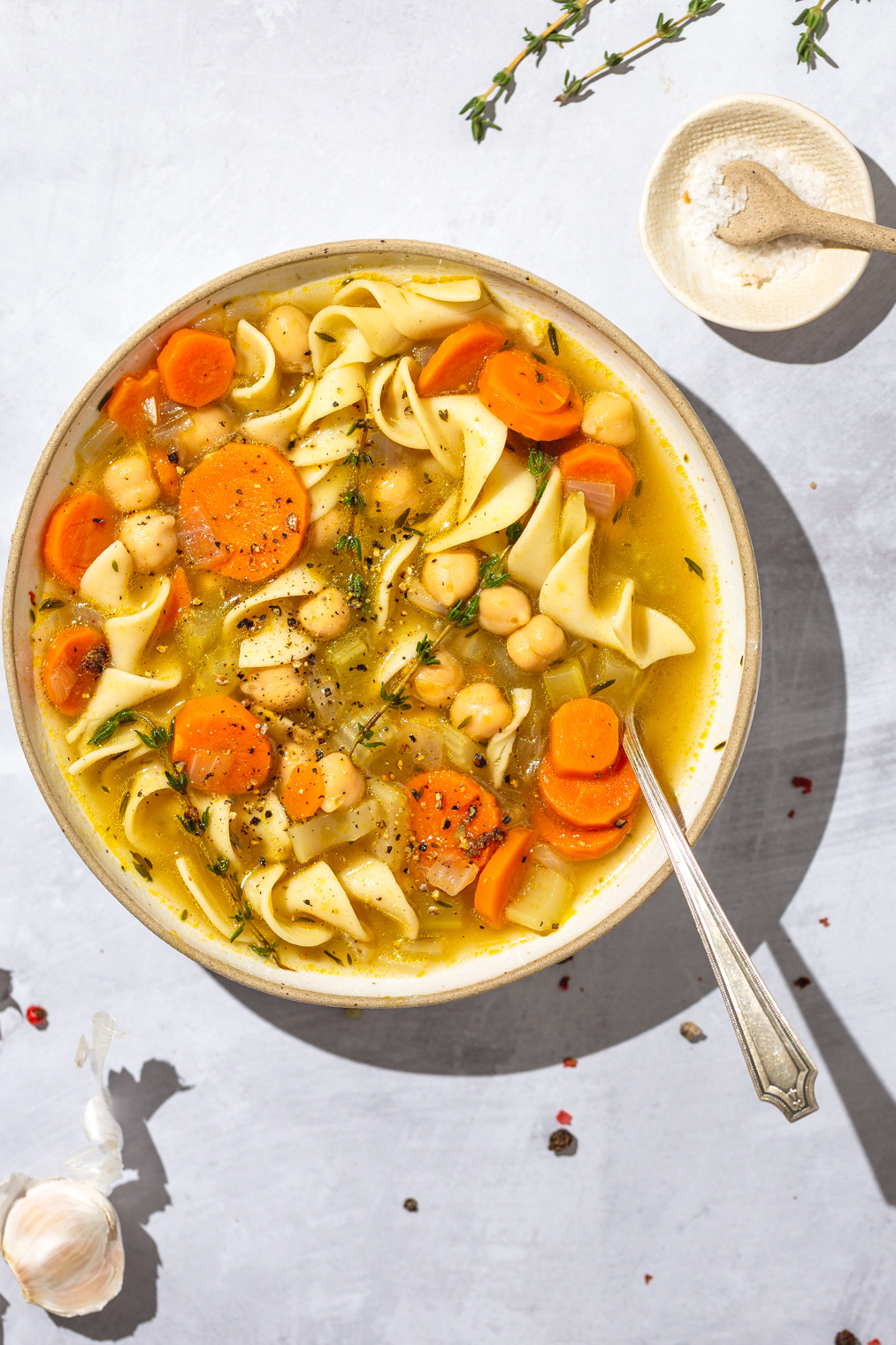 This Chickpea Noodle Soup recipe is chocked full of healthy vegetables, hearty beans, and chewy egg noodles. This soup is a great way to get more vegetables into your meal while still enjoying the comfort of delicious pasta.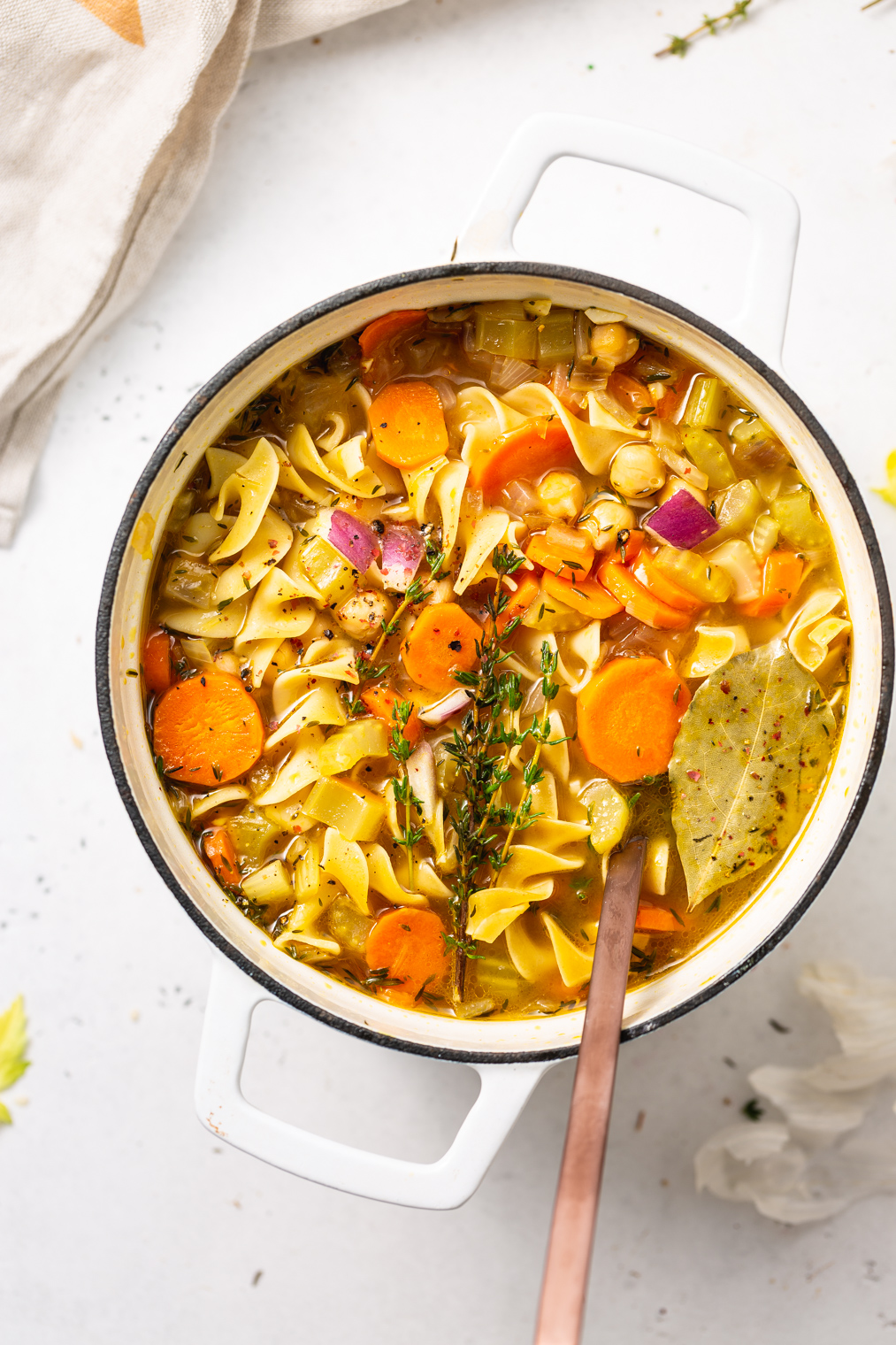 Happy New Year! Ready or not, it's time for 2019! Can you believe this will be the last year in this decade?! I'm a bit in shock since I'm still listening to music like it's the early 2000s (just joking…sort of). Anyhow, it's sort of become a tradition for me to share a soup recipe (like this one and this one) as the first recipe of the year. I decided to share this Chickpea Noodle Soup recipe because it's chocked full of vegetables (helloooo 2019 goal of eating more vegs) and beans but its not totally indulgent free because there are plenty of filling egg noodles in this as well.
Wyatt and I were talking about FOMO (fear of missing out) the other day and now I never get FOMO when looking at people's instagram stories of partying (unlike the teenager version of myself that had to be with her friends ALL. THE. TIME). But do you know what I realized I do get FOMO from? From some of the traditional comfort foods that I can't eat because of the meat – things like chicken and noodle soup, chicken and waffles, chorizo and eggs, etc. To solve the chicken and noodles issue, I just made my own veg version with chickpeas! Because let's be honest, when I see a big bowl of piping out chicken and noodles, it's not the bits of chicken that I get envious of – it's the chewy egg noodles and perfect balance of just enough herbs and the floating bits of soft carrots and celery.
So what do you say? Let's make a batch of this Chickpea and Noodle soup recipe and cheers to 2019 being the year we eat more vegetables (along side a serving of delicious pasta, of course).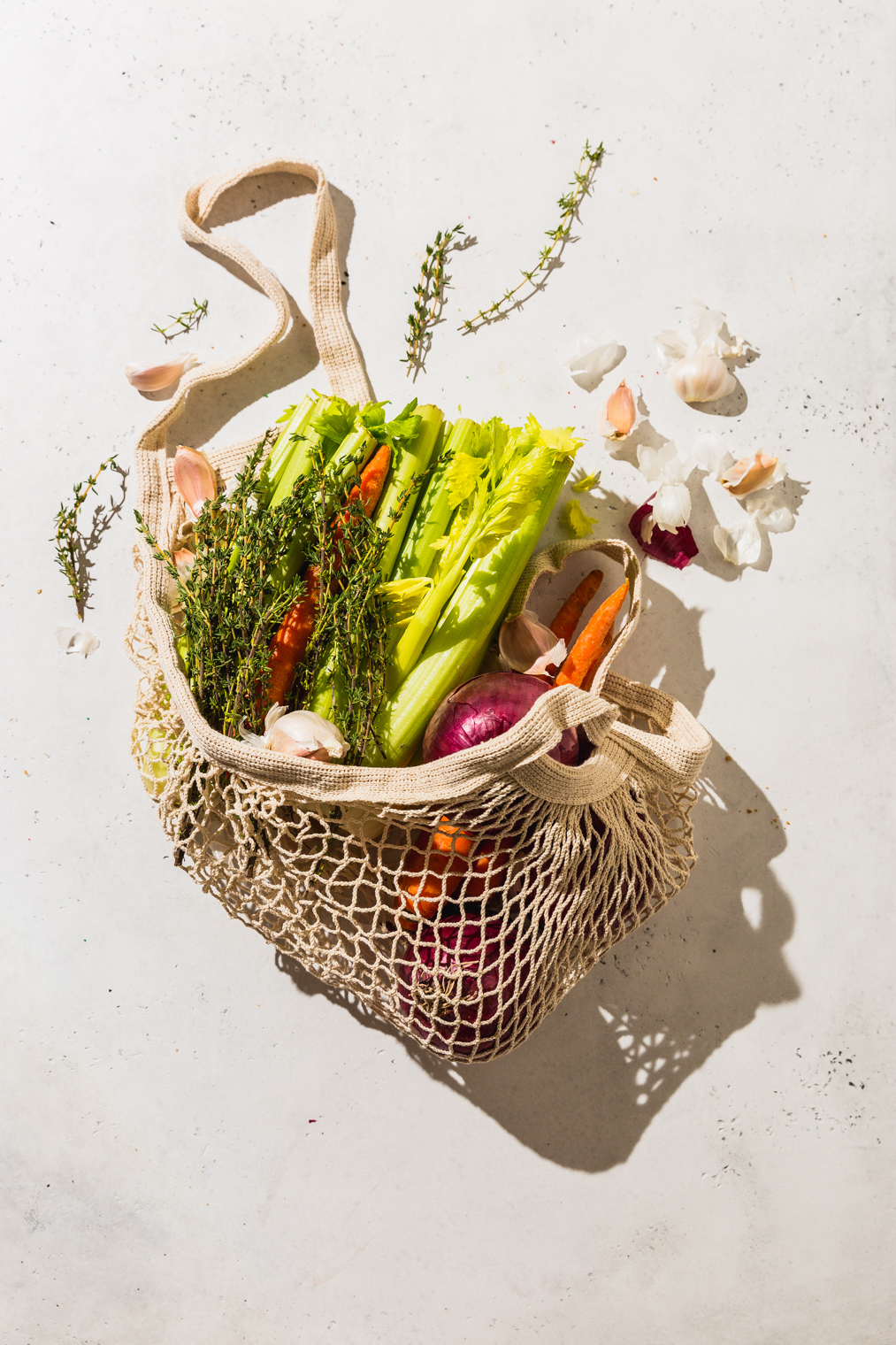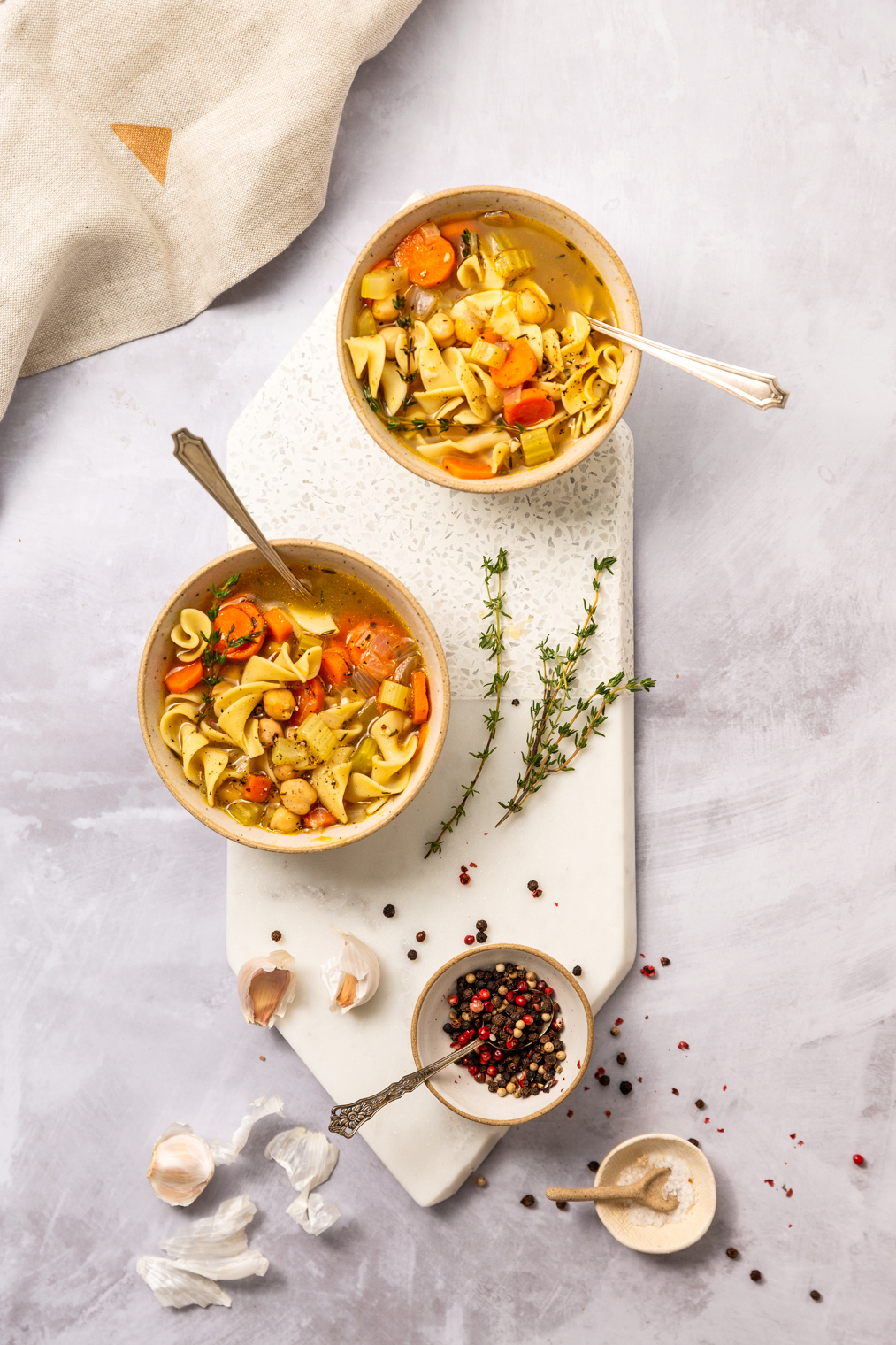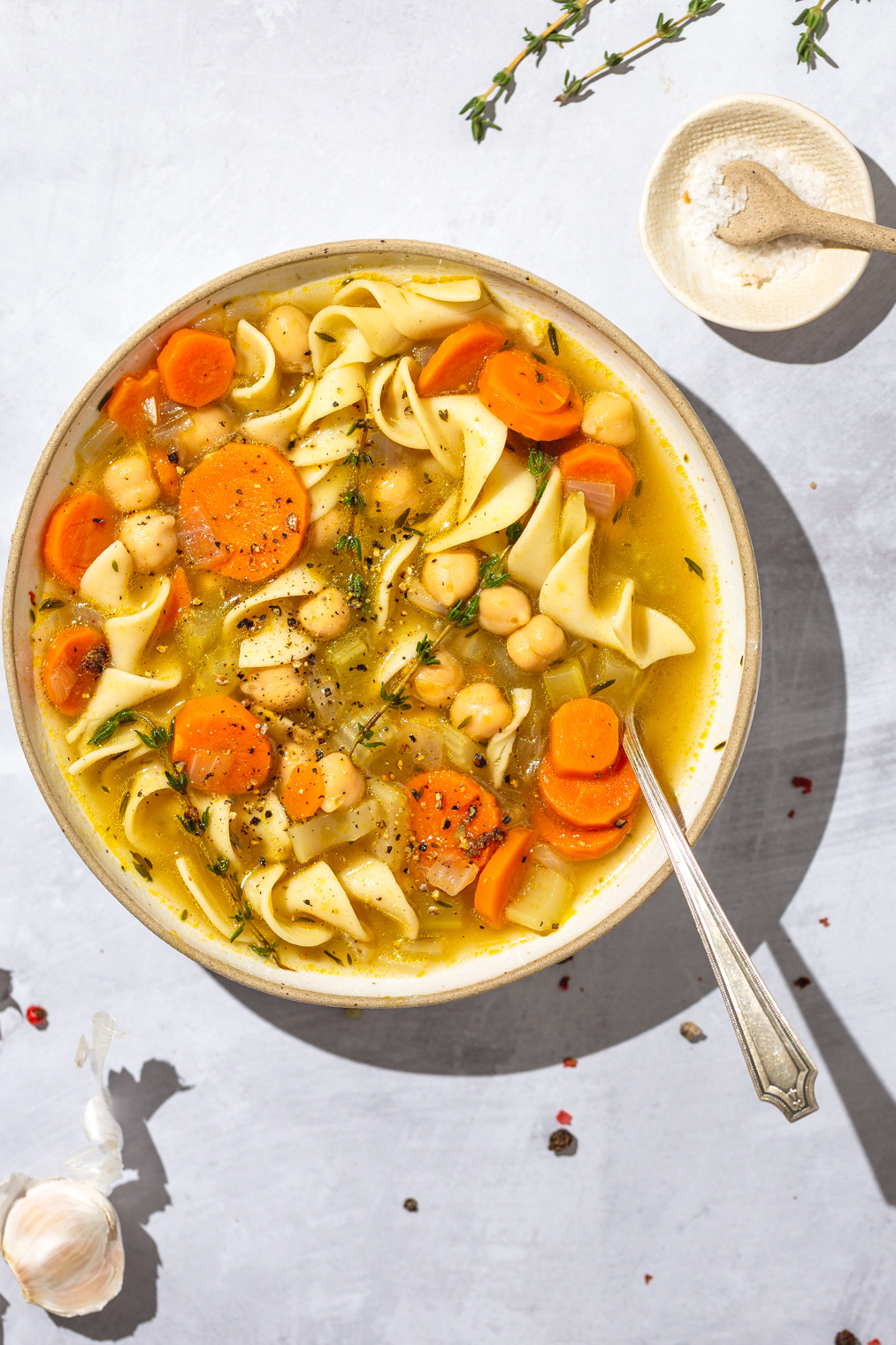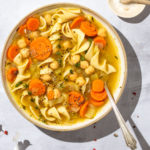 Chickpea Noodle Soup
Ingredients
2

Tbsp

olive oil

1

onion

diced

4

celery stalks

cut into half moons

4

carrots

cut into coins

2

garlic cloves

minced

1

tsp

fresh thyme

1/2

Tbsp

salt

+ more to taste

1

tsp

pepper

+ more to taste

1

bay leaf

4

cups

vegetable broth

4

cups

water

1

cup

dried wide egg noodles

1-15 oz

can

chickpeas

drained and rinsed
Instructions
In a large pot, heat oil over medium heat. Add onions, carrots, and celery and cook, stirring often, until softened, about 5 to 7 minutes.


Add garlic, thyme, 1/2 Tbsp salt, and 1 tsp pepper and saute for another minute. Add bay leaf, vegetable broth, and water and turn heat up to high. Bring to a boil and then reduce heat and simmer for 30 minutes.

Stir in the noodles and chickpeas and simmer for another 5 minutes. Discard bay leaf and season with more salt and pepper, as needed.