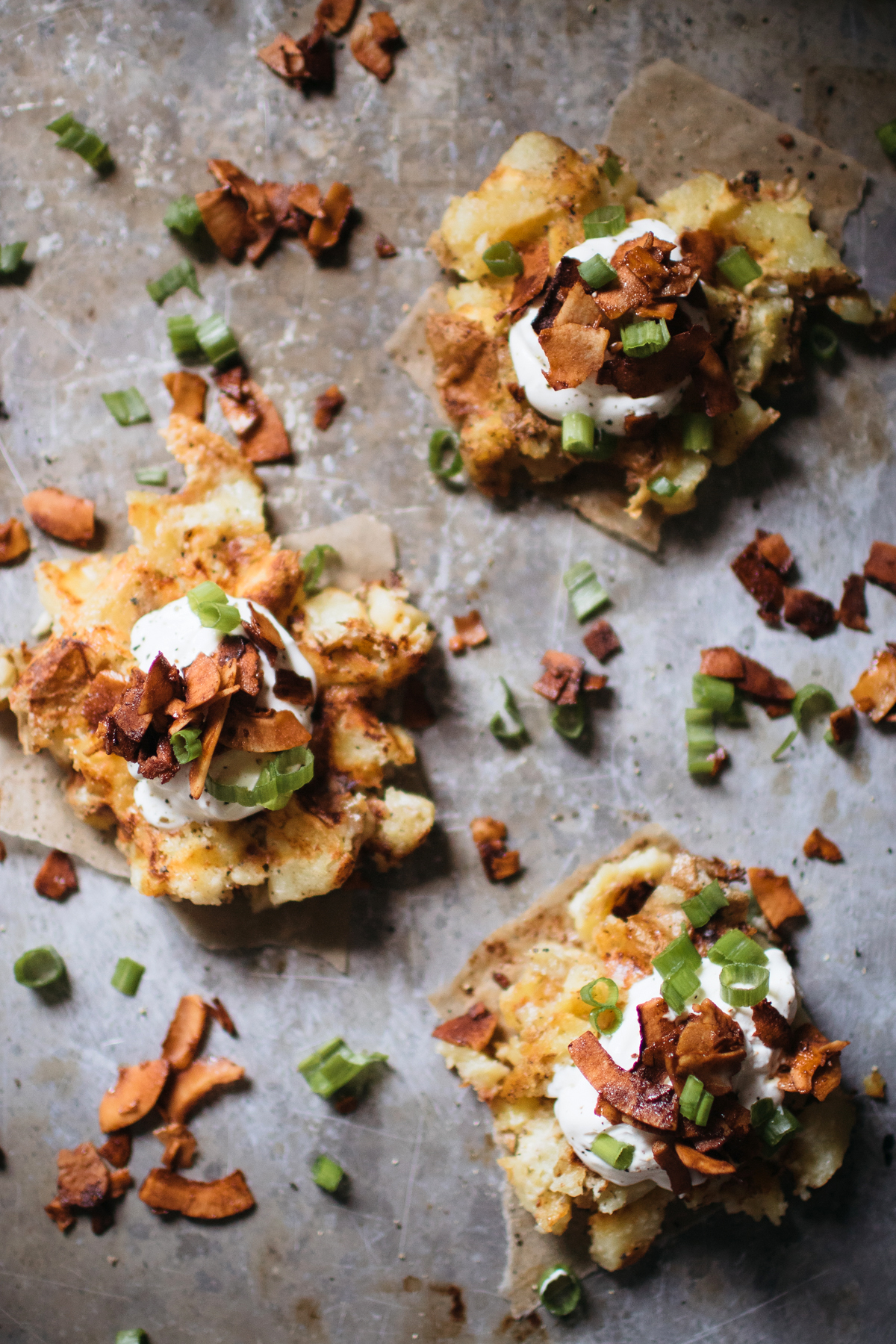 Vegetarian Baked Potato Waffles With Coconut Bacon
In a hurry? Click here to JUMP TO RECIPE!
A comfort food recipe feels appropriate for the first day of fall, no? We spent this past weekend visiting eating our way through Chicago and it felt so good to be back in the windy city. I spent a lot of time wandering the streets of Wicker Park in high school (since I grew up in the suburbs) but we don't really find time to go up there much now that it's much farther away.
While visiting, I found myself walking into every bakery we passed and ended up stumbling into an amazing diner / bakery over by Permanent Records while we were waiting for our dinner reservations to be ready. I only devoured a little french toast cakeball (which was, no surprise, A-MAZ-ING) but I glanced through their entire menu while we sat around waiting. Beside there being breakfast bahn mi sandwiches and an Elvis brunch platter, there was a mention of baked potato waffles that stuck with me for the next few days. I have no idea of how they serve theirs but this recipe is how I imagined the vegetarian version of it when reading the menu.
To make my version vegetarian, I used all the traditional loaded potato ingredients except I used coconut bacon for the meat. I won't preach too much about coconut bacon because it's been done before but DAYUUUMM. I'm so beyond addicted to this stuff! I had already ate half of it by the time I got around to shooting these photos. Serious hats off to whoever came up with such a genius idea!
I recommend making the waffles about half the size of what you usually do for waffles since they are a bit more fragile and tend to fall apart more easily. These waffles can also be easily whipped up with any leftover mashed potatoes you have on hand! Enjoy as is for a delicious vegetarian meal or swap in the usual suspects (earth balance for butter, vegan sour cream, vegan cheese) to make vegan.
Vegetarian Baked Potato Waffles With Coconut Bacon recipe below: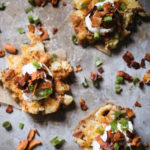 Vegetarian Baked Potato Waffles With Coconut Bacon
A vegan twist on a baked potato with coconut bacon and potato waffles.
Ingredients
8

wax potatoes

, rinsed

1

Tablespoon

butter + more for greasing the waffle iron

1/2

cup

sour cream + more for topping

1/4

cup

cheddar cheese

, shredded

salt

pepper
For the coconut bacon:
1

cup

large coconut flakes

1

Tablespoon

liquid smoke

½

tablespoon

soy sauce

1

Tablespoon

maple syrup

Chives

, diced & for garnish
Instructions
For the waffles: Preheat oven to 425. Poke the potatoes all over with a fork and transfer to a baking sheet. Bake for 30 minutes or until a knife can easily pierce through the potatoes. Remove from oven and let cool slightly.

Use a fork or mash potato smasher to mash the potatoes into little bits (I like mine chunky but you can mash them even further into mashed potato consistency, if you'd prefer). Fold in sour cream, cheddar cheese, salt, and pepper.

Preheat your waffle maker according to the manufacturer's instructions and grease with butter. Turn the waffle iron to it's highest setting (potatoes tend to take a little longer than your normal waffle!). Once the waffle iron is ready, use 2 Tablespoons worth of batters for each waffle and cook according to the manufacturer's instructions. Once ready, set aside and cover with a paper towel to keep warm.

For the coconut bacon: preheat oven to 325 degrees and line a baking sheet with parchment paper. Combine the liquid smoke, soy sauce, and maple syrup in a bowl. Fold the coconut flakes into the smoke mixture until they are completely coated with the sauce. Transfer to the baking sheet and spread out onto a single layer. Baked for 20 minutes, shaking and stirring the flakes every 3-5 minutes to prevent from burning (do it more frequently towards the end as they are very prone to burning right before ready).

To serve: top each waffle with a dollop of sour cream, a tablespoon coconut bacon, and chives.