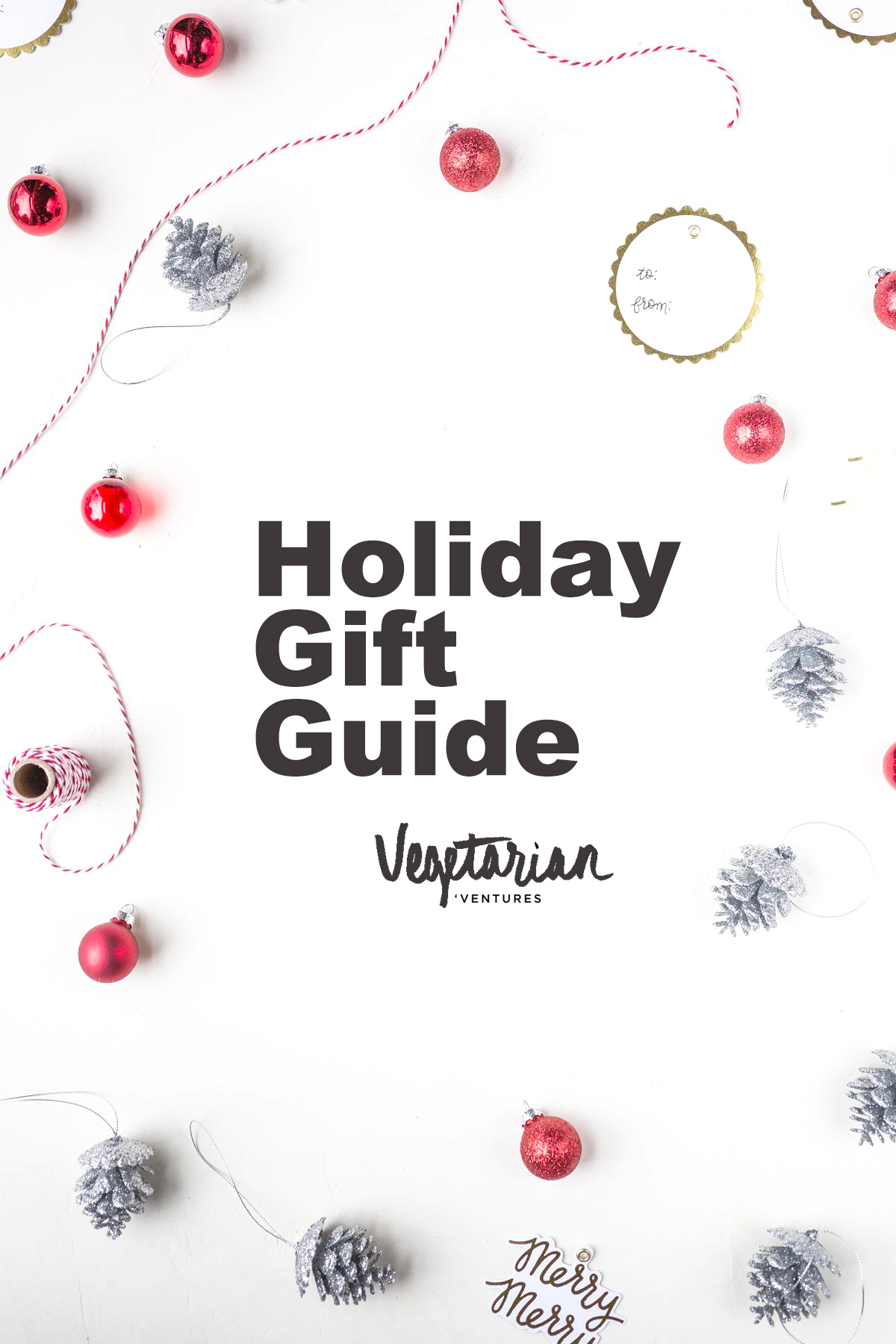 A vegetarian gift guide with holiday kitchen, home, fashion, and stocking stuffers ideas for the vegetarian in your life.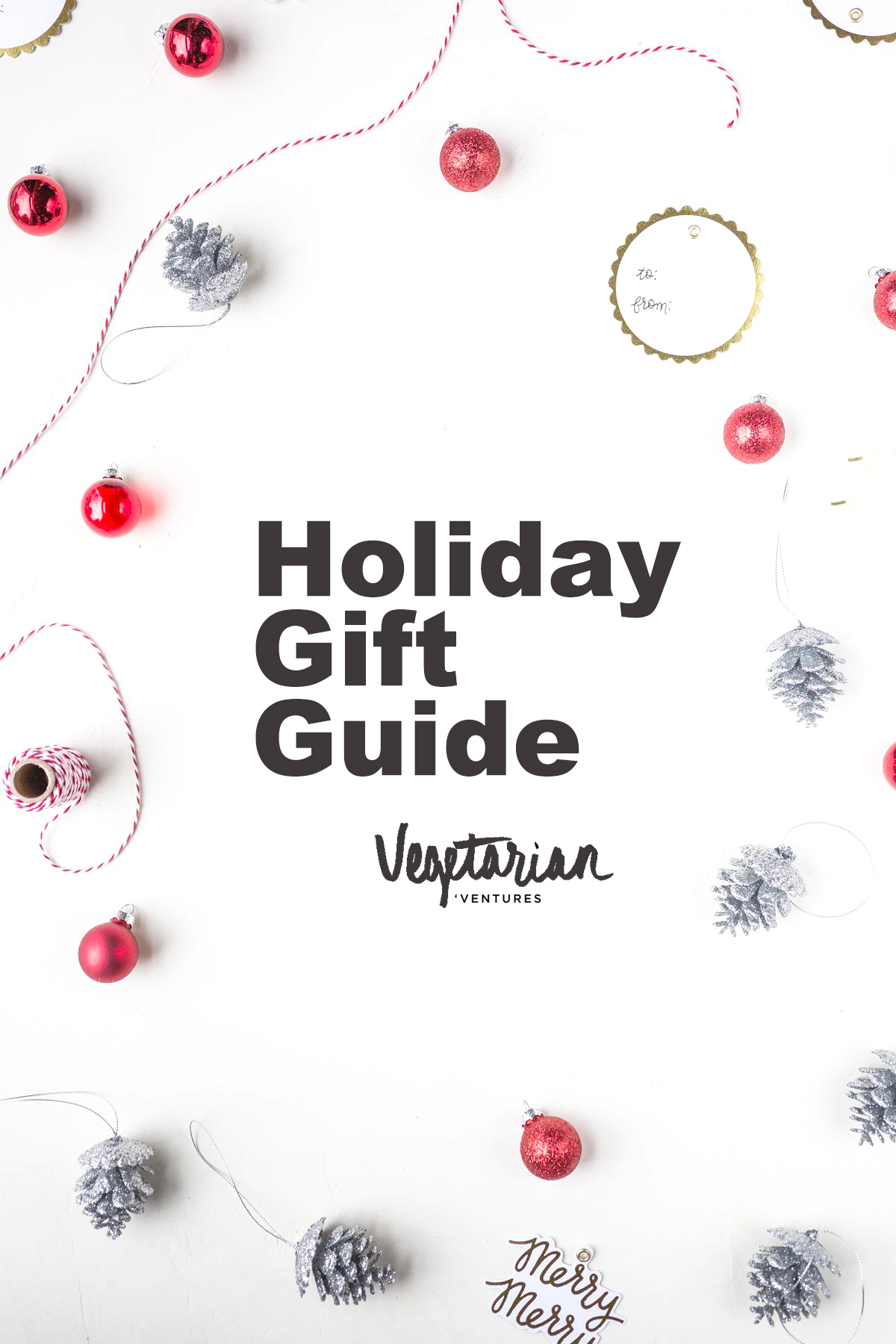 And here we are again – already at the last month of the year. Seriously, 2016, where in the world did you go? Last year's vegetarian gift guide focused on cruelty-free brands and shopping locally. I, of course, included some of my favorite cruelty-free (read: doesn't test on animals) brands again this year (vote with your money!) as well as favorite cookbooks for helping you thrive on a cruelty-free diet and a few favorites from small brands and makers.
In addition to the vegetarian gift guide, I'm so excited to also introduce a GIVEAWAY! It features a ton of the items featured in this guide! I really really appreciate you for following along with VV and want to say thank you in the form of this giveaway! I'm giving over $300 worth of gifts to one lucky reader so make sure to scroll all the way down and enter! And THANK YOU again for being a part of this community. <3
Vegetarian Gift Guide:
Stocking Stuffers:
Rescue Chocolate: This chocolate has become a staple in my family's stocking. Pretty sure I even mentioned them in my gift guide last year but it's just too great of a company not to bring up! 100% of their net profit goes to animal rescue organizations around the country. If that is not the best excuse to buy chocolate than I do not know what is!
Bob's Red Mill flours: It's no secret that I am a huge fan of Bob's Red Mill flour and I use their all-purpose flour almost daily. If you know someone who loves to bake, I recommend sneaking a few fun types of flours they probably don't usually get the chance to bake with in their Christmas stocking. I'm talking quinoa, hazelnut, coconut, and all sorts of less common types of flours that are perfect for the baker that likes to experiment! Each bag even has a recipe on the back to get you started.
Dog for Dog: Planning to buy your pup a ton of gifts? Each purchase made at Dog for Dog is matched with that equal amount and donated to a puppy in need. Just imagine, not only will your pooch be brimming with happiness but another dog will also get that same treat thanks to you!
Cruelty-free cleaning supplies: Living in a 900 square foot home that also operates as a photography studio, test kitchen, and home recording studio just doesn't leave a whole ton of space for "junk". That is why I always hope for only practical gifts and why I am more than excited to receive much needed cleaning supplies in my stocking! Not to be that pushy friend but I also find it a great opportunity to introduce my family to cruelty-free (products that don't test on animals) home products such as Method, Tom's of Maine, & Dr. Bronner's.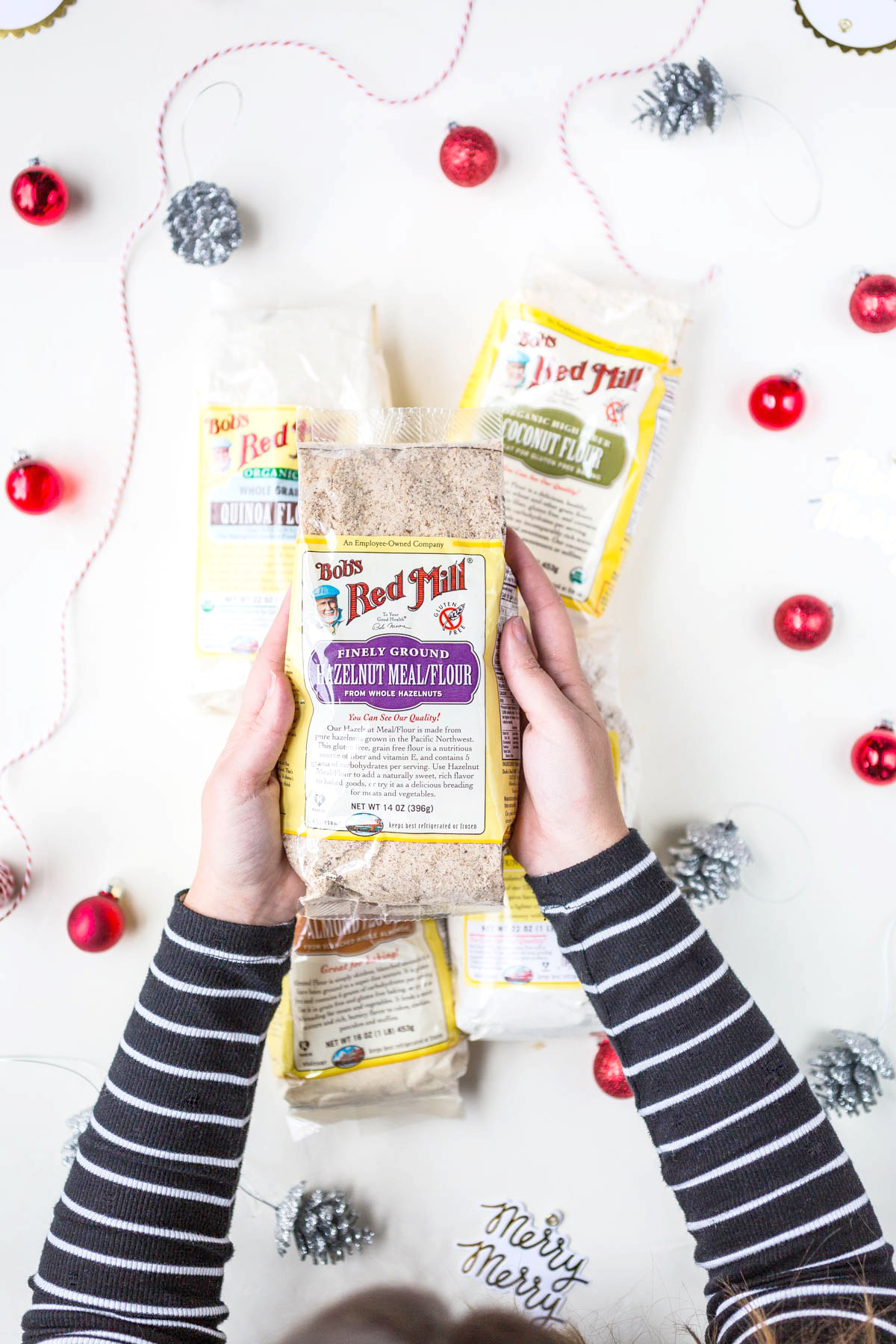 Cookbooks:
Veganomicon: The Ultimate Vegan Cookbook by Isa Chandra Moskowitz and Terry Hope Romero. Back when I was growing up in a small Midwest town, Isa introduced me to a world of meat-free options through her cookbooks. This encyclopedia of vegan fare is an essential for anyone looking to incorporate less animal products into their diets.
A Modern Way to Cook: 150+ Vegetarian Recipes for Quick, Flavor-Packed Meals by Anna Jone. Anna Jones has made her way into my heart as my favorite current veg author. Her food is approachable, minimalist, flavorful, and straight up delicious.
How to Cook Everything Vegetarian: Simple Meatless Recipes for Great Food by Mark Bittman. Any new vegetarian should start with this book. Mark shows you everything from how to cut vegetables to how to cook them into delicious meals.
The New Vegetarian Cooking for Everyone by Deborah Madison. With more than 1,600 recipes in this book, you can't own this cookbook and ever let anyone ever tell you again that eating meat-free is limiting. This cookbook is another must for all vegetarians.
Vegan Holiday Cooking from Candle Cafe: Celebratory Menus and Recipes from New York's Premier Plant-Based Restaurants by Joy Pierson and Angel Ramos. I find the holidays to be some of the hardest times to have a specific diet. I love how this book helps you navigate through those holidays without having to feel like your plate is lacking compared to your meat-eating relatives.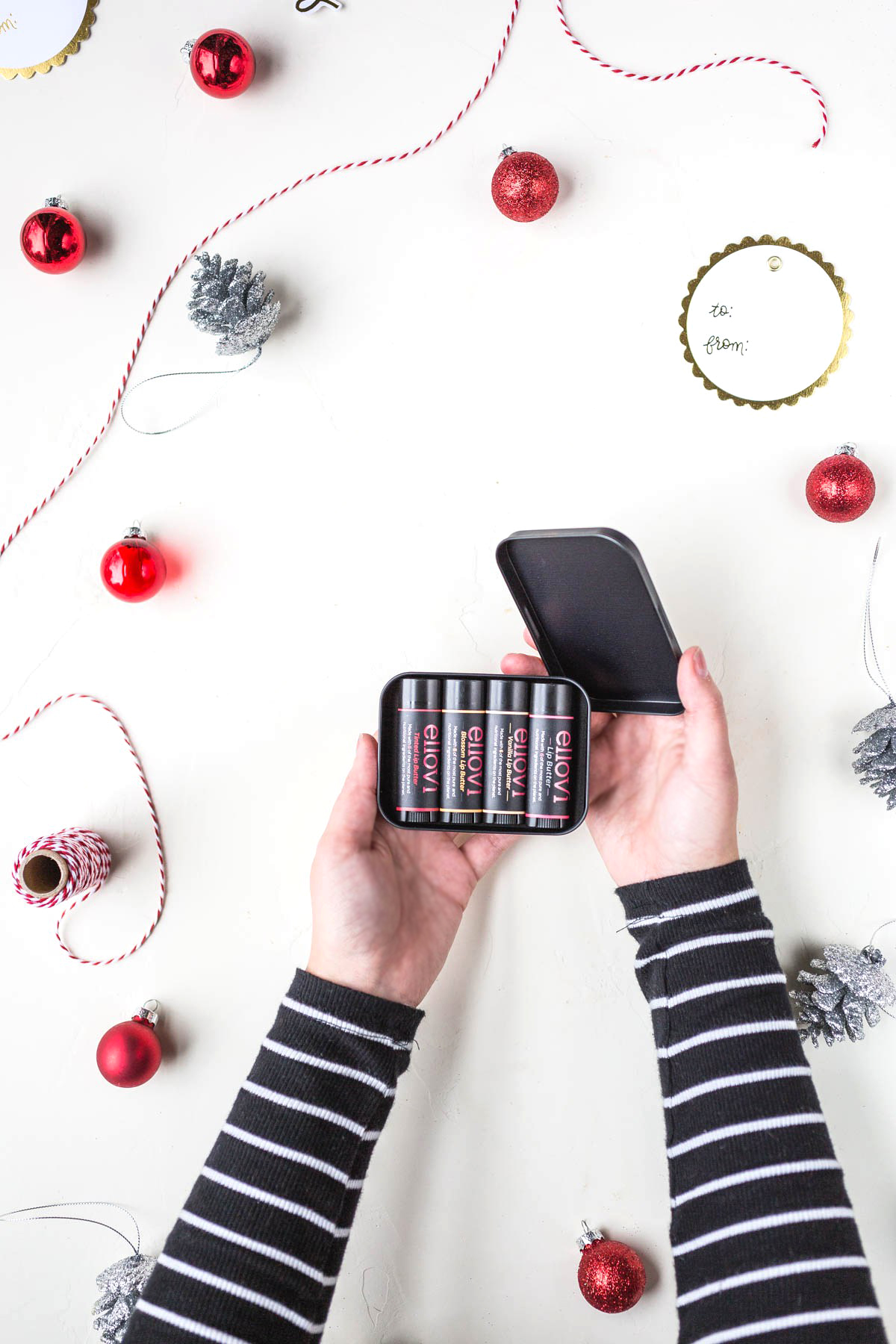 Fashion & Beauty:
Ellovi: I featured Ellovi last year as well but had to come back to them because I'm such a fan. This animal loving company's newest addition is a line of amazing lip butters. Ellovi products are made with natural ingredients and they come in an array of flavors. My favorite is the blossom one but they are all worth trying.
Lush: The animal activist in me just can't not promote this brand. Lush not only refuses to test on animals but they also have yearly campaigns that help raise awareness about the abuse of animal testing. I use their American Cream conditioner often and also really love their lipsticks.
Meow Meow Tweet: This vegan skincare line has the best packaging I've ever come across from a body care line. To be honest, I haven't actually used any of this brand yet; with that being said, I am excited to order a few things to support this ridiculously cute vegan line.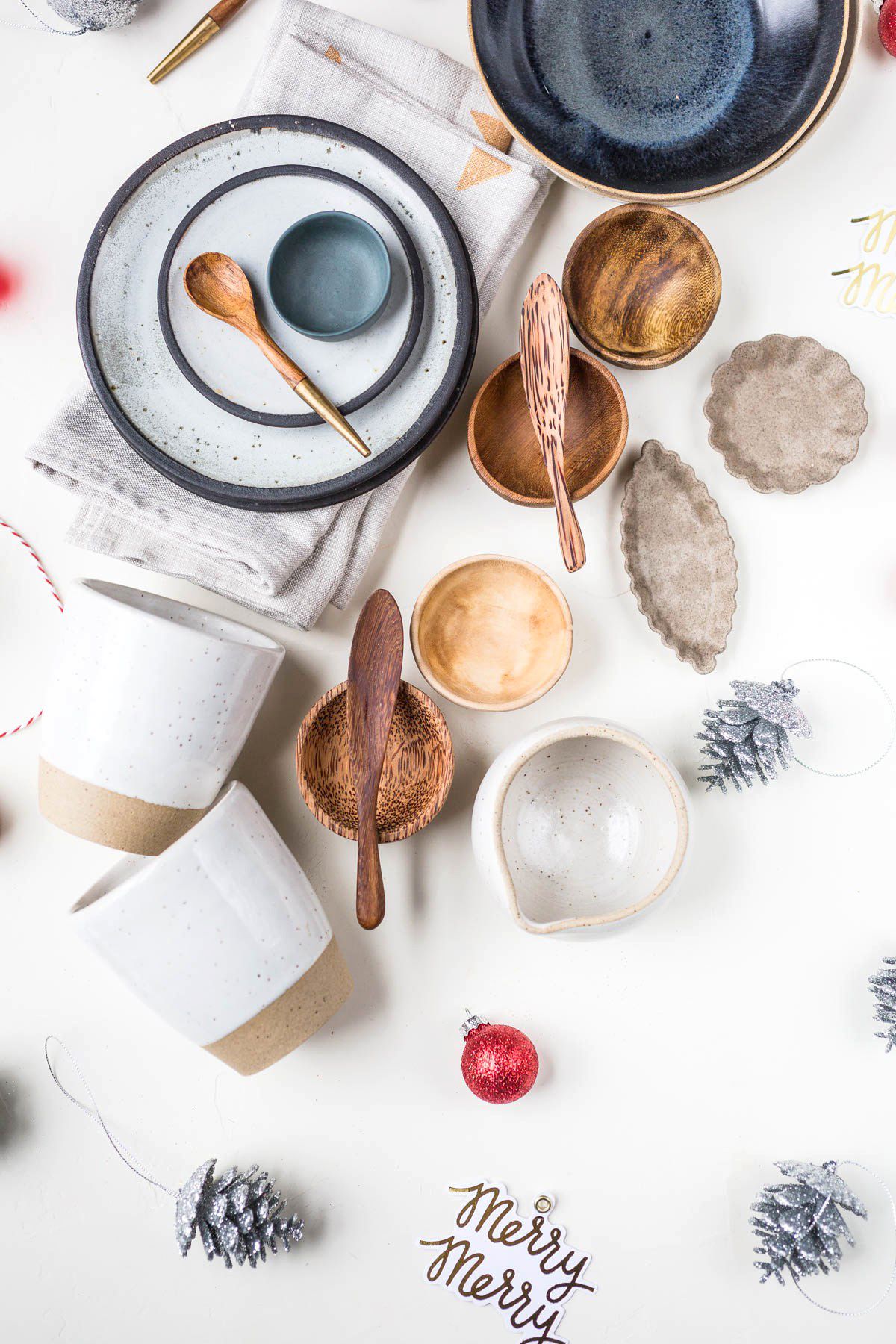 For the Kitchen:
Bomisch
: I collaborated with Bomisch last month for bring you all an incredible
Thanksgiving spread
and am still so smitten over their stuff. Not only is the founder a vegetarian (booyah!) but her style is beyond on point. I literally use these little wooden bowls daily and can't get over how cute the triangle napkins I have are.
Mariella Luz ceramics
: Another classic when it comes to my photography, I use Mariella's ceramics more often than any other ceramics I own. I was so into the set of bowls she sent me earlier this year that I turned around and immediately ordered my mom one for Mother's Day. Her ceramics are simple yet durable (dishwasher safe!) and some of the most reasonable priced pieces I've come across.
Kate Lewis Made
– This vegan stylist has a lot of very unique pieces that I'm pretty madly in love with. They are a little in the splurge price range but they are also pieces that I plan to keep forever.
Herriott Grace
– If there is a time to splurge, it's for the holidays…am I right? Or at least to ask your parents to splurge on you. Herriot Grace's stuff is pricey, to say the least, but it's so stunning. I mean a kitchen isn't complete without a $225 cake board, right?
Now that you've read my vegetarian gift guide, what are some of the gifts on your wish-list?
---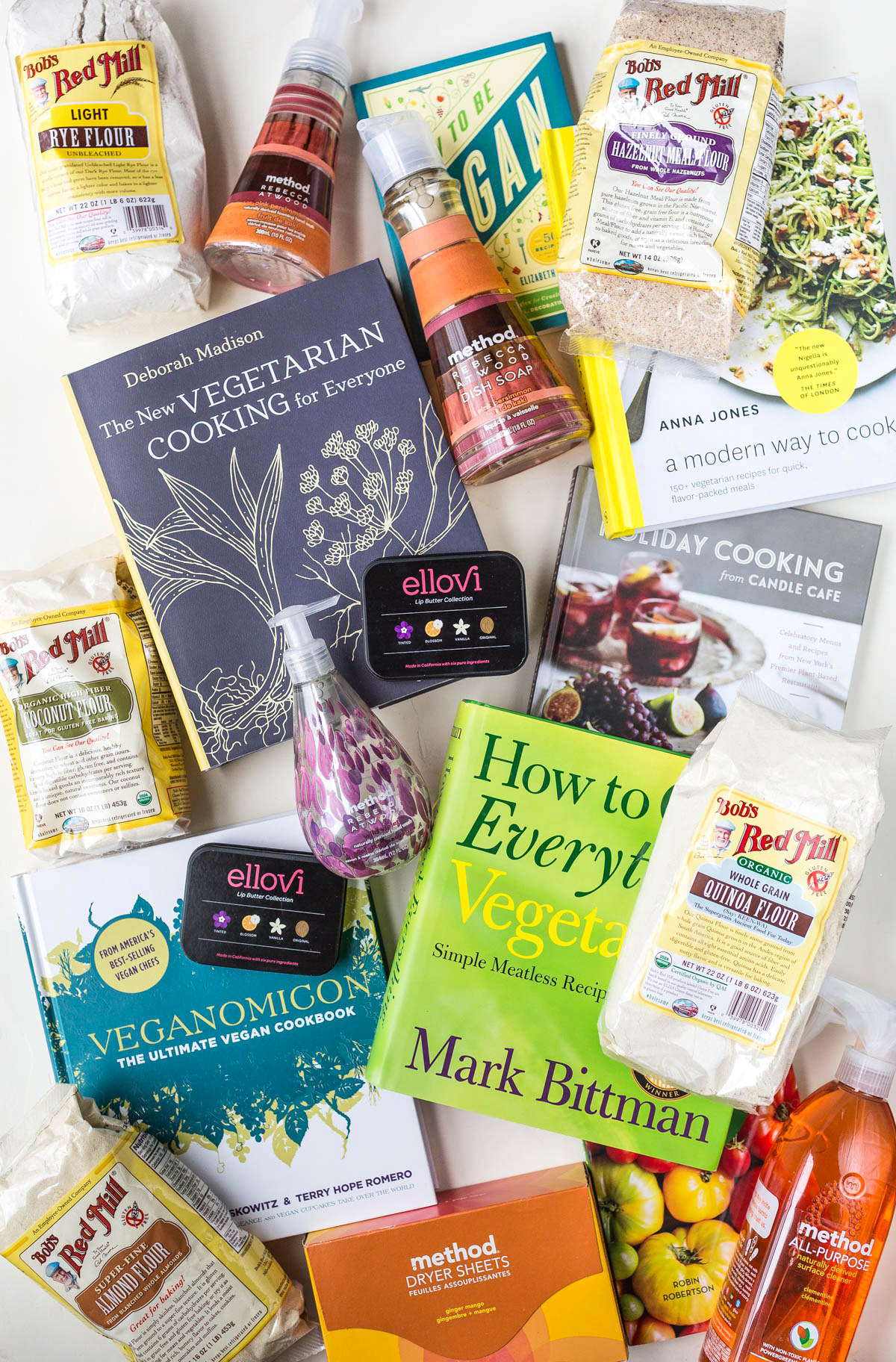 See that photo above here? That is everything included in my VEGETARIAN GIFT GUIDE GIVEAWAY BUNDLE that I am sending to one lucky reader. Giveaway Bundle includes the following:
Veganomicon: The Ultimate Vegan Cookbook by Isa Chandra Moskowitz and Terry Hope Romero
A Modern Way to Cook: 150+ Vegetarian Recipes for Quick, Flavor-Packed Meals by Anna Jones
How to Cook Everything Vegetarian: Simple Meatless Recipes for Great Food by Mark Bittman
The New Vegetarian Cooking for Everyone by Deborah Madison
Vegan Holiday Cooking from Candle Cafe: Celebratory Menus and Recipes Joy Pierson and Angel Ramos
How to Be Vegan: Tips, Tricks, and Strategies for Cruelty-Free Eating, Living, Dating, Travel, Decorating, and More by Elizabeth Castoria
100 Best Vegan Recipes by Robin Robertson
TWO Ellovi Lip Butter bundles
1 package of Bob's Red Mill Hazelnut Flour
1 package of Bob's Red Mill Rye Flour
1 package of Bob's Red Mill Almond Flour
1 package of Bob's Red Mill Coconut Flour
1 package of Bob's Red Mill Quinoa Flour
Bundle of Method Cleaning supplies
The giveaway is open until Thursday, December 15th and winner will be selected on Friday, December 16th. Please note that you must be a US resident to enter and must be 18 years of age. Now go enter!!
Disclaimer: I was not paid by any of these brands to feature their items in my vegetarian gift guide. You will notice several brands on this guide that I collaborated with throughout the year because these are the brands I trust and use. I also did reach out to certain brands after I made my gift guide list and receive some free products to use in this giveaway. All opinions are my own, of course!