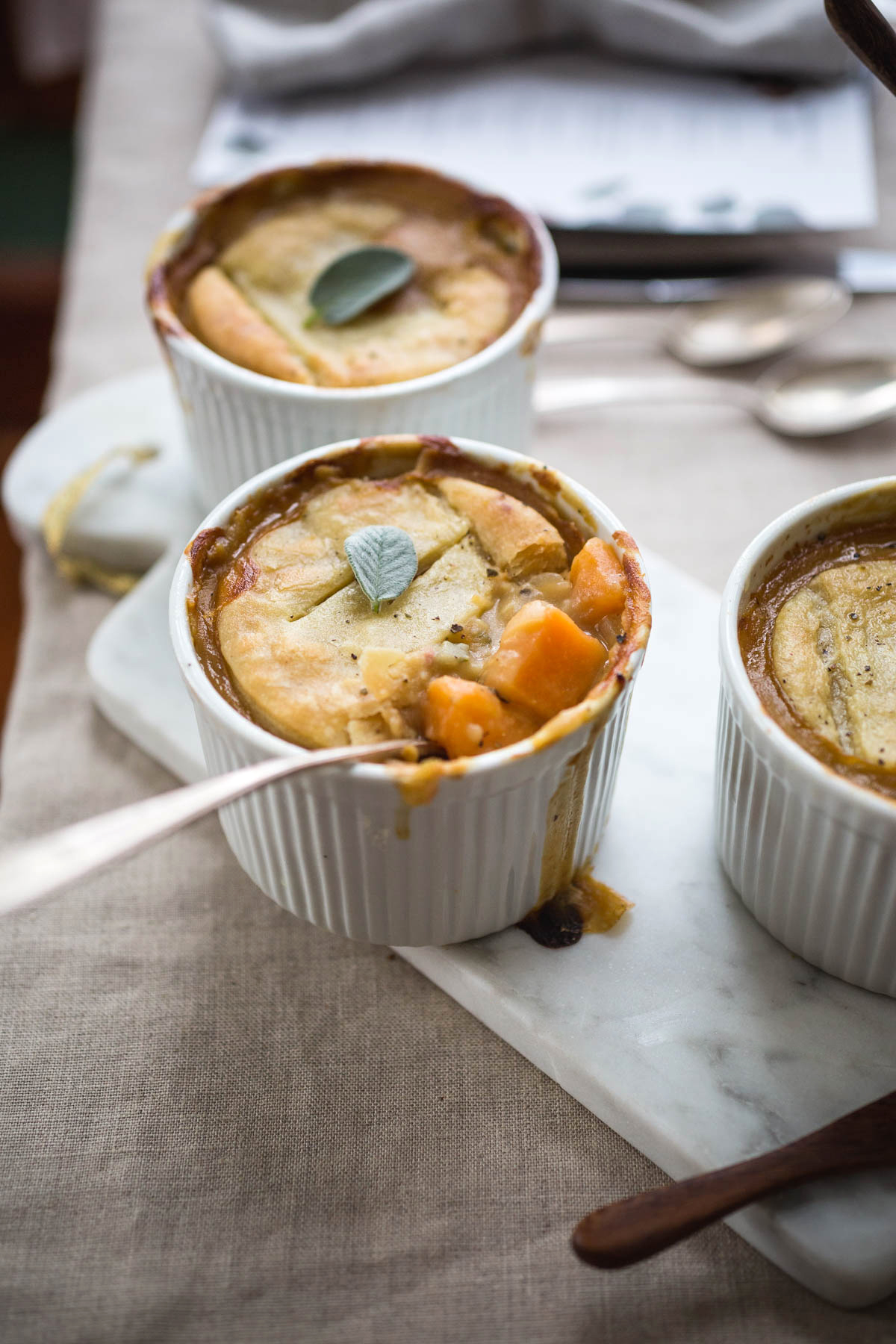 Vegetarian Thanksgiving Main Entree Recipe: Mini Pumpkin Pot Pie
In a hurry? Click here to JUMP TO RECIPE!
These Mini Pumpkin Pot Pie are the perfect vegetarian Thanksgiving main dish. They also make great weeknight meals as they can be mostly prepped ahead of time.
This post is part two of a six part series on Hosting a Vegetarian Thanksgiving. Please visit post one for the full menu and tips a hosting your own meat-free holiday.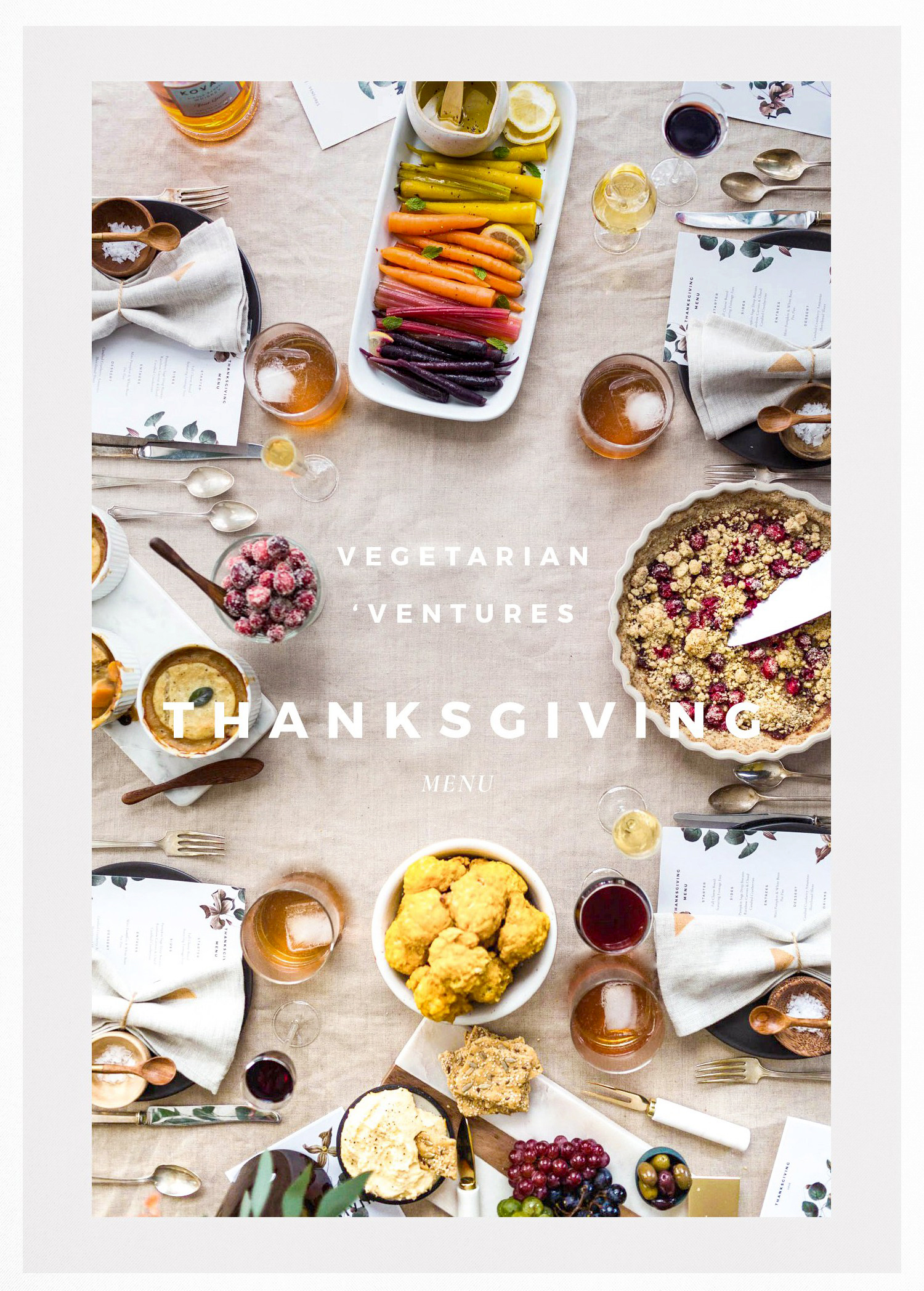 I want to cover two things in today's post: tips for setting a simple and modern table and vegetarian main recipes. In part one, we talked about general tips for hosting your own Thanksgiving and I want to dive a little deeper and talk specifically about table settings today. As a rather young woman (in my late 20s), hosting my own dinner parties was SO intimating for so long. Not only do you have to time cooking 4 to 10 dishes but you have to think about the mood and vibe at your party: how is the table setting it going to look? What kind of music will you have playing? What about the lighting? Okay, maybe the second two aren't as important to you (and that's okay) but let's at least cover the table since that is a major one. Here are my tips for setting a minimal and modern table for Thanksgiving (or any big dinner gathering, really):
Keep it neutral. Your dinner is first and foremost about the food so don't pick out a bunch of tabletop items that are going to distract from the natural beauty of your dishes. I opted for a light beige tablecloth with beige napkins and wood and marble utensils. White, cream, grey, brown, and maybe even a light mustard would work well here.
Pick a few favorite items and create the theme around them. I created my table setting around these gorgeous beige napkins and little salt bowls so I made sure to pick out a table cloth that matched the napkins and utensils that went well with the wood. A lot of people may choose items based on a big centerpieces they have picked out which is also a great way to go. I personally ended up just picking out some orange flowers that I knew would work well with the beige and give it a little bit of a Thanksgiving vibe (without looking too cheesy).
Create a paper menu. It's crazy how placing a menu on your guests plates can take the vibe from casual get together to full on fancy dinner party. I created the menus for this spread by purchasing a wedding package (YUP, who would have thought?) that included a menu template from CreativevMarket.com and then got it printed at a local printer (Kinkos should work if you don't have a local place). It was an extra $20 expensive that I'll be using over and over again.
Set a formal place setting. Do you know which side the knife goes on? What about the wine glass? Would you judge me if I told you that I had to google that? Because, well I did. And I know none of my friends would have noticed if it was wrong but my grandma sure would have said something when she sat down. If you have the silverware to set a full on formal setting, I'd say go for it but don't feel pressured to go out and buy a soup spoon set and salad forks. If you don't have them already then go that route – it'll still look great if you set it up right! Use this chart to set your table correctly.
Don't overcrowd the table with decorations. I've been to so many parties where the guests had to spend a few minutes before eating clearing the decorations from the table so there was room for food which just seems silly! Stick to a simple centerpiece and maybe a few candles so there is plenty of room for the main event – the food!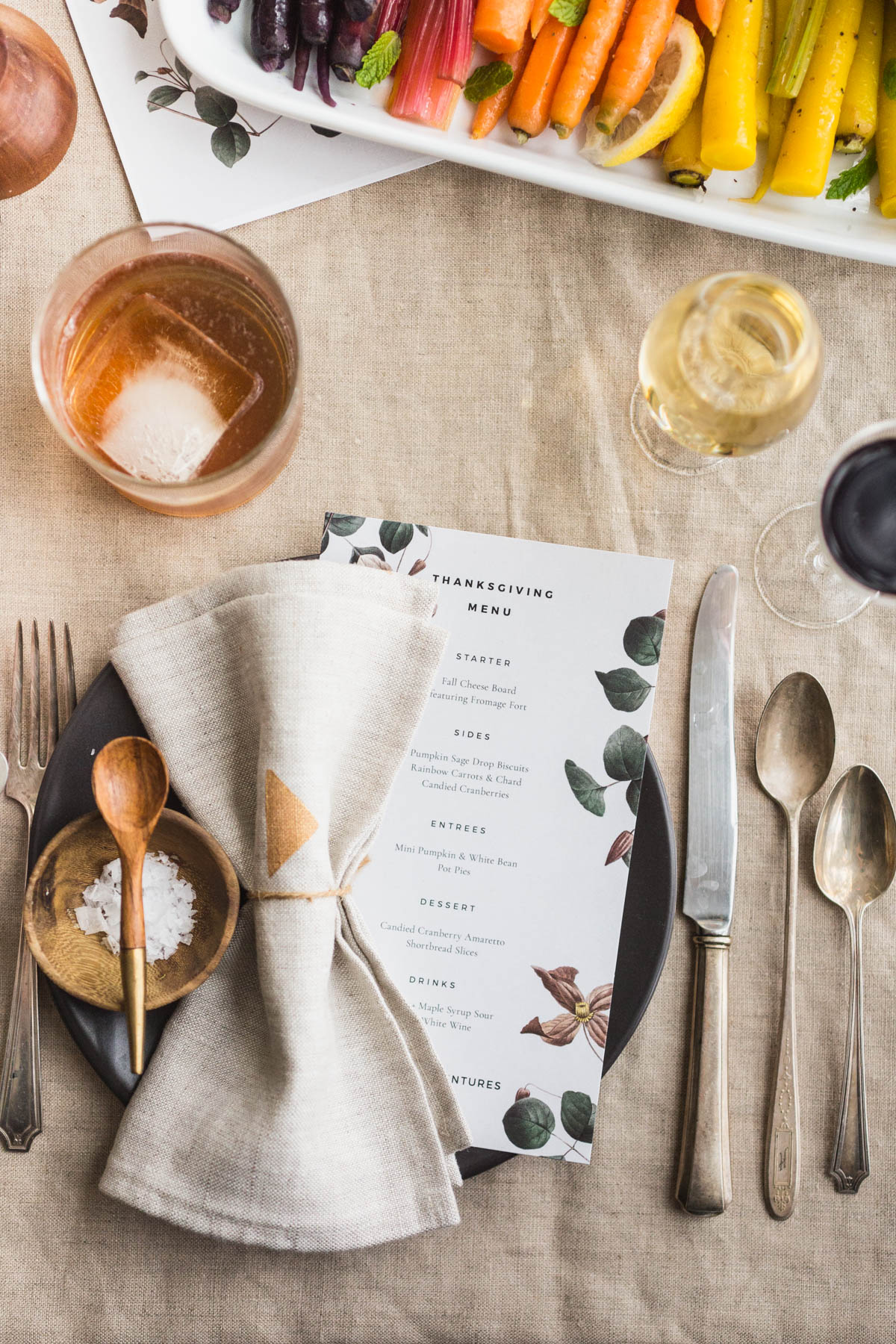 Now onto this vegetarian Thanksgiving main dish! These Mini Pumpkin Pot Pies are perfect to round out your menu. The filling can be made the night before and then refrigerated until ready to assemble and bake. I also used pre-made puff pastry as it'll cut down on prep time and, to me honest with ourselves, who can really get their homemade dough as flaky? It's also an easy recipe to double or even triple depending on your guest count. I used half a box of puff pastry to make 4 pies so easily double this recipe for a serving of 8 without having to buy more pastry.
Savory Pumpkin Pot Pie not your thing? Here are a few other Vegetarian Thanksgiving Main ideas:
Vegetarian Thanksgiving Main Entree Recipe For Mini Pumpkin Pot Pie below: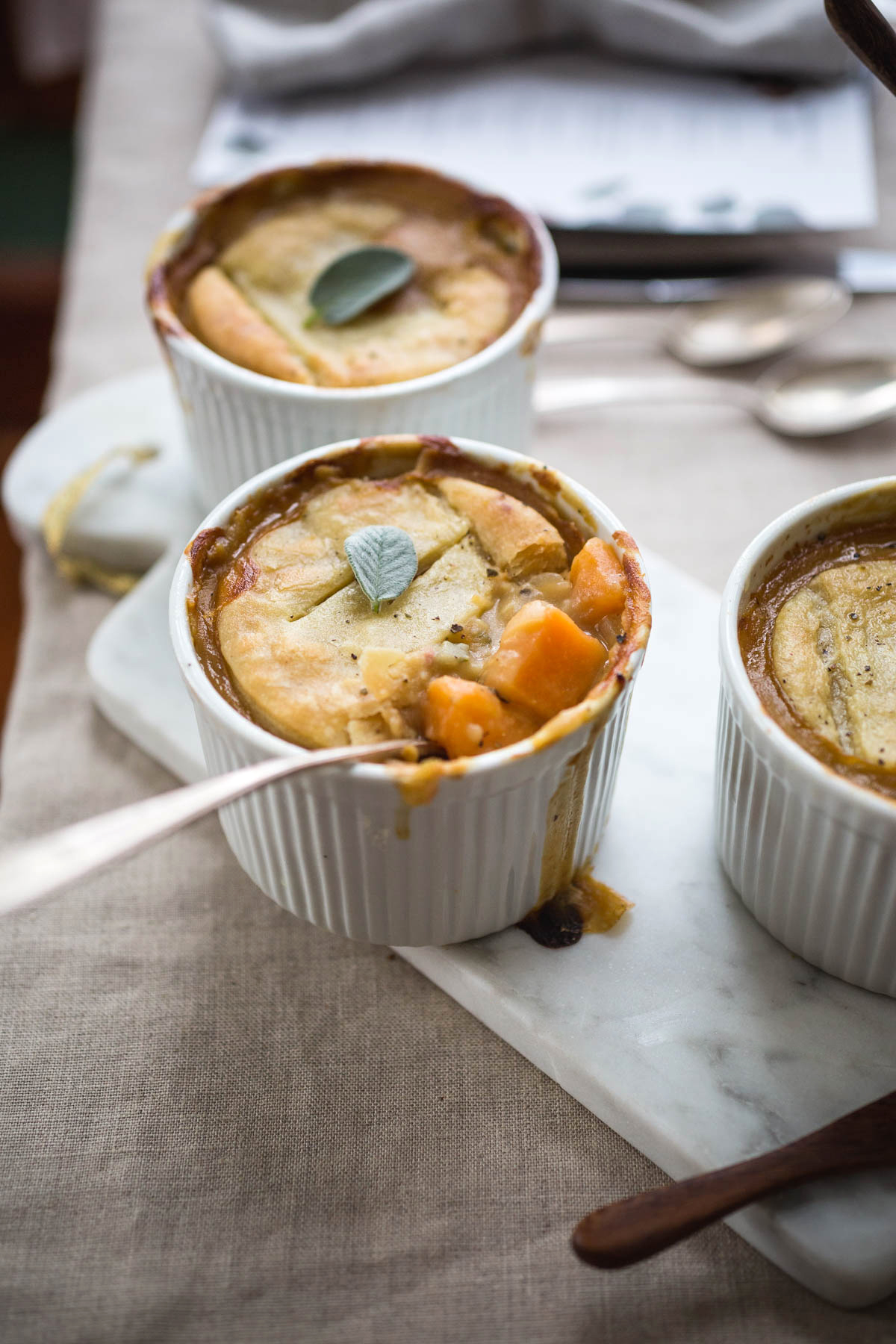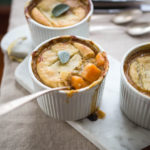 Vegetarian Thanksgiving Main Entree Recipe: Mini Pumpkin Pot Pie
These Mini Pumpkin Pot Pie are the perfect vegetarian Thanksgiving main dish. They also make great weeknight meals as they can be mostly prepped ahead of time. / Recipe adapted from Earthy Feast & The Kitchn.
Ingredients
3

Tbsp

unsalted butter

1

sugar pumpkin

, peeled and deseeded and chopped very small

1

sweet onion

, diced

2

celery ribs

, diced

1

carrot

, diced

2

garlic cloves

, minced

1/4

cup

frozen peas

2

tsp

chopped sage

1/4

cup

all-purpose flour

2

Tbsp

soy sauce

1 1/2

cups

vegetable broth or water

1-15

oz

can of white kidney beans

Salt / Pepper

1

sheet of puff pastry

, thawed
Instructions
Melt butter in a large stockpot over medium heat. Add pumpkin, onion, celery, and carrots and saute until soft, about seven minutes. Add garlic clove, peas, and sage and saute for another thirty seconds. Add flour and saute until vegetables are completely coated. Slowly pour vegetable broth while whisking vegetables to create a thick roux. Mix in kidney beans. Season with salt and pepper. Divide between 4 12 oz ramekins.

Preheat oven to 375 degrees. Roll out the puff pastry and place the ramekins over the puff pastry. Use a sharp knife cut out a circle in the same size as the ramekin and repeat for all four pies. Place the puff pastry over the pies and cut a slit into the top of each puff pastry piece. Bake for 12 to 15 minutes or until puff pastry is browned on top.
Nutrition Facts
Vegetarian Thanksgiving Main Entree Recipe: Mini Pumpkin Pot Pie
Amount Per Serving
Calories 596
Calories from Fat 288
% Daily Value*
Fat 32g49%
Cholesterol 22mg7%
Sodium 1046mg45%
Potassium 1462mg42%
Carbohydrates 69g23%
Protein 11g22%
Vitamin A 32125IU643%
Vitamin C 40.2mg49%
Calcium 118mg12%
Iron 5.5mg31%
* Percent Daily Values are based on a 2000 calorie diet.
Below are the goodies that I was sent from Bomisch (which was what inspired me to make a Thanksgiving spread to begin with!) – make sure to check out their website for holiday table inspiration and goodies!