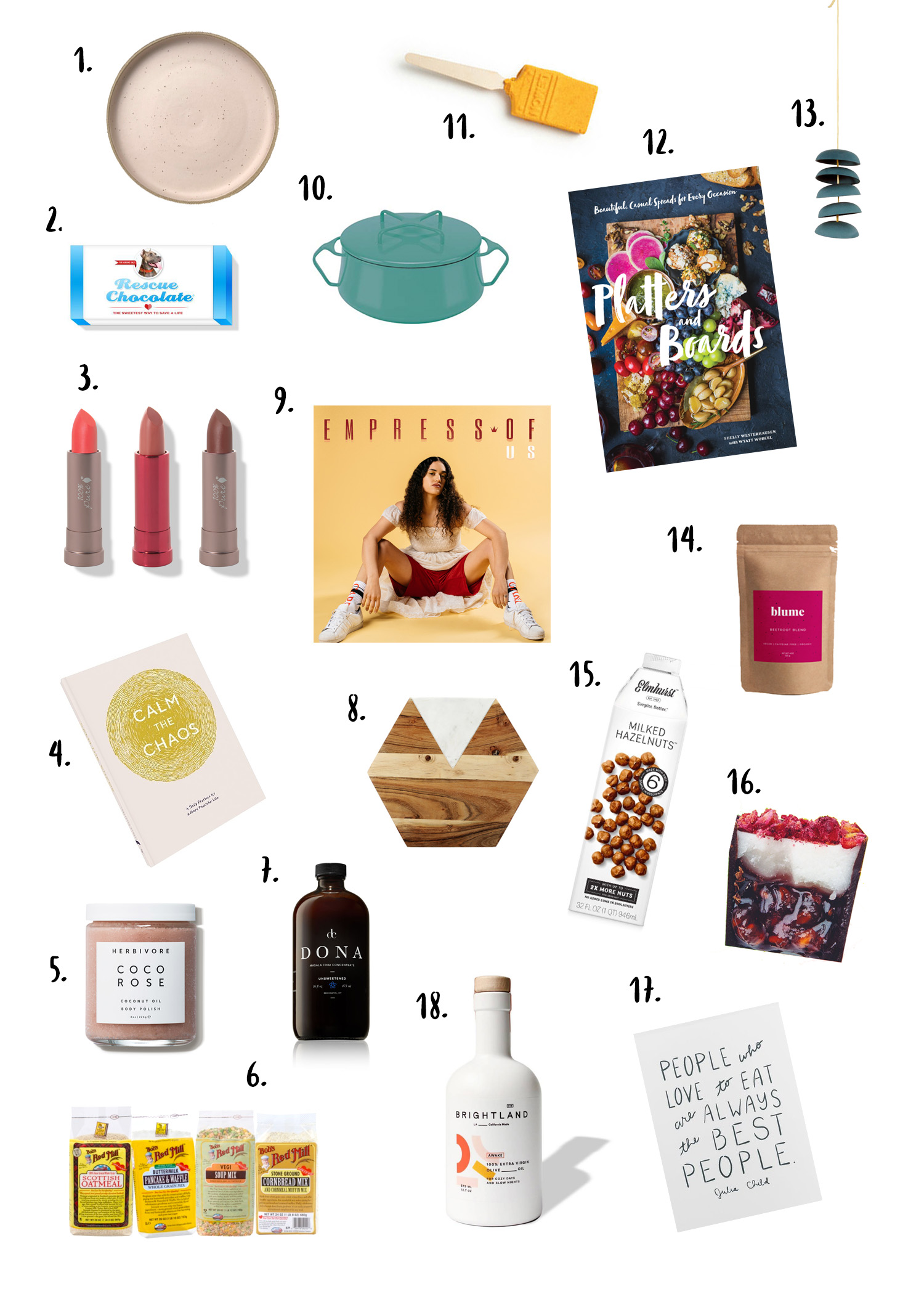 Vegetarian Ventures 2018 Gift Guide (All Under $50!)
Here we are again! It's already the holiday season and time to pick out the perfect gift for everyone on your list. Luckily for you, I've went ahead and piled a list of 18 gifts under $50 that would be perfect for almost every women in your life – whether she is an obsessive cook, all-natural beauty goddess, design forward homebody, compassionate animal lover, or giver that already has everything (see giving options below for more ideas for that one!).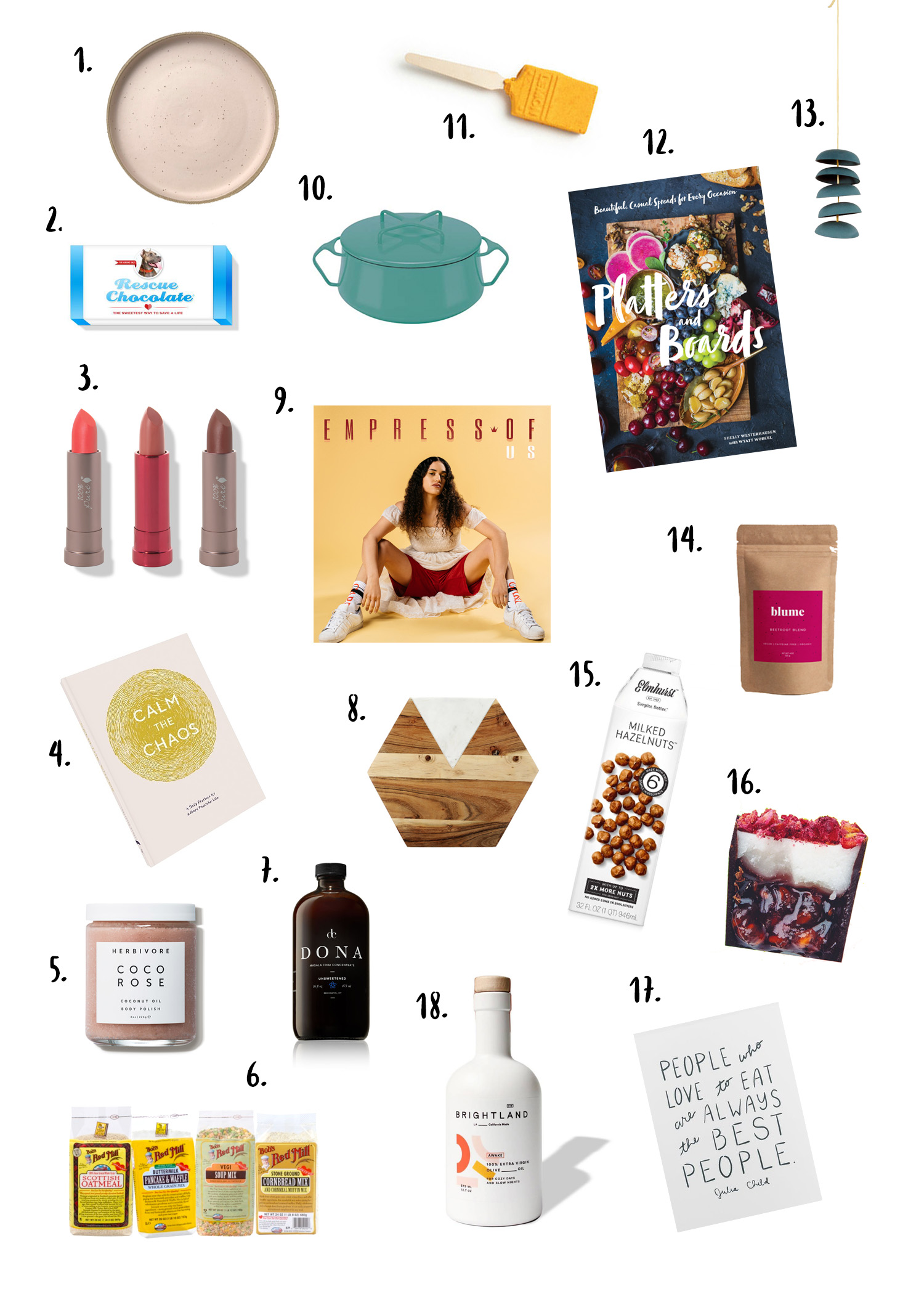 Light Pink Ceramic Dinner Plate from M. Bueno Pottery, $30 | Mariella is a good friend but I promise that is not the only reason I love her ceramics – they really are more durable and well crafted than most I purchase from small makers. The plates she has available on her web-store are white but you can custom order these pink ones!

Forever Mocha Bar by Rescue Chocolate, $6 | Who doesn't like chocolate? And this one is even better because a portion of the profit goes to animal organizations! Win win!
Fruit Pigmented Lipstick 100% Pure, $29 | All natural beautiful lipstick made with fruit pigment and cocoa butter. What is not to love?

Calm The Chaos Journal on Chronicle Books, $14.95 | Perfect for anyone you know who likes to write or is looking for a new self-care activity.

Coco Rose Body Polish by Herbivore Botanical, $36 | Dry skin doesn't have to be the winter normal with this highly moisturizing and exfoliating body polish.

Breakfast & Lunch Pack from Bob's Red Mill, $15.26 | If you think throwing a bag of grains or flour into a stocking is a silly thing to do then you have never met someone as serious about their food as I am. Skip the unless plastic dollar store stocking stuffers that will be in the trash in a few days for this pack of breakfast and lunch items from Bob's Red Mill.

Dona Masala Chai Set, $26 | I'm a huge fan of chai but am always disappointed by concentrate you find in stores or at coffee shops because it's much too sweet and not enough spice. This chai will not disappoint!

Wood & Marble Hexagon Board via Wayfair, $35.99 | This would be a great gift for the entertainer in your life. And it would go even better bundled with my second cookbook, Platters and Boards. : )
Empress Of 'US' vinyl via Terrible Records, $21 | I'm a huge fan of gifting music and giving a record as a gift is a great way to let them know you are paying attention to what they are listening to. I personally have been loving this Empress Of record!
Dansk Kobenstyle Teal Casserole, $49 | Functional and beautiful – what more could a home cook ask for?
Lemon Bubble Brush from Lush Cosmetics, $7.95 | We all know the holiday season can be stressful so why not gift a few of these that will be perfect to use on a calm and chilly January night?
Platters & Boards by Shelly Westerhausen (ME!!!), $16.96 | Shameless self-plug because why not? This book makes a great gift for anyone who loves to cook, entertain, and / or look at beautiful photos of food (…which is everyone, right?).
Disc Chimes by Pigeon Toe Ceramics, $48 | I've been eyeing these charming disc chimes for awhile now and think they would look great in a minimalist living room or kitchen.
Beetroot Latte Mix by Blume, $18 (CAD) | Perfect for making homemade lattes that pack a punch. I love to enjoy this as an afternoon pick-me-up.
Hazelnut Milk from Elmhurst, $11.98 | Did some delicious milk to go with the latte mix mentioned above? My go-to this this hazelnut milk and I would be so excited to receive a few boxes of these in my stocking.
10 Piece Box of Bon Bons from BonBonBon, $30 | Insanely creative and unique chocolate made in the Midwest by a woman-owned company? Yes please!
Art print from Homeseed, $10.50 | If you follow me on Instagram then you've probably already spotting this print around my house. This print would be perfect hung up in a small frame in any kitchen!
Awake Olive Oil, $37 | This robust and flavorful olive oil is perfect for brigning your roasted vegetables or salad dressing to a whole new level. You probably won't find it at your local grocery though so it's a great treat to get a home cook for the holidays!
Does the person on your list already have everything she could possibly want? Consider donating to a great cause in her honor instead! As an animal lover, I am a huge fan of these organizations (but hope on Instagram and check out the hashtag #giftforgood to find inspiration for other organizations):