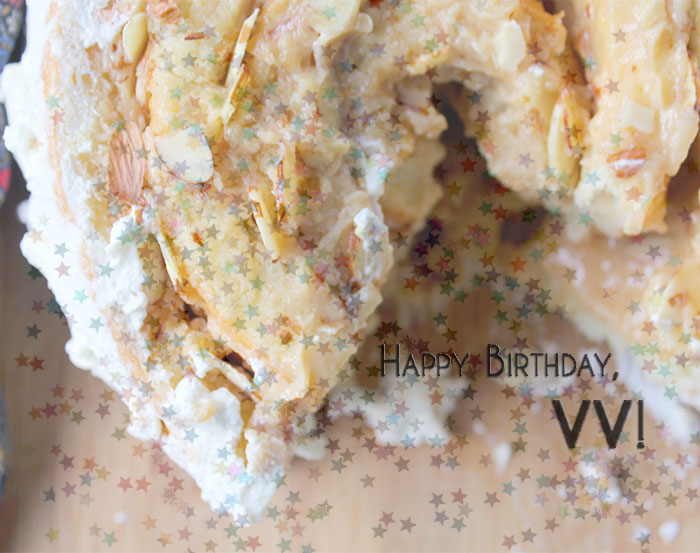 VV Turns One! // Butterscotch Roll-Up Cake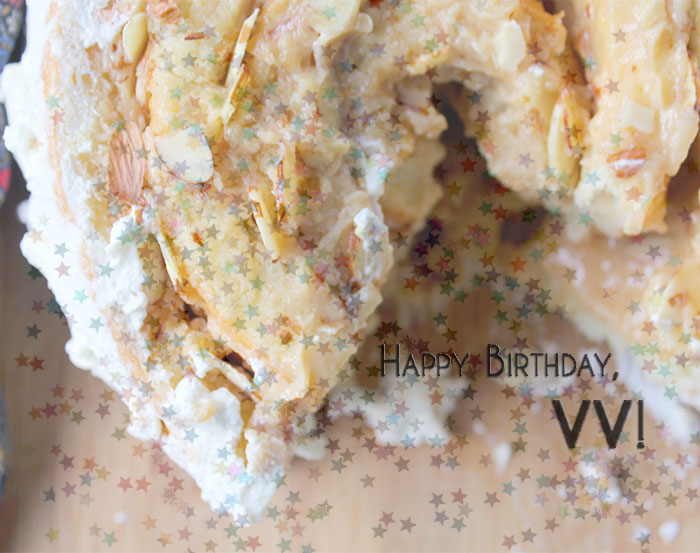 Woah! That is correct- VV has officially been around for a whole year! Pretty weird, huh? It's crazy how far we have come 200+ recipes later. Although my writing and photography skills have improved immensely, there is still so much room for improvement. That is totally exciting because it keeps things interesting and constantly makes me want to try harder.
Last year at this time I was still in school, applying for jobs in Portland and Austin, and trying to avoid thinking about my future. I would not have guessed that a year later I would still be so dedicated to my blog, living with Wyatt and our puppy (I was Tuko-less a year ago…weird), and working full-time at Secretly Canadian. All in all this has been an eventful year and I am excited to see what else the future has in store for us.
I decided to 'go big or go home' for this recipe today. It is adapted from the cutest cake book ever to exist (Vintage Cakes by Julie Richardson) and it is rather labor intensive. This cake was absolutely delicious and oh so gorgeous but please plan to dedicate a couple of hours to it! It's a 'special occasion' cake that you probably don't want to make too often.
Hope everyone has a fantastic weekend and enjoy!
Butterscotch Roll-Up Cake
Butterscotch sauce:
1/3 cup unsalted butter
1 cup brown sugar
1 cup heavy cream
1 Tablespoon whiskey
1 teaspoon vanilla extract
1 teaspoon sea salt
Cake:
1 cup all-purpose flour
1 Tablespoon cornstarch
1 cup sugar
1 teaspoon baking powder
1/2 teaspoon salt
1/2 cup canola oil
4 egg yokes (room temperature)
1/4 cup water
1 teaspoon vanilla extract
6 egg whites (room temperature)
1/4 teaspoon cream of tartar
Frosting:
1 1/2 cups heavy cream, chilled
1 cup sliced almonds
To make the butterscotch sauce: In a saucepan, melt the butter over medium heat. Add in the sugar and stir until combined. Cook, stirring regularly, until the simmers and changes from a grainy texture to a thick caramel texture (this should take about five minutes). Next, whisk the mixture as you slowly add in the cream. Bring heat to medium high and let the mixture boil (whisk the mixture often). Let boil for about 5 minutes or until it becomes thick and dark. Remove from heat and let cool for ten minutes. Whisk in the vanilla, whiskey, and salt. Stick in the fridge to cool completely.
For the cake: Preheat oven to 325 degrees. Line a 12 by 16 inch pan with parchment paper and grease the paper.
In a large mixing bowl, combine the flour, baking powder, salt, 3/4 cup of the sugar and make a well in the center of the bowl by pushing the dry ingredients to the outside. In another bowl, whisk together the oil, yolks, water, and vanilla. Pour into the center of the well and fold dry ingredients into wet until smooth.
Using a mixer with a whisk attachment, whip the egg whites on medium until frothy. Next, add in the cream of tartar and slowly increase speed to high. Whip until soft peaks begin to form and slowly add in the last 1/4 cup sugar. Continue mixing until the peaks become shiny.
Use a spatula to fold the egg whites into the cake batter until just incorporated. Pour the batter into your prepared pan and use a spatula to even it out. Stick it in the preheated oven for about 20 minutes.
While it is cooking, make the frosting: Stick your mixer bowl in the freezer for a few minutes to chill it. Next, whip the cold heavy cream with 1 cup of the cooled butterscotch on medium-low speed. Slowly turn your mixer to high and whip until light and fluffy.
Assembly time: This is when it starts to get super fun! Place your sheet of cake horizontally in front of you. Cut the cake into 4 equal part. Next, take a scissor and cut the parchment paper directly along the cut lines you just made (this will make it easier to pick the cake up by the parchment paper and help with assembly).
Please excuse the hideous counter-top and bad lighting that my landlord thought was a good idea (just took a quick snapshot to try to show you the process).
Next, spread half of the frosting onto the sheet of cake and sprinkle with half the almonds. Take one sheet of the cake and spiral it on a plate (with the frosting side facing inward). Take another sheet and continue to spiral the cake out. Repeat with the rest of the cake (this is a bit tricky but try to keep it as tight as possible so the cake does not have room to fall over).
Lather the outside of the cake with rest of frosting and almonds. Drizzle any leftover butterschotch on top.
Serve warm to all your favorite people. And with a hot cup of coffee. Or Ice cream. Or both.