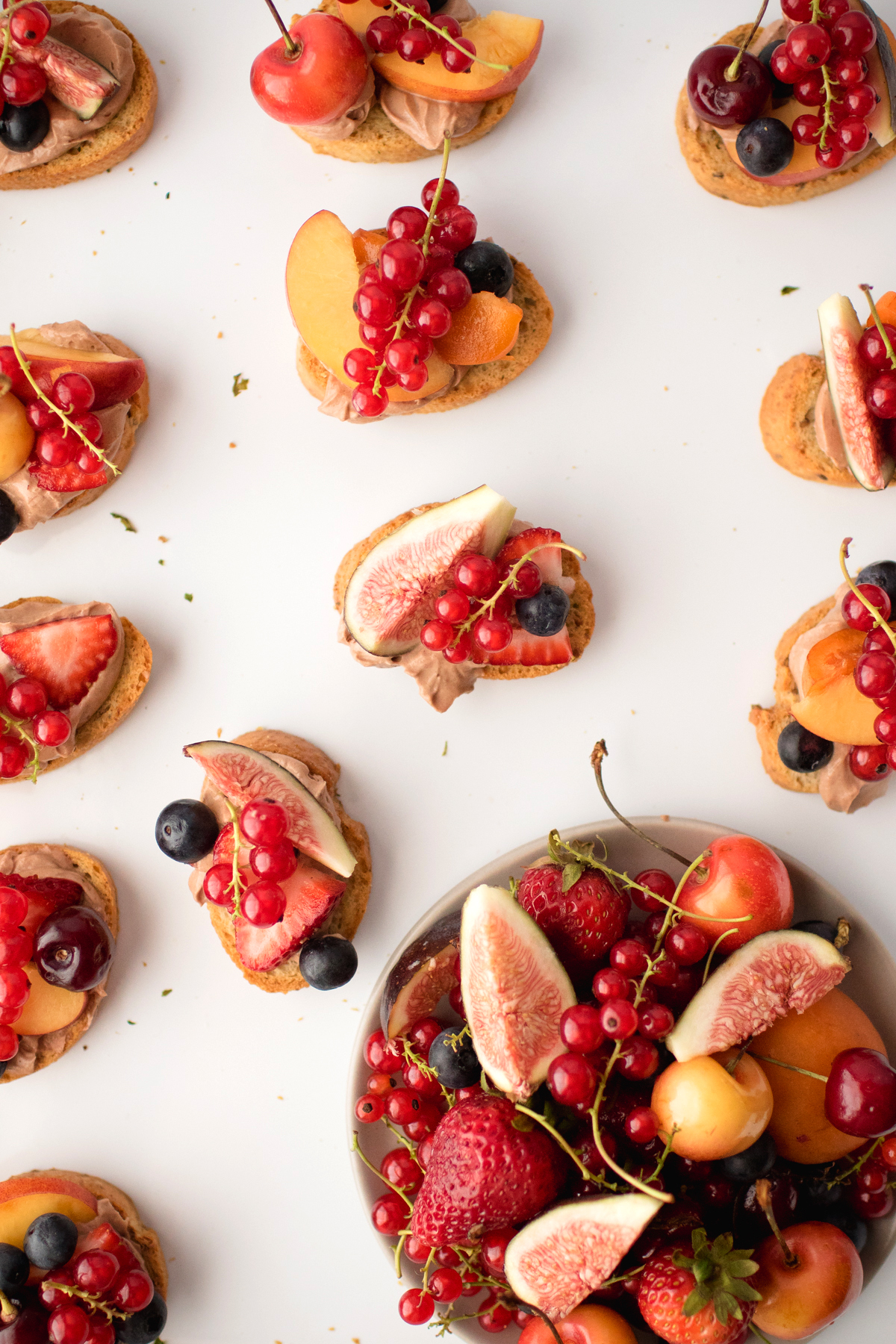 In a hurry? Click here to JUMP TO RECIPE!
Okay, so I'm sorry for all the dessert posts lately (not really) but the fruit at my market this year has just been too amazing looking to pass up. Perhaps I'm still recovering from the winter drought of frozen blueberries and more…frozen blueberries but I just can't help myself when I pass all the bright and vibrant colors in the produce aisle.
Wyatt and I went up north last weekend for a wedding and we've made it a habit to visit the local farmers market when on vacation. I love seeing the change in produce that driving 4 hours can trigger and ran across the most beautiful currants (pictured!) that I just had to buy. They were, of course, too gorgeous to hide in a jam or bread so I decided to figure out a recipe that would showcase them.
This is the simplest dessert to whip up for your 4th of July cookout and will be a show stopper if you are able to snag some beautiful fruit! You can use whatever fruit you have on hand that will fit onto the toast pieces. Our local co-op makes prepared toasted crostini pieces from their stale baguettes so I didn't even have to turn the oven on for these! If you don't have that handy option, just brush baguette pieces with butter or olive oil and stick them under your broiler for a minute or two until toasted (bonus points if you use stale bread since it only adds to the texture!).
These were also basically just an excuse to make this cocoa mascarpone cream because I am obsessed. My stepdad made a similar version when I was in high school (pretty sure the recipe came from Ina) to dip in fruit and I won a cookie war based off of a version of it! The version in this recipe swaps out the expensive vanilla beans for cocoa but remains rich from the mascarpone and honey. I can see why he never got around to doing anything other than dipping fruit into it because it's so addictive – I went from licking the spoon to the beaters and then to just sticking my finger into the bowl for non-stop samples. I'm surprised there was anything left to even photograph after I went to town on that bowl.
Whipped Cocoa Mascarpone & Fruit Crostinis recipe below: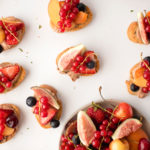 Whipped Cocoa Mascarpone & Fruit Crostinis
A quick but elegant Whipped Cocoa Mascarpone & Fruit Crostinis that is only as delicious as the fresh fruit you top with it! / Cream adapted from Ina
Ingredients
Approximately 24 pieces of toasted sliced baguette

(about 1 inch thick)

1

cup

marscarpone

2

Tablespoons

heavy cream

1

Tablespoon

honey

2

Tablespoons

cocoa powder

3

cups

fresh fruit

basil or edible flowers

, for garnish (optional)
Instructions
Whisk together the marscapone, heavy cream, honey, and cocoa powder until combined and fluffy (this can be done by hand or with whisk attachments on a mixer).

Top each crostini piece with the marscapone and top with fresh fruit.

Optional: drizzle honey over for a sweeter version or top with basil.