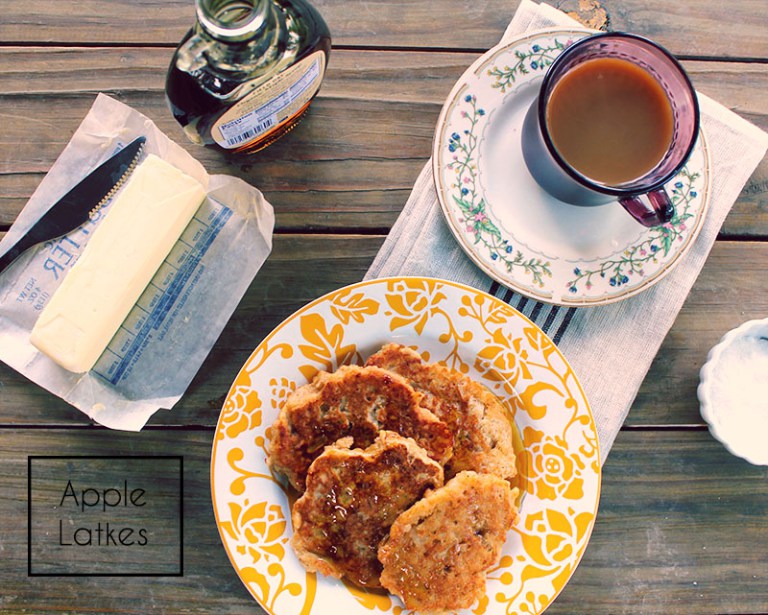 Apple Latkes
Latkes for dinner?! Yes, please! My family is very German and every December we go up to the German market (Christkindlmarket) which takes place in downtown Chicago. The market runs for the whole month of December and people from all over Germany fly in to sell authentic goods which include candies, food, music, and decor items. To me, Christkindlmarket consists of warm mulled cider, loads of German chocolate, and potato pancakes lathered in apple sauce or sour cream (also known as latkes!). And although the chocolate is…well chocolate (need I say more?) and the cider is alcoholic enough to warm you from the inside out…it's the latkes that get me oh so excited every year. There is nothing better than warm, fried potatoes lathered in apple sauce (this may sound weird to non-Germans but have you tried it? It really is amazing!).
Okay, that is enough day dreaming about winter already (yuck, what was I thinking?!). Not my fault though…I totally got the new 'Thanksgiving' edition of the Food Network Magazine in the mail today. Too warm out to be thinking about Mushroom Gravy and Stuffed To-furkeys? I'd say so. But, a craving is a craving so in an attempt to cool down my potato latke need…I made a fall version! Apple latkes! What a perfect idea! I, of course, did not top them with applesauce (wayyy too much apple in there) but did lather them in butter and maple syrup (since anything in pancake form has the right to be enjoyed with maple syrup. period.)
These little pancakes were awesome. They were flavorful, moist, fluffy, and full of fall spices. I would recommend these for a crisp fall breakfast served up with a batch of mimosas (or if it's too early for you to start drinking then why not some sparkling cider?).
PS I had never been to the Christkindlmarket website until today – woah! I promise there are no giant fairies in wigs or bad typography to be found! Just lots of chocolate, alcohol, and fried foods.
Apple Latkes
1 egg
2/3 cups plain yogurt
1 cup all-purpose flour
1/2 teaspoon baking powder
1/4 teaspoon baking soda
1/2 teaspoon cinnamon
dash of nutmeg, cloves, and allspice
2 Tablespoons sugar
1 cup grated apples, about 2 apples (peeled and grated) – spritz a little lemon juice to keep from browning if you peel ahead of time
Vegetable oil
Whisk together the eggs and yogurt. In a separate bowl, combine the flour, baking soda, baking powder, spices, and sugar. Make a well in the center of the dry ingredients and add in the egg/yogurt mixture and apples. Fold everything together until incorporated.
Oven medium heat, warm enough oil so that there is a thin layer of oil in your skillet. Add about a 1/4 cup of mixture into the hot oil (I cooked 3 at a time but it will depend on how big your skillet it) and make the latkes in batches. Let them cook for about 4 minutes on each side (this will completely depend on how hot your oil is so watch them closely and adjust accordingly). Repeat with the rest of the batter.
Serve warm with lots of butter and maple syrup!