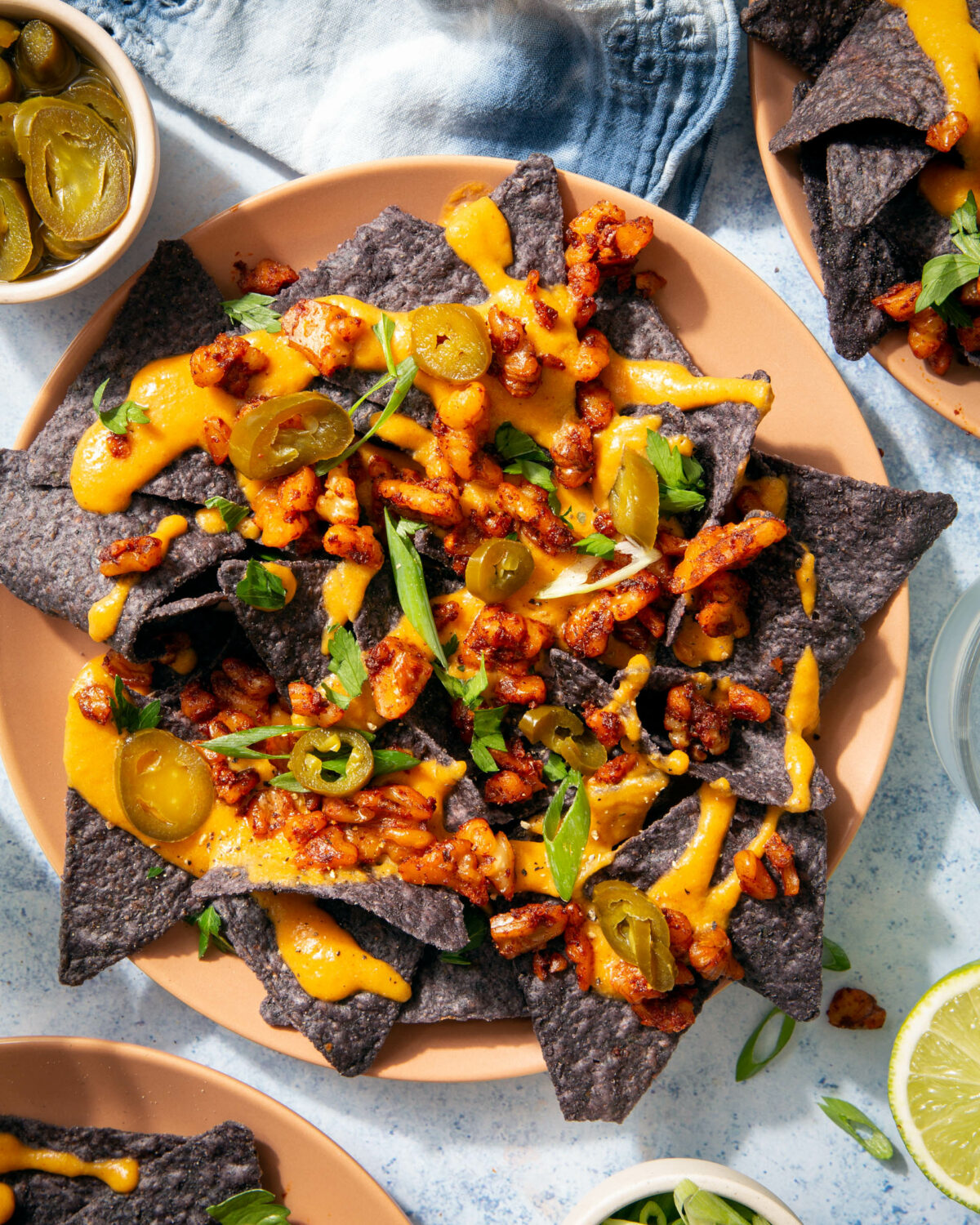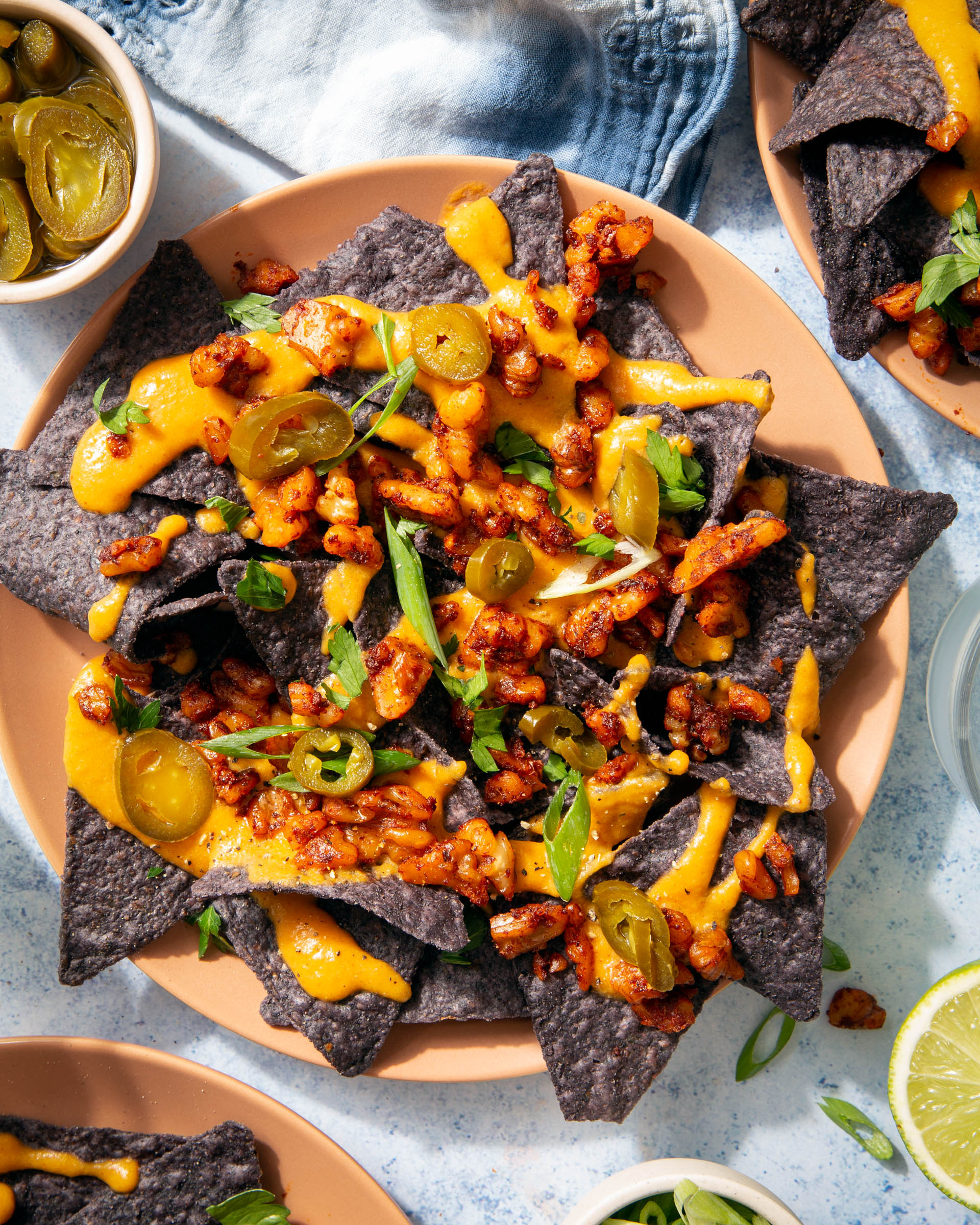 Autumnal Nachos with Butternut Squash "Queso" and Walnut "Chorizo" Crumbles
These vegan Autumnal Nachos with Butternut Squash "Queso" and Walnut "Chorizo" Crumbles come from Danny Seo's newest cookbook, Naturally, Delicious Dinners. (Please note that I did receive this book as a promo copy from the publisher.)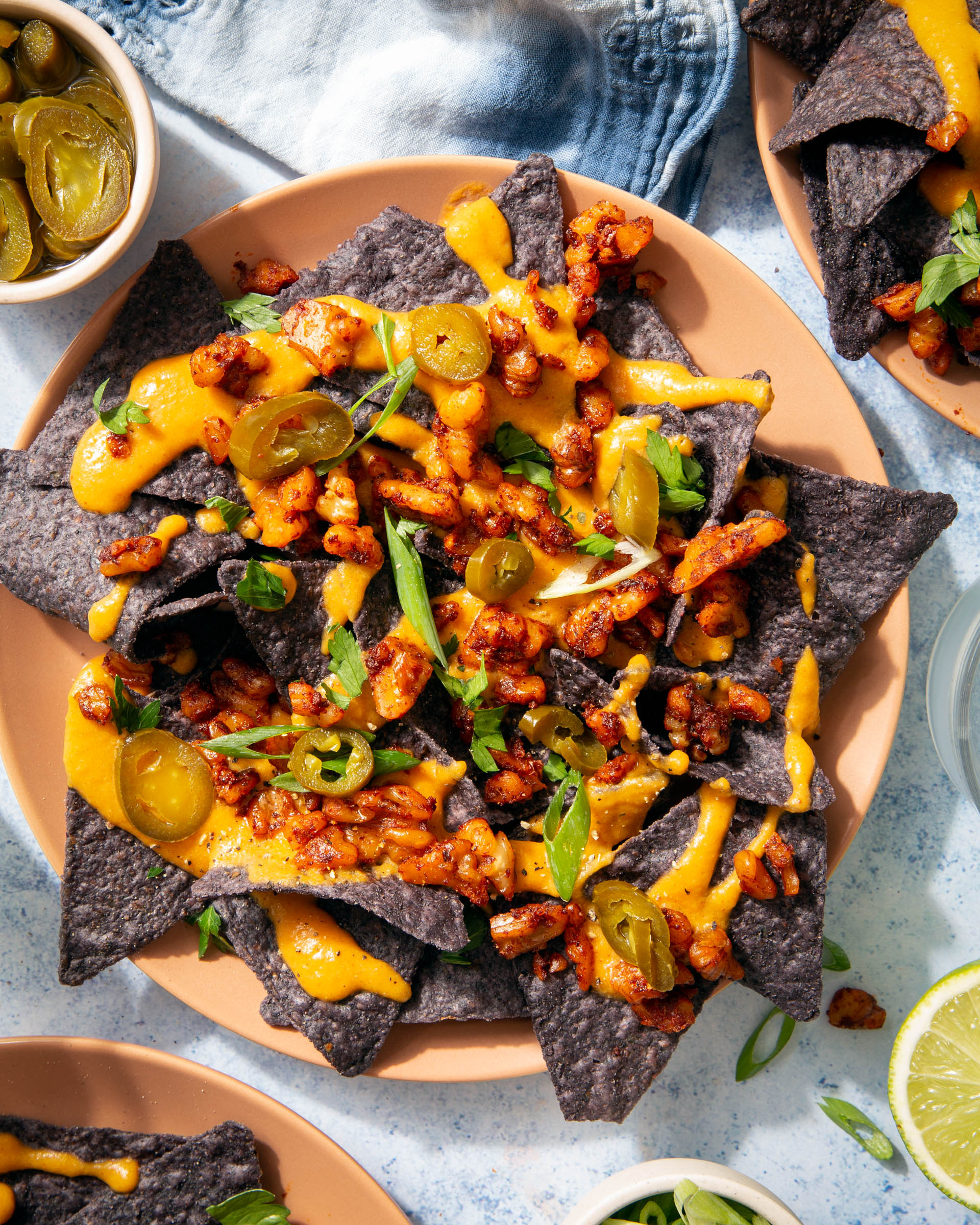 Continuing to work my way through the amazing stack of fall cookbooks that have shown up on my door and this week I tackled Danny Seo's Naturally, Delicious Dinners. I wasn't familiar with Danny before receiving his book and I was pleasantly surprised at how much I enjoyed it. As someone who looks at a new cookbooks several times a week, I tend to find similar recipes appearing again and again so the uniqueness of this veg-forward one really stood out. He has a ton of creative ways to use vegetables to create, what look to be, not only delicious but filling meals. I've only tackled this nacho recipe so far but a few other recipes I have bookmarked are the Penne and Acorn Squash with Parsnip Yogurt "Alfredo" and One Pot Coffee-Chipotle Chili (both would be easy dinner options!). Learn more about Naturally, Delicious Dinners here.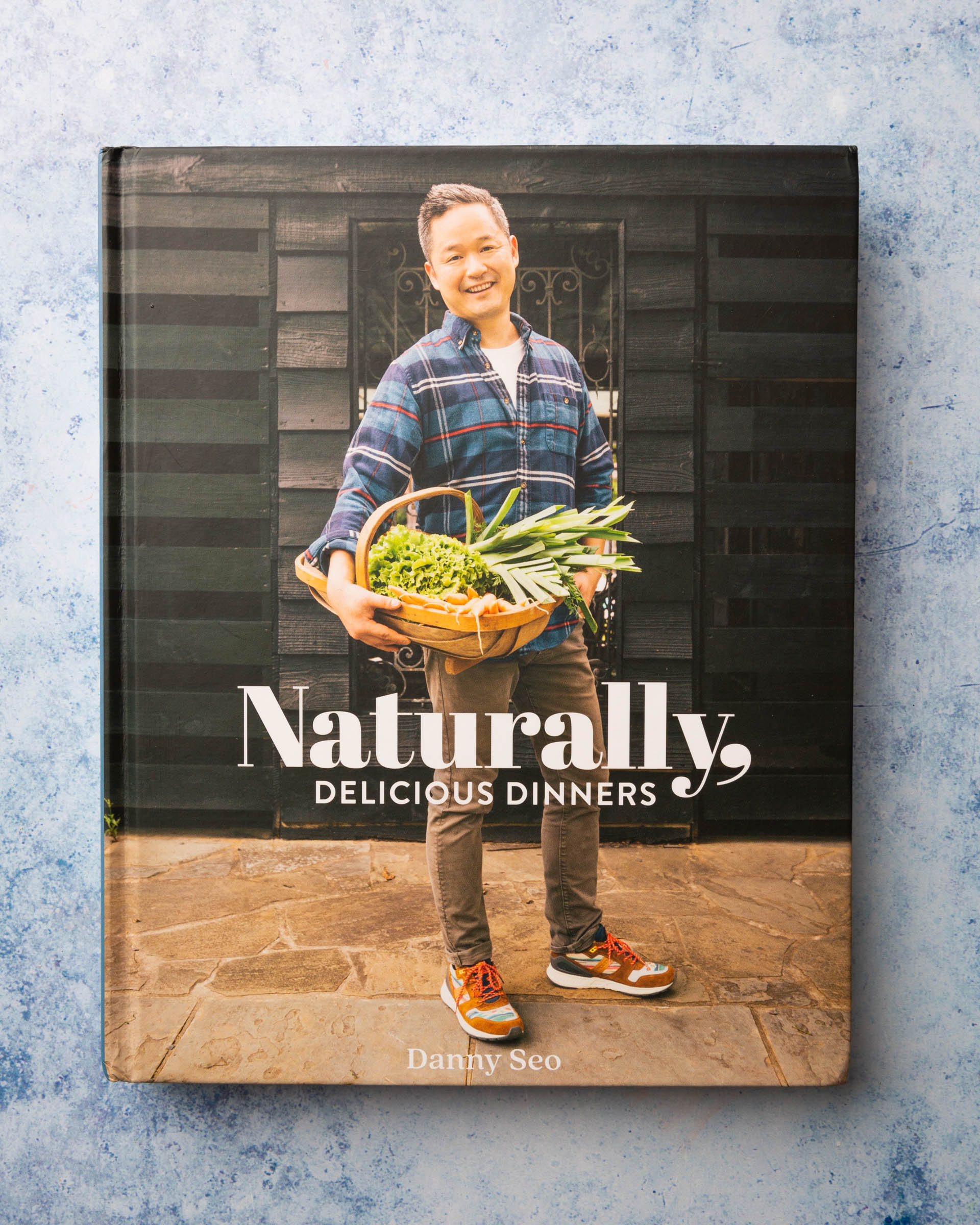 Nachos are one of my favorite foods so I was immediately drawn to this nachos with butter squash recipe when I came across it. I usually make a smoky vegan cheese using cashews so I was so excited to see this new (to me) idea to use butternut squash to make a smoky sauce. One of my favorite weeknight dinners is making tacos with walnut "meat" so it got me even more excited to see that he used it in this recipe. Because I can't just leave a recipe alone, I did have to add my own flare by making these even more "loaded" with pickled jalapeños and scallions. If you want to give these even more of a fall vibe (and bulk them up), you could also add roasted and chopped sweet potatoes, butternut squash, or leeks.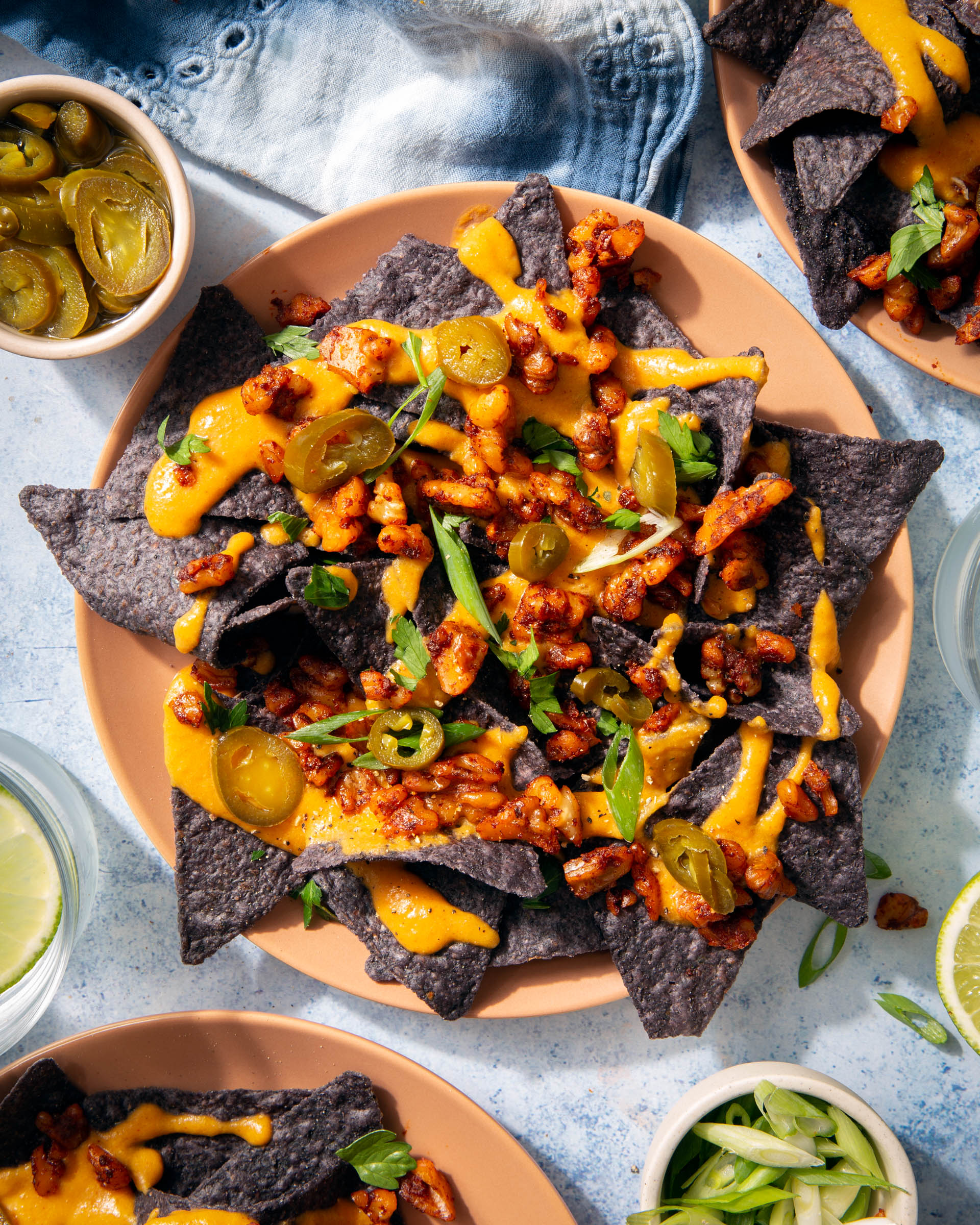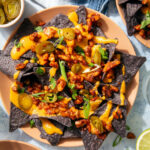 Autumnal Nachos with Butternut Squash "Queso" and Walnut "Chorizo" Crumbles
These vegan Autumnal Nachos with Butternut Squash "Queso" and Walnut "Chorizo" Crumbles come from Danny Seo's newest cookbook, Naturally, Delicious Dinners.
Ingredients
Butternut Squash "Queso"
1

medium butternut squash

1

cup

oat milk

1/4

cup

nutritional yeast

1

tsp

chipotle powder

1

tsp

salt

1

lime,

zested and juiced
Walnut "chorizo" crumbles:
1

cup

walnuts

2

Tbsp

avocado or olive oil

1

Tbsp

tomato paste

1

Tbsp

smoked paprika

1/2

Tbsp

cumin

1

Tsp

chili powder

1

small bunch of cilantro,

chopped + more for serving

1

bag

blue corn tortilla chips,

for serving

1

lime,

cut into wedges for serving

chopped scallions or pickled jalapeños,

for serving
Instructions
For the "Queso":
Preheat oven to 375 degrees and line a baking sheet with parchment paper.

Cut butternut squash in half lengthwise and remove seeds. Place butternut squash, flesh side down, on prepared baking sheet and roast for 30 minutes or until easily pierced with a knife.

Once cool enough to touch, remove the flesh from the butternut squash and transfer to a blender along with the milk, nutritional yeast, chipotle powder, and salt. Blend until smooth.

Stir in lime zest and juice. Set aside.
For the crumbles:
Chop walnuts coarsely and place in a bowl with hot water to soften for 10 minutes.

Drain and add to a small pan with oil. Cook over medium heat for 2 minutes, stirring frequently. Reduce heat to low, add in tomato paste and spices, cook for an additional minute, and remove from heat. Stir in chopped cilantro.
To serve:
Spread tortilla chips onto a large serving tray, top with "queso", walnut "chorizo" crumbles, cilantro leaves or scallions (if using), and pickled jalapeños (if using). Add lime wedges onto the side and serve right away.
Make sure to tag Vegetarian 'Ventures on Instagram and use #vegetarianventures when trying this dish out!